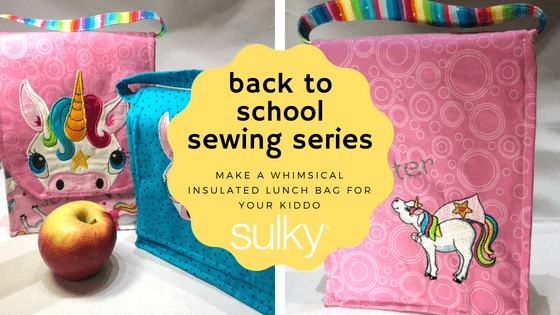 Back to School Sewing Series: Make a Whimsical Insulated Lunch Bag – Unicorn Style!
Hi everybody! It's Desiree here from Desiree's Designs. It's that time of the year – when the kids go back to school! I am so excited to be partnering with Sulky® for their Back to School Sewing Series. Sulky has gathered several awesome designers to create some fun projects for you and your kiddos as they go back to school and you get some long overdue sewing time. Although my kids are grown, I now have 7 grandchildren that I sew for all the time so I was thrilled to be able to add a project! Below are the wonderful, talented guest bloggers for this series.
Guest Bloggers:
For my project, I thought it might be fun to create a special lunch bag. There are several patterns available out there. This is one I put together combining things I love from several different bags. I am using the embroidery designs that I created for hooded towels to add a whimsical look, and they work great! I am also giving you a sneak peek of my newest fabric line, in stores this December, called "Party like a Unicorn" by QT Fabrics. It's all about pink and purple, Unicorns and cupcakes, castles, and superhero capes. I hope you enjoy this project and all the projects brought to you during this fun week on Sulky's Blog. Lets get started!
Desiree's Whimsical Insulated Lunch Bag
This cute bag gives you a sneak peek of some of my newest fabric line (which is in stores this December!). But you can use your favorite fabrics and create your own special lunch bag. I have even included an inside pocket to add a note, milk money, or dessert! You don't have to add embroidery, and letting the kids pick their own fabrics is always fun, too. This lunch bag goes together fairly quickly and can also work for an adult (think a teacher gift!). The finish is at approximately 10″x 7 1/2″ so a water bottle fits fine. I am working on making several of these with my pattern, hoodie embroidery designs, and fabrics. Let me know if you make the bag by using #DesireesWhimsicalLunchBag and #SulkyBackToSchoolSewingSeries on Social Media (make sure your profile is public).
Supplies:
1/3 yd main fabric or outside fabric (Fabric A)
1/3 yd lining fabric (Fabric B) (You can use an oil cloth or vinyl fabric if desired)
1/3 yd Insul-Bright®
1/3 yd Fuse 'n Stitch™ (Optional – used to make your bag stiffer)
Strip of Velcro®
KK 2000™ Temporary Spray Adhesive for holding Insul-Bright® in place for sewing
Sulky Cotton + Steel 50 wt. Thread for assembly and Sulky Poly Deco™ Thread for embroidery because it's washable!
These are some of my favorite go-to sewing tools.
Sulky Fuse 'n Stitch – I used this on my pink bag to stabilize it and make it a bit stiffer. This is a great stabilizer for those projects that need some structure.
Sulky KK 2000 – I use this often when I am embroidering to help control those small appliqué pieces. A small amount goes a long way and I can sew things out without the worry of fabric moving out of place. I also use it to secure fabric onto stabilizer until stitched into place.
Sulky Threads – I love Sulky Threads. Sulky PolyDeco Thread is a wonderful addition to use for the embroidery on this bag, as they will stand up to multiple washings! I love Sulky's 50 wt. Cotton + Steel Thread for all the bag assembly.
Insul-Bright, by the Warm Company – This is another favorite. I have several patterns using it on my website. Many fun small projects and gifts can be made using Insul-Bright. This works as an insulator as well as a stabilizer, but it will keep your bag soft and a bit floppy.
---
Here is Desiree's Whimsical Insulated Lunch Bag – Unicorn Style! Visit my blog for all of the instructions, with more photos and details. Links for the embroidery and fabrics will also be available.
Happy Sewing!
Follow me on FB, Instagram, and on my blog. Sign up for my Newsletter on my website – it's packed full of goodies each month!
-Desiree