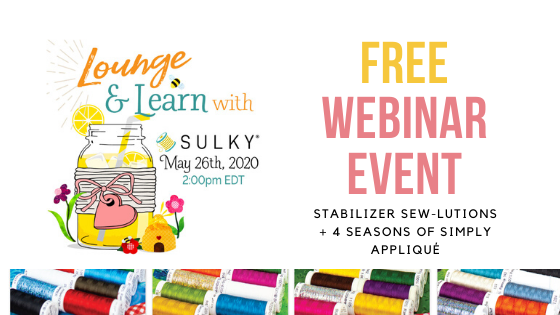 Free Sewing Class – Stabilizer Sew-lutions + 4 Seasons of Appliqué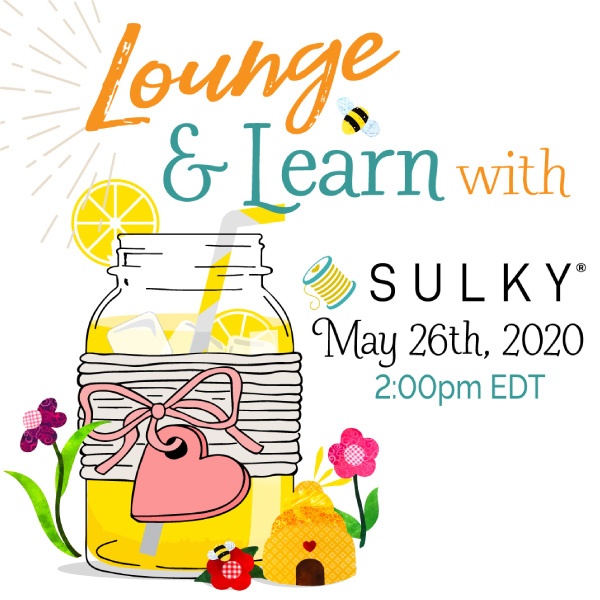 Stabilizer Sew-lutions + 4 Seasons of Simply Appliqué
FREE WEBINAR!
Taking a free sewing class on stabilizer sew-lutions and creating a fun seasonal appliqué wall hanging has never been more fun! And since we can't be together in person, we thought we'd bring you an experience like no other, for you to join this free sewing class in the comfort of your own home.
On Tuesday, May 26 at 2pm EDT, Sulky is bringing you a FREE webinar – but this is unlike any free sewing class you've experienced before with Sulky. This is a virtual guild event, much like those we present in person to guilds across the country. However, this time it's VIRTUAL, so we'll connect via our computers to bring you the same great content. Plus, you'll be able to see what our guild events have to offer!
We've partnered with the American Sewing Guild to also show you what it's like to be part of a guild. There are many other types of guilds out there, and we often travel to them, too. However, the ASG had to cancel their annual conference, where individual guilds come together for the best-in-class education, shopping, banquets and more. In light of that, we decided to come together to offer this free sewing class to their members for a special experience. Whether you're part of the ASG or not, you'll get to experience it, too!

This webinar is 2 1/2 hours long. While that seems like a long time, we have a lot to cover! We'll be taking an intermission about halfway through for you to stretch your legs, grab a beverage, check your emails, or sit back and watch our intermission video. Then it's back to the free sewing class.
STABILIZER SEW-LUTIONS
We'll begin with Sulky educator Michelle Umlauf. Michelle has been teaching about stabilizers for years and is an expert at deciphering which stabilizer to use for which fabric or technique. You'll learn that stabilizers aren't just for machine embroidery! They can help with all of your sewing projects, too.
SIMPLY APPLIQUÉ
Ellen March will take you through a layered appliqué method to create a mini wall-hanging in your choice of Winter, Spring, Summer or Fall. We'll focus on the Summer pattern for the most part, but the techniques are applicable to any season of your choice.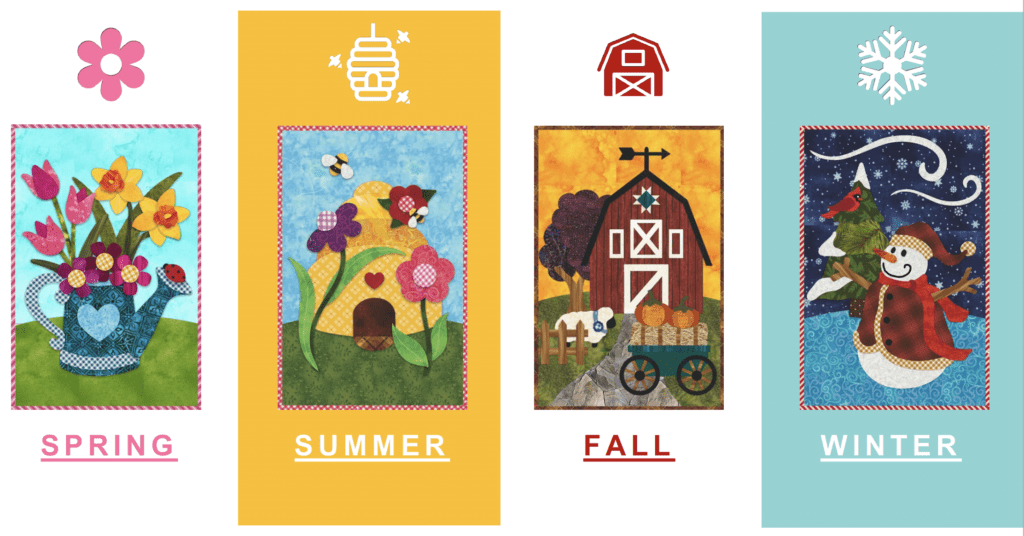 The best part? These appliqué kits – winter, spring, summer and fall – will be on sale for a SCREAMING DEAL the day of the webinar. You'll want to take advantage and get all four!
If you're still not convinced, register today and check out the free sewing class on Tuesday. Just by registering and attending live, you'll be eligible to win one of four door prizes. That's right! FOUR DOOR PRIZES. Typically during our webinars we offer two door prizes, so this doubles your chances to win! And, the door prizes will increase in value as the event goes on. With $250 worth of prizes in the hopper, you won't want to miss your chance!
Register now and log in on Tuesday, May 26 at 2pm EDT. Even if you can't attend live, you'll be able to access the event on-demand at your leisure.
"See" you there!