Machine Embroidery on Organza and Pattern Review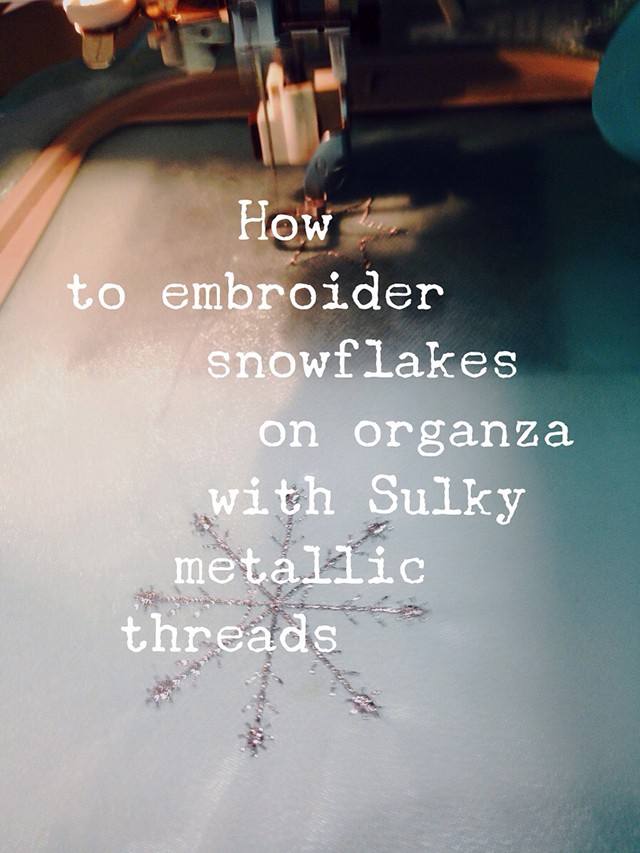 Like every other little girl in America, my 9 year old just had to be Elsa from Frozen for Halloween. Since I have been working on my apparel sewing skills lately, and I found  McCalls M7000 pattern at Hancock's on sale for $1, I decided I would make the costume. The pattern overall was really good. I did make a few changes, like eliminating the front part of the organza overlay (My daughter informed me that Elsa's cape did not come to the front.) I also only did the sequin fabric in the front panel (Also per my daughter's instruction).
I cheated on the lining in the bodice. Instead of doing the lining per the pattern, I used Sulky Tender Touch™. Tender Touch is fusible and stretchy, so I just cut out the shape, ironed it onto the inside of the bodice and then did the topstitching with Sulky Sliver™ Metallic Thread. Tender Touch doesn't change the hand of the fabric and is very soft next to the skin. It was a perfect lining for this costume. If I were using it for a regular dress, I would probably sew it like a "proper lining" but for a Halloween costume, this was perfect.
When the entire costume was finished, I just knew I had to embroider snowflakes on the organza cape with Sulky Sliver Metallic threads. This wasn't as tricky as I thought it would be! I used this set of snowflakes from the Sulky Embroidery Club, I put in a 100 Schmetz Topstitch needle and hooped the organza with Sulky Fabri-Solvy as the stabilizer. I sprayed a dash of Sulky KK2000 just to make sure the organza didn't slip.
I put the Sulky Sliver Thread on the vertical spool pin too. Since Sliver thread is more like a tape than a round thread, putting it on the vertical spool pin allows it to go through the machine without twisting.
I did a couple practice snowflakes with absolutely no trouble so I went ahead and did the real thing.
I just love the results and so did my daughter. She was the best looking Elsa on the block!