Spring, Blog Tour and Advice Giveaway Winners

One of the reasons I love living in North Georgia is just when I start to get sick of a particular season, we move on to the next one! At my house, the daffodils are blooming, the grass is starting to get green again and I am seeing little tiny green leaves and flower buds on the trees. This also means that I need to start thinking about Easter dresses for myself and my girls! Krissy has picked a pattern and wants to make her own dress this year. Korey says she doesn't want to wear a dress at all. She wants to wear shorts and a tank top. I haven't decided if I will make her wear a dress.
How about you? Is spring showing up at your house?

Crossroads Denim Blog Tour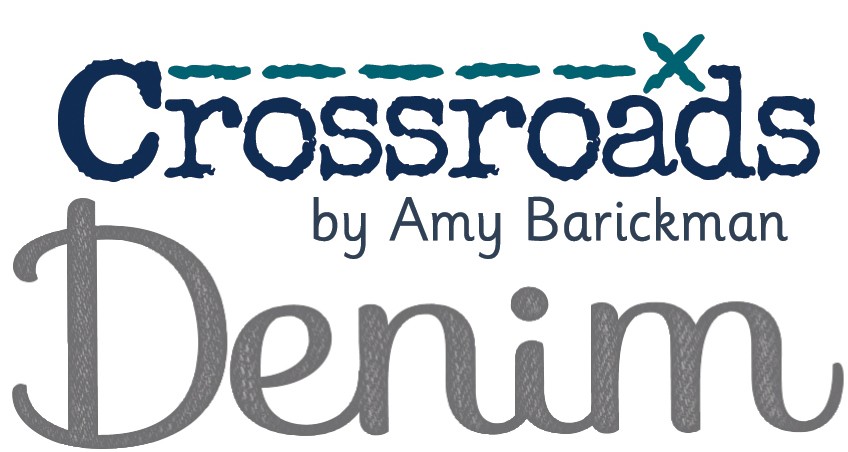 I am so excited that I was asked to be on a blog tour! Amy Barickman of Indygo Junction, designed a wonderful line of denim that is soft yet sturdy and in some amazing colors! The blog tour is 2 weeks and will give you lots of great ideas and inspiration. Because you are one of my blog and eNewsletter readers, Amy is also giving 20% off your purchase at Indygo Junction! Just use the code xroads20 at checkout for 20% off your purchase at IndygoJunction.com.
I am using an Indygo Junction pattern called Creative Crossbody Bag along with the denim on my day of the blog tour.
Here is the full tour schedule. I hope you will stop by my blog to see how mine turned out! You can click on the links to read each of the blogs on the tour. If the date has already passed, then the Crossroads Denim post will already be there!
3/17 Fishsticks Designs
3/18 Today's Creative Blog
3/19 Cool 2 Craft
3/20 JediCraftGirl
3/23 Sulky (That's Me!)
3/24 Pati Fried
3/25 Crafty Planner
3/26 Therm O Web
3/27 Coats and Clark Sewing Secrets
3/28 Indygo Junction
Winners of the Advice to New Sewists Giveaway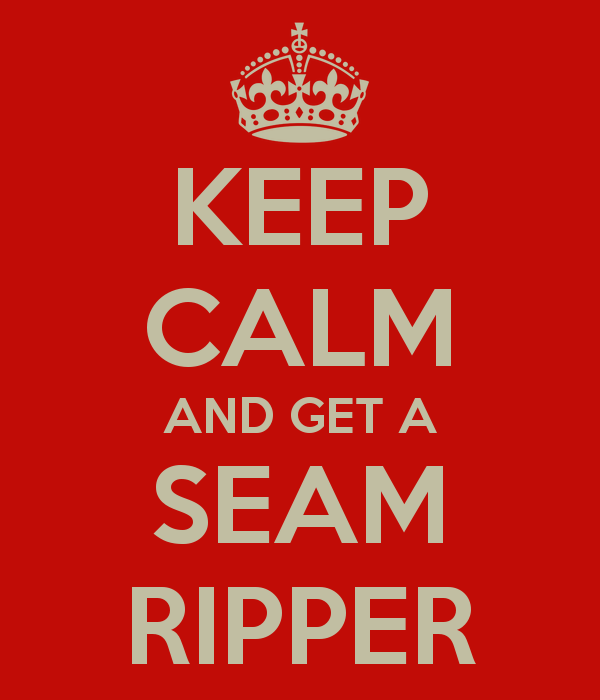 I was overwhelmed by the amazing response I had when I asked you to send in advice to new Sewists. If you haven't seen it yet, check out the post with all the advice I received here.
I received so many great words of wisdom, I couldn't choose just one winner. Instead, I chose two honorable mentions and one winner. The two honorable mentions are:
Kay Brand of Emerson, GA "If you can sew 20 minutes a day you will be able to complete projects. 30 years plus of raising 4 kids, caring for aging parents, keeping grandkids and just doing life I have found this to be so true."
Kathy Erickson of Dubuque, Iowa "Buy a good, sharp seam ripper and make friends with it. Give it a sweet name because you will find yourself saying words that you thought would never leave your mouth. You need one tool in your space that is deserving of a kind word. Maybe call it 'Grace'. Don't expect perfection…at least not in the first dozen or so projects. Know that everyone (every. single. one.) that has ever worked on a sewing machine has struggled with sewing straight lines, keeping even seam allowances and remembering to put right sides together. You are no exception. Be courageous to break away from "the rules" and add your own unique ideas to patterns and tutorials. This is what makes sewing fun!"
The first place winner is Linda Fielding of Ontario, Canada. I cried reading her email: "After reading the advice to a sewer from the Singer manual in 1949, I was about to send something irreverent or whimsical. But the more I thought about it, the more serious I became. Last year, I completed a set of five cancer prayer flags for my sister-in-law who was diagnosed with breast cancer. Each flag was unique and included embroidery, heirloom lace, ribbon and buttons. Each flag took an entire day spent creating and sewing, so the only other thing I managed to do during this time was feed the cats. Kim's tears and joy at receiving this far outweighed any dust balls and thrown-together dinners we endured. So my advice to a sewer is that we are not remembered for our pristine houses or perfect manicures, but for the special talents we possess at the sewing machine creating items that endure and are treasured for decades. In my mind time spent sewing is not an indulgence, but rather it is a way to create a lasting joy for others."
When I emailed her to let her know she had won, I asked for some pictures of the cancer flags and she sent me this picture!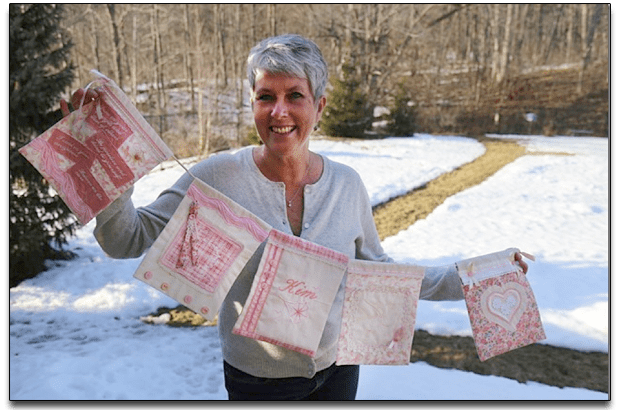 This is her sister-in-law, Kim, posing with the entire set of flags. She is currently in remission and when she receives the all clear, she will take her flag off the banner. What an amazing use of Linda's sewing skills and what a blessing that she shared her advice and wonderful flags with us. Here are pictures of the individual flags up close. I hope they inspire you as much as they have me.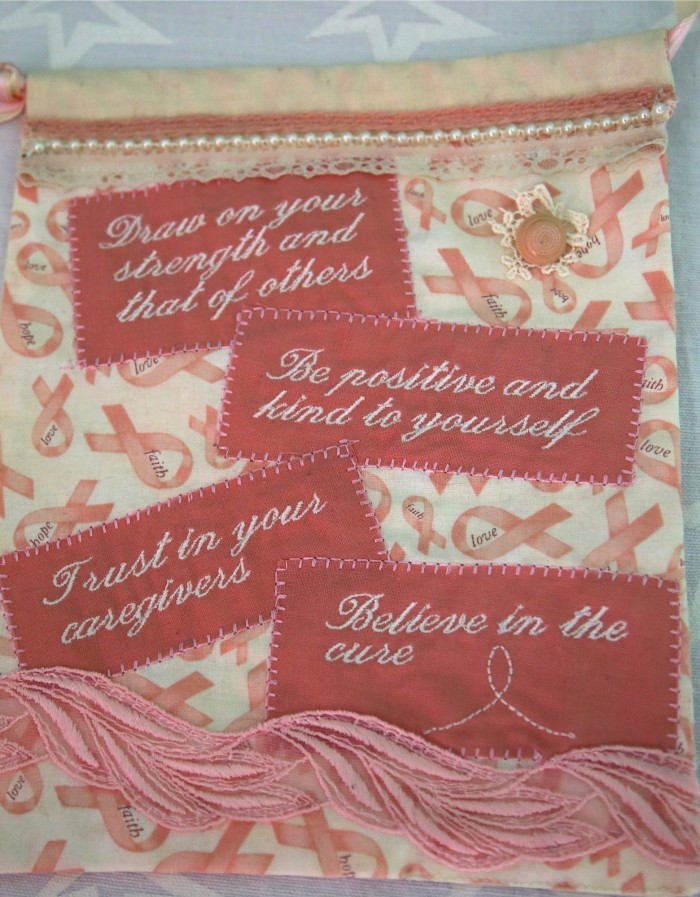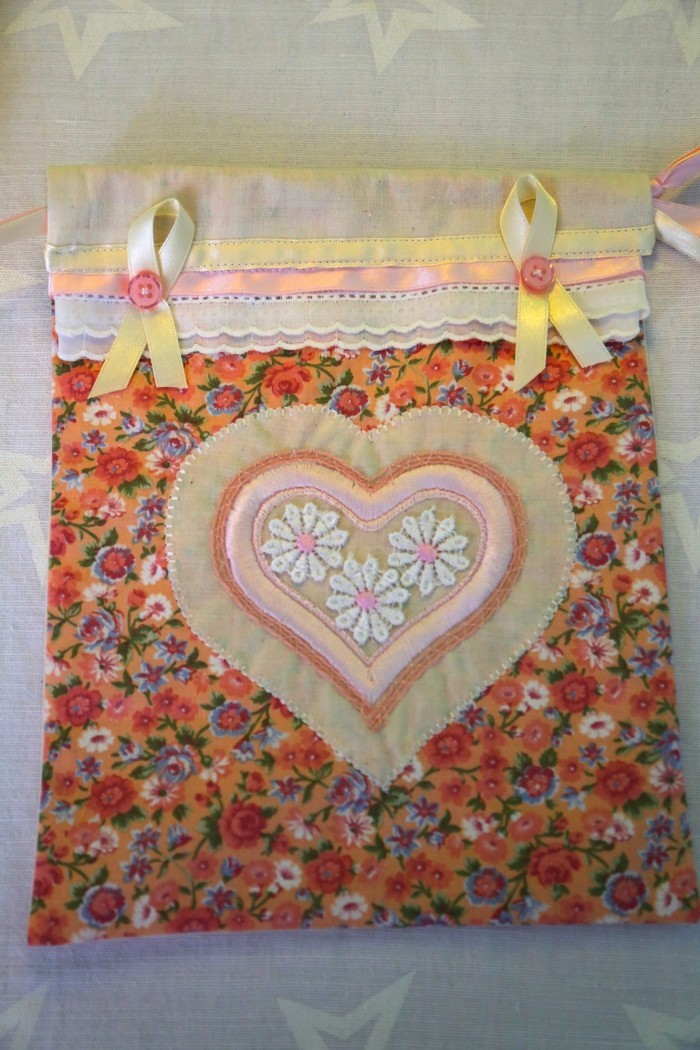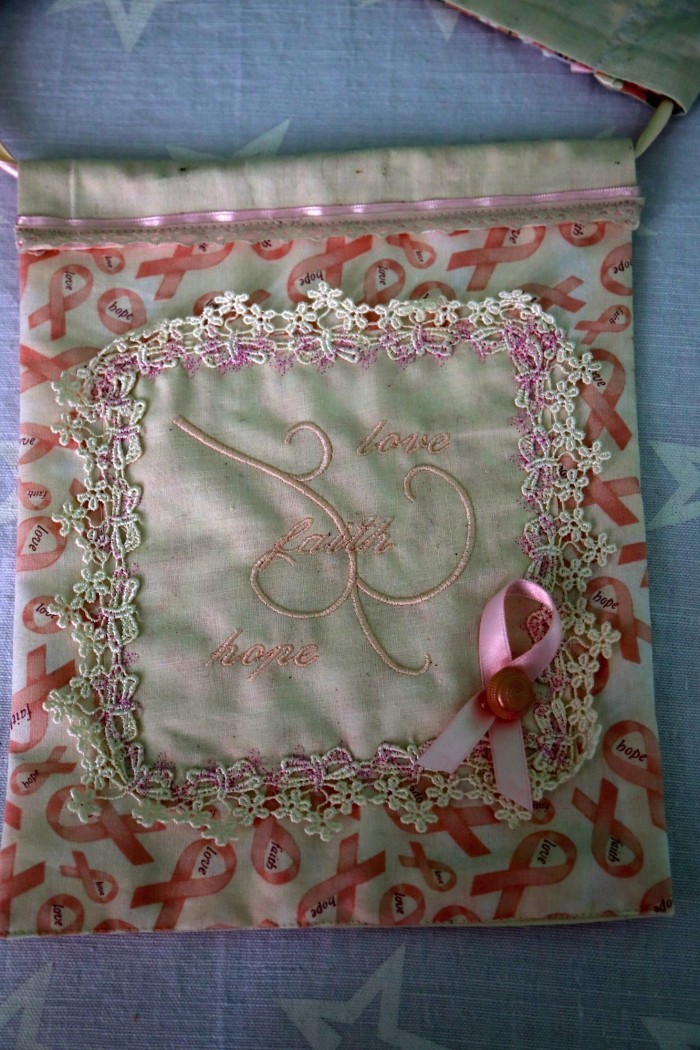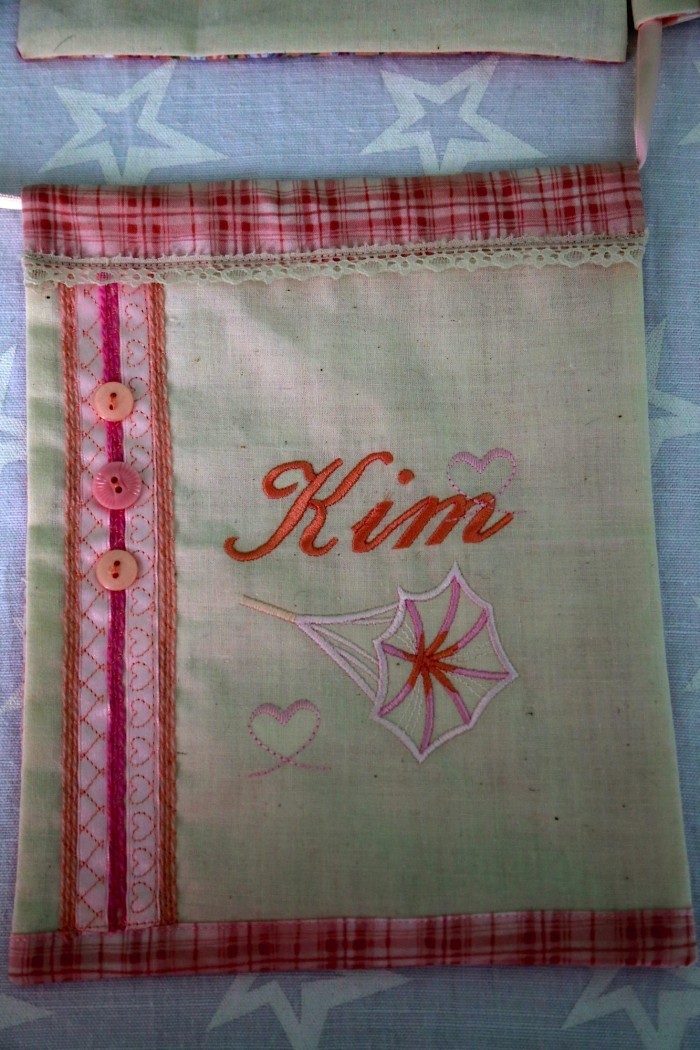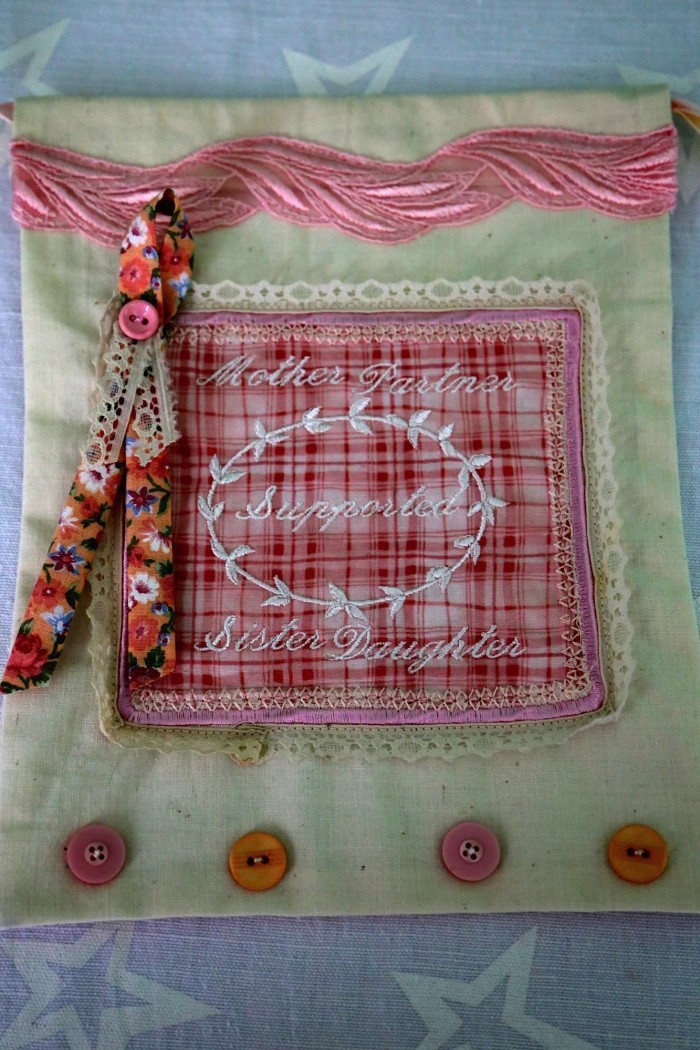 Happy Sewing!