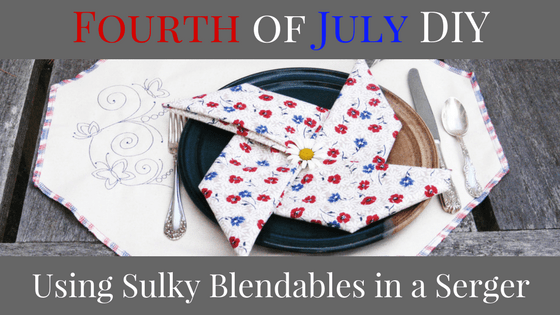 DIY 4th of July Place-Mats in a Serger
This series is written by guest blogger, Pamela Cox. 
4th of July Napkins and Place-Mats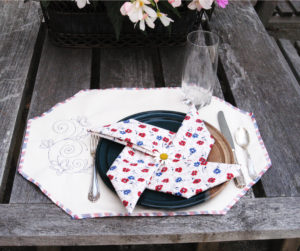 The 4th of July is all about outdoor gatherings, fireworks, and celebrating our country's independence! These explosions of color are sure to inspire creativity!  So, this is the perfect time to explore the wide variety of Sulky® Threads and using them in applications other than our regular intentions.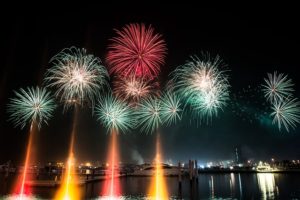 Sulky Cotton Blendables Thread in a Serger
Let's look at Sulky Cotton Blendables Thread .  These exciting, multicolor threads are a masterful blend of different colors within the same range of tone and intensity, with random, subtle color changes every 2-1/2 to 5 inches, which come in two weights: 12 wt. and 30 wt.  Originally brought into the Sulky Thread family knowing that it was perfect for free-motion and decorative machine stitching, it became apparent that this wonderful thread was also applicable to many machine embroidery designs.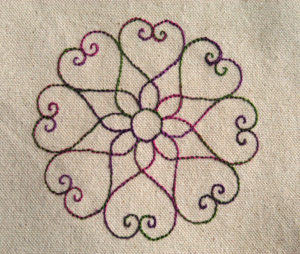 Appreciating that Sulky Cotton Blendables Thread performs well in so many applications, my curiosity got the better of me and I began to wonder how this thread would perform in a Serger.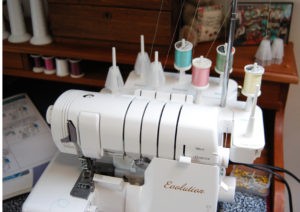 Fully aware that Sulky only produces quality products, I was not terribly surprised that this thread stitched flawlessly in the Serger. But what was truly amazing was the effect it produced!

My 1st attempt was using a 4-thread overlock stitch with 12 wt. Cotton Blendables Thread (not even the same color) in both upper and lower loopers. And two solid-colored 30 wt. Sulky Cotton Threads, picking up colors in the upper looper blend, for the top needles.
Sulky Metallic Thread in a Serger
With the interest Sulky Blendables created in Serger stitching, I added a Sulky Holoshimmer™ Metallic Thread to one of the top needles (O2). Loving the process, I began to experiment!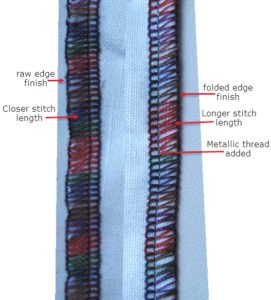 Adjusting stitch length on a Serger translates into "how compact" the over-edge stitches are.  On my sample fabric – a loosely woven polyester/linen fabric – I wasn't thrilled with all the loose threads that appeared along the edge, so, I tried a folded-edge finish.  I then added a Metallic Thread in one of the upper needles and it did bring a bit of sparkle!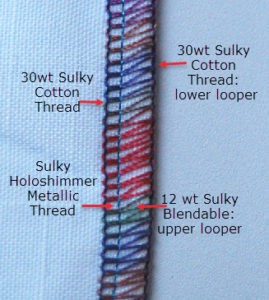 So, now I'm dying to see the results of using a metallic thread in the upper looper, which is the decorative over-edge stitch that shows on the top-side as the fabric is fed into the Serger.  One quick word of advice, Holoshimmer Metallic Thread could not be "air-threaded" in my Evolution. I simply threaded a cotton thread through the looper, tied it to the metallic thread and pulled it through. Sulky Holoshimmer #6046 stitched beautifully and provided a lot of sparkle!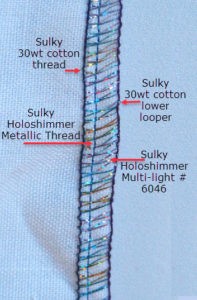 Can you begin to see how fun this is??  Can you also agree that it is important to first experiment before attempting a project?  Although I love the effect with the metallic thread in the upper looper, if I was ready to incorporate "glitter at its best"  (which already has me thinking of Christmas), I would try another sample changing out the outside top thread (O1) to a Sulky 40 wt. Rayon Thread matching the fabric in use.  I'd then check out how Sulky Invisible Thread stitches as the second top thread (O2), plus use Sulky Metallic Thread in both upper and lower loopers and not necessarily the same color.  I'll go from there!
It is helpful to establish a "sampler cheat-sheet" for your Serger! In a small notebook, staple the stitched sample to a page documenting stitch selection, widths, lengths, thread type and threading location.  This documentation will be a very valuable resource for future projects.
After seeing and loving the effect of using Sulky Cotton Blendables Thread in a Serger, my thoughts turned to practical applications:
The obvious application is to provide a decorative finish to any edge.  Why not edge tucks on a garment?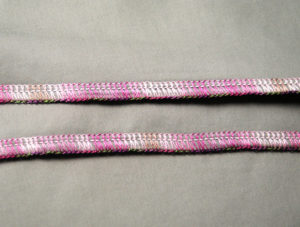 Why not add an additional row to create a lacy or crotchet effect and edge a fleece blanket?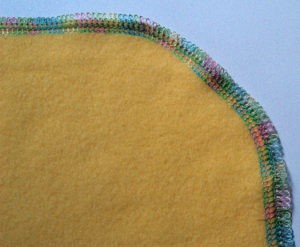 Edge a strip of bias binding for finishing a garment.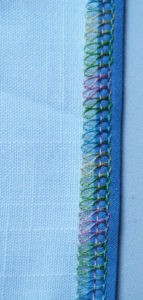 So far, only one stitch has been explored, so I questioned if Sulky Cotton Blendables Thread provide artistic appeal with different Serger stitches, such as a Rolled Hem.  The answer was overwhelmingly, yes!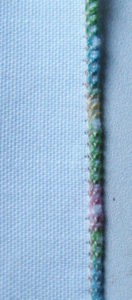 In stitching a rolled hem sample, it became apparent that this stitch can stand on its own and be used as a decorative "braid"…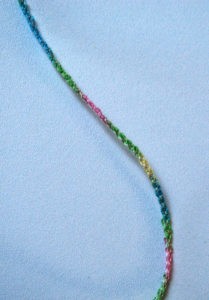 which offers many applications, including couching.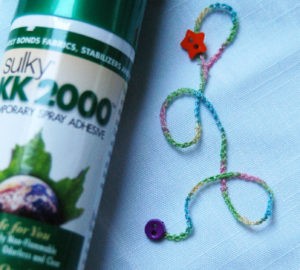 Seriously, endless possibilities!!
Here is one quick, easy project to start with, and just in time for the 4th of July!  Make a set of place-mats and napkins using Sulky Cotton Blendables Thread #4105.
Napkins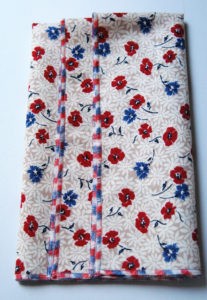 Sizes of napkins vary, but the considered standard is 16"-18" luncheon size, while 20"-22" is for dinner. Therefore, a yard of cotton fabric will yield four 18" napkins.
Supplies:
Pre-wash, dry, and press all fabrics prior to using
Steps:
Cut cotton fabric into 18" squares on grain
Thread the Serger for a 3-Thread Overlock-Narrow Hem. On my Baby Lock Evolution:  stitch length 1, width 3.0.
Stitch two opposite sides first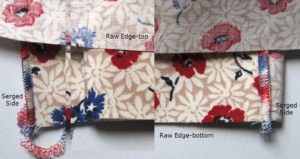 Stitch top and bottom leaving long tails at the beginning and ends cutting off any tails on the two already stitched sides.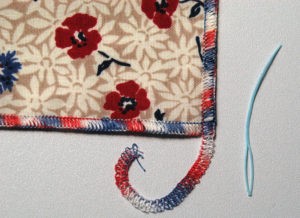 Turn the napkin to the wrong side and weave a blunt needle into the stitches.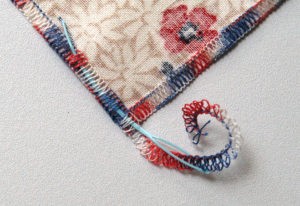 I used a dental floss carrier since it is plastic with a blunt end, but more importantly, a very large eye which makes it easy to thread the wide Serged thread through.
Pull the thread into the back side of the napkin in each corner, cutting excess thread not under stitches.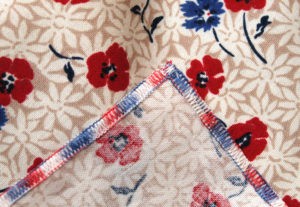 There are other techniques for finishing off.  Thread Check is a glue product many people use to "seal" Serger ends.  Others will "Serge off" ends.  Napkins will be repeatedly washed, so make sure whatever method you choose will provide a pleasing look and remain intact.
Another Serger stitch often used for napkins is a rolled edge and it provides almost a ridge edging because the stitches are more compact, not to mention the machine rolled the raw edge to the top of the fabric.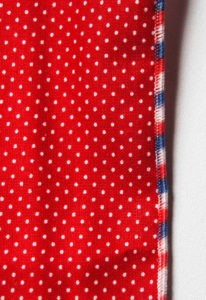 It's also exciting to experiment with different Cotton Blendables Thread shades such as #4108, another perfect choice for celebrating the 4th!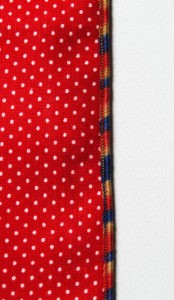 Two layers of fabric can be Serged together making a heavier napkin. This method will also provide a "finished" backing to a fabric printed on one side, plus present more options with table settings.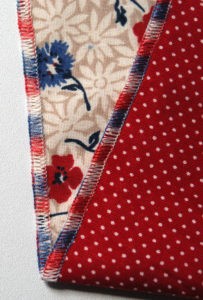 Make sure you check out the Internet to find interesting ways of folding napkins.  That's where I learned to make the pinwheel for my table setting!!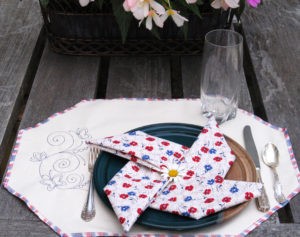 Place Mats
Supplies for 4 place mats:
1 yd Drill cloth-a 100% cotton utility cloth, closely resembles canvas but much lighter in weight
Sulky Stabilizer: Soft 'n Sheer™ or Fabri-Solvy™
Sulky Cotton Blendables Thread #4105
Embroidery Design
Steps:
Cut Drill cloth into 15 ½" x 20" rectangles
Designate center placement for embroidery design with hand basting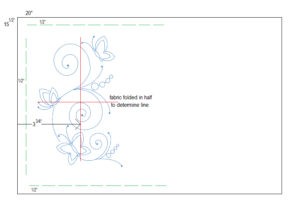 On the left-hand side, baste a line ½" in from edges marking off "a margin for error". This will also ensure ample space between the embroidery design and the decorative over-edge stitch.
Fold the 15 ½" side in half to determine horizontal center of the embroidery design
Measure in 3 ¾" from the left edge to determine the vertical center
Securely hoop Sulky Soft 'n Sheer™ Stabilizer.  This stabilizer will need to have the excess cut away, but it is easily done plus any remaining sheer stabilizer in almost invisible.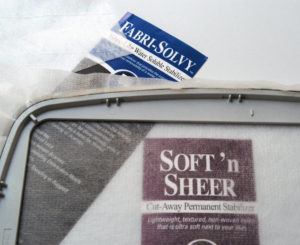 Fabri-Solvy is another great choice.  Although water-soluble, it behaves like a fabric stabilizer and can be securely hooped directly in the embroidery frame.
Lay the hoop on a grid mat, matching the hoop center marking to heavy lines on the grid. Roll back the fabric on center and lay on vertical center, matching hand basting horizontal lines to proper grid line.
Download design and transfer it to your machine
Attach the hoop, line the machine's needle placement for design, and center up with fabric center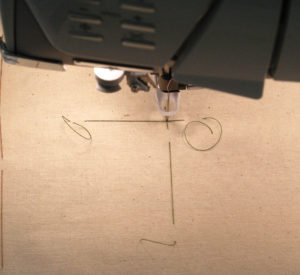 Once satisfied, machine baste a box around the design area to secure the fabric to the stabilizer using an 80/12 Topstitch needle.  This is a function found on most embroidery machines.  If your machine does not have this function, lightly spray the back of the fabric with Sulky KK 2000 and firmly press onto the stabilizer.
Change the needle to a 90/14 Topstitch or Metallic needle.  Embroider the design in Sulky Sliver™ Metallic.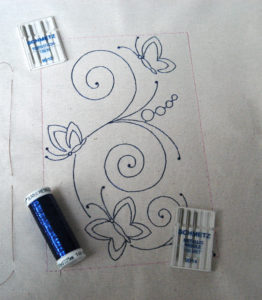 When completed, remove from the machine and hoop, evaluating design placement. Use the basting box around the design to re-square the fabric if necessary, removing only the barest amount needed.  Trim excess stabilizer and any jump threads.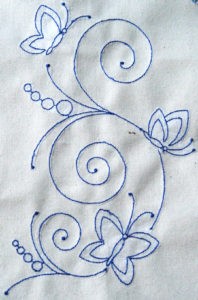 As you can see (or I should say "not see"), even though most of the stabilizer has been removed, Sulky Soft 'n Sheer remains inside the butterfly outlines.
In each corner, measure 4 ½" in towards center, as well as 4 ½" down/up.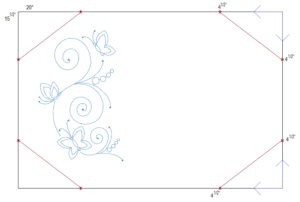 Use a straight edge to connect each corner mark and cut a diagonal line (red line).
Set up the Serger for a 4-Thread over-lock stitch.  On my Baby Lock Evolution:  stitch length 2.25, width 6.5
Serge the diagonal cuts first.  Serge the straight sides next, leaving long tails of thread both at the beginning and end, cutting any tails on the diagonal edges.
Finish ends as shown in Napkins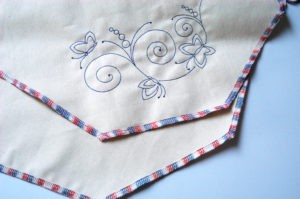 Now that you see how easy it is to make place mats and napkins, in addition to how much fun it is to experiment with the wonderful world of Sulky Threads, I'm sure your imagination is brimming with other ideas. Not only for holiday place mats, but many other beautiful items!  Enjoy!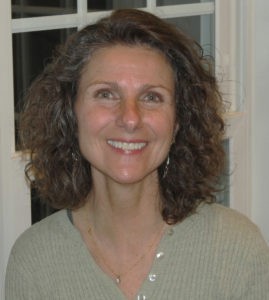 Pamela is an expert embroiderer, designer, digitizer and all around wonderful girl! We are so happy to have her contributing to the Sulky Blog!