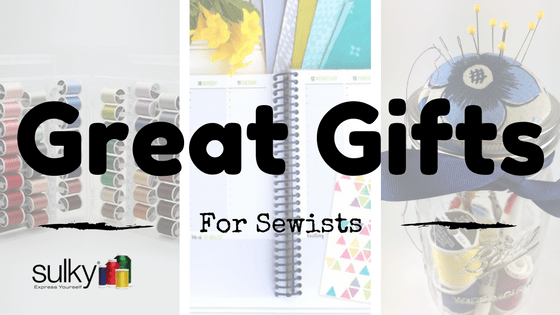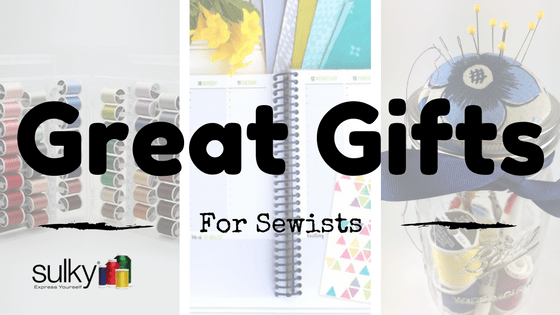 Finding the perfect gift for my sewing friends should be easy. They love sewing, just like me; so if I would like it, they will like it! Well, I have found that isn't always the case! More than once, I have given a gift to a sewing friend and been met with that fake smile and forced, "oh, thank you." Some have even said, "Oh good! something else I won't have time to make." (Don't worry, those people went on the "don't buy a gift for them" list).
In an effort to become a better gift-giver myself, I have done some research and made a list of gifts that sewists actually want. I realize not every sewist is the same, and just because I like something doesn't mean it will fit the style of someone else, but I hope this list will give a few ideas. If you decide to get anything off the list, remember when you are buying gifts to use sites similar to PromoCodeWatch for online discounts to online sewing stores like Minerva Crafts. So, what kind of thing should you be looking for?
Personalized Quilt Labels – I bought these from Modern Yardage and I just love them! You can get a set of 13 personalized labels for only $18. This is a great personal gift.
Mason Jar Sewing Kit – Who doesn't need a cute mason jar sewing kit! It's easy to make and you can personalize the items inside if you want. This is how I made mine. I bought a mason jar with a lid from the store. I took a scrap piece of fabric and some fiberfil and hot-glued the fabric to the insert of the mason jar lid (that's right folks! I didn't even sew it down.). Here is the list of what I put inside:

Pins – You just put a pin cushion for the lid. Give them pins to go in the pin cushion
Squeezers – These are fantastic little scissors! They are great for cutting thread tails and jump stitches
Seam Ripper – Have you ever met a sewist that didn't need another seam ripper?
Needles – Machine and Hand – We all use needles!
Tweezers – Perfect for your friend who loves to use her serger
A few spools of Sulky 12 wt. Cotton Petites Thread – the perfect hand embroidery thread
Prewound bobbins in the size that fits the recipients machine (check the chart here) – Like needles and seam rippers, one can never have too many.
A couple spools of Sulky 30 wt. Cotton Thread – Because this is my all time favorite thread for quilting.
A Sulky Transfer Pen – Transferring patterns onto fabric is just one of a gazzillion uses for these pens! Check out this video for more ideas
Mechanical Pencil – When you need to write something down, mark a registration mark on some fabric or use the eraser side to turn out corners.

Online classes – Give the gift of education! The cool thing about online classes is you can take them whenever you want, in your own home, in your pajamas, and work on your own sewing machine. And there is a class for everyone! Whether your friend is an acomplished sewist ready to go to the next level or a complete newbie. Another bonus is right now all of Sulky's online classes are 30% off! Just use the coupon code: SULKY30. Check out all the classes here.
Hand Embroidery Patterns and Kits – Unlike a full quilt kit, hand embroidery kits are small, less expensive and don't take as much time to make. This means that even the sewist who isn't looking for another project on her plate will still enjoy it. (Or you can buy the kit, stitch up the project yourself, and then give the finished project as a gift!). The other great thing about this, is there is a kit for every style. Here is my list of places for hand embroidery.

Monthly Stitch Club! – Technically, this is still Hand Embroidery, but a monthly stitch club from a company like Adorn it, is extra special because you get a new pattern every month! I love just about any kind of "of-the-month" club, but a stitching club makes my heart sing. Combine your gift of the club membership with a package of Stick 'n Stitch and a Sampler Pack of Sulky 12 Wt. Cotton Petites, and you have the ultimate stitcher's gift.
The Quilter's Planner – Stephanie Palmer, the brains behind this amazing planner said it best, "I want to spend more time doing and less time planning." That is what this planner helps the sewist do. Not only is it beautiful and thoughtfully laid out for the sewist, it also includes quilt patterns! If you aren't sure if this kind of planner will work for you or your sewing friends, go over to the website and sign up for the e-newsletter. You will get a pdf of the month of December to try it out. Order by December 10 and she guarantees Christmas delivery in the continental United States. Use coupon code

FreeShip

to get free shipping.
Curvalicious Ruler – I personally don't usually go gaga over rulers, but this particular one really caught my eye. I love the ability to make several different types of quilts and I like that it makes a complicated looking quilt without being very complicated to actually make. I figured if I wanted this ruler (and I am not usually a ruler girl), this would be a great gift for lots of sewists!
Webinar Bundles – Sulky has been doing free webinars for a while now and they are all amazing, but I do have a few favorites. I love the webinar that you can also purchase a kit to make the project in the webinar! We have three webinar bundles still available: The Crafty Gemini Pinnacle Table Runner Kit, The Quilt Doodle Bundle, and the Creative Quilt Challenge Bundle. Buying one of these bundles for a sewing friend not only gives them some great product (at a great price to you), but you can also give them the link to the webinar so it's like giving them a whole class and the supplies. (Maybe this is the one you want to tell you family to buy for you!)
Sulky Slimline Storage Boxes – These boxes are the absolute best way to store thread. It keeps them dust free, they open flat so you can even hang it up on the wall if you want; and they have a handle so you can carry all your thread with you if you go sew with a friend or go to a class. You can buy them empty, ready for you to fill with your thread or you can buy them already filled with thread! It's like giving someone a box of candy without the calories!
Sew Steady Table – These great extension tables for a sewing machine really are the ultimate great gift for a sewist. The Wish Table, my personal favorite, has compartments for storing extra little things that you always need handy, like a seam ripper and bobbins. I called Sew Steady and asked them if they would extend the Black Friday/Cyber Monday sale just for you, my blog readers, and they said yes! So right now you can get this awesome table along with a Travel Bag for only $175! Simply call Sew Steady at 800-837-3261 or email them at info@sewsteady.com.
So that's my list! What do you think? Do you have a good gift idea? Put it in the comments below. I would love to see what you are wishing for this holiday season.
Happy Sewing!