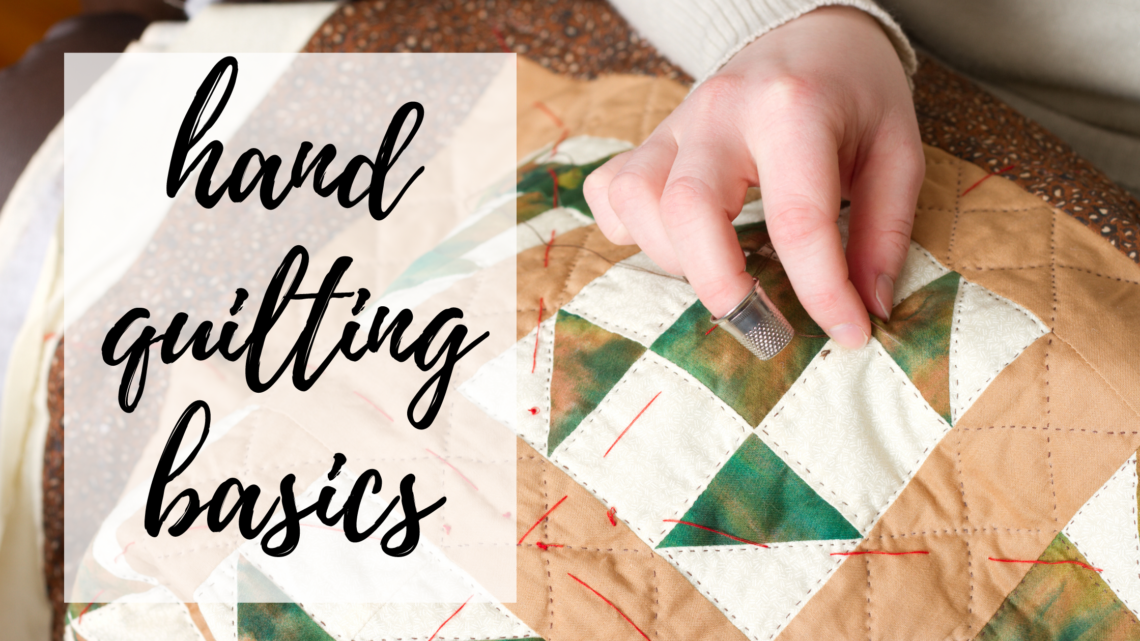 Hand Quilting FAQs with Patti Lee
Hand Quilting FAQs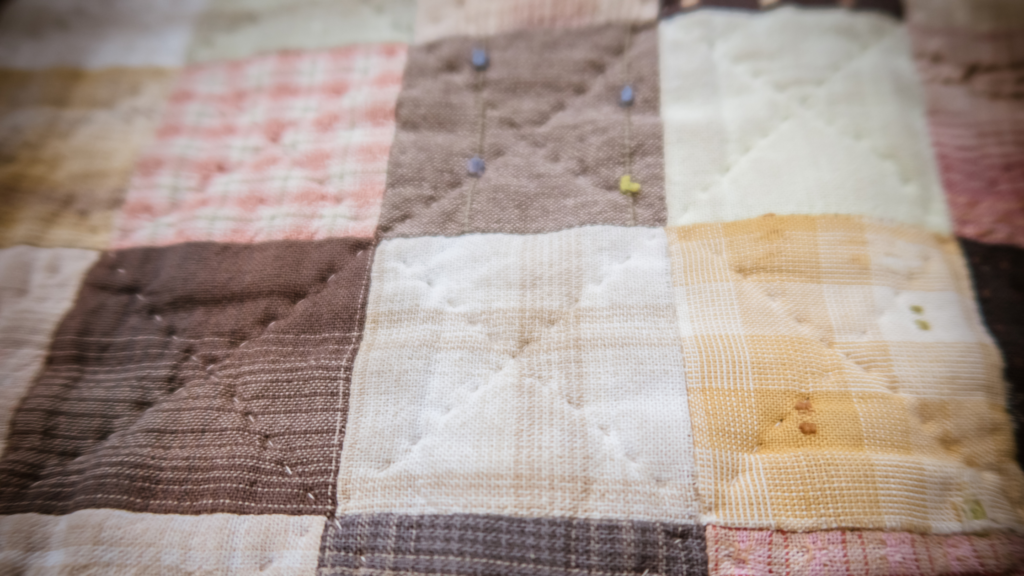 Hand quilting is increasing in popularity, along with vintage-style quilt blocks and modern interpretations of traditional quilt patterns. Patti Lee provides her answers to our FAQs about hand quilting so you can try this technique for yourself with confidence.
HAND QUILTING THREADS
Q: What thread should I use for hand quilting?
A: You can use almost any thread for hand quilting (even metallics!), depending on your skill level. I recommend using heavier threads, such as 12 wt. Cotton (Solids & Blendables®) and Filaine. It's a lot of work and a labor of love to hand quilt, so you will likely want your thread and stitching to show. These heavier threads help achieve that.
Big-stitch hand quilting is achieved with a simple running stitch, similar to Sashiko work. Twelve-weight thread is just the right thickness for both of these techniques. Cotton Thread provides a nice soft hand, while Filaine produces a textured look. Both thread types are available in beautiful colors.
Generally, "quilting thread" is either cotton, polyester, or a blend of both. Quilting thread is mercerized for increased strength and color longevity. It's gassed to reduce lint and designed to smoothly pass through the fabric without damaging it. Sulky 50 wt. Cotton is a high-quality, mercerized long-staple thread that's great for piecing, but somewhat too lightweight for hand quilting after piecing is complete. The thread does perform superbly when machine quilting, however!
Begin hand quilting by using an 18" thread length and coat the entire thread with a thread conditioner. This dampens down the lint and helps the thread to run very smoothly through the layers of a quilt.
HAND QUILTING NEEDLES
Q: What size needle should I use for hand quilting?
When hand-quilting a quilt, choose a needle with a large eye that will accommodate the thread weight. With sewing needles, the higher the number, the shorter and finer it is. When using a lighter weight thread, such as Sulky 30 wt. Cotton, you may want to choose a size 7 or 8 needle, as the shaft is longer and easier to work through several quilt layers.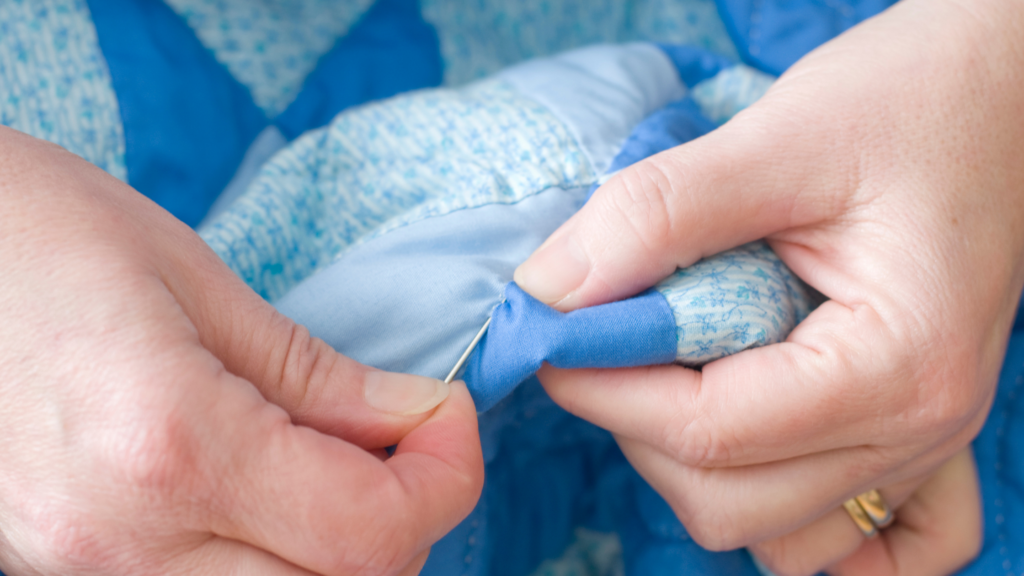 Nancy Bryant from Abigayles Quilt Shop in Olmsted, OH, recommends a Size 10 Richard Hemmings Betweens. Most hand-quilting pros prefer a size 10 because the eye is the ideal size, and the needle can handle many layers.
HOOPING & QUILTING
Q: Do I need to hoop my quilt when hand quilting?
Hooping (or not hooping) is based on personal preference. Much depends on the size of the project, too. There are all sorts of hoops available on the market, including handheld hoops, lap hoops and standing quilt hoops. When hand quilting smaller projects, such as pillowcases, you may not even need a handheld hoop. But for a project like a throw, hoops are quite handy.  Use an 8"- to 16"-diameter quilting hoop (NOT an embroidery hoop).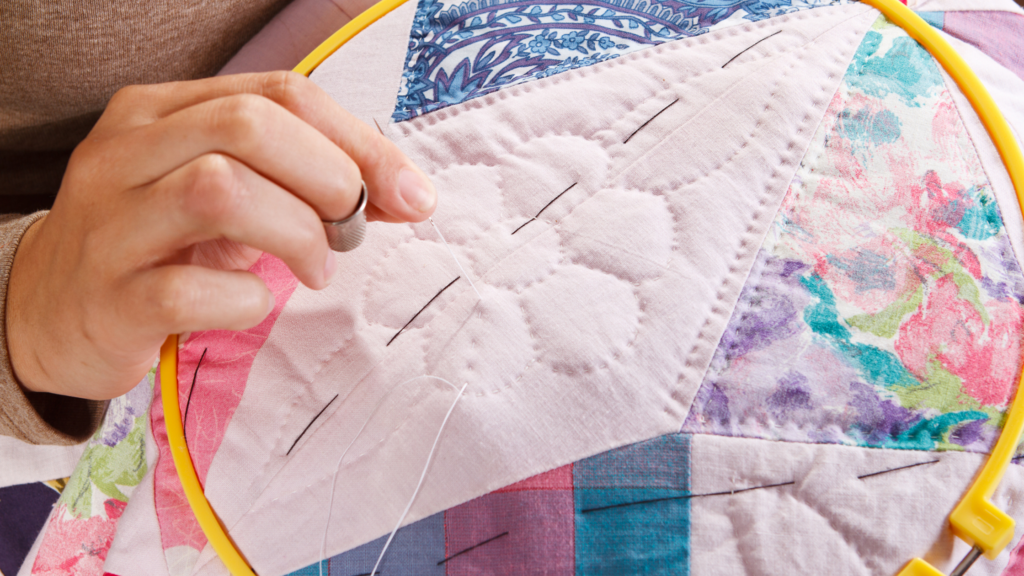 Pro Tip from Andi Perjda: Don't place the quilt too tightly in the hoop, like you would when embroidering. The fabric needs to be able to move up and down as you work, so make sure there's enough give. Andi Perejda is an award-winning quilt maker, teacher and NQA Certified Quilt Judge. Her quilts have been shown nationally and internationally over the past 25 years.
STABILIZER FOR HAND QUILTING
Q: Is stabilizer needed for hand quilting?
Sometimes. Stabilizer is useful for transferring designs and plotting quilting paths. Use a printable stabilizer, such as Sulky Sticky Fabri-Solvy™, to print the design through an inkjet or laser printer. Be sure to print on the fabric-like side and use the lightest ink setting. Or trace designs onto it or onto Sulky Solvy® using a water-soluble or permanent ink marker. Both stabilizers rinse completely away after quilting is complete, so be sure the quilt fabric can withstand moisture.
STITCHES
Q: What stitch length is customary for hand quilting?
Stitch length depends on the thread weight and type and personal preference. Decide whether you prefer small, short stitches or big-stitch quilting or something between. Evenly spaced, uniform stitches are more important than tiny stitches.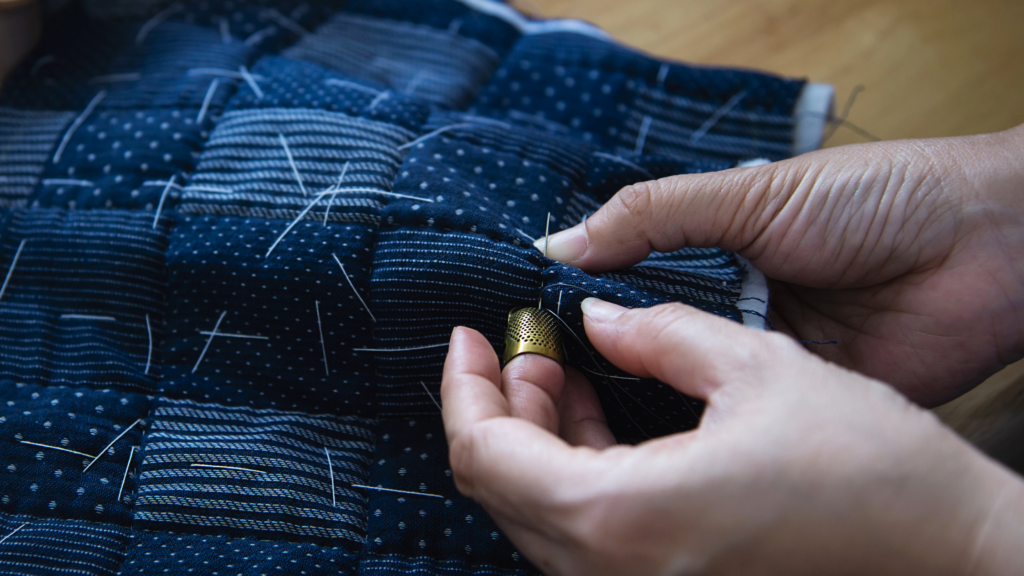 Stitches should be the same size on the top and back of the quilt. Knots should never be seen on the top of the quilt, so embed them within the layers instead: Create a quilter's knot and then tug it through in between the layers of batting and fabric. Give a slight tug so the knot goes through the backing fabric, but doesn't pull all the way through.
Tips from Andi: Keeping your stitches small and even is the most important part of hand quilting. A good goal is six stitches per inch. As you become more skilled, you can shoot for anywhere between eight and 12 stitches per inch.
Keep one hand underneath the quilt and one hand above. Your bottom hand steadies the fabric while guiding the needle all the way through to the back of the quilt and moving it back to the top. Your top hand moves the needle down into the fabric and up again.
Load the sStitches. As your top hand guides the needle up and down, don't pull the thread all the way. Instead, load two or three stitches on your needle instead. Then, you can pull the thread all the way through, taking care to keep the tension even. Continue in this manner until you're done sewing that particular piece, then move onto the next one.
HAND QUILTING PATTERNS
Q: Are some quilt patterns better suited for hand quilting than others?
For hundreds of years hand-quilting was the only option to finish quilts. Now we can choose to finish our quilts by machine, and choose the type of machine we use, too!  If I were hand-quilting I'd want some "plain" areas in my quilt to best showcase my hard work. But the design choices are endless. You can even create your own.
BATTING CHOICE
Q: Do I need a thinner or thicker batting for hand quilting?
Everyone has their favorite batting, but for hand quilting. Andi recommends: Hobbs Poly Down, Hobbs Heirloom (80/20) Cotton, Pellon Legacy wool, or Tuscany Silk) She also suggests: Warm & Natural, Pellon Fleece or Thermolam. Note: Quilter's Dream Cotton Request is dense and somewhat difficult for beginners.
Most batting requires quilting at least every 8″ or 10″, but try quilting every 4 inches when you're ready. Placing quilting lines 2″ apart is generally adequate. Note: While batting manufacturers recommend quilting distances of up to 8″ to 10″, if your quilt will be washed or heavily used, consider adding more quilting stitches than that.
RECOMMENDED SUPPLIES
Up your hand-quilting game with these helpful tools and resources: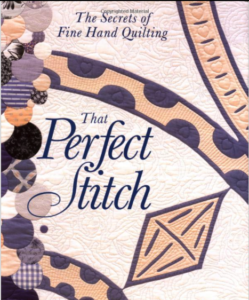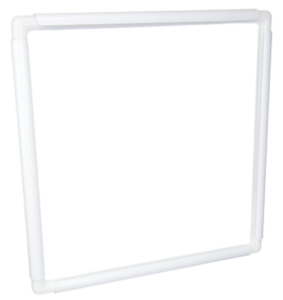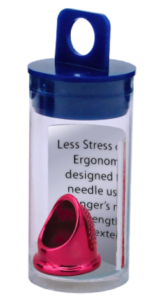 *We may earn a commission on products purchased through the above links.