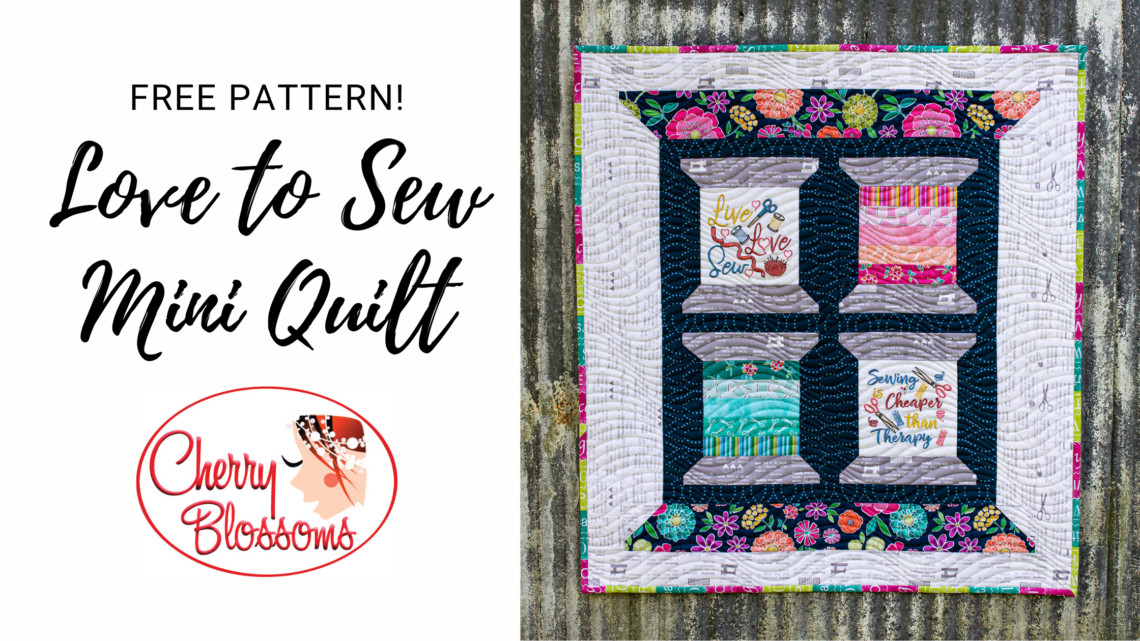 Love to Sew? Stitch a Mini Quilt & New Designs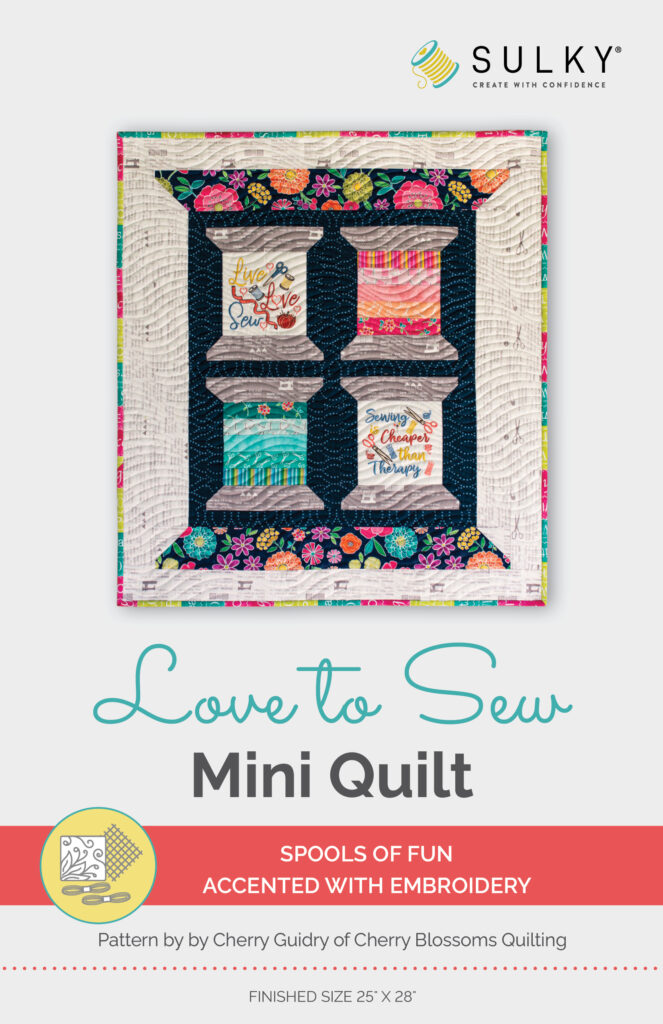 Love to Sew Mini Quilt Pattern
Decorate your sewing space with a Love to Sew Mini Quilt showcasing fun spools. The spools are pieced with fun sewing-themed fabrics, and then assembled into a larger thread spool motif. Add machine embroidery to some of the small spools to echo your love of sewing, using our new machine embroidery collection. The collection is available as individual designs, as a collection and delivered with purchase of our Love to Sew Machine Embroidery Palette. The palette contains the six Rayon thread spools needed to embroider all of the designs in the collection!
Designed by Cherry Guidry of Cherry Blossoms Quilting, this pattern is for confident beginners through advanced quilters. Choose the quilting you'd like to do, and are most comfortable with. The fun of a mini quilt is that it can fit in a home sewing machine with plenty of room for free-motion fun, quilting in the ditch, echo quilting around each spool and so on. Use invisible thread for quilting that disappears, leaving the fabric as the star. Or use the same rayon thread used for the embroidery to create shiny quilting that pops. Sulky 50 wt. Cotton Thread is a great choice for the piecing, as it is strong and easy to sew. This thread also works for the quilting, if desired.

MINI QUILT SUPPLIES
Sulky Thread
Sulky Stabilizer
Organ® Needles
Misc.
Embroidery Design Collection: Sulky Love To Sew (included with purchase of the Love to Sew Machine Embroidery thread palette)
Fabric
LIVE LOVE SEW MACHINE EMBROIDERY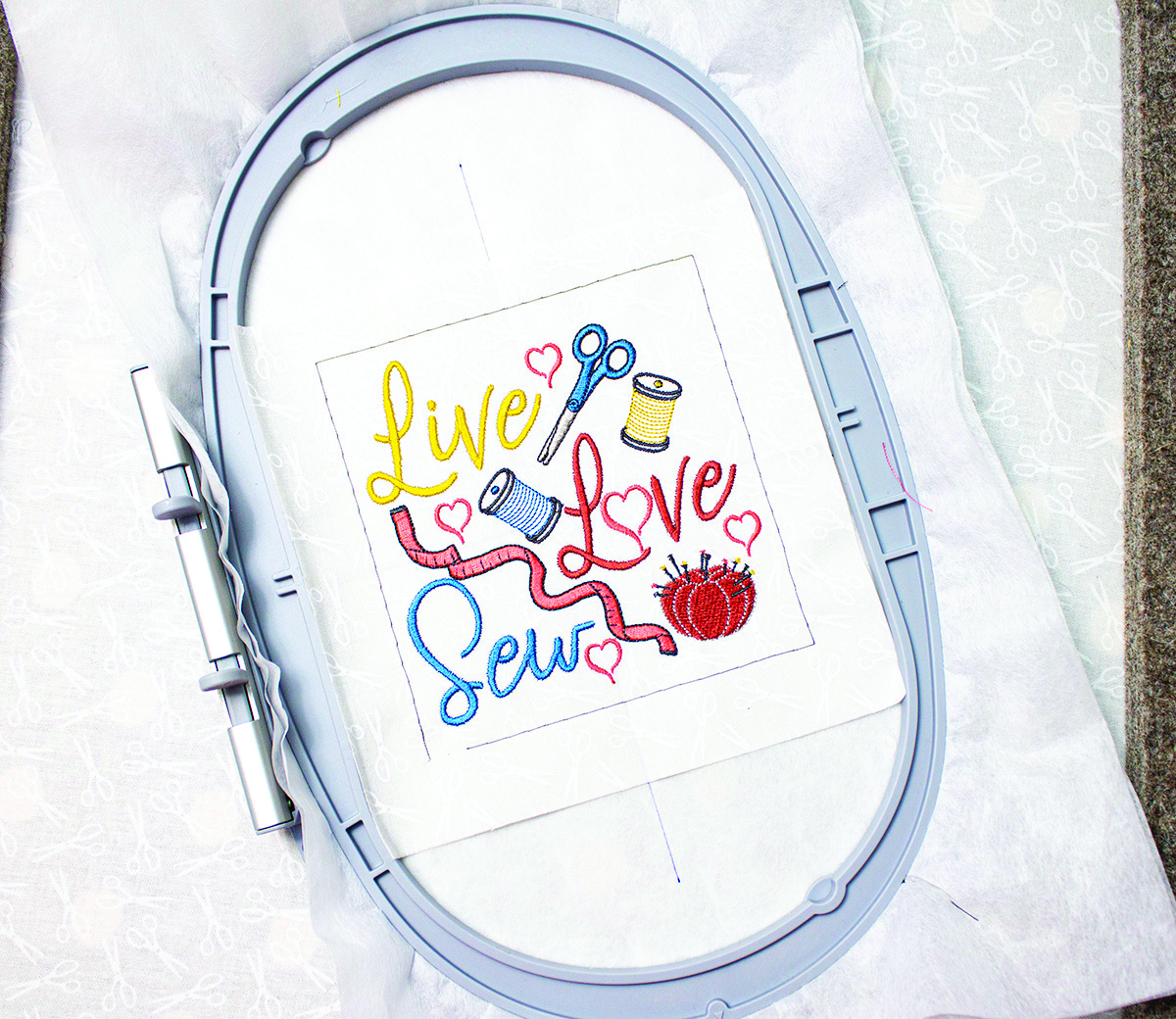 The machine embroidery collection was designed by Sue Penn Designs and each design in the collection is sized to fit into 4×4 hoops. Choose from six designs, all showcasing fun sewing motifs and phrases. These designs are great for gift-making, tea towel embellishments, project bags and sewing room décor.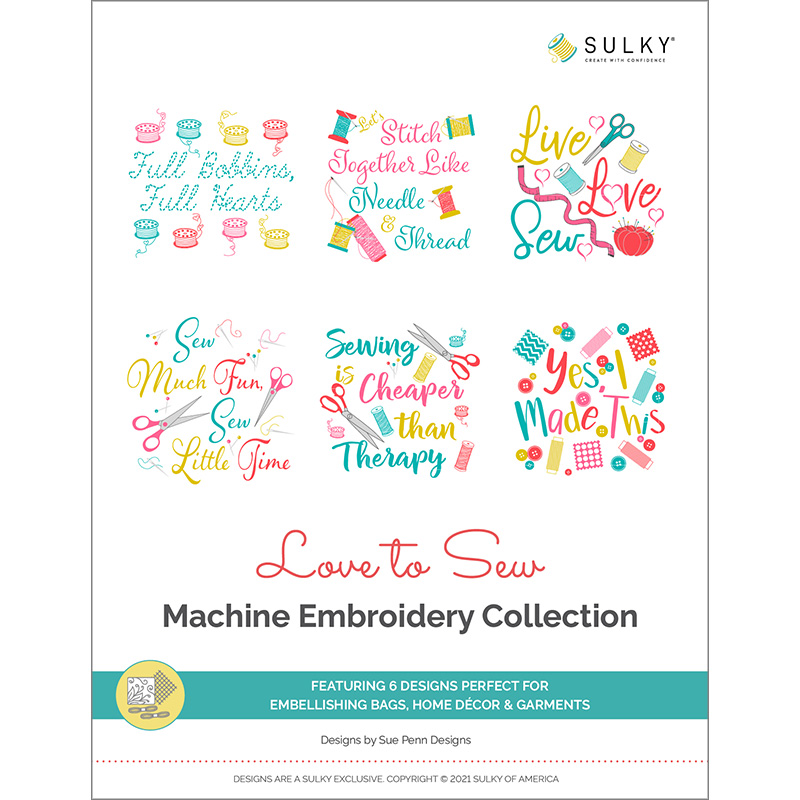 Grab the free pattern to make your own Love to Sew Mini Quilt! Note: You must go through the checkout process even though the pattern is FREE. Then this pattern is stored in your Sulky account for future reference!