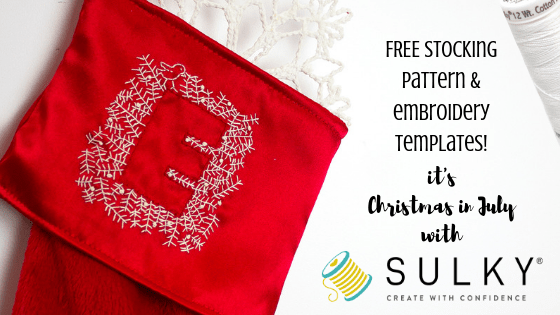 Embroidered Velvet Stocking
Create an embroidered velvet stocking set for your mantle this Christmas. By starting the project in July, you'll have plenty of time to create one for each member of your family, including hand embroidered letters to represent their first names. Grab the free stocking pattern to start creating your stockings today.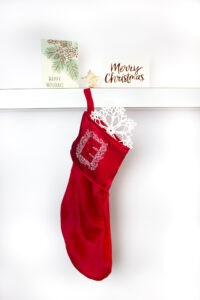 What You'll Need:
This beautiful embroidered velvet stocking project is rather easy to construct. The embroidery does take some time and patience, but simple stitches make repetitive work of it. Choose 12 wt. cotton Petites for the embroidery, or opt for Filaine, a wooly acrylic thread that's also 12 weight, but offers a fuzzy, textured appearance that's perfectly paired with velvet and other plush fabrics.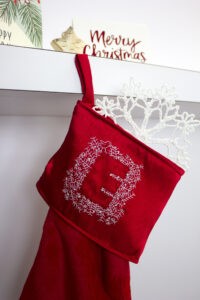 First, grab the hand embroidery templates. Print the chosen letter onto Sulky Stick 'n Stitch by running it through your standard printer. Cut out the design, leaving a 1/4″ border. Remove the paper backing and place the stabilizer on the fabric right side. Stitch through all layers, and then rinse away the stabilizer. Let the fabric dry and continue stitching the embroidered velvet stocking project.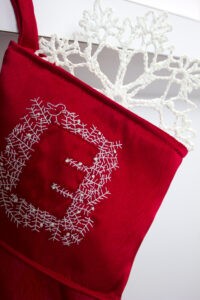 Designed by Aimee Davis of DaisyEyes Handmade, the Winter Greens hand embroidery designs are easily resized for other projects, too. Embellish a girl's top following the same hand embroidery instructions. Create a top for each kid in your family for a winning holiday photo.
Let us know what you plan to embellish with these patterns by commenting below.
Happy Christmas (in July!)
We love to see your work, too! Tag us on social or use #SewBetterWithSulky