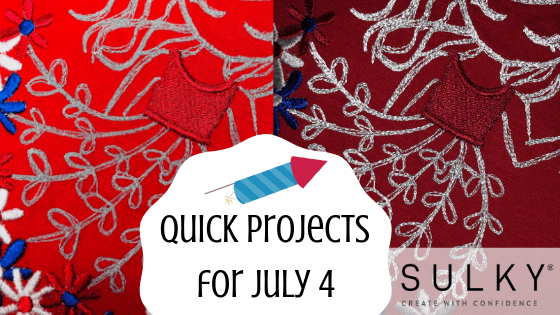 July 4 Machine Embroidery Designs & Projects to Make
Celebrate Flag Day and Independence Day with July 4 machine embroidery! These projects are easy to make–all that's needed are some cute designs to add to your collection. Pick up the Sulky Patriotic Machine Embroidery Palette, including 10 spools of coordinating rayon thread in red, blue, white and metallics, to make things super simple.
This project is completely free! The pattern and Fun Fireworks designs are all available for download in the format of your choice. They work perfectly in Sulky metallics, too. Just be sure to install an Organ metallic needle to account for the friction produced by metallic thread.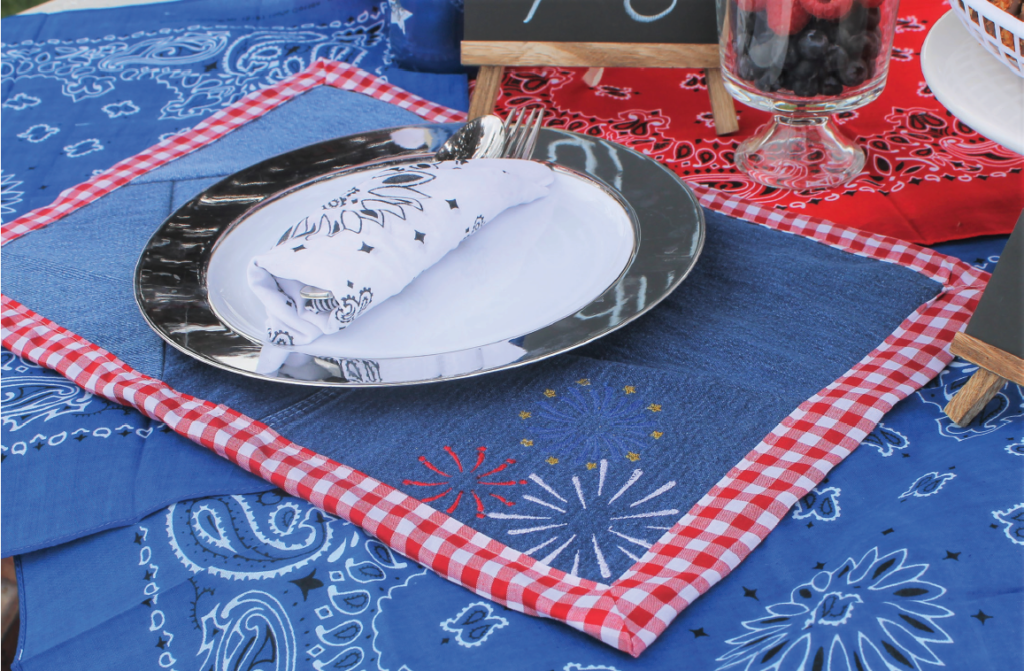 2. Reflective July 4 Machine Embroidery T-shirt
Reflective thread is a great choice for kid's wear when you know you'll be outside watching fireworks in a crowd. You'll be able to easily spot your kid in a shirt that showcases Sulky CRY® Reflective Thread. When embroidering T-shirts, use Sulky Sticky +™. Hoop the stabilizer, and then position the T-shirt front on the adhesive surface. Baste the shirt in the hoop before beginning the embroidery. Stay with the machine at all times to ensure the T-shirt doesn't get caught during embroidery. Add a layer of Sulky Tender Touch™ to the shirt wrong side after embroidery is complete. This secures the stitches and provides comfort for the wearer. The featured design is Red, White and Blue Ballerina from Embroidery Library.
3. Cute Tea Towel with Patriotic Embroidery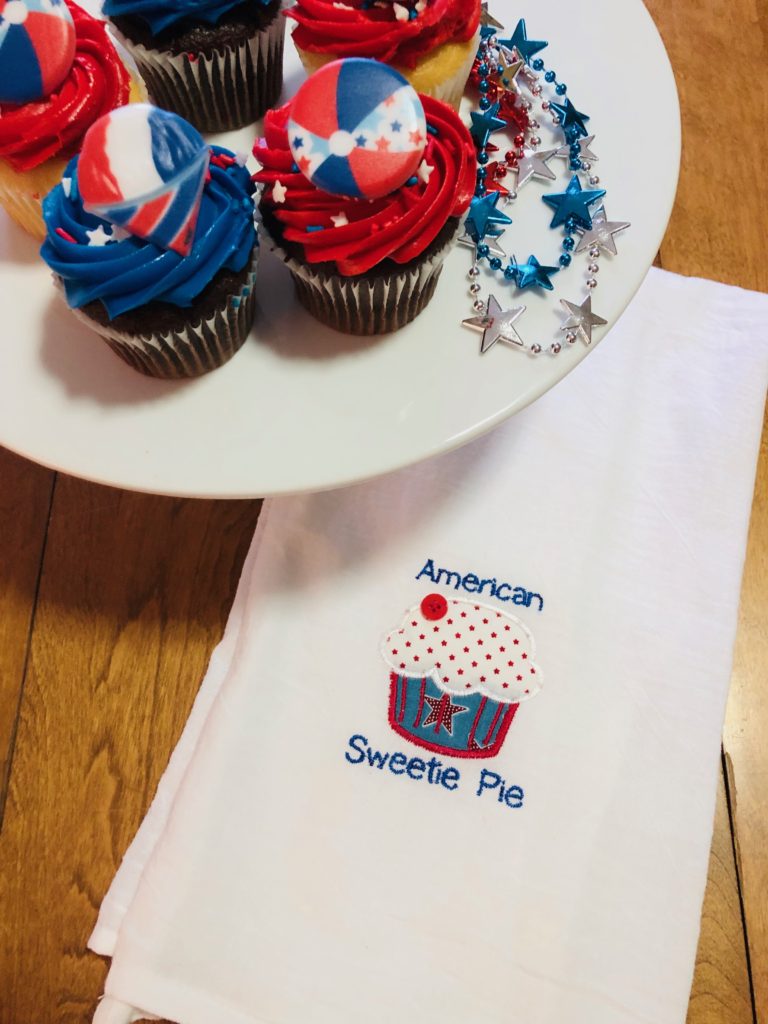 Embroider a cute applique embroidery design onto a tea towel and gift it to the neighbors with cupcakes. The featured fabric is from the Celebrate America charm pack by Riley Blake. The American Sweetie Pie design is included with the Sulky Patriotic Machine Embroidery Palette. The cupcake would be equally as cute on a kid's T-shirt.
Watch it all come together below!
4. Drawstring Bag with July 4 Embroidery
Use this design from Embroidery Library on a simple drawstring bag, like this one that Michelle from Serafina1973 made last year during our Back to School Series, or on the up-cycled denim drawstring bag from our Upcycling with Denim Online Class (class is only $39.99!).
Other ideas: Use a denim fabric for the base of the backpack and a stars or stripes fabric print for the main bag panel!
5. Patriotic Pinnacle Table Runner
The kit to make this project includes the top fabric, designs, thread and specialty ruler needed to create the table runner. Plus, the free webinar with designer Vanessa Wilson, the Crafty Gemini, is completely free. Who better to teach you how it comes together than the designer herself?
You'll also need Sulky Stiffy, Sulky Sticky +, batting and backing fabric, and you can either use the leftover charm squares to create a pieced binding or purchase extra yardage for the binding.
Backing fabric seen in webinar: Celebrate America Main Multi Fabric
Binding fabric seen in webinar: Celebrate America Mini Stars Cream Fabric
Background fabric seen in webinar: Kona Cotton Snow Fabric
For batting: Quilter's Dream Cotton White Select Batting (60" x 60") Throw