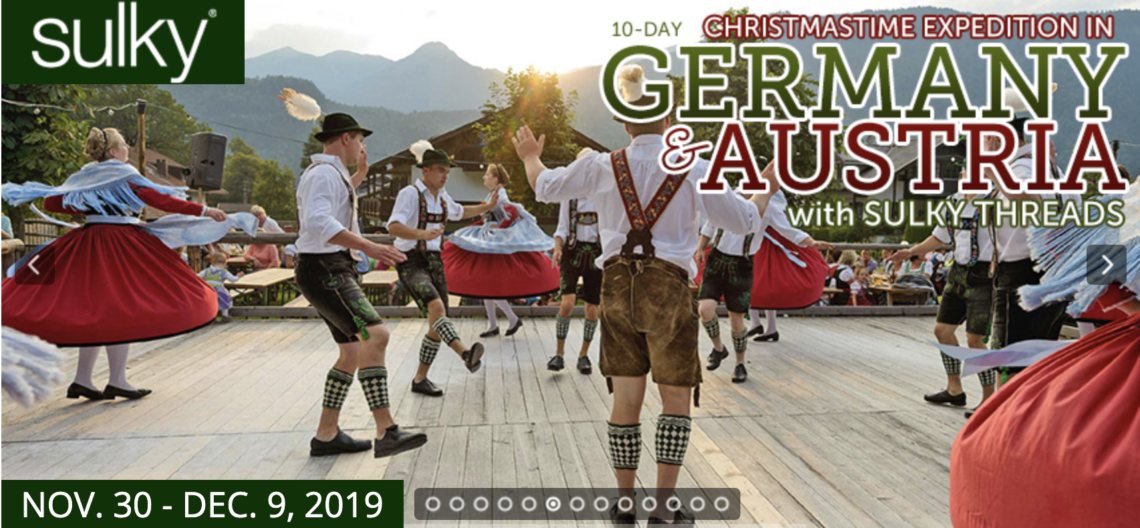 Take a Germany Trip with Sulky for your Sewing Vacation
The Germany trip with Sulky registration closes soon!
Have you ever taken a sewing vacation? A vacation where you're surrounded by fellow sewists, quilters and crafters? It's so nice to meet people from all over the country who are interested in the same things you are. These are fast friends that we sit on the bus with, chat about our past experiences with, hand sew or hand quilt a little project with while venturing from place to place, experience different parts of the world with, eat different cuisine with, and get inspired for our future projects.
Don't you want to make this apple strudel (or at least EAT it!)?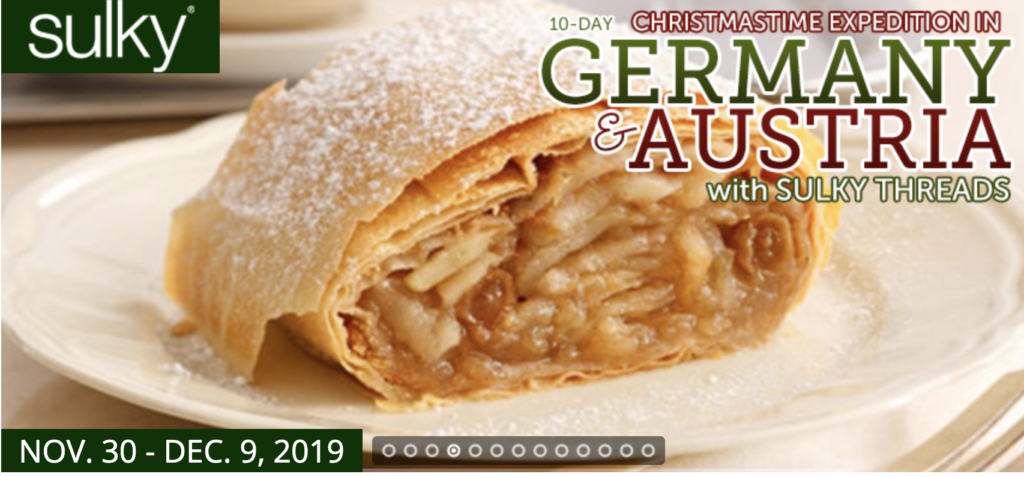 I'm so excited for our Sulky tour with Craftours through Germany and Austria, because I know I'll meet some of the best people and get to talk sewing, quilting, fashion, and trends – as well as visit all the quintessential tourist locales (as well as ones that are off the beaten path). Craftours makes it easy to come alone or with a partner or friend, too. If you've ever considered a trip like this, but don't have someone to go with–this is the greatest opportunity. And if you have friends all over the country, this is a great way to meet up for a mini reunion!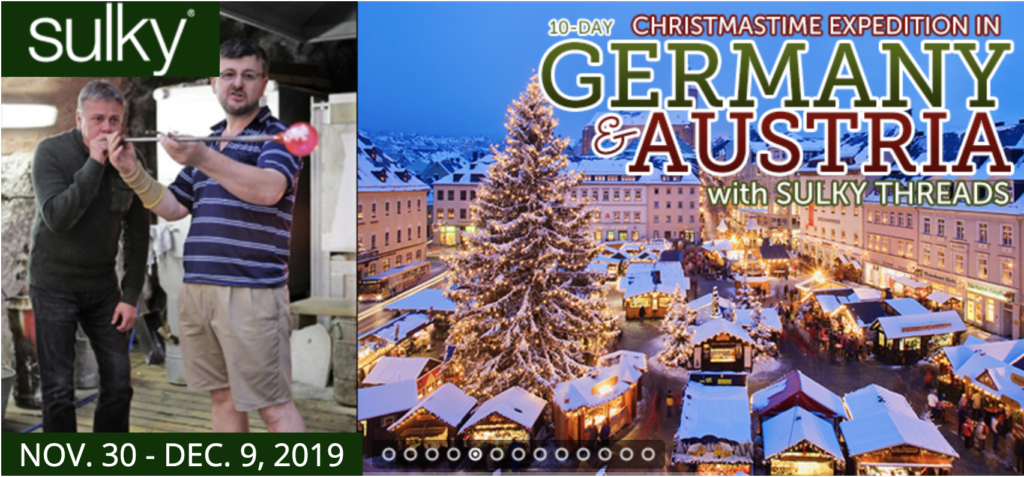 Germany Trip with Sulky Highlights
Salzburg's "Old Town" (Altstadt) has internationally renowned baroque architecture and one of the best-preserved city centers north of the Alps. It was listed as a UNESCO World Heritage Site in 1997. Host to three universities and a large population of students, Salzburg is noted for its attractive setting and scenic Alpine backdrop.
Salzburg was the birthplace of 18th-century composer Wolfgang Amadeus Mozart. In the mid 20th century, the city was the setting for parts of the musical play and film The Sound of Music.
Christmas Markets
The tradition and ambiance of Salzburg's Christmas market make an ideal setting to start off the Christmas season. Every year visitors are enchanted by the charm of Cathedral Square, the traditional booths, the strings of light and the quality of the diversified items on sale. Come and enjoy some of the magic this year: from traditional handicrafts, fine baked goods, aromatic tree ornaments and various objet d'art for the Christmas season.
The enticing smells of mulled wine and rum punch, roasted almonds, Nuremberg bratwurst and gingerbread fill the air. And it's not only tiny tots who will have their eyes all a-glow as the Nuremberg Christkind appears on the balcony of the Church of Our Lady to open the holiday season. During this season, the "little town of wood and cloth" will shine in the heart of Nuremberg's Old Town and turn it into Christmas City. More than 180 market stands – all decorated for Christmas with fresh greens and lights, the local gold-foil angel, Zwetschgenmännle made of prunes, toys and games and delicious holiday treats to eat and drink. This is a one-of-a-kind atmosphere where you can enjoy the magic of the Nuremberg Christmas Market!
Bavaria
Oberammergau is a municipality in the district of Garmisch-Partenkirchen, in Bavaria, Germany. The town is famous for its production of a Passion Play, its woodcarvers, and the NATO School. The Oberammergau Passion Play was first performed in 1634 and is the result of a vow made by the inhabitants of the village that if God spared them from the effects of the bubonic plague then sweeping the region they would perform a passion play every ten years. The play is now performed in years ending with a zero, as well as in 1934 which was the 300th anniversary and 1984 which was the 350th anniversary. It involves over 2000 actors, singers, instrumentalists and technicians, all residents of the village.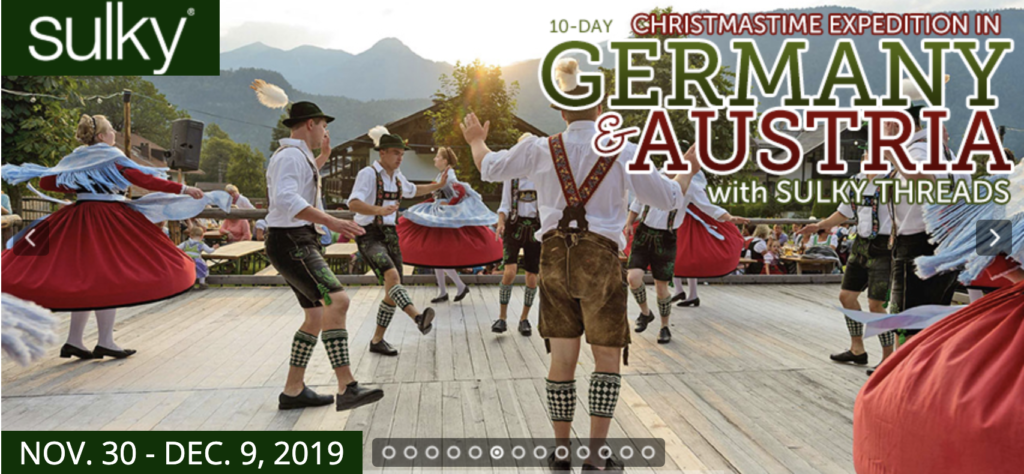 More Details
So far we have a few ladies coming alone, looking for roomies. If you're interested in sharing a room (and the hotel expense), just let Craftours know when you register and they will pair you with another traveler (Don't worry–you don't have to be buddies the whole time. But you might just make a new best friend!). We also have a couple celebrating a mutual birthday, and a mother-daughter team. I can't wait to meet everyone!
Our tour registration closes on July 31, so even though the Germany trip with Sulky is not until November the time to register is NOW. There are limited spots available, and I want to be sure everyone who wants to come can get a spot! If you're on the fence, it's time to pull the trigger. You deserve this!
For questions regarding the Germany trip with Sulky, call toll-free: 877-887-1188 (US or Canada), 02393 880068 (UK) or 18 0010 6424 (Australia) or submit your reservations online.
Don't Forget the Thread!
We'll also get a unique opportunity to see where Sulky thread is made and manufactured. It's a fascinating process and we'll meet some of the talented workers who make our thread possible. Don't worry–you'll get a sample to take home, too!
https://micgadget.com/wp-content/languages/new/cialis_professional.html