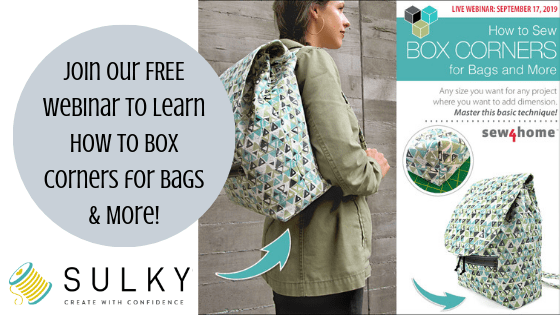 How to Sew Box Corners for Bags + More Free Webinar
How to Sew Box Corners for Bags + More
with Liz Johnson of Sew4Home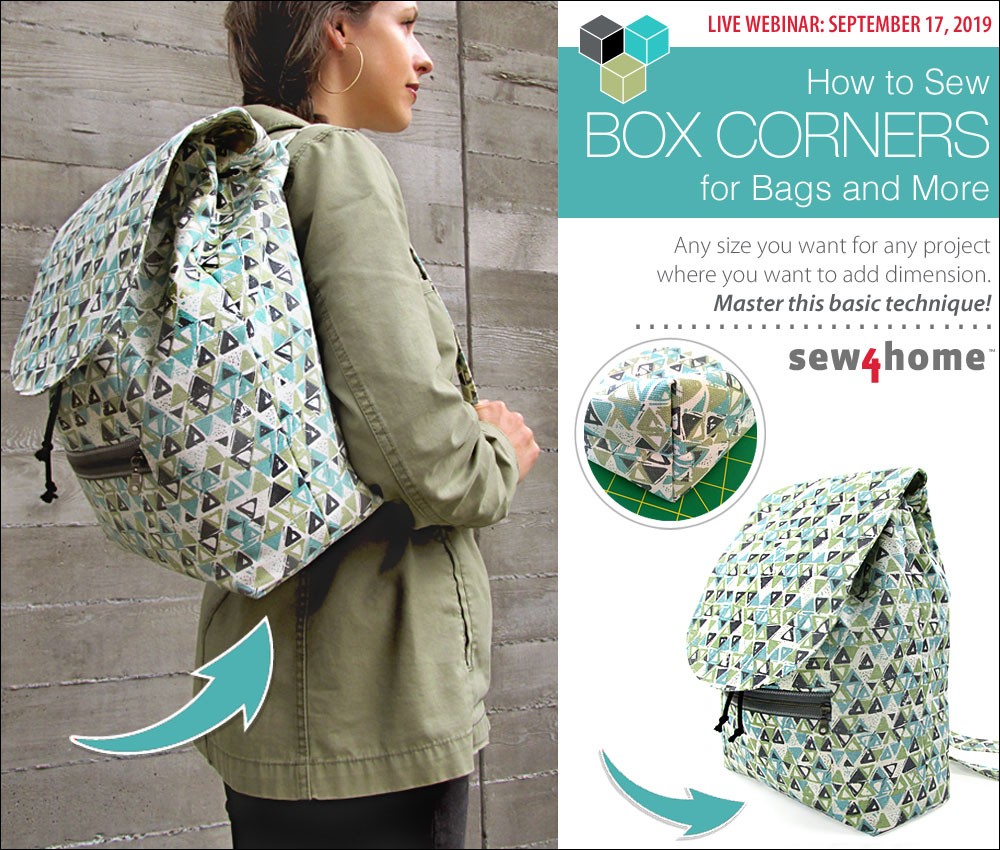 Join us for our free webinar on September 17, 2019, with Liz Johnson of Sew4Home! Liz will teach us how to sew box corners for any type of bag. This technique is invaluable for creating dimension and stability in so many projects. Once you learn the formula (yes, it's math!), you'll be able to decipher any size box corner for your project needs.
You'll learn two different methods for this technique, so you can choose the one you like best. They both result in professional finishes that add polish to your projects.
How to Sew Box Corners Notions Kit Details
With each free webinar we present, there's a special kit to make the featured project. The kit for this webinar includes most of the items you'll need to create the featured backpack. It includes the Fuse 'n Stitch stabilizer used to add more structure to the backpack, and all the notions you need. You won't have to go searching for the perfect grommets or cord lock (don't you hate doing that?), as they're all inside the kit! The pattern for the backpack is included exclusively in the kit, too. Join the webinar for your chance to have first dibs on grabbing the kit before we run out. There are limited quantities and they go fast!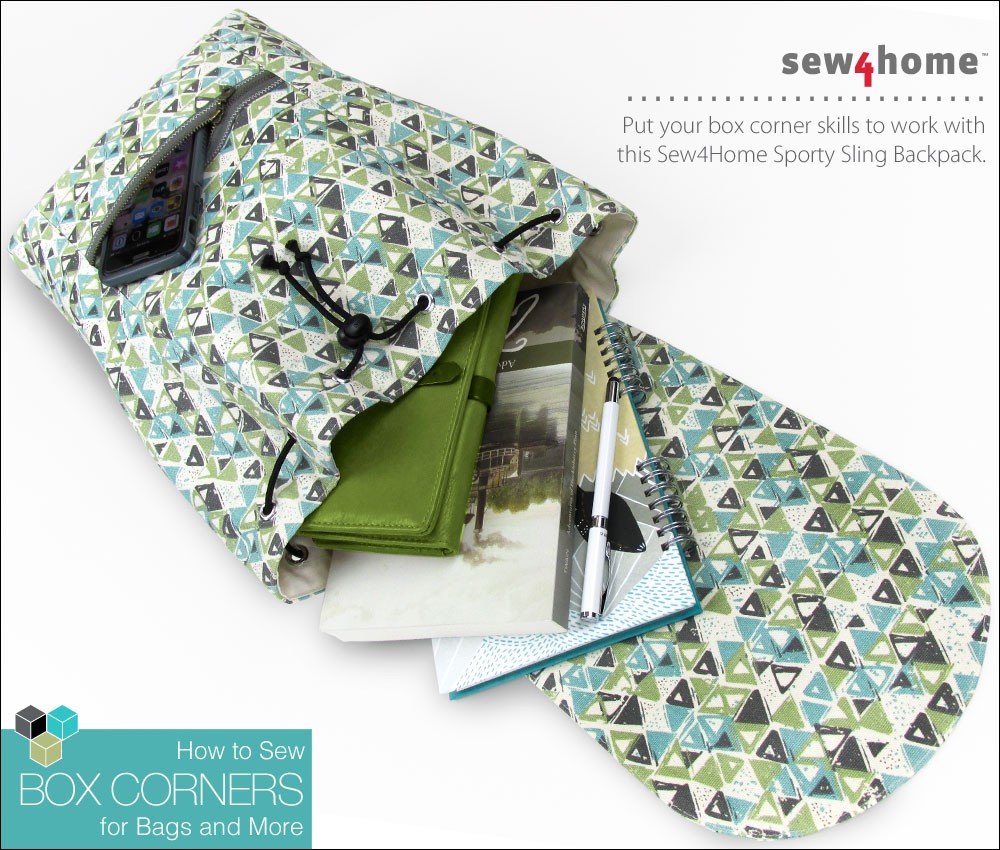 We're letting you decide on your backpack fabric, zipper and thread colors, so these items are not included with the kit. You may have the perfect print in your stash for both the outer and lining fabric. Or, if you want to gather the exact match as featured above, purchase 1 yard of Premiere Prints Acute Formica Green Natural and 1/2 yard of Robert Kaufman solid natural Kona cotton. Then grab a 7″ matching zipper and Poly Deco thread.
Backpack Pattern Details
The Sew4Home Sporty Sling Backpack with Box Corners and Cinched Top gives you the perfect opportunity to put your newfound box corners expertise to use! This versatile bag is roomy enough for toting items to the gym, carrying sewing or knitting supplies to class, traveling on an airplane, or simply using as your favorite everyday bag. It features a grommet-and-cording top for a cinched closure. A single broad strap at the center back makes it fast and easy to loop over your shoulder and super comfortable to carry. And two zippered pockets at the front and back of the bag hold smaller items. Use your favorite home-décor weight fabric with a matching cotton lining, paired with our notions kit (which includes the Sew4Home Bags & Totes book!) to make a bag that's unique to you.
How to Sew Box Corners with Liz Johnson
Join us for the webinar to master this technique from one of the experts in the sewing industry!
With nearly a half million views each month, Sew4Home is one of the industry's most popular DIY websites. Senior Editor, Liz McKinney-Johnson started Sew4Home in 2009 with creative partner, Anne Adams as a site for creatively active do-it-yourselfers who were looking to make unique, stylish items for their homes and families. Since then, the Sew4Home team has published a trend-setting project or helpful sewing tutorial, each and every weekday. Learn more at sew4home.com.