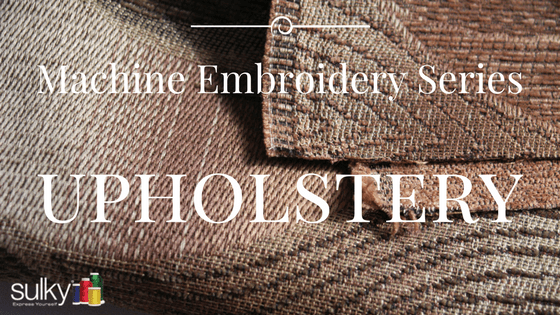 Machine Embroidery Series – Upholstery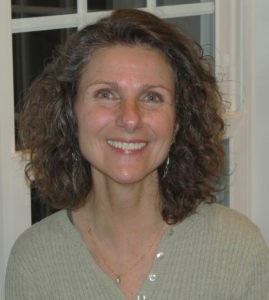 This series is written by guest blogger, Pamela Cox. Pamela is an expert embroiderer, designer, digitizer and all around wonderful girl! We are so happy to have her contributing to the Sulky Blog!
Upholstery Fabrics
Let's talk about Upholstery Fabrics, which include a wide variety of textures, patterns, weights, fiber content and weaves.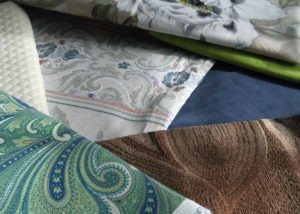 Most materials sold under this heading are strong, durable and resist stains making them perfect for accessories such as tote bags, backpacks or even small purses.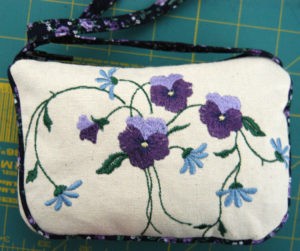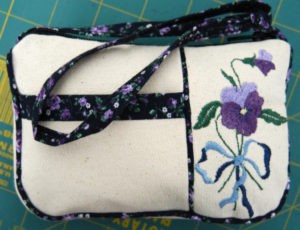 You will also find uses in home deco projects including placemats, throw pillows…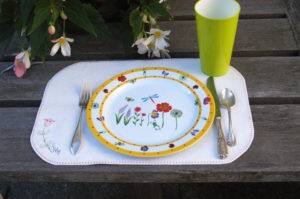 and, yes, even actual upholstery!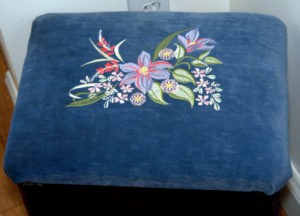 Although fiber content may vary, the shared characteristic is that these fabrics cannot be secured directly within a machine embroidery hoop. Lighter weight upholstery fabrics tend to retain the marks from hoop pressure while heavier weights are simply difficult to evenly secure.
Please Note: Canvas, duck cloth, leather and vinyl can also be considered within this category but have been addressed in previous blogs.
It is a misconception that heavy fabrics require heavy stabilizers. Think about it. Thick, solid fabric is already providing a stable foundation to accept the many stitches necessary in machine embroidery!! Most often, heavy fabric simply requires the path in which to travel through the motions of a computerized design, or, in other words, a method of hooping.

Equally suitable for machine embroidering on upholstery fabric is either Sulky® Soft 'n Sheer™ or Sticky+™.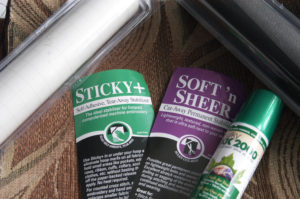 Securely hoop either Sulky Soft 'n Sheer or Sticky+ directly in an appropriate sized hoop: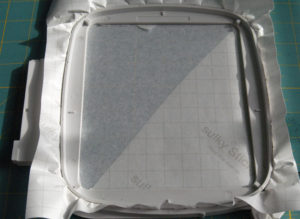 the final drape of the fabric is a factor – this stabilizer does not compromise the feel of the fabric
excess is easily cut away from the design
a machine basting a box around the design will not compromise the fabric texture/surface
the feel of the final project is a non-issue
anchoring the upholstery fabric to the stabilizer is best done by an adhesive, rather than machine basting unforgiving surfaces, such as leather or other weather repellent outdoor fabrics
the stitched design is dense allowing the stabilizer to be gently, but easily, torn from outside edges
Next, let's consider needle size and type. In general, I prefer a Topstitch Needle, which offers the same or larger eye-size of embroidery and metallic needles.
The large eye allows the thread to travel through with less friction, translating into less thread breakage. A Topstitch Needle is also available in larger gauges than regular embroidery needles, which is often necessary to easily penetrate a heavy surface.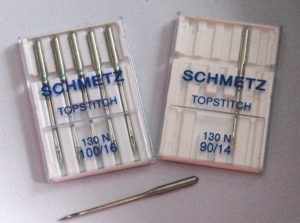 Please note: One must consider the fiber/material content at this point, meaning leather upholstery requires a special needle. Please refer to the leather blog in our blog archives. Knitted textures, especially with a knit backing might be better served with a ball-point embroidery needle.
It would not be unusual to use a 100/16 Topstitch Needle for upholstery embroidery. However, it would also be prudent to slow the speed of the embroidery machine down at least by half, if not by three-quarters.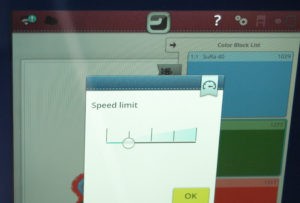 It may also be necessary to adjust the bobbin tension. Stitching a sample of the design will prove what adjustments, if any, need to be made.
The upholstery material used for this sample is a textured, heavy-weight fabric.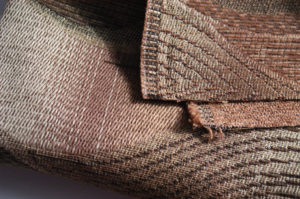 Sulky Sticky+ was secured directly in the hoop with the release sheet on. I scored the release sheet with a pin, and removed it (see 4th photo above). Since I wanted to place the butterfly design (#983-single butterfly available at the Sulky Embroidery Club website) on an angle, following part of the fabric pattern,

the hooped stabilizer could be anchored into the embroidery machine, with the fabric floating over the stabilizer until proper design placement was located and then simply, but firmly, pressed into place. (HINT: If you have a piece of fabric that is particularly stiff and unwilling to conform to the hoop, you may need to spray the wrong side with Sulky KK 2000™ Temporary Spray Adhesive to double the tackiness of the Sticky+.)
The design was stitched in Sulky 40 wt. Rayon Thread with a 100/16 Topstitch Needle, slowing the machine down by three-quarters.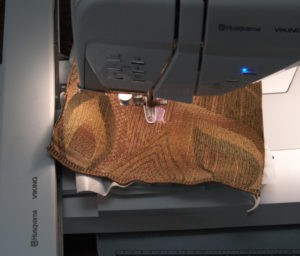 Once completed…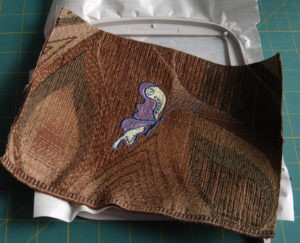 Sulky Sticky+ is easily pulled away from the heavy fabric, yet the sticky surface amazingly holds materials firmly in place during the stitching process!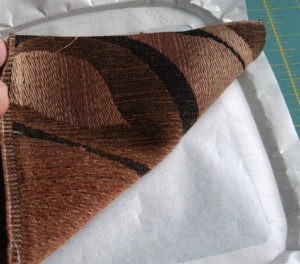 Sticky+ can be gently torn from densely stitched areas…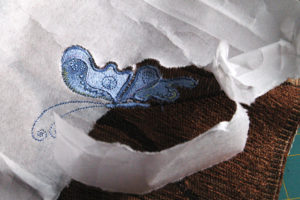 but should be cut away from single lines or left intact.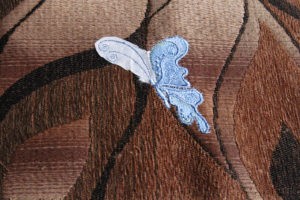 Can't you just picture this fabric made into a rugged tote bag…. piecing the fabric to change the flow of the pattern? Yes, I too, have complete ideas matched with incomplete projects! LOL
But at the end of it all when you've completed your masterpiece, you should consider cleaning it by purchasing an upholstery cleaning machine, these can be used for future purposes as well for removing stains, getting rid of pet hair an much more. This way you can keep your furniture looking as new and fresh as possible, brilliant isn't it!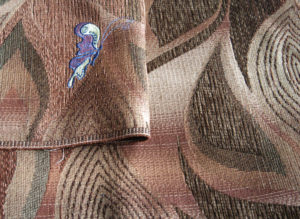 Credits:
Mini-purse design from Graceful Embroidery's Heartsease Collection available
Placemat design from My Fair Lady's Summer Stipple collection available at:
Shoe Shine Bench design is built in to Janome Memory Craft 350E Embroidery Machine.