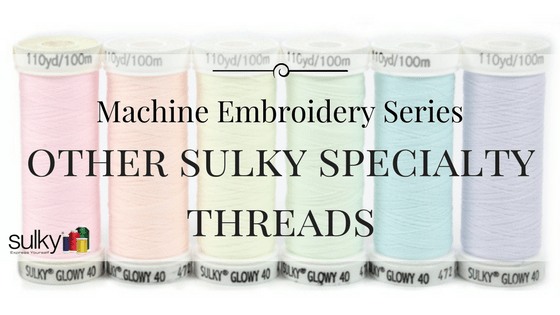 Machine Embroidery Series: Sulky Specialty Threads
Sulky Specialty Threads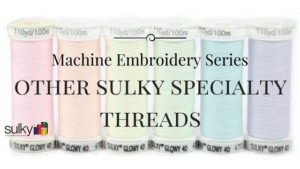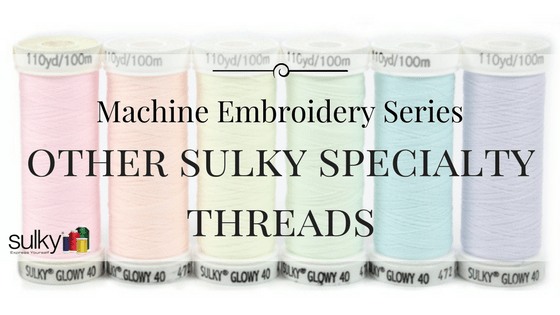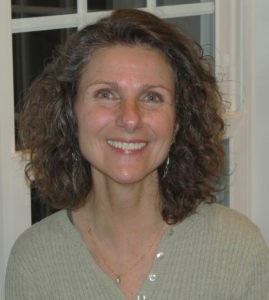 This series is written by guest blogger, Pamela Cox. Pamela is an expert embroiderer, designer, digitizer and all around wonderful girl! We are so happy to have her contributing to the Sulky Blog!
We have been exploring all types of Sulky Thread in our last few blog segments and have learned about individual properties and potential usage for 40 wt. Rayon, 60 wt. PolyLite™, 40 wt. PolyDeco™, and 12 wt. and 30 wt. Cotton Thread  (including Sulky Cotton Blendables® Thread) !  We have also been exposed to the creative possibilities of stitching, or accenting, an embroidery design in one of the many threads from the Sulky Metallic Family:  Original, Sliver™ and Holoshimmer™.  Now, we will talk about the other Sulky Specialty Threads!
Believe it or not… Sulky still has more types of thread that will quickly become a welcomed supplement to your thread collection!
Did you even know that light-activated thread exists?And that it really does glow in the dark??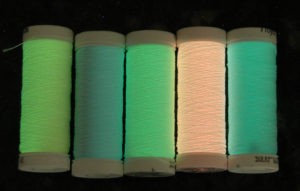 Sulky Glowy™ Thread is available in six pastel colors…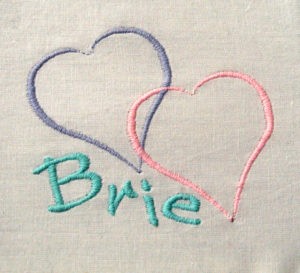 Well, until darkness sets in!  That's when areas stitched with this specialty thread will simply glow!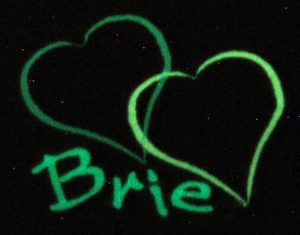 The glow will last 15-20 minutes, depending upon how much prior exposure to light it had received.  The "glowing" property will persist through repeated washings as well!
The obvious usage for Sulky Glowy would be for spooky Halloween items. However, what about using it on a T-shirt that your child will wear to the July 4th fireworks?  The holiday evening starts off with the sun setting, but shortly turns to complete darkness as the fireworks start.  Your child begins the evening of fun wearing a cute T-shirt embroidered in pastel colors. Once the darkness settles in, their shirt becomes a reassuring way to quickly spot your child among their group of friends!
A small Glowy design can also offer a sense of nearness for a young child who is having trouble falling asleep. Embroider a pillow case with a cute design using Glowy simply with just a single star or a little heart.  It may be just the thing a young child needs in order to relax and help remind them that you are always nearby.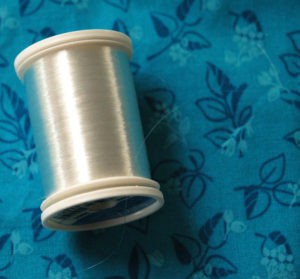 It is a great idea to have Sulky Invisible Thread, available in both clear and smoke, readily on hand. It is a very fine, flexible, polyester thread which can be used both as the top and bobbin thread (wind the bobbin slowly and only about half full). It is softer and much more heat tolerant than nylon counterparts; it will not melt with normal ironing through the polyester setting.  (Irons vary in temperature, so test first.)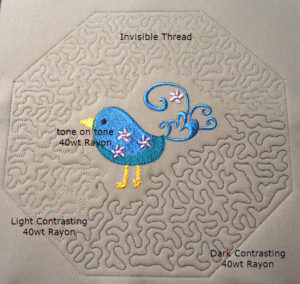 Sulky Invisible Thread fulfills needs of stitching in the ditch, invisible appliqué and "hand-look" quilting/stippling, whether these applications are done on a regular sewing machine or as an "in-the-hoop" project on an embroidery machine.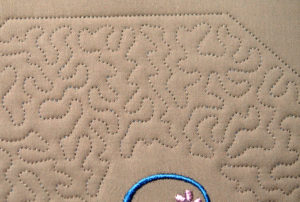 So much information is immediately available to answer your questions and to offer sewing hints.  However, if you still have a unique situation, you can go to the "Ask the Experts" page at www.sulky.com/faq/ or send an email to info@sulky.com.
I hope the Thread Blogs have provided you with practical information about lots of different threads, and when one type might prove to be more beneficial over another. But my greater hope is that you have become inspired to "paint" your machine embroidery creations in more than one palette!