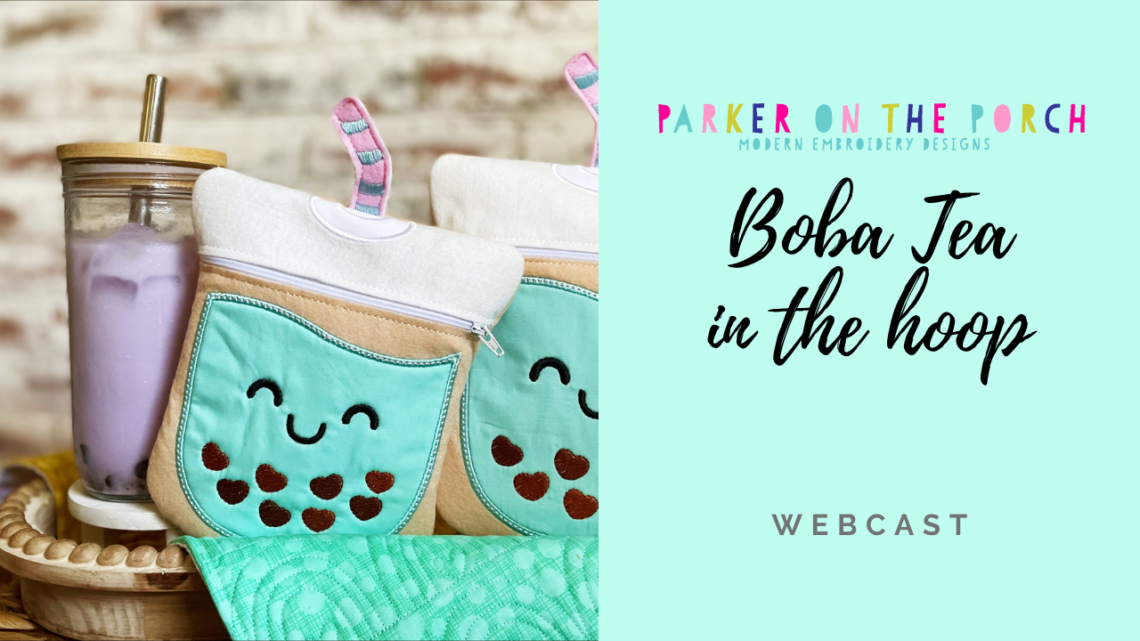 Boba Tea Zipper Pouch with Parker on the Porch
Boba Tea Zipper Pouch In the Hoop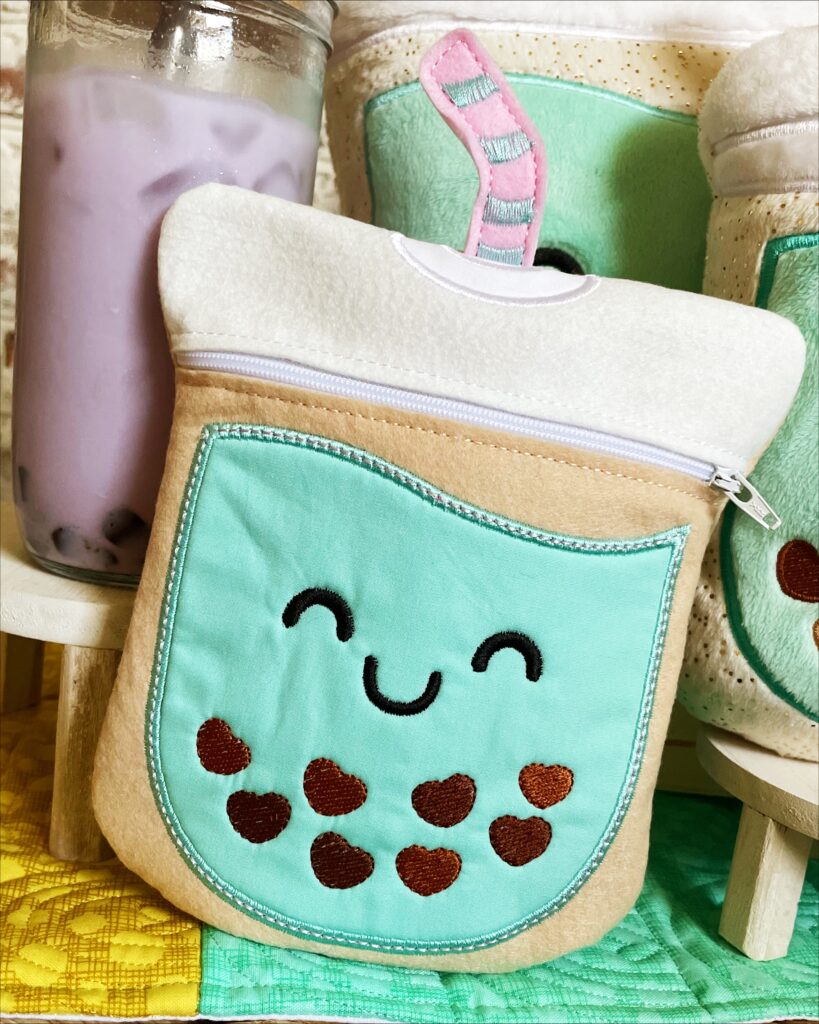 with Parker on the Porch – LIVE!
Parker on the Porch Embroidery Designs is excited to collaborate with Sulky for a special Boba Tea design release!
PLUS, Parker on the Porch has generously provided a FREE Mochi Charm and Boba Tea Card Guard ITH design for all registrants of this event! Register now to reserve your spot.
Jennifer Chesnick, the digitizer of all Parker on the Porch designs, began her digital embroidery journey in 2016. Jen's daughter, Parker, would often pose on their front porch steps holding the new finished products Jen designed, which is where the business name "Parker on the Porch" comes from! In the past seven years, Parker on the Porch has continued to grow and now includes in-the-hoop designs for hundreds of items including everything from zipper bags, mug rugs, keyfobs, and banners to stuffies, pillows and mini-quilts.
In this free webcast, you'll learn how to create a  Boba Tea Zipper Pouch in the hoop of your embroidery machine. Boba Tea is a trendy drink that's taking the world by storm! The drink is either made of tea or a sweet juice mixture, with fun popping boba pearls inside. You'll create those with needle and thread (and some other fun notions to create variations). You'll also learn to create a Bonus Mochi Charm, Boba Tea Card Guard and a Boba Tea Stuffy for lots of gifting options.
The featured Boba Tea Zipper Pouch is available in five sizes and requires two hoopings to complete. You must have at least a 5×7 hoop in order to create the project.
Sizes & Hoop Requirements:
1st Hooping (straw):
4×4 Hoop: 1.76" x 2.29"
4×4 Hoop: 2.20" x 2.86"
4×4 Hoop: 2.48" x 3.32"
2nd Hooping (zipper pouch):
5×7 Hoop: 5.10" x 5.74"
6×10 Hoop: 6.25" x 7.05"
8×8 Hoop: 6.98" x 7.87"
8×12 Hoop: 7.87" 9.87"
9×14 Hoop: 9.0" x 10.14"
The kit includes enough materials to make the largest ITH Boba Tea Pouch (or smaller, if desired). Materials needed for the bonus Squishy Boba Tea Stuffie, Free Mochi Charm and Boba Tea Card Guard are NOT included with the kit.
KIT INCLUDES
Boba Tea Design Files from Parker on the Porch (Boba Tea Zipper Bag in 5 sizes & Squishy Boba Tea Stuffy in 7 sizes) –
a $19.99 value!
Fabric: Art Gallery Fabrics Solids in Fresh Water & White
Sulky Felty: Beige, Bright White & Pink
Sulky Tear-Easy Stabilizer
Sulky Perfect Appliqué
Sulky Soft'n Sheer Stabilizer
Sulky Solvy Stabilizer
14″-long white YKK zipper
Low-loft cotton batting
(7) Snap Spools of Sulky Poly Deco Thread
FUN EXTRA: Boba Tea Zipper Pull Charm & Jump Ring
Learn best practices for making in-the-hoop projects.
Learn how to install a zipper in the hoop of your embroidery machine.
Create a fun Boba Tea themed Zipper Pouch, bonus Squishy Boba Tea Stuffy, Mochi Charm & Boba Tea Card guard all in the hoop of your embroidery machine.
60 minutes of live-streamed content
Live Q&A with the Sewing Instructor
2 Door Prizes to WIN throughout the event
FREE Mochi Charm & Boba Tea Card Guard design files for all registrants!
JOIN US June 13, 2023 at 2PM ET FOR THIS FREE CLASS WITH PARKER ON THE PORCH! REGISTER NOW: https://sewingonline.sulky.com/a/2147551721/JBYQ6ELF