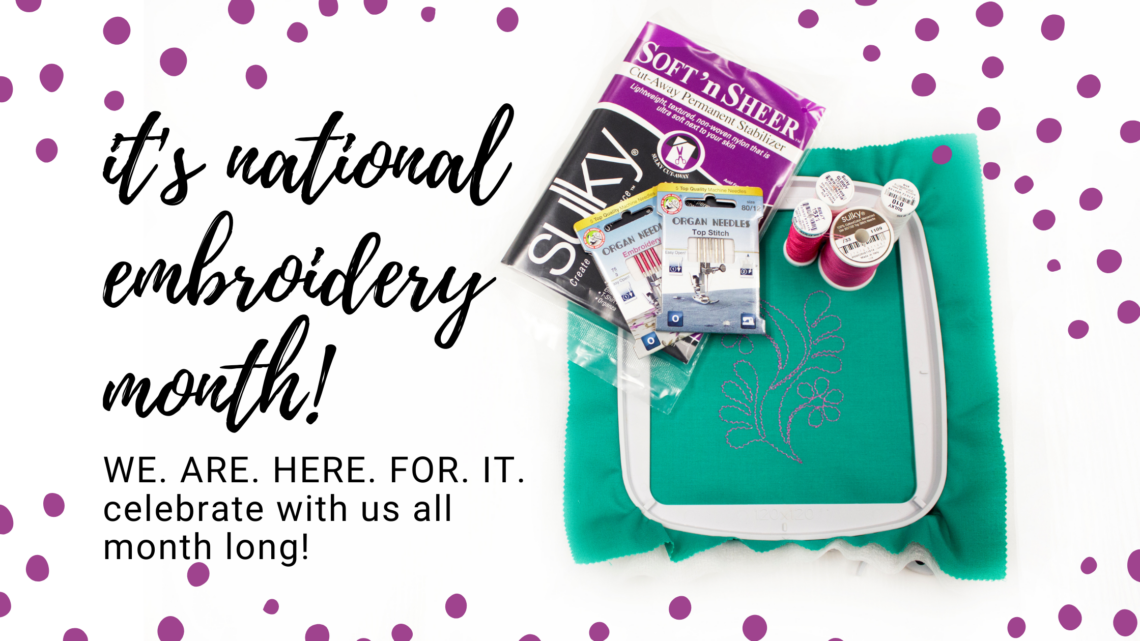 National Embroidery Month – Projects, Products & More!
It's National Embroidery Month!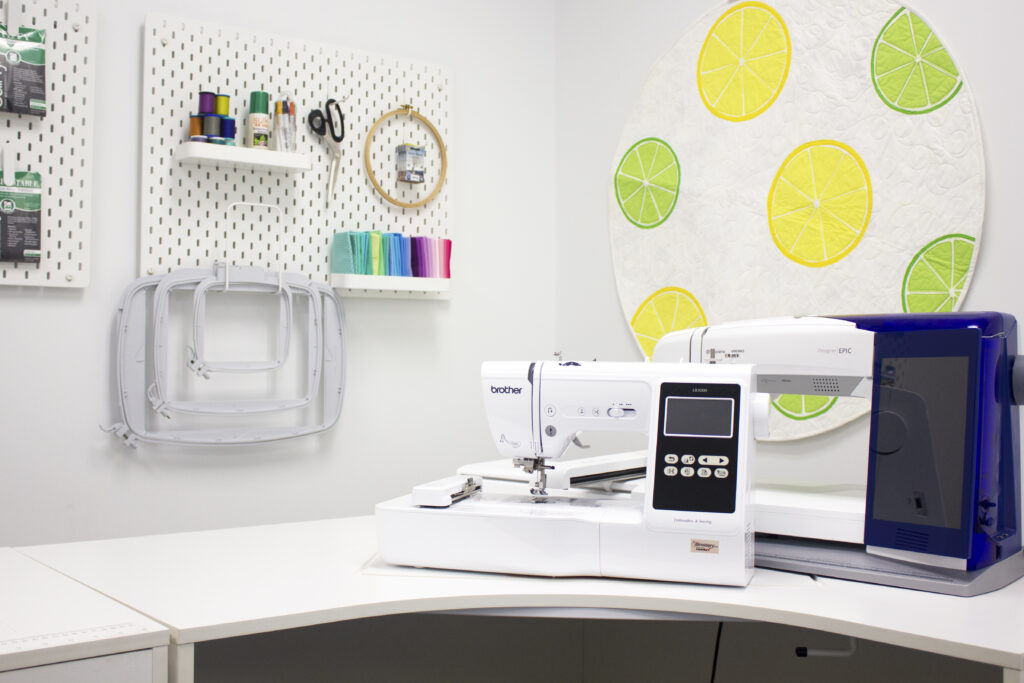 Calling all embroiderers! Whether you like embroidery by hand or machine, we're bringing you all things embroidery for National Embroidery Month! From the Absolute Beginner to the I've Done It All-er, there's something for everyone to learn and enjoy at sulky.com.
Absolute Beginner
Hand Embroidery
If you've never tried hand embroidery or need a refresher, Sulky has what you need for inspiration and resources to spark your creativity. Start with our Hand Embroidery for Kids video series. Whether you're a true kid or just young at heart, these easy-to-follow tutorials will have you stitching in no time. Once you've practiced a bit, grab a free Lion embroidery design to print onto Stick 'n Stitch™, practice your stitch formation and build muscle memory.
Machine Embroidery
For National Embroidery Month, Ellen March walks you through the very first things to consider once you've purchased (or are thinking about purchasing) an embroidery machine. Our new Beginner Machine Embroidery video series breaks down the basics in easy, short sessions to allow you to digest the information as you unpack your machine and navigate through your first project. The Beginner Machine Embroidery video series playlist is on our YouTube channel now! Get a sneak peek below.
Middle of the Roadster
Hand Embroidery
Maybe you've tried a few hand embroidery patterns and have a good understanding of how basic stitches are formed but the Lazy Daisy or French knot still gives you trouble. Grab our Rainbow Color Wheel Kit and work your way through a sampler to create more advanced stitches and have fun with Sulky 12 wt. Cotton Petites Thread. If you're used to working with floss, you'll love switching to thread on a spool, which results in less tangles and knots, fewer strands to manage and more freedom. Plus, the kit comes with one of our high-quality German Wooden Embroidery Hoops, which is useful and decorative.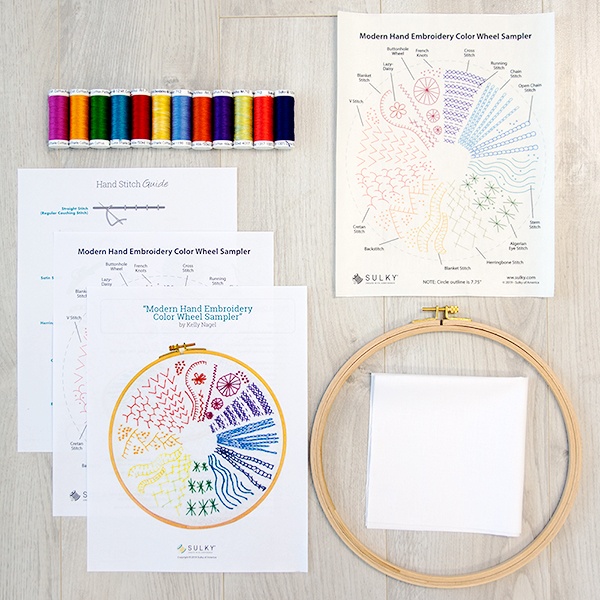 Machine Embroidery
Perhaps you've used the designs that are built into your machine, with Sulky 40 wt. Rayon or Poly Deco™ Thread, for numerous applications. Maybe you've tried your hand at a towel or garment, too. If you're looking to up your embroidery game, enroll in our Embroidery Zen courses. These comprehensive courses take you through the entire line of Sulky stabilizers, from tear-away to cut-away to heat-away and wash-away varieties. Best of all, you'll learn which needle, thread and stabilizer to use when and how to decipher the combinations that are best for your fabric and project. And, you'll learn from the best or the best in the industry, and build your embroidery design library along the way.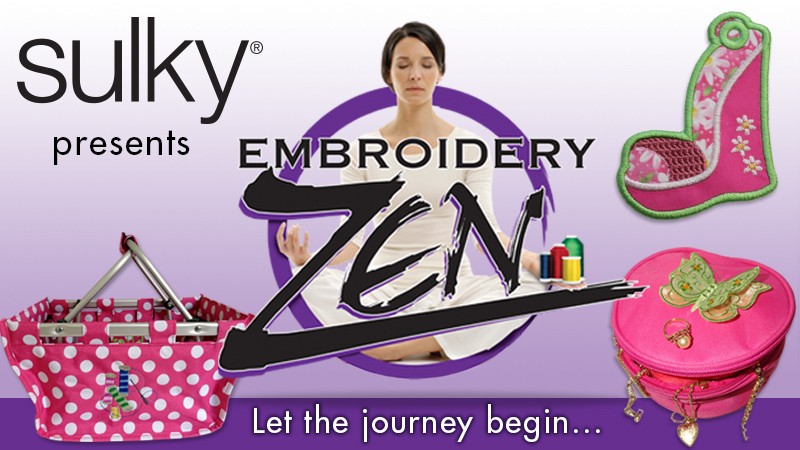 I've Done it All-er
Hand Embroidery
You're an expert, but are still looking for fun projects to showcase your craft. Look to our Blooming Espadrilles Legacy Webinar, featuring a DIY shoe project made in either cross-stitch or hand embroidery embellishment options. Not only will you be able to make your own shoes, but you'll also get a very cute floral embroidery design to use for just about anything you like!
Machine Embroidery
If you've truly done it all, you're going to need to restock your thread cabinet during National Embroidery Month! Grab our Embroiderer's Dream Assortment Slimline to have all the colors you need no matter which design you want to stitch. To restock your backings and toppers, grab our Stabilizer Dream Assortment to ensure you have any type of stabilizer on hand to tackle your project queue. And don't forget Filaine! This fuzzy, acrylic thread will take your embroideries to designer status when you brush the thread to create faux-fur effects. Last but not least, grab the Fur Filaine bundle…because we see dogs, cats and more furry embellishments in your future!