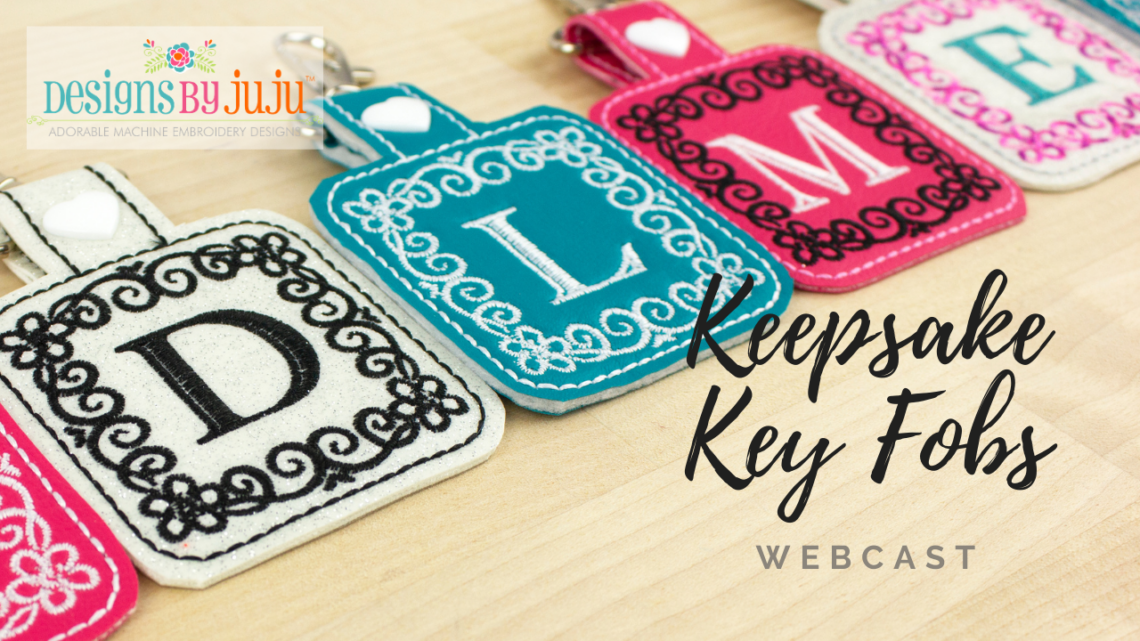 Keepsake Key Fobs Free Webcast with Designs by Juju
Keepsake Key Fobs – Free Webcast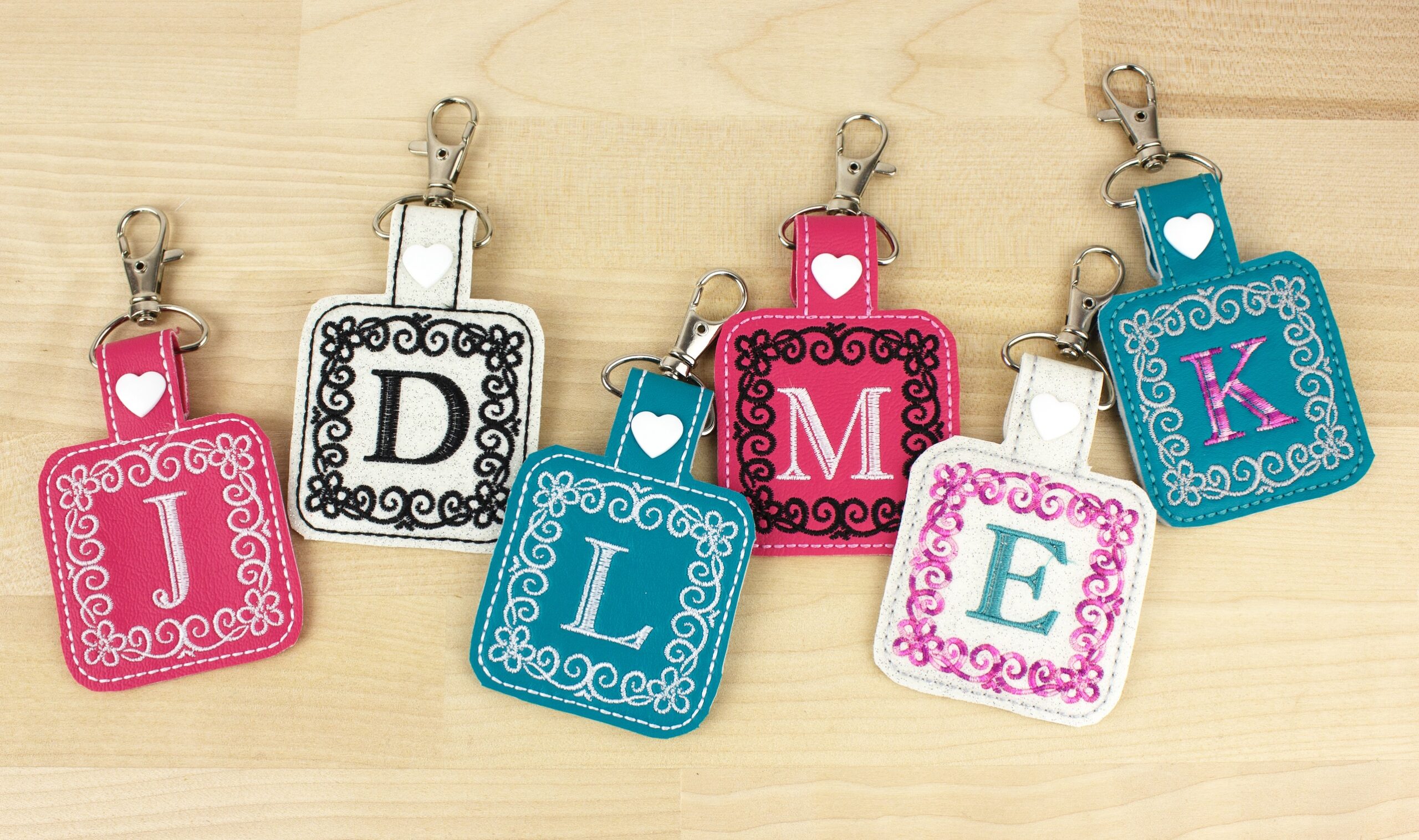 Create fun keepsake key fobs personalized with a new monogram collection designed by Julie Trieb of Designs by Juju. Register for our free webcast on Feb 9, 2021 at 2pm EST and watch just how easy it is to construct these little guys. Then grab a kit and make a bunch to gift to friends and family. The adorable heart snap brings everything together as the perfect finishing touch!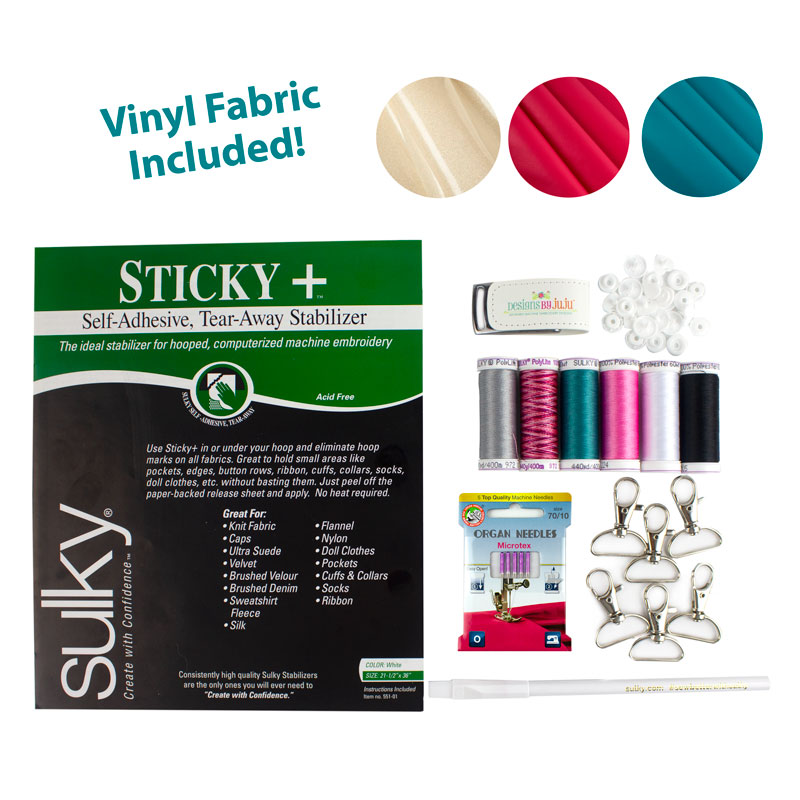 KEEPSAKE KEY FOB INSTRUCTOR JULIE TRIEB 

So much tender loving care goes into the creation of each embroidery design you will find from Designs by Juju, from carefully chosen cheery colors, precisely punched designs, or various appealing textures and fills. At Designs by Juju designs are their passion. They take pride in their designs and love it when you share your embroidery photos. From nursery rhymes to holiday themes, their work aims to capture the spirit of all of your moods, moments and memories. Designs by JuJu offers high-quality designs at prices that allow you take on as many projects as you want.
Julie will walk us through how to construct the key fobs in the hoop of our embroidery machines, without the use of software. We'll merge a brand new monogram design, the Mary Kate Monogram, with the key fob design to create truly personalized key fobs that make great gifts.
WHAT YOU'LL LEARN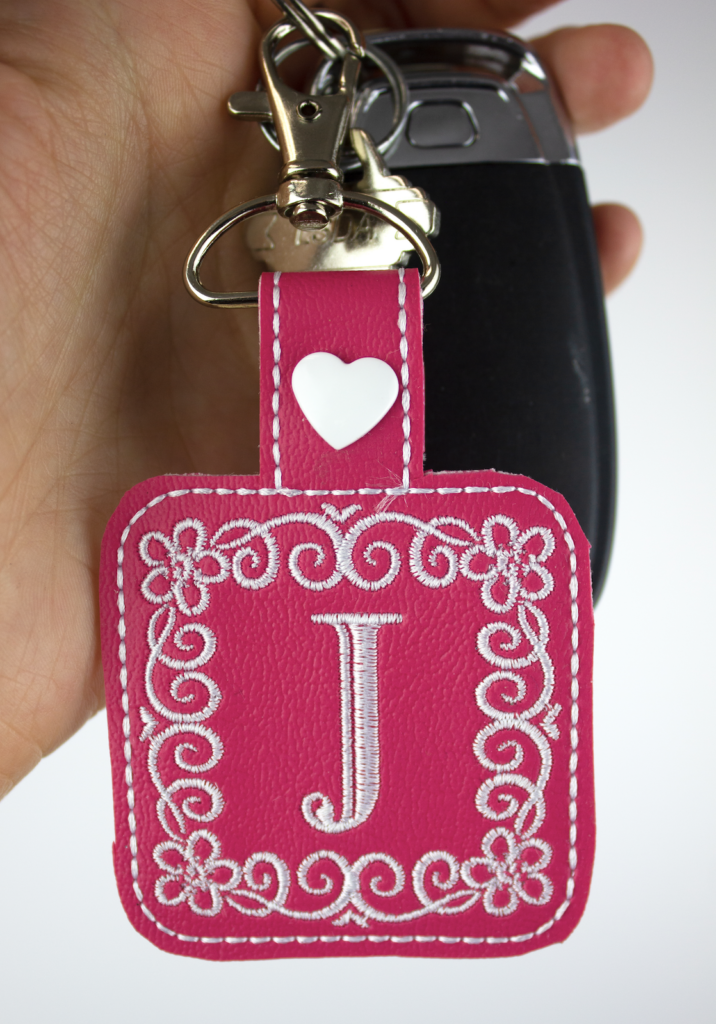 If you're new to machine embroidery, you'll love Julie's easy approach to these designs. If you're a machine embroidery veteran, you'll learn all sorts of ways to expand your skills with fun technology.
During the Keepsake Key Fobs webcast, we'll take a NEW in-the-hoop key fob file, bring it into embroidery editing software and customize it with a unique monogram. Julie has digitized a blank in-the-hoop key fob and a stunning, elegant monogram (includes A-Z) for this event! The designs come with purchase of the Keepsake Key Fob Kit.
Don't have software? Or don't use Julie's software? Don't worry! You can still make this project, and will have an opportunity to grab Julie's favorite software at an incredible discount during the event.
KEEPSAKE KEY FOB KIT
Create up to 6 keepsake key fobs, personalized with a NEW machine embroidered monogram digitized by Designs by Juju. The in-the-hoop project embroidery design AND the full monogram alphabet designs are included with the kit (together valued at $28).
INCLUDED IN KIT:
(6) 5×7 sheets of Vinyl (Hot Pink, Turquoise, Sparkle White)
(6) Spools of Sulky PolyLite Thread
Eco-pack of size 70/10 Organ Microtex Needles
1-yard pack of Sulky Sticky+ Stabilizer
(6) Heart-Shaped KAM Snaps
(6) Swivel Clasps
Exclusive Sulky Keepsake Key Fob Design from Designs by Juju (digital files for 3 hoop sizes)
NEW Mary Kate Monogram Design Collection from Designs by Juju (digital files)
FREEBIE WITH KIT PURCHASE: Special USB thumb drive from Designs by Juju
Not included: KAM snap setter (this is needed to install the special heart snaps!)
CAN'T MAKE IT LIVE?
Don't worry if you can't make it LIVE. You can access the Keepsake Key Fobs Webcast at any time after the live broadcast and all the materials will be stored in your Library for future reference.
However, only LIVE attendees can participate in the Live Chat and be eligible to win Door Prizes! That's right! There are 4 BIG door prizes to WIN during the event!
OVERVIEW
Learn all about embroidery software:
What is a BX file?
How to merge two designs as one
How to use the align & distribute tool for precise customizing
Considerations for customizing ANY in-the-hoop or appliqué design
How to save your working file & stitch file to embroider
Tips for embroidering on vinyl and sticky fabrics
What needle size & thread weight results in a gorgeous stitchout
How to embroider & construct a customized key fob
How to merge a monogram directly within the embroidery machine editing feature (no software needed!)
Special considerations when stitching out an intricate design
HIGHLIGHTS
CREATE custom key fobs with a new exclusive ITH design!
LEARN how to embroider perfect letters with the right needle & thread.
GET tips for using software to manipulate designs.
SEE different thread combinations for inspiration.
WHAT TO EXPECT
LIVE streaming audio with instructional slides
60 minutes of content
Your questions answered in our Live Chat
Webinar Specials & 2 Door Prizes to WIN
Access to the webinar on demand & all presentation materials in your personal Library
FREE FSL Heart from Designs by Juju ($4 value) – 3 sizes for 3 hoops
REGISTER TODAY & JOIN US LIVE ON 2/9/21 at 2pm EST!