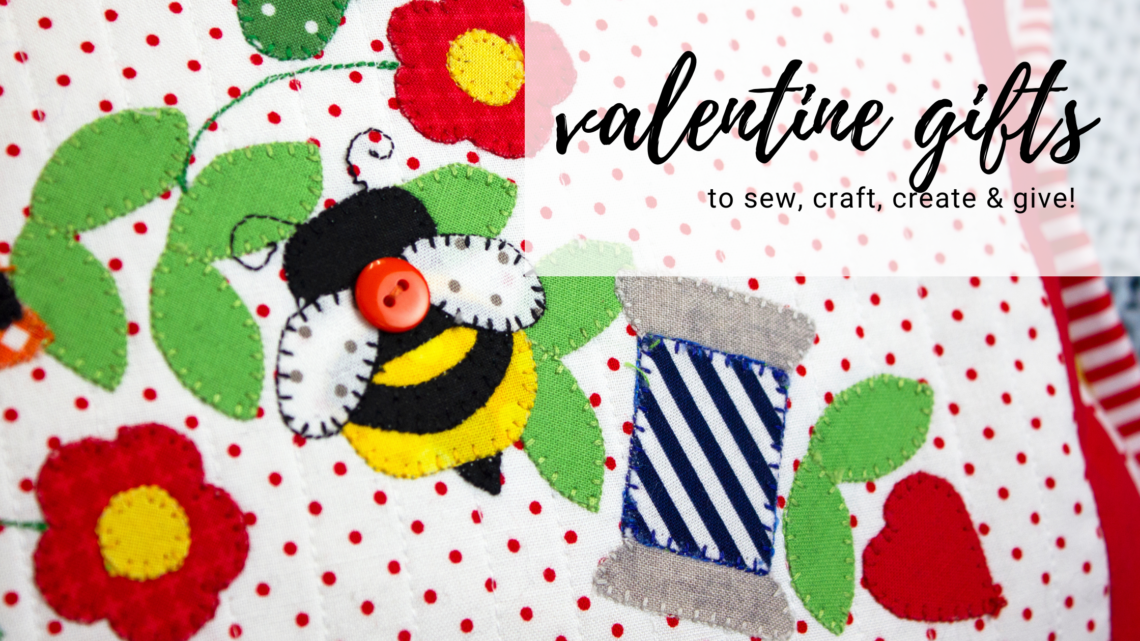 Valentines for your Valentine – quick projects & fun gifts
Valentines for your Valentine

10 fun gift ideas you'll love
Valentines for your Valentine don't have to be complicated. Including a touch of handmade, even when buying a gift, is the best way to say "I Love You," and is a thoughtful addition to any gift. Here are some ideas to get your creative juices flowing! You just might want to gift them to yourself.
1. Cookie Platter Valentine
Whip up some homemade cookies using our Sewing-Themed Cookie Cutters and gift them to family and friends. Wrap up several cookies in cellophane bags with a fun ribbon and a note that reads "I'm "sew" in love with you!"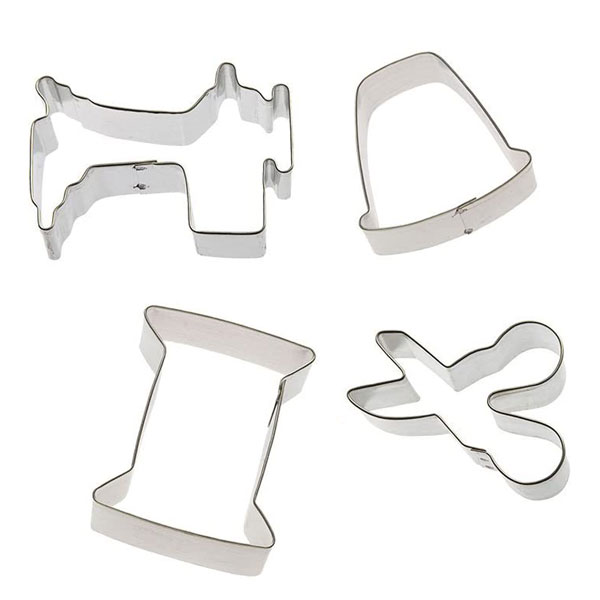 Find a cute sketchbook for your quilty valentine and package it up with a diamond-head pen. These come in Rose Gold (pictured), black or silver and are just the right finishing touch for a fun Valentine gift.

Show your love of sewing and share it with friends! This design features thread spools, scissors, bees and hearts in a cute arrangement for your valentine. But, you can change it up to form a circle, heart or spray to create the featured pillow, a wall hanging or mini quilt to gift to a sewing buddy. Use the pre-fused appliqués in the kit to make quick work of the construction.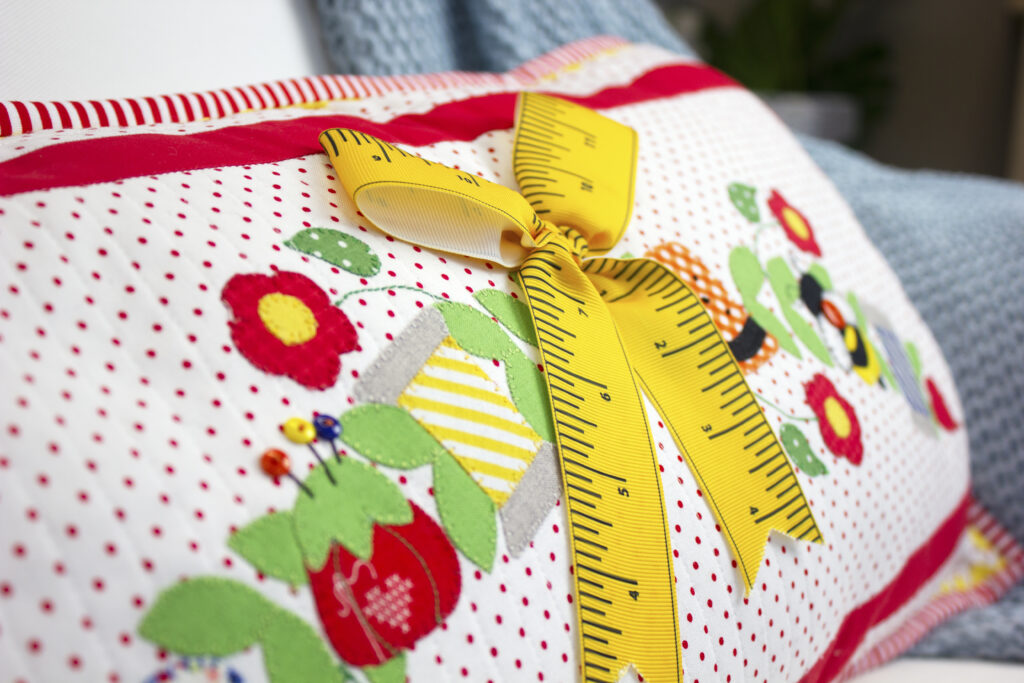 Watch our free webinar: Love to Sew Pillow with Stitches of Love to see how the pillow comes together!
Hand embroidery on card stock is a fun activity that's super simple and easily personalized for the recipient. These valentines for your valentine are sure to be cherished.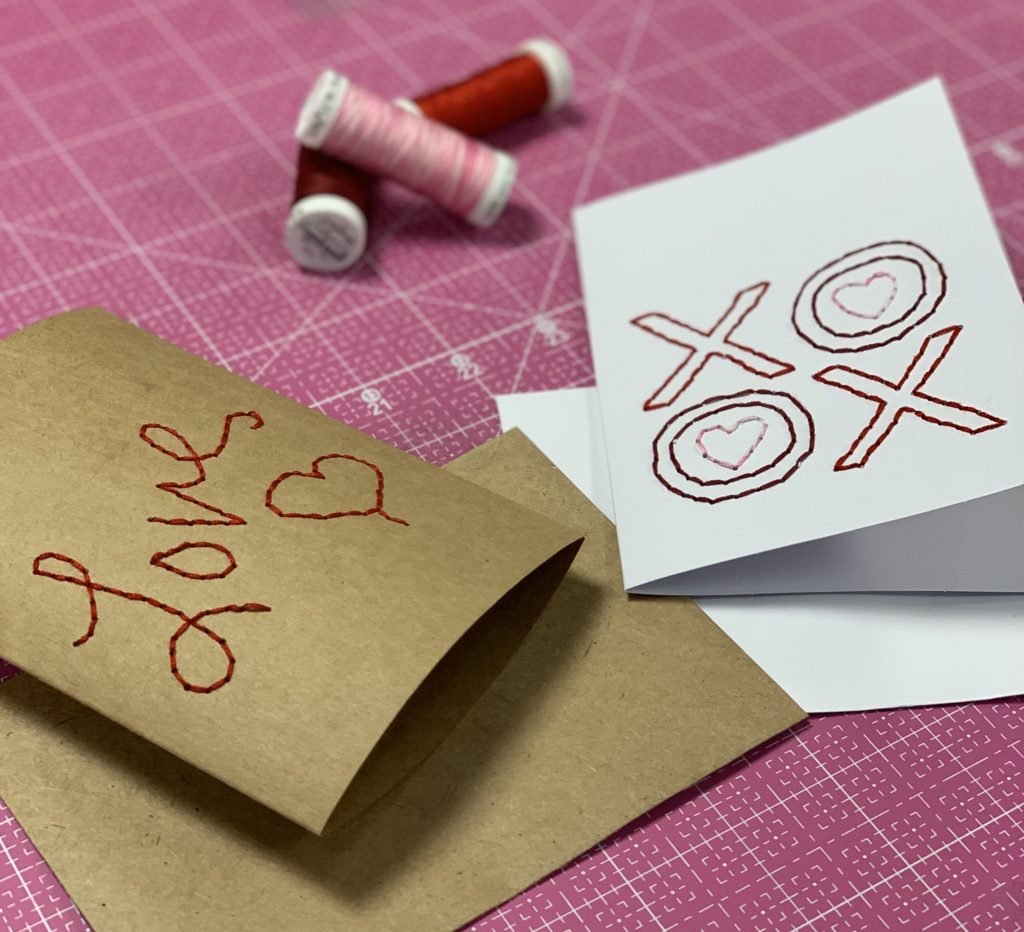 It's also fun to create a fabric card, personalized with a machine embroidered phrase. Check out our Hand Lettered Embroidered Postcards legacy webinar (it's free!) and learn just how easy it is.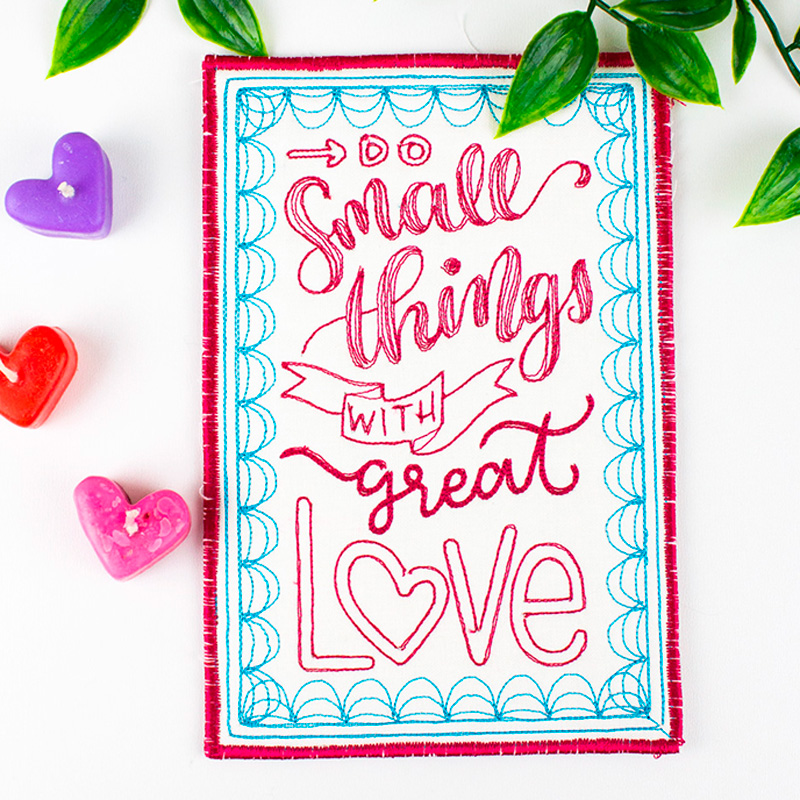 Grab a kit to have everything you need to create several fun cards and gift them to your Valentines.
6. Kid Art in Stitches
Preserve a favorite kiddo's artwork by transferring it onto Sulky Stick 'n Stitch™ and hand embroidering it onto a solid fabric using Sulky cotton Petites™ thread. Hoop the finished piece so mom can hang it proudly. Better yet, have the kiddo create the stitches, too!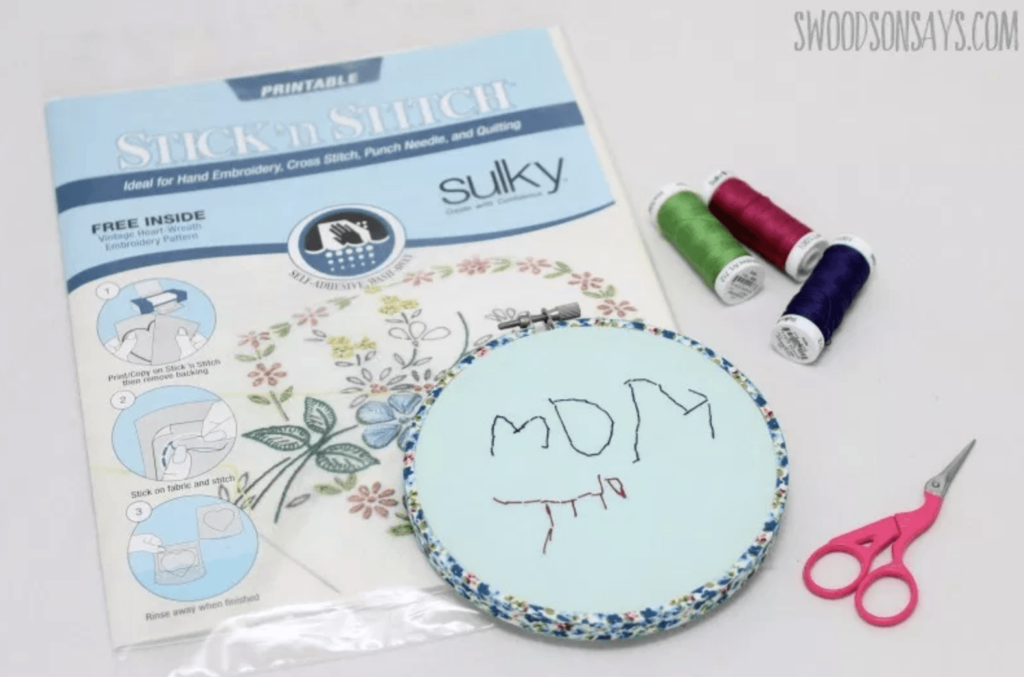 7. Secret Hearts for Valentine Surprises
Grab this free tutorial to make our Secret Heart pillows! Instead of making a pillow, create the zipper heart pouch panel and sew it onto a bag front or make it into a wall hanging. Stuff it with goodies and gift it to your Valentine.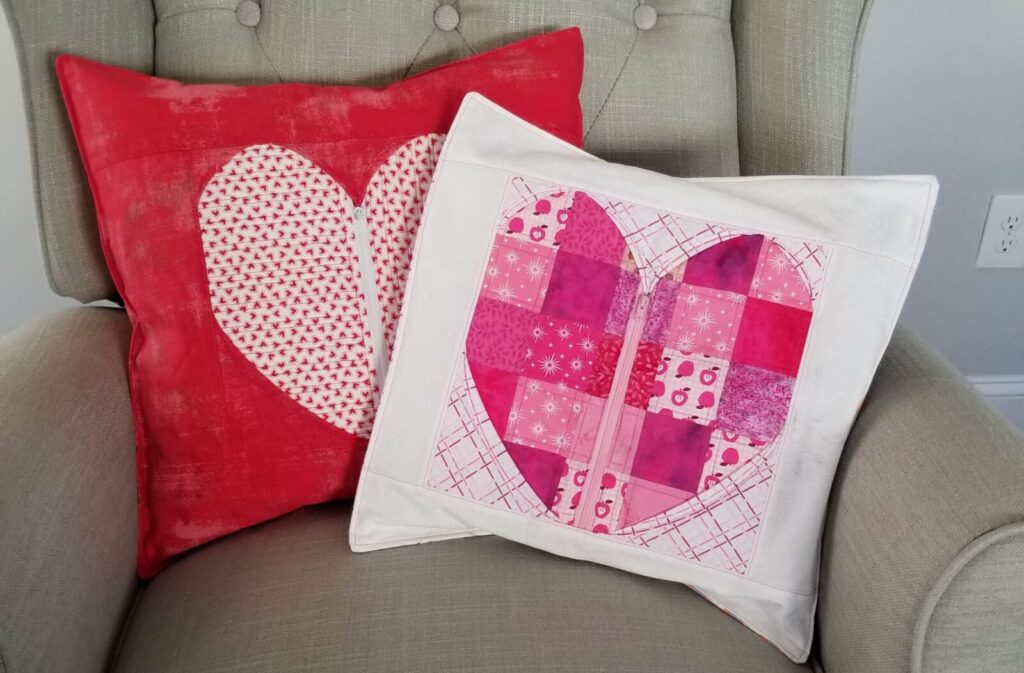 8. No-Sew Pillows
A no-sew pillow is a great way to get kiddos involved in Valentine crafting! All you need are two sheets of fleece and a heart template. Stack the fabrics. Mark the heart outline and add 2″ of fabric beyond the outline for fringe. Slice through the fringe every 1″, up to the heart outline. Knot the two fleece fringe strips together. Before finishing the last 5 fringe knots, stuff the pillow with fiberfill.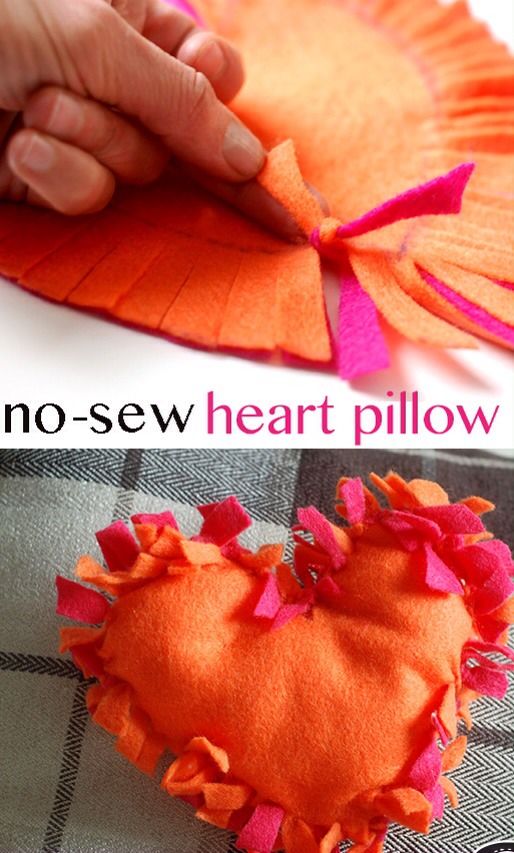 Gift these Valentine heart pillows to friends and family. They also make cute pincushions!
9. Scrappy Valentine Mug Rug
Use the same heart template (a simple heart drawn onto paper will do!) and create a strip-pieced mug rug. Dive into your fabric stash for all the reds, pinks and white fabrics you can find. Add decorative topstitching along each seam for a nice touch.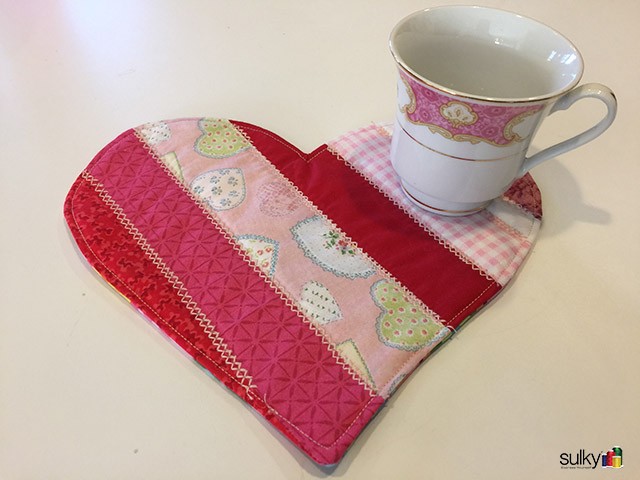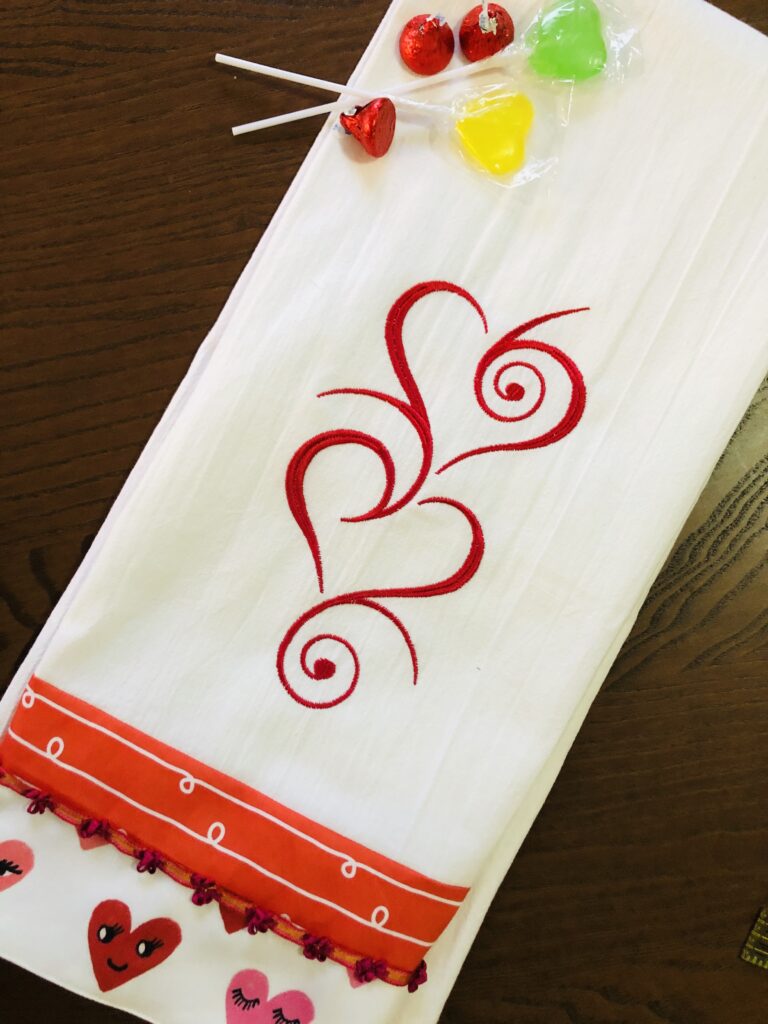 A tea towel makes a great Valentine for your Valentine!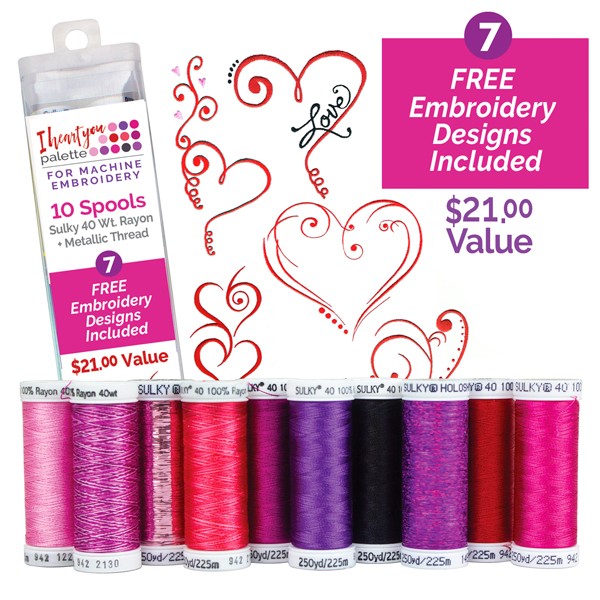 Plus, you can purchase towel blanks and a machine embroidery palette, which comes with 10 spools of Rayon thread AND a design collection, to make the work even easier.
We hope this inspires you to create fun Valentine gifts for your Valentine!