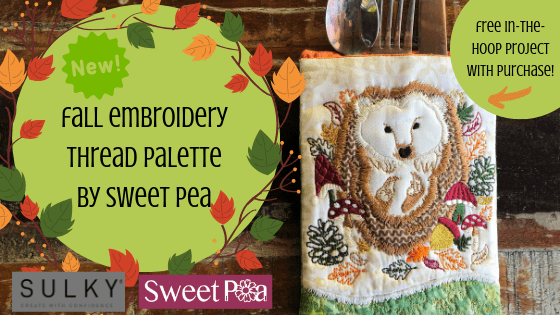 Hibernating Hedgehog Cutlery Holder + New Thread Palette
Hibernating Hedgehog In-The-Hoop Project
A Hibernating Hedgehog Cutlery Holder is just what you need for your fall tablescape!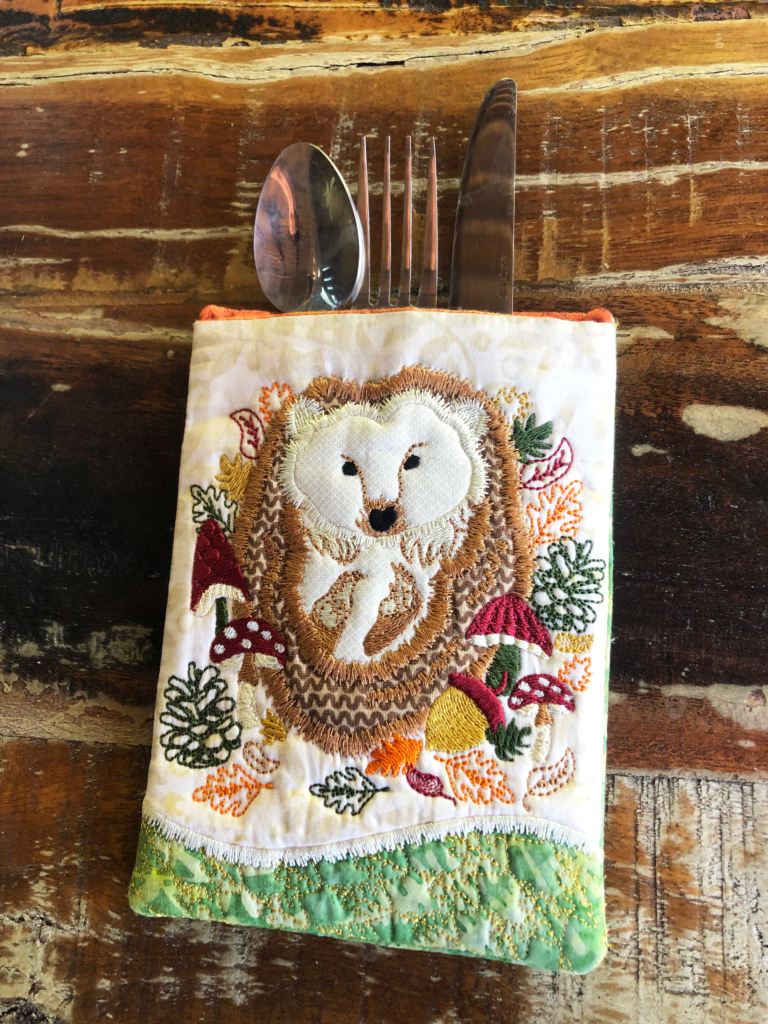 This in-the-hoop design is free with the purchase of our brand-new fall thread palette, designed by Sweet Pea. It's designed for a 5×7 hoop. To make this project, you'll also need either Sulky Ultra Solvy (my preference) or Tear-Easy stabilizer. You also need some batting and a few fabrics in the colors shown above (batiks work great!) for the cutlery holder front, back, lining and appliqué pieces.
Fabric A –18cm x 23cm (7" x 9") front of holder
Fabric B –18cm x 23cm(7" x 9")front lining
Fabric C –18cm x 8cm (7" x 3") shape at the bottom of the holder
Fabric D –11.5cm x 13cm (4.5" x 5") hedgehog spikes
Fabric E –9cm x 10cm (3.5" x 4") hedgehog head and body
Fabric F –18cm x 23cm(7" x 9") back of holder
Fabric G –18cm x 23cm(7" x 9") back lining
Batting 1 – 18cm x 23cm (7" x 9")
Batting 2 – 18cm x 23cm (7" x 9") optional
Other Recommended Supplies for Hibernating Hedgehog:
Double-sided tape (such as X-PressIt)
Removable single-sided tape (masking tape works well)
About the
Hibernating

Hedgehog Design

The included Hibernating Hedgehog cutlery holder design is only available with this thread palette. Designed by Sweet Pea, a leader in in-the-hoop embroideries, this design is a project in itself! Create as many cutlery holders as needed to set your fall table for a festive feast! Stuff it with cutlery and a matching napkin so each guest has a special set all their own.

Each of the six threads featured in the palette coordinates with the fabrics recommended for the design so you won't have any guesswork during the construction process. Use Sulky bobbin thread for best results.

The included Hibernating Hedgehog design instructions guide you through each step of making the holder as well as the appliqué itself.
This in-the-hoop project makes a great gift as well. Let everyone go home with their own Hibernating Hedgehog cutlery holder so they can use it to store other things after your feast is finished. Store a phone in the pocket; stash some crayons inside for an on-the-go kid's art pouch; store jewelry while traveling or to keep you fall accessories separate from others!
Beyond the Cutlery Holder
The Sweet Pea fall thread palette contains enough thread for this project and more. Sweet Pea designed a special table runner that uses these threads and coordinates with the Hibernating Hedgehog, too! You can join in their October sew-along to make your own table runner with the help of Sweet Pea, and make friends along the way. This Facebook group is an active community of makers who participate in different monthly challenges, updating each other and helping as needed.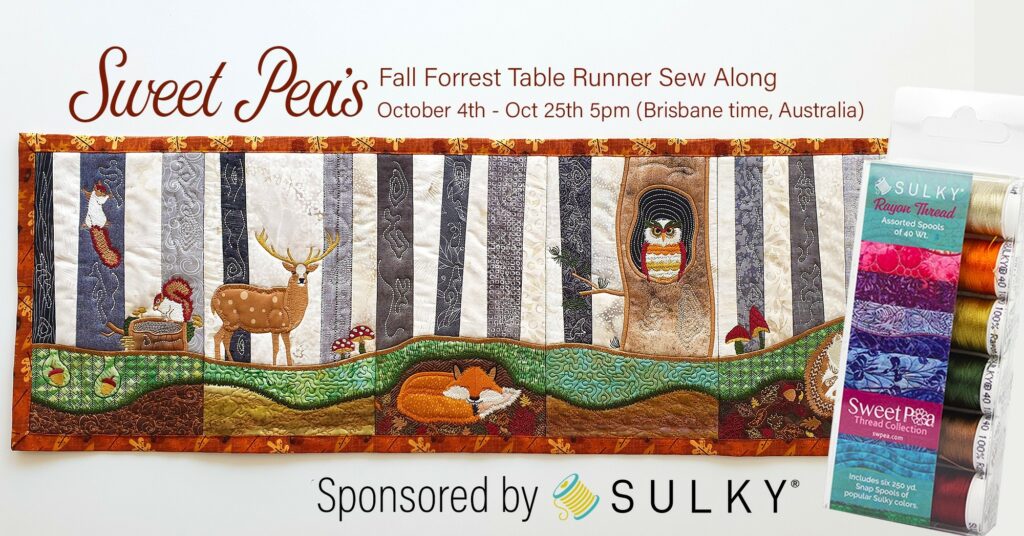 The Sweet Pea fall Sew-Along begins Oct 4, 2019 and runs to Oct 25, 2019. For this limited time, Sweet Pea guides you through the steps needed to create the matching Fall Table Runner. Plus, when you join, you're eligible to win special prizes from Sulky to stock your sewing room. Join the Sweet Pea Facebook group for all the details.
About Sweet Pea
Sweet Pea specializes in In-the-Hoop machine embroidery designs. Their designs range from traditional to modern, including quilt blocks that are assembled into full quilts; bags and totes made entirely in the embroidery machine; ornaments, and more. The beauty of in-the-hoop designs is that they are designed to make project construction easy, foolproof, and professionally finished. Sweet Pea holds monthly sew-alongs, special challenges, and exclusive new releases for their active community.
Check out our webinar with Sweet Pea, always available on-demand.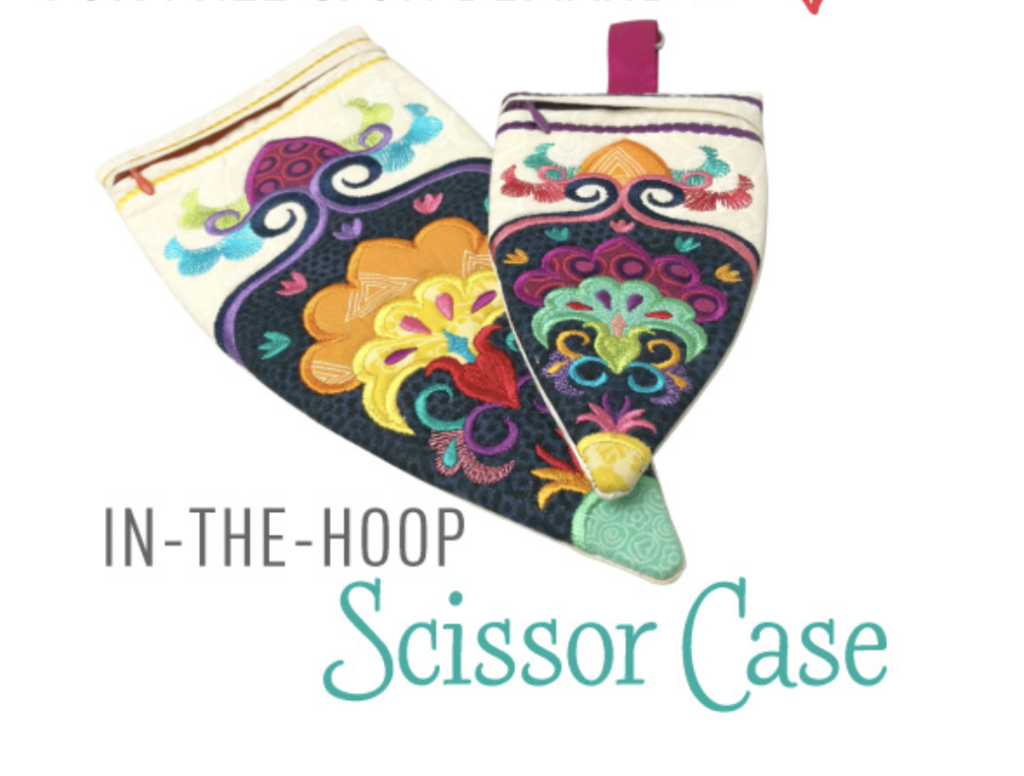 The Sweet Pea scissor case project, featured in the webinar, is one of our most popular webinars to date! Everything you need to create two scissor cases (small and large size) is included in our convenient kit, too.