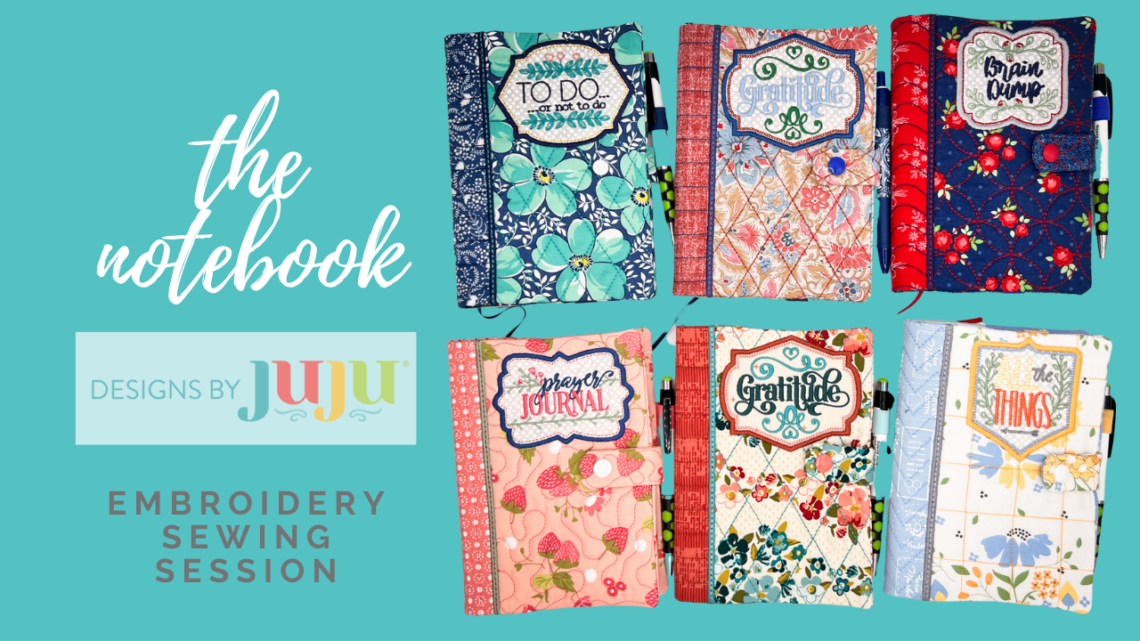 Designs by Juju Notebook Embroidery Session
Designs by Juju Notebook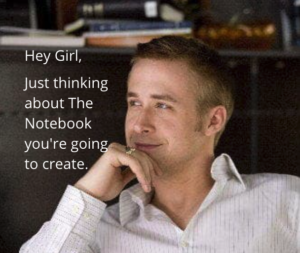 a NEW Embroidery Sewing Session with Sulky
Designs by Juju founder, designer and digitizer, Julie Trieb, joins Sulky for another Embroidery Sewing Session! In the Notebook Embroidery Sewing Session, activating on September 13, 2022, embroidery expert Julie Trieb will teach you how to create beautiful custom notebook covers in the hoop of your embroidery machine. Register today to reserve your spot!
You will learn how to assemble this project right in the embroidery hoop, how to personalize an appliqué on the notebook front, how to customize the quilting and designs, and much more! The Kit for this Session features Art Gallery Fabrics, shown above, and you can decide which prints from the kit you want to feature on the front cover, back cover and flaps.
With your registration, you'll receive a NEW Designs by Juju ITH Notebook Cover Machine Embroidery Collection! It includes six designs in two notebook sizes, valued at $20. This project is made in three hoopings (if using foldover elastic for the closure) or 4 hoopings (if using a snap-tab closure). NOTE: A 5×7 hoop is needed for the small (fits a 4″ x 6″ notebook) and an 8×8 or 6×10 hoop is needed for the large (fits a 5″ x 7″ notebook).
Throughout the Session, you'll make your own notebook cover. You'll choose the saying and personalization of your choice, all while learning new techniques.
This Embroidery Session includes seven Lessons, with multiple sections within each Lesson to navigate through at your own pace. With multiple video tutorials and extra instructions within each Lesson, you'll feel confident no matter your skill level. Julie breaks things down in easy-to-manage sections, including tips and tricks that apply to all of your machine embroidery endeavors.
THE NOTEBOOK KIT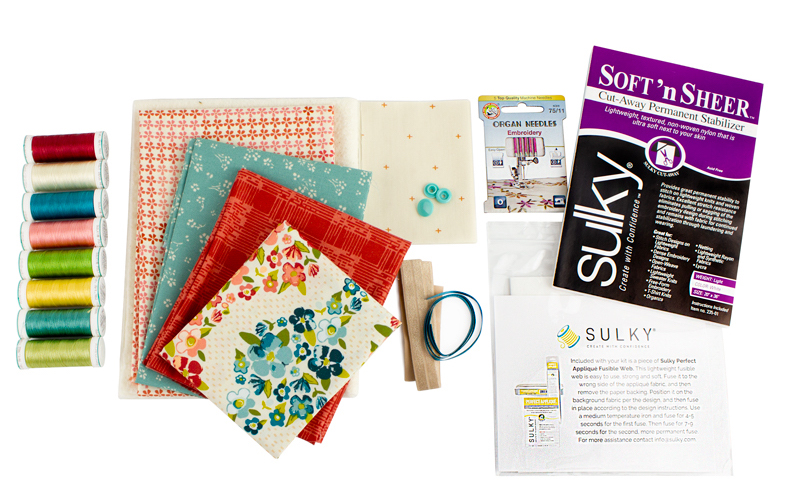 Julie & Sulky have curated a special kit for this Session, which includes 5 gorgeous fabrics by Art Gallery Fabrics, Poly Deco Threads (8 snap spools!), Needles, Snaps, FOE (foldover elastic), Stabilizer & Fusible Web, Batting & Ribbon. You'll have enough supplies to make a notebook cover in either size with either closure option! The kit is now on sale at a special price – valid until Sept 30, 2022 or while supplies last (whichever comes first) – get yours while supplies last!
NOTE: A 5×7 hoop is needed for the small (fits a 4″ x 6″ notebook) and an 8×8 or 6×10 hoop is needed for the large (fits a 5″ x 7″ notebook).
Learn at your own pace, with one lesson per day or all five at once. Sew a little each day and schedule your lessons to fit your schedule. Or, sew a lot when you have a chunk of time. It's up to you!
On 9/13/22, the Lessons will be available for viewing at your own pace. Post your comments on the Lesson pages. Join the Embroidery Sewing Session Community (added to your Library when you register). Then, interact with other members of the session as well as our support staff.
Join us for this virtual Session, available on-demand to watch and review at any time after 9/13/22.