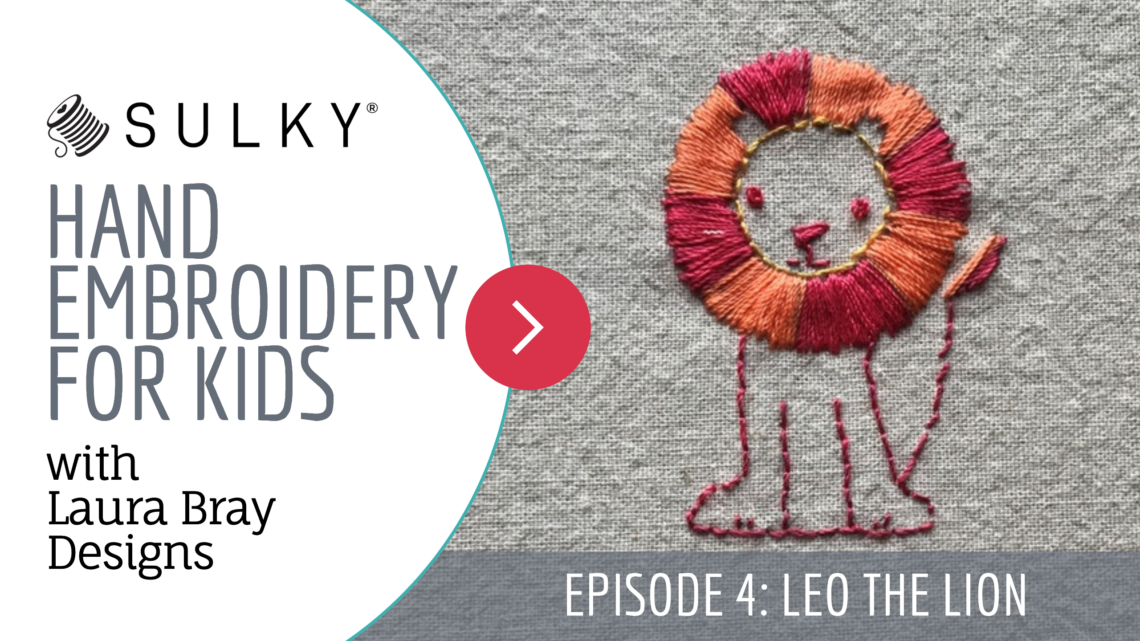 Leo the Lion Project: Hand Embroidery for Kids, Episode 4
Leo the Lion Hoop Art Project
Hand Embroidery for Kids, Episode 4
with Laura Bray of Laura Bray Designs
Create this Leo the Lion Hoop Art to display your first hand embroidery project! The Leo the Lion embroidery pattern is a simple pattern to teach kids or to make as a beginner of any age.
LEO THE LION EMBROIDERY
Download the Leo the Lion pattern. Print it out onto Sulky Stick 'n Stitch™ stabilizer. Cut around the pattern.
Stick the pattern onto the right side of a piece of fabric of your choice. Choose thread colors for the lion, using the wide range of Sulky Cotton Petites™ Thread. For the featured lion, use Tangerine, Goldenrod and Red Geranium. Plus, grab a spool of black, white or neutral to match the background fabric.
Think about which embroidery stitches you or your child/student wants to use when stitching the pattern. The backstitch is a good choice for outlining, the satin stitch is great for filling in space (like the lion's mane), and the running stitch is also good for outlining and finishing the hoop art.
Hand embroider the lion. Some children have longer attention spans than others, so this may take a few days, but that's okay. The stitching is the best part.
FINISHING THE PIECE
Once the embroidery is complete, rinse away the Stick 'n Stitch™ under running water until dissolved. Set the work aside to dry before going to the next step.
Once dry, re-place the fabric into the embroidery hoop and finish the back. If you don't want to make hoop art, that's okay. Sew the piece onto a pillow cover, tote bag, or even create a block for a quilt. Place it into a traditional frame, removing the glass (or make sure the artwork is pressing against the glass). Brainstorm and find out how the student wants to display the stitched artwork.
It's amazing to see how different the same pattern can look depending on the fabric you use, the thread colors, and stitch choices. Encourage your child to explore and experiment by stitching the lion again and again!