Sulky Online Teacher Certification Testimonials
One of my favorite side effects of my job is that I get all kinds of phone calls, emails and comments from Sulky fans every week. Yesterday a woman called me in a panic. She was at a retail location looking at the wall of Sulky stabilizers and was just overwhelmed. I was able to talk with her about her projects and help her get the right product.
But my absolute favorites are the emails that we get after someone has completed the online Sulky Teacher Certification class. Rather than me sitting here and recounting them to you, why don't you read some of them for yourself…
"I'm truly inspired and humbled by the work I've seen during  the past few months and appreciated the comments I've received on mine. A big thank you to the instructors for their encouragement and constructive feedback and to Sulky for providing this online venue to expand our skills. I can hardly wait to see what they have to offer us next!"
– Myrt B.
"This has been quite an experience. I not only learned what my machine can really do but also what I can accomplish when motivated. I want to thank all the instructors for always being available in times of crisis and ready with a positive solution that calmed my nerves. I appreciate all the comments and critiques on my completed projects and the time the instructor invested in each of us. The number of students can be rather intimidating for some, but the instructors were always respectful of each of us and some of the 'crazy questions'. I am truly grateful for all the knowledge I have gained and the experience of the lifetime. Thank you."
– M. Givens
"I just loved learning how to sculpt with fabric. The ideas are endless! Thank you so much for this wonderful course."
-Elaine
"I had a wonderful time. I look at fabric differently now that I know what I can do with it! From cushions to jackets, tablerunners, etc. It will be fun to teach others and see other people's ideas of what we can do. I have loved everyone's colors and versions. Thank you!"
-Lisa
"I've enjoyed the challenges of this course and I can't wait for more! I'm no longer afraid of free-motion! Thanks!"
– Ann
If you want to experience this great class, you can too! All you have to do is register.
BONUS: If you register today, you can still get $25 off your registration fee by using coupon code SULKYCT25. But hurry! The code will expire today. Go here for more info and to register.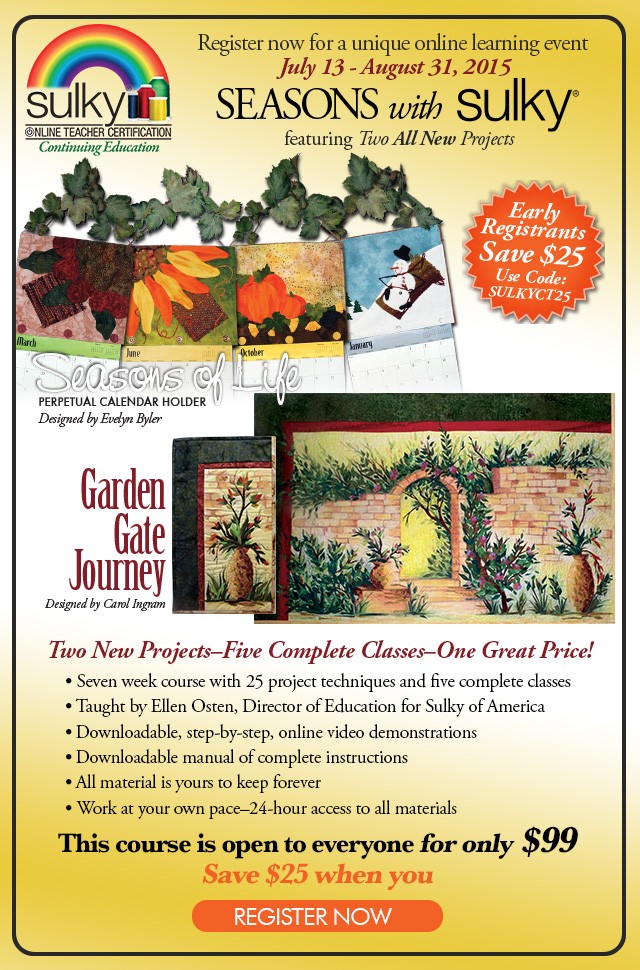 Happy Sewing!