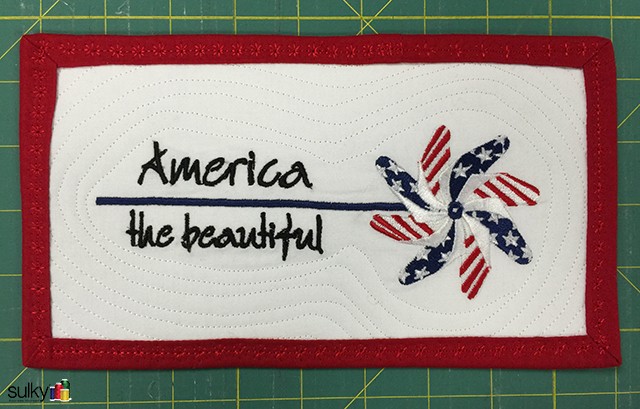 A Few Quick Patriotic Tutorials – Yes, you can do them all by this weekend!
As I was pulling out all of my patriotic decor this weekend, I realized that I had a few things missing! I have my awesome placemats (tutorial here)
and my favorite door hanger (You can get the design and the pattern from the Sulky Embroidery Club here)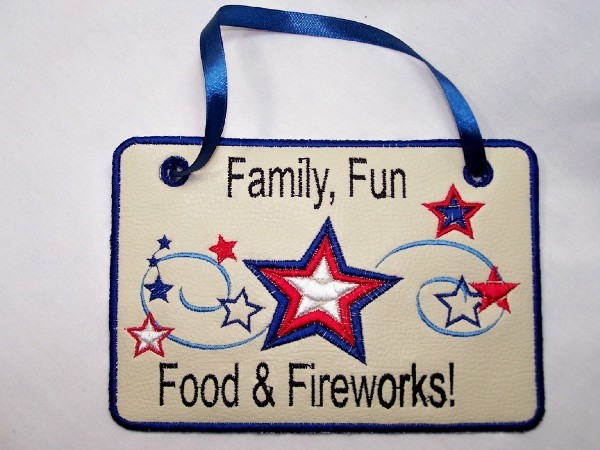 and I hung my flag in front of my house; but I didn't have a new outfit to wear on July 4th and I really wanted a few more little things to go around the house. So I headed over to the Sulky Embroidery Club to see what patriotic designs were there to give me inspiration. The first one I came across was this one!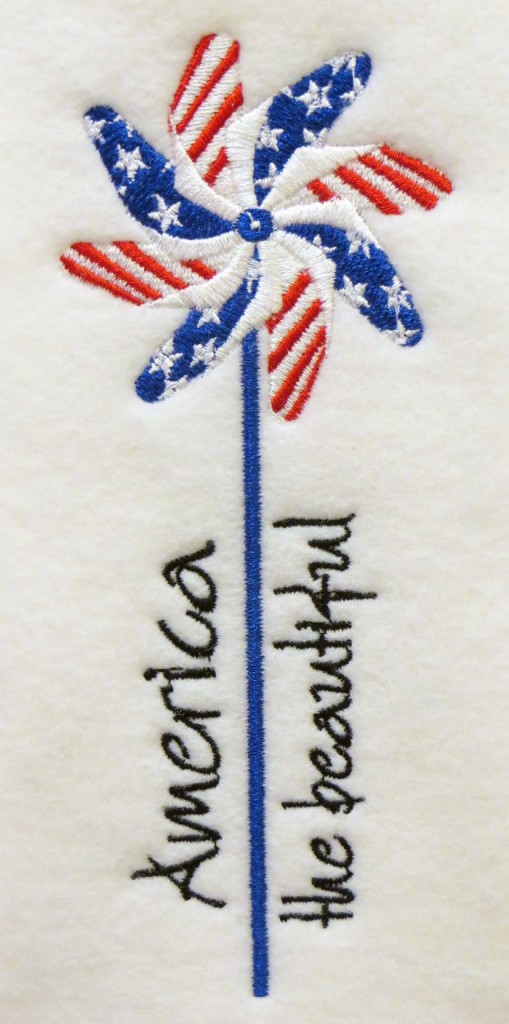 I love this design and the shape makes it the perfect fit for a new mug rug to go in front of my coffee maker. Because I have white counters, and I love making little things, I like to have a mug rug to set my cup on when I am pouring my coffee. Yes, I know this means that my adorable white mug rug may get coffee stains, but what good is it to make things if you don't use them? And I have a washing machine. If the stains don't come out, then it's time to make a new mug rug, right?  (But if you truly wanted to be able to bleach a project, then you could use the Sulky 40 wt. Poly Deco.)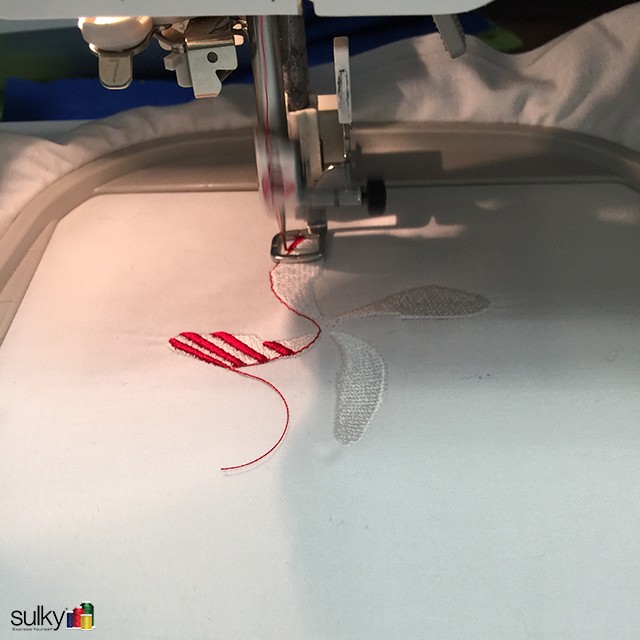 I stitched out the design using Sulky 40 wt. Rayon and Sulky Prewound bobbins for the bobbin. Since the fabric I was stitching on was white, I used white in the bobbin for everything except the black text, and then I switched to black in the bobbin. I hooped Sulky Tear Easy™ and the fabric.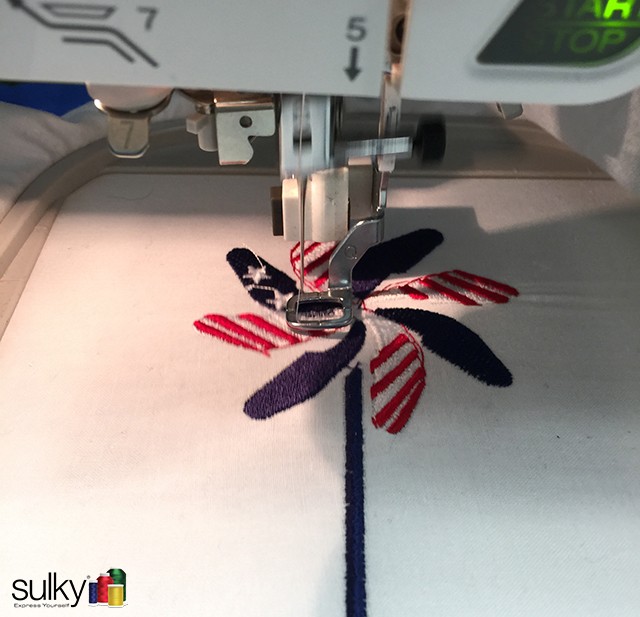 After stitching out the design, I ironed a 5″ x 9″ piece of Sulky Fuse 'n Stitch™ to the back of the design. I could have just used the Fuse ' n Stitch as the stabilizer for stitching out the machine embroidery but I honestly didn't think of that until after I had already started the machine embroidery. Live and learn!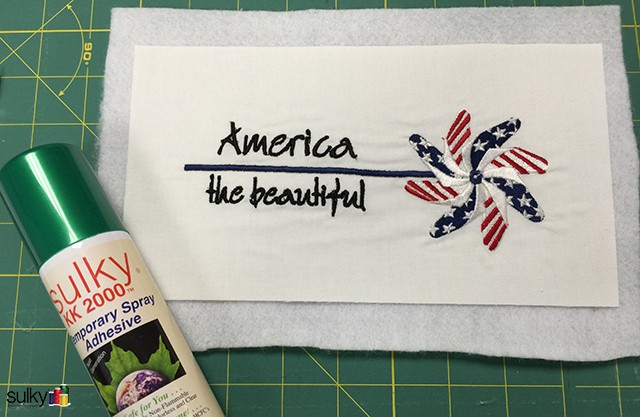 Next, I layered a piece of fleece batting and blue backing fabric using Sulky KK 2000 to hold all the layers together.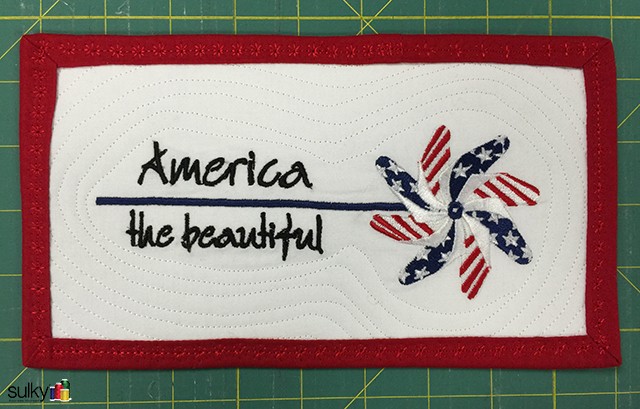 I then did echo quilting around the design using my walking foot and Sulky 40 wt. Rayon thread in white.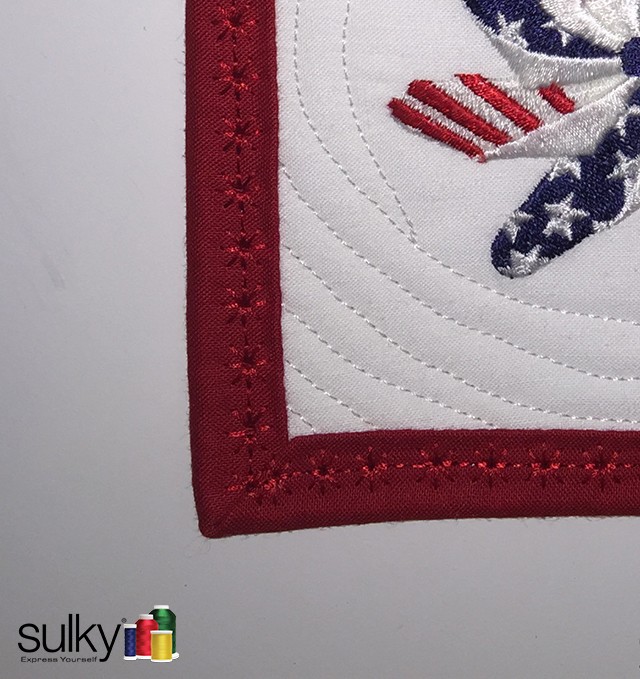 I stitched the red binding down with a matching red Sulky 40 wt. rayon and used a decorative stitch to give a fun finishing detail.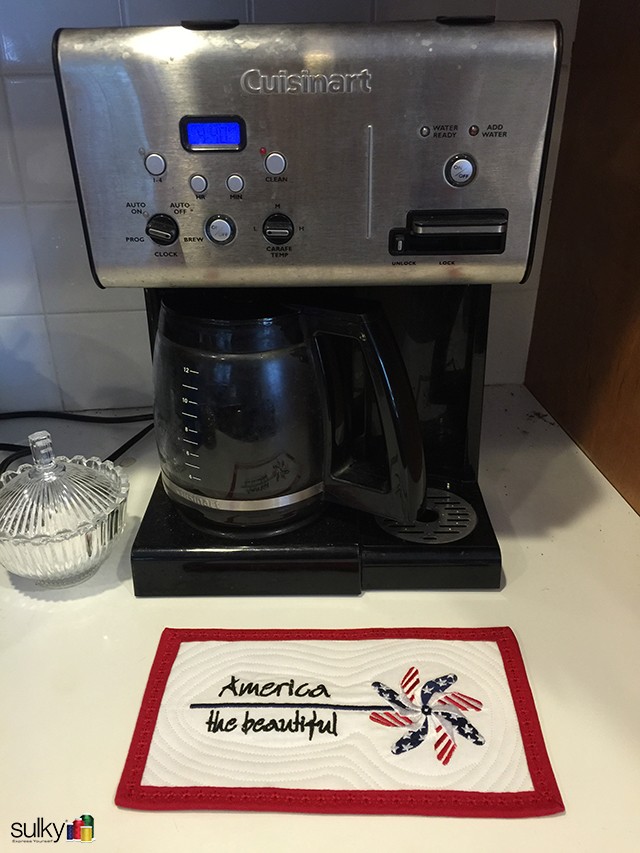 The next two designs that I wanted to use were these awesome applique stars and the newest member of the Spoolie family.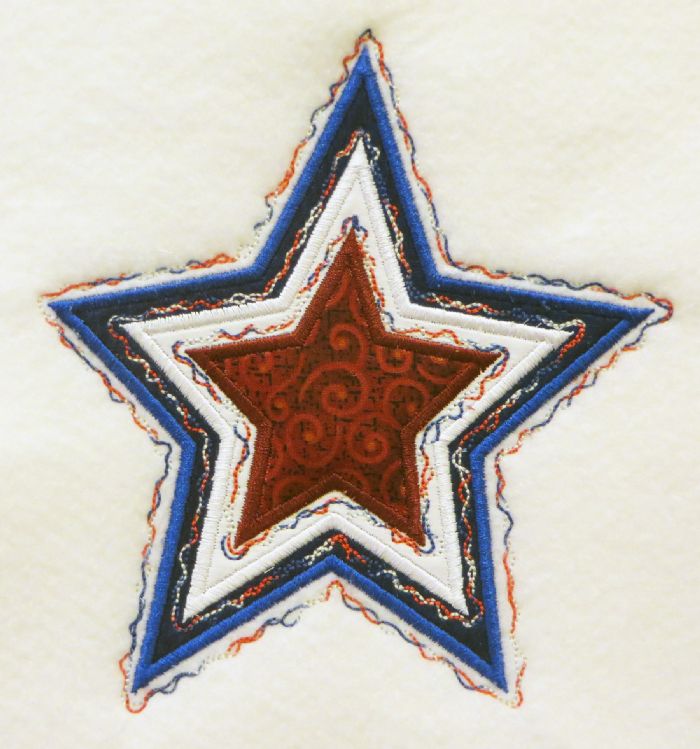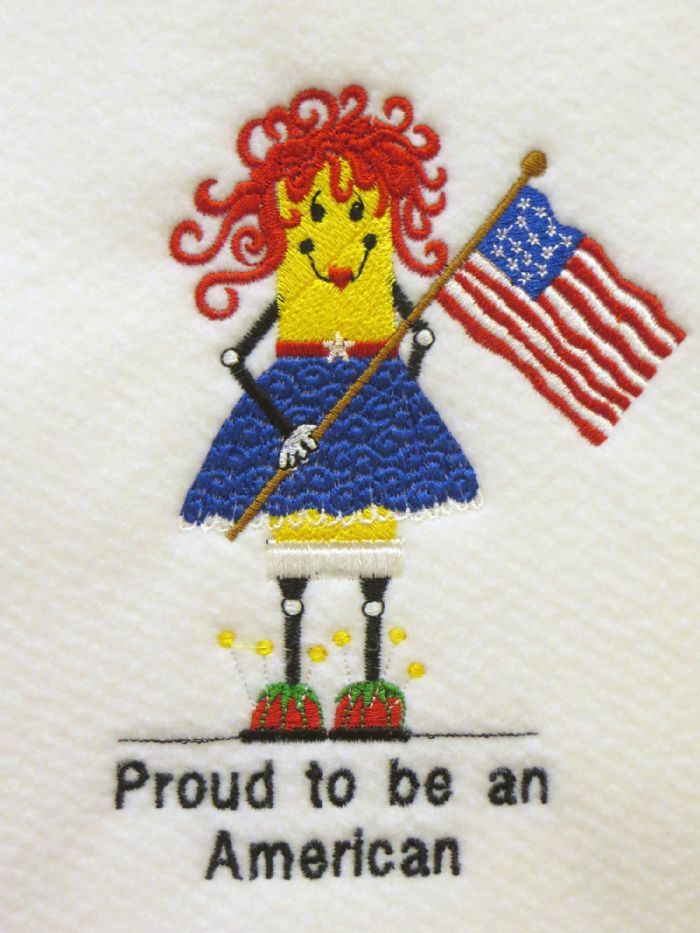 I have this great little tri-stand that is perfect for small projects.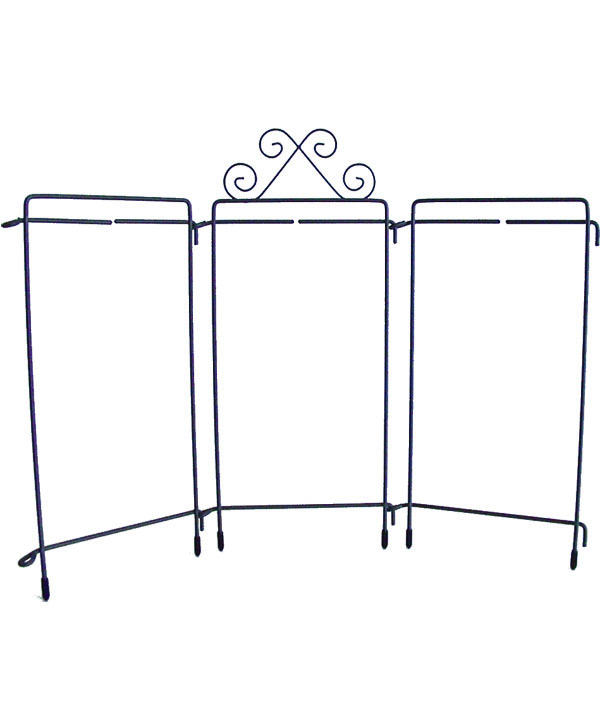 I am stitching out the Spoolie for the center and two of the applique stars for the outsides. If I have time, I may also stitch one of those stars onto white knit shirts for the girls and me to wear when we go watch fireworks on Saturday.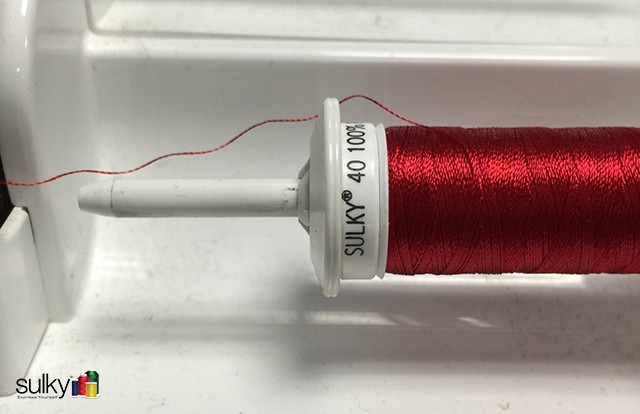 Bonus Hint: Want to know why you should care about which spool cap you use when sewing? Sulky Director of Education Ellen Osten says, "It is most important to use the correct spool cap on the spool. If you use a small spool with a large spool cap, the thread has to jump over the cap. That can cause the thread to snap, break. The thread won't flow smoothly and it affects the tension also. When a small spool cap is used with a large or King spool, the same difficulties. The thread is not lifted up, away from the spool so it ends up wrapping around the spool pin. If the spool rim/end cap has a  rough spot, that can snag the thread as it comes off, which can cause the thread to shred and break. Some people don't bother using a spool cap with the thread and that creates more problems. The spool doesn't stay in place and the thread ends up getting snapped."
Happy July 4th and Happy Sewing!