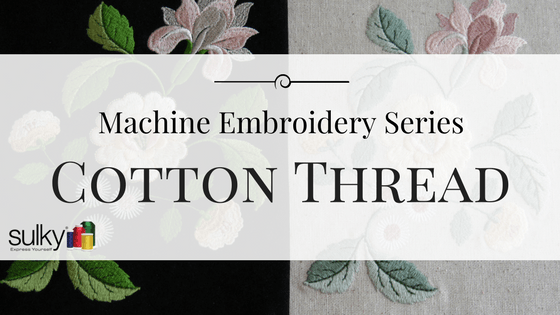 Is Cotton Thread a Good Choice for Machine Embroidery?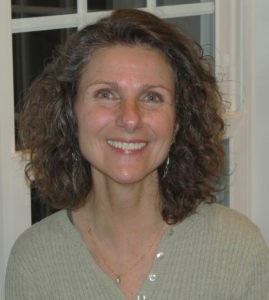 This series is written by guest blogger, Pamela Cox. Pamela is an expert embroiderer, designer, digitizer and all around wonderful girl! We are so happy to have her contributing to the Sulky Blog!
Cotton Thread and Machine Embroidery
Rumor has it that synthetic threads are the best threads to use for machine embroidery.  They flow through the machine's mechanics effortlessly, plus they reflect light and shine just like an angel's halo!  I must admit; this rumor is all true.  These threads ARE perfect for machine embroidery!
However, there is also a rumor floating around that you should stay away from cotton thread because it will only bring embroidery heartache. And well, this rumor is so NOT TRUE! Sulky® Cotton threads are often the "preferred" thread for many embroidered projects, and for several reasons:
Sulky® Cotton thread is available in over 130 colors (AND 126 Blendables), allowing subtle transitions within design elements. Cotton thread in general adds visibility and additional depth to any stitching pattern. These threads are available in 30 wt., which is ¹/³ thicker than 40 wt. thread and even a heavier 12 wt. filament.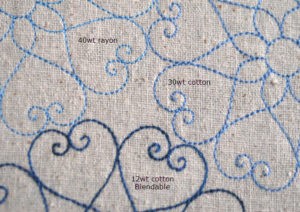 Sulky® Cotton thread is also available in several variegated or multi-colored themes.  This thread blends color themes or shades, adding a new level of interest to any embroidered element.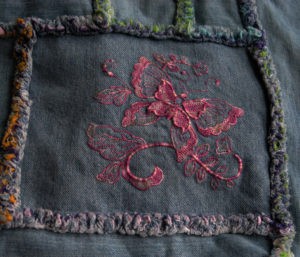 Sulky® Cotton thread provides more of a hand-stitched effect than its rayon or polyester colleagues if, for no other reason, than most hand embroidered designs are stitched in a cotton floss.  However, the thicker cotton filament appears to "sink" into natural fabrics giving the appearance of thread fibers intertwining with fabric fibers.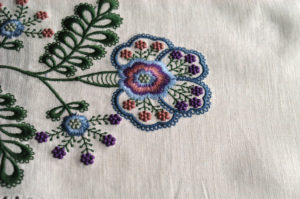 Napped fabrics, especially suede cloth, provide a wonderful canvas to showcase designs stitched in cotton thread.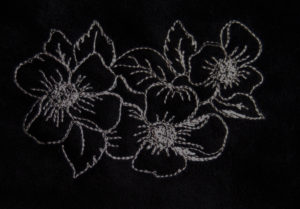 Now….
Rumor also has it that Cotton Thread breaks during machine embroidering……oh, I hate when that happens!! Another false rumor once a proven, quality thread is used.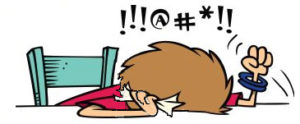 Sulky® only uses longer cotton staple fibers to twist into their quality cotton thread.  Those longer twisted filaments offer less "break points".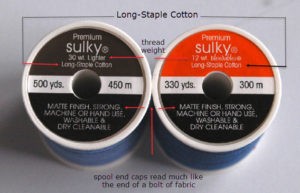 Take the time to read and compare information provided on spool caps.  Just like the mandated information found on fabric bolt ends, thread companies must disclose content, care and, if proud of filament length, they will state "long staple".  It does make a difference!
In all fairness, the most common reason that any thread breaks is due to friction! Between the speed of the machine and the frequency that a needle must penetrate into the fabric, often in the same area, heat is produced, creating weak points on any thread.  Synthetic threads are man-made and can withstand higher friction, or heat, before breaking. However, this is not to say that the natural cotton thread cannot be successfully incorporated for machine embroidery.
After insuring that a quality, Sulky® Cotton thread is threaded into the machine, my next suggestion, even if you do nothing else, is to simply turn the speed of the embroidery machine down- at least by half -to reduce friction!
A Top-stitch needle is often the best choice when embroidering designs in cotton thread. Top-stitch needles have the large eye necessary for thicker thread to easily pass through…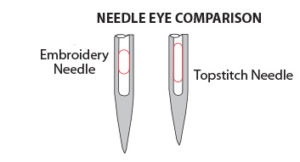 Plus, it is available in larger gauges than regular embroidery needles.  Larger needle gauges are often helpful when embroidering in cotton thread on heavier fabrics such as denim or duck-cloth.
Most rumors are based on a bit of truth, but by the time the rumor is re-told, usually the "negatives" are spun out of control. A negative truth about Cotton thread is that it does produce lint during the stitching process.  However, personally, the machine-embroidered final project stitched in cotton thread far outweighs any slight inconvenience of the lint by-product.
The "extra steps" I take when stitching with cotton is simply to clean the lint off the presser foot during thread color changes.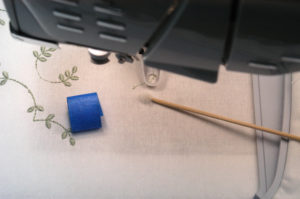 Keep a small piece of painter's tape handy to pick up any small pieces of lint that might have fallen onto the fabric surface.
Once a cotton stitched design has been completed, it is always a good idea to clean out the bobbin casing of the machine.
(For purposes of being able to see the lint in the photo, I have gathered the lint into a ball and left it in the general area the fuzzy particles were found.)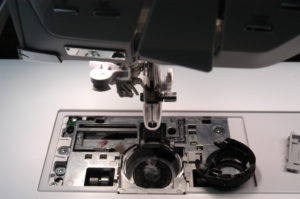 When I stated that often the "negatives" are spun out of control, this is a prime example.  Yes, the machine casing area should be cleaned, however, another truth is that we all should probably be cleaning our machines more often than we actual do, regardless of the thread type!
Do keep in mind that machine embroidery designs are normally digitized to accept a 40 wt. thread.  This is not to say that the 30 wt. cotton thread cannot be substituted.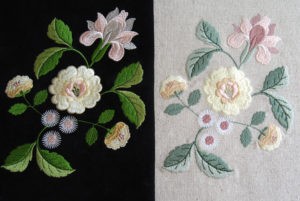 The thicker filament will make the design heavier and more dense. Some details will be less evident.
In comparing the two stitch-outs, the 40 wt. on the left allows a hint of the foundation fabric to show in the centers of the white flowers, the thinner white petals Also, there is a bit more detail in the outline of the top yellow petals and the stamen.
Remember, if wanting the embroidery to be in a silky contrast to the fabric, choosing Rayon or Polyester thread makes sense.  However, if the desired outcome is to mimic more of a "hand stitched" appeal, then Sulky® Cotton thread is your only choice!