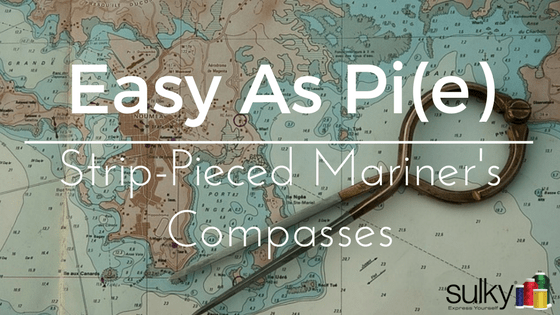 Easy as Pi(e)! Strip-Pieced Mariner's Compasses

It's Pi day (3.14) and to celebrate we wanted to show you an Easy as Pi(e) way to do a Mariner's Compass. I met Robin at Quiltcon 2017 and was fascinated by her rulers and the way she put together a Mariner's Compass. This is a great project to piece together with the new Cotton + Steel Thread by Sulky and then finish the quilt off with any Sulky 30 Wt. Cotton Thread.
What do you think of Robin's method? Let me know in the comments and Happy Pi Day!
It's as easy as Pi(e)!
Strip-Pieced Mariner's Compasses
by Robin Ruth Design
What started as a quest to make a Mariner's Compass quilt for her submarine officer husband, Robin Long took an idea she had in 1992 and launched Robin Ruth Design in January, 2015. She has developed a new line of revolutionary rulers for making STRIP-PIECED mariner's compass blocks and variations in 16 sizes – that's right, NO PAPER PIECING!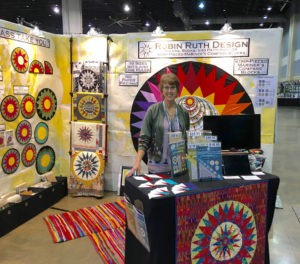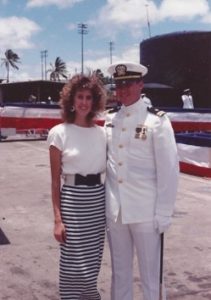 What is Robin Ruth Design?
A system of rulers, books, and patters for strip-pieced mariner's compass blocks in 16- and 32-point variations. "First you have to decide whether you want to be Skinny or Fat…" 😉

It is the same exact strip-piecing technique to make either Skinny Robin or Fat Robin compasses. They are just based on different angles, 45˚ or 60˚, which give you two different styles.
It really is as easy as Pie! These are the basic building units for making compass blocks.
Once you've learned the strip-piecing technique for making these, you've learned all of the technique needed to finish your block. It just repeats after Pie. (Pie recipes included! The Skinny Robin instruction book has apple pie and the Fat Robin has coconut cream!)
Skinny Robin and Fat Robin Books and Rulers come packaged together with a template sheet that has all the circle sizes needed to finish the centers and for finishing your compass block into or onto your background.
Each of these rulers will make 16 sizes of blocks – even sizes from 6″-36″ – giving you tons of choices for making your own creative compass project!
And once you've learned the method to make a Mariner's Compass, there are more books, patterns, and rulers for making compass block variations also in 16 sizes. All of these products are available on my website at www.robinruthdesign.com/shop/
And about those centers…Robin says to look at the centers of the compass blocks as creative opportunities. Do some fussy cutting, do some embroidery, use rik-rak, make a 3-D flower, use an embroidered patch, make a fabric yo-yo…it is really only up to your own creative imagination! When you get ready to apply that center, Sulky has 30 Wt. Cotton Threads to finish it off!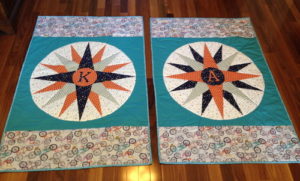 But the best way to see how these blocks go together is to watch the one minute construction videos on my website.
Also available on my website are real time video tutorials. 
These short animated videos and real time videos can also be found on my website or on my FREE APP. Search Robin Ruth Design at the App Store or Google Play.