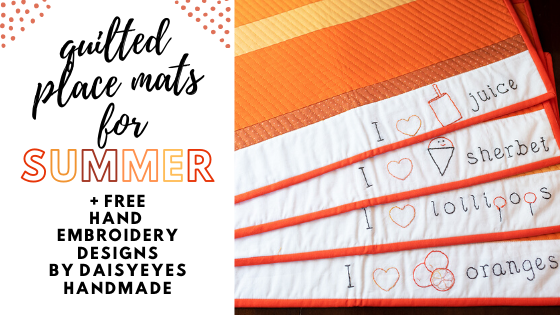 FREE Hand Embroidery Pattern for Place Mats
Free Hand Embroidery Pattern for Place Mats
Orange You Glad it's Summer?
Bring some yellows and oranges into your summer décor with this free hand embroidery pattern for place mats. Along with the free hand embroidery pattern, you'll also get great tips for straight-line quilting. Download the free project PDF today and get started!

SUPPLIES
For Embroidery:
For the Place Mats:
7 fat quarters of orange-hued solid fabrics (Featured: Moda Bella Solids in Peach, Apricot, Ochre, Amelia Orange, Orange, Tangerine & Clementine)
1 fat quarter of cotton print fabric (Featured: Add It Up fabric by Cotton+Steel Basics in Folk Dress)
1/2 yard of Moda Bella Solids in Mango
1/2 yard of white cotton fabric
Quilt batting

HAND EMBROIDERY
If you're new to hand embroidery, check out our Hand Embroidery for Kids video series on YouTube. You'll learn three basic stitches to use for myriad projects, like the backstitch used for this featured free hand embroidery pattern.
Using Sulky 12 wt. cotton Petites™ thread instead of floss is the first step to fun and easy hand embroidery. With no tangled skeins to worry about, the thread spool keeps you organized and at the ready when starting a new project. Plus the thread comes in solid colors as well as Blendables®, which are dyed randomly with multiple colors to add a lot of fun to your projects.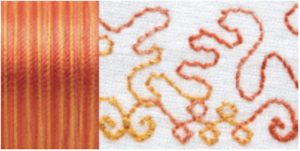 For this free hand embroidery design on place mats, you can choose to use a hoop or no hoop. The Sulky Stick 'n Stitch™ stabilizer keeps the fabric from puckering during stitching, especially when applied to the fabric right and wrong side. Beginners may find an embroidery hoop helpful as they navigate through the project. Either way, with a hoop or no hoop, the embroidery will turn out fabulous.
This project is a great on-the-go project as well, as the thread spools (neatly contained by the snap spool ends), small scissors and fabric are completely portable. Even if using a hoop, you can easily take this project on the go. Of course, it's perfectly fine to also find your stitching zen on a comfy couch while sheltering in place, too.

FREE HAND EMBROIDERY DOWNLOAD
The four featured designs, Juice, Sherbet, Lollipops, and Oranges, were designed by Aimee Davis of DaisyEyes Handmade. Aimee creates wonderful hand embroidered creations, quilts and garments and posts about her tips and patterns on her blog.
Grab the full place mat tutorial, Orange You Glad Place Mats, which comes with the free hand embroidery patterns, and get started on these fun quilty place mats for summer!