FREE Sulky Webinar – Free Motion Doodling Celestial Wall Hanging

When you're finished piecing a quilt top or other project, do you wonder what you can do to take it from "meh" to WOW?
Maybe you have a stack of unfinished quilt tops collecting dust in your closet? Or perhaps you need some fresh ideas to embellish wearable art, totes, and more. Introducing doodle quilting to the rescue! Learn how to apply the fun and simple process of doodling to free-motion quilting with confidence. In this webinar, Beth Bradley of Martingale Publishing, will show you how to make the quick and easy Celestial Wall Hanging.
This simple wall hanging gives you lots of bite-size opportunities to practice doodling designs from the book 180 Doodle Quilting Designs. Plus, you'll see how using different types of thread allows you to achieve beautiful effects in your quilting and embellishing. Developing these skills is invaluable for both beginner and veteran quilters and sewists alike and, you can add doodle quilting to any project!  These techniques can even be accomplished on any machine, including long-arm quilting machines.
What You'll Learn:
How to practice tracing and freehand doodling quilting designs with pen and paper to develop confidence and muscle memory
How to practice doodle stitching at the machine with practice quilt sandwiches in order to get comfortable with continuous-line designs
Build skills and enthusiasm for quilting your own quilts rather than sending them out to be quilted or being afraid to try it yourself
Celestial Wall Hanging Pattern: Learn how  to assemble a quick and easy star wallhanging quilt that's perfect for practicing coordinating block, border, and triangle quilting designs from 180 Doodle Quilting Designs. Any of the design sets in the book will work for this pattern; Beth's sample quilt features the easy Squiggles and Giggles design by Vicki Ruebel.
How to use different threads to enhance your quilting: Sulky PolyLite™, PolyDeco™, Cotton Solids, Blendables® and Metallics
Plus:
Limited-time web specials
Door Prizes
A FREE Block design from Lori's Spool of Thread set
A guest appearance by Lori Kennedy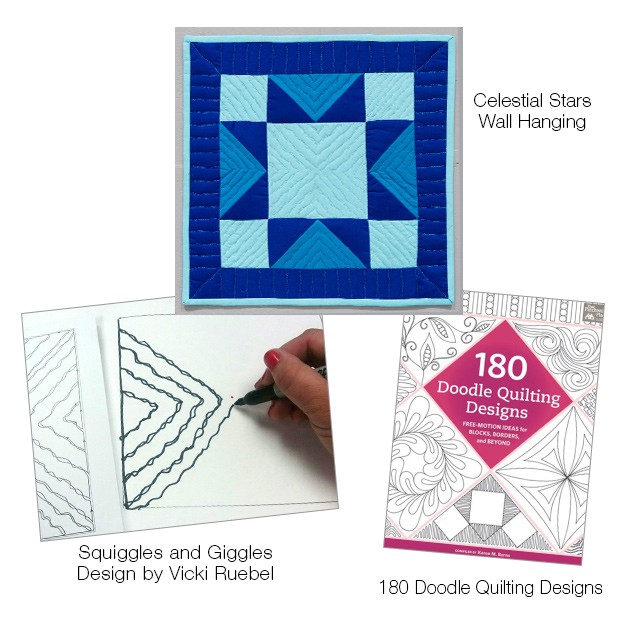 Please join us. Tell your friends too!