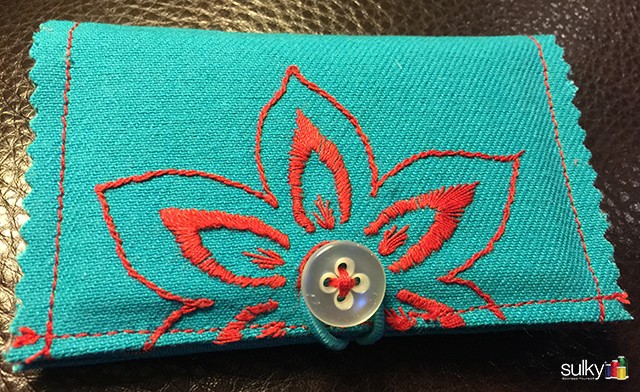 Fun Hand Embroidery Project – Business Card or Credit Card Holder
In an attempt to not snack at night while I am watching TV, I have been doing some hand embroidery every night. Part of the inspiration for this is Indygo Junction's "Stitched Style" book.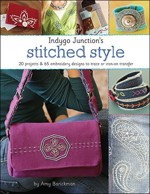 It has 20 great hand projects that are easy and hip. They are a modern take on the 70's which I love. The designs are a perfect size to add to a ready-made item, like a purse or jacket or you can incorporate them into a project you are making, like a dress or a quilt. The book does have projects you can make that use the embroidery designs, which is what I did with the business card holder, or use it as a credit card holder where you can put your American Express Blue Cash everyday card, but I plan to use some of the other designs in lots of places, not just the projects in the book.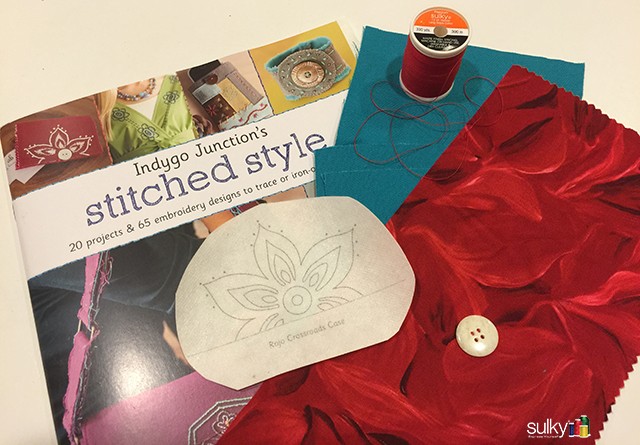 If you follow me on Instagram, you have already seen this project (please follow me on Instagram! I am @SulkyThreads); but I thought I would still post it here so I could go into a little more detail of how I did this cool little card holder!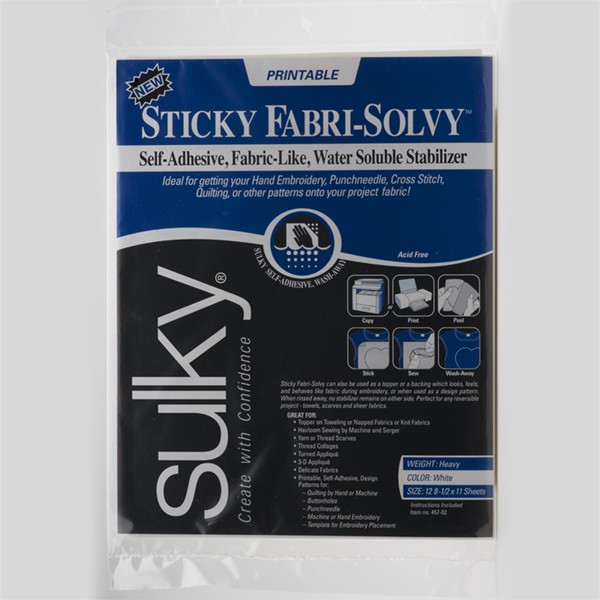 After I found the design in the book, I printed it out onto Sulky Sticky Fabri-Solvy™. I love this stabilizer! It is a water soluble, sticky-backed stabilizer that is cut into 8.5″ x 11″ sheets made to go right through your printer. I set my printer to the draft setting and just copy the design right onto the stabilizer. Then peel away the back sheet and place the design onto the front of the fabric you are going to embroider on. It's that easy! I no longer trace embroidery designs, and what's even better, I don't have to use a hoop! The Sulky Sticky Fabri-Solvy stabilizes the fabric for you so the need for a hoop is pretty much eliminated. YAY!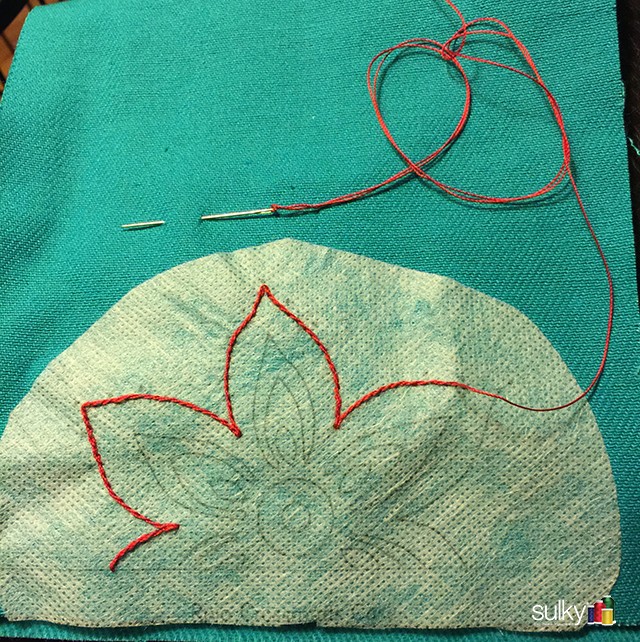 I used Amy Barickman's Crossroads Denim and stitched this with Sulky 12 wt. Cotton thread in Christmas Red #1147. This thread has the perfect amount of sheen, it doesn't tangle up and is a great thickness for this kind of project. One strand is equal to about 2 strands of embroidery floss, but since it isn't 2 separate strands of floss, you end up with a much cleaner finished project.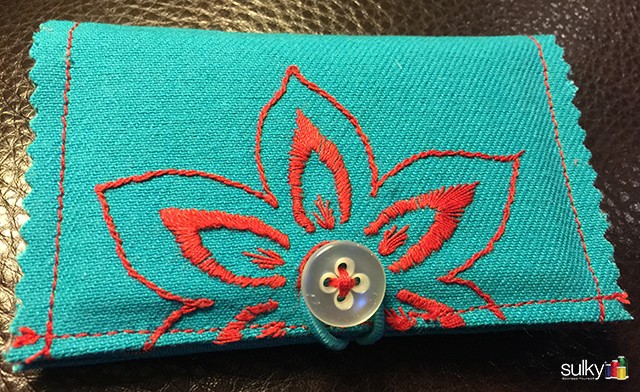 I only used two stitches for this. A stem stitch and a satin stitch and it only took me 2 nights of stitching while watching TV to finish all the hand stitching. When completed, I just rinsed away the Sulky Sticky Fabri-Solvy under warm running water.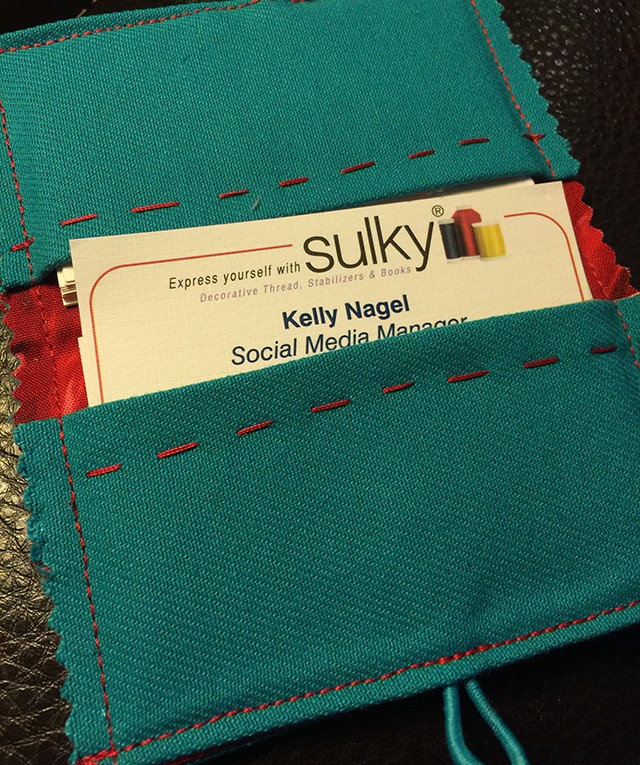 Are you working on any hand projects? How do you keep from snacking at night? Let me know in the comments.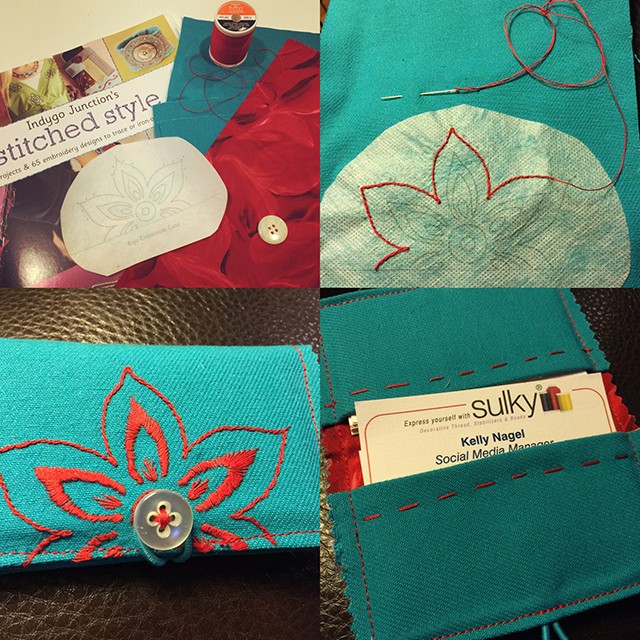 Happy Sewing!