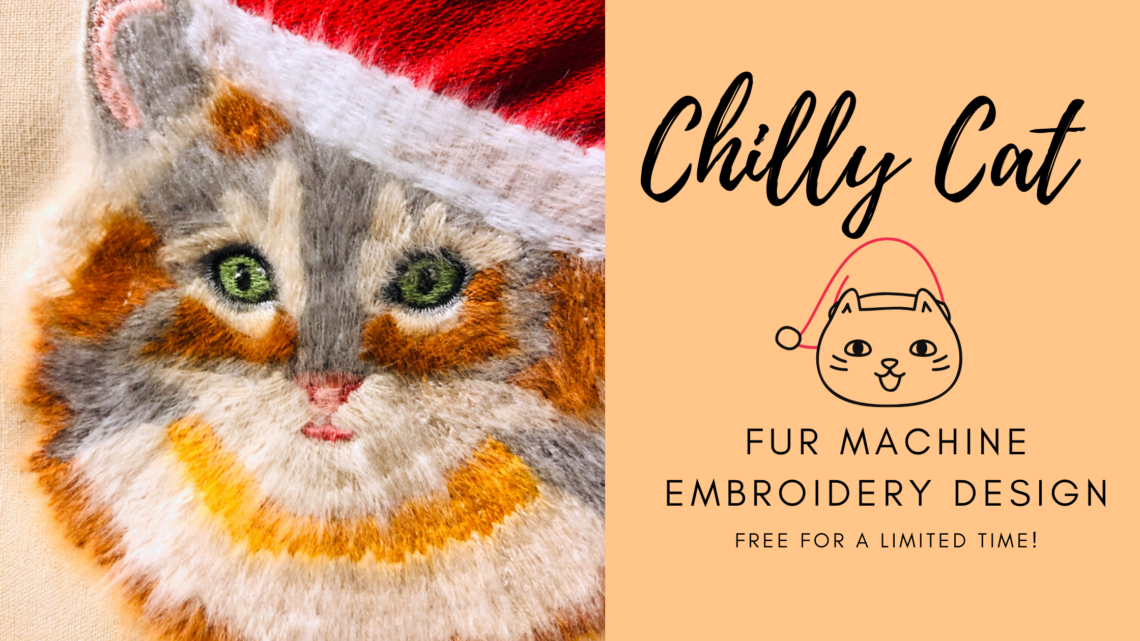 Fur Cat Machine Embroidery Design Debut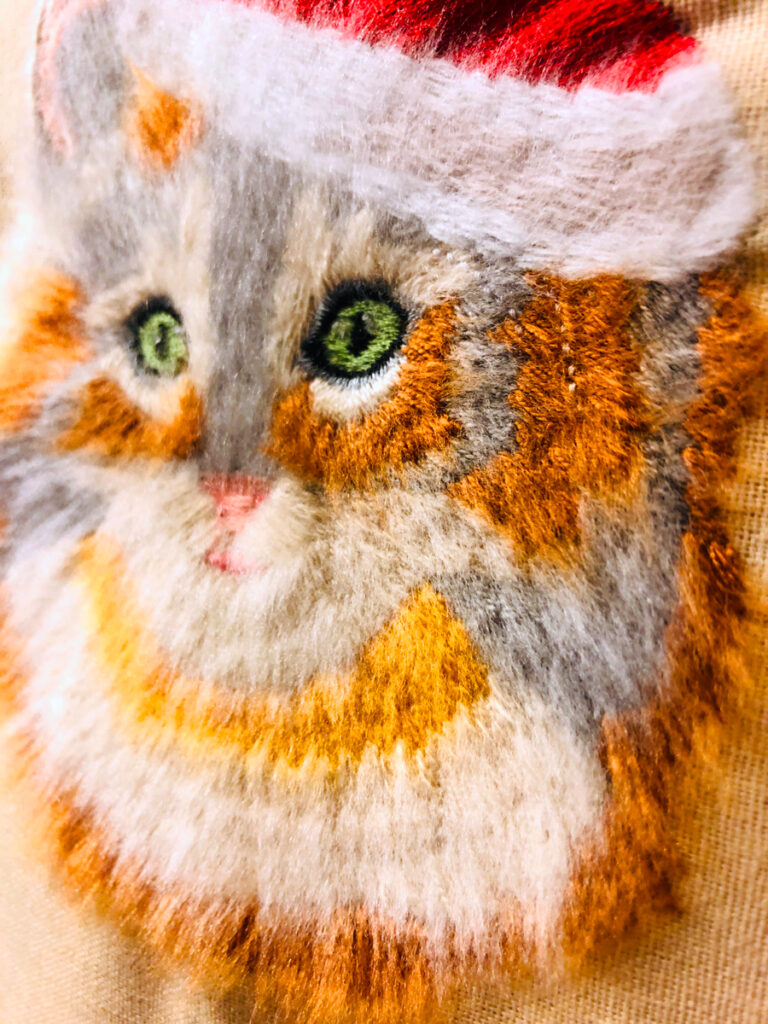 Fur Cat Machine Embroidery Design: Chilly Cat
Create fun fur effects with our fur cat machine embroidery design: Chilly Cat! Chilly is ready for the holidays in his Santa hat, too. Ramp up your Christmas in July stitching with this free fur cat machine embroidery design, available free for a limited time. This design freebie will expire July 31, 2020, so get it while the getting is good!
The fur on Chilly Cat as well as the fur on the Santa hat is stitched with Sulky Filaine acrylic thread. The elongated stitches made with this 12 wt. thick thread allow you to fluff the fibers using a Filaine Wire Brush, resulting in this fun thread effect. Be sure to pick up a size 100/16 Organ needle for embroidery to be sure the needle eye is large enough to accommodate the thread thickness.
FUR CAT MACHINE EMBROIDERY THREAD LIST
Sulky 12 wt. acrylic Filaine in colors:

864-3976 Light Mist
864-3613 Dove Gray
864-3979 Dark Amber
864-3431 Med Tawny Tan
864-3406 Light Ecru
864-3977 Dark Whisper Gray

Sulky 40 wt. Rayon Thread in colors:

942-1177 Avocado
942-1005 Black
942-1001 Bright White
942-1219 Gray
942-1148 Light Coral
942-1016 Pastel Coral
942-1001 Bright White
942-1147 Christmas Red
942-1169 Bayberry Red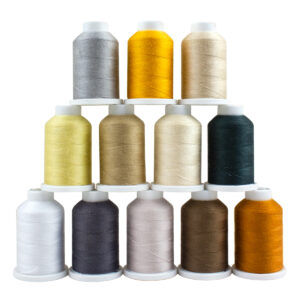 Purchase the Fur Filaine Thread Collection to have 12 Maxi-Spools of thread in gray, white, yellow, brown and black shades, perfect for embroidering pets and other animals. Grab this thread collection to embroider the exclusive Chilly Cat and be able to change the thread colors to create all different colors of cats using the same design. With 12 spools in the most popular fur shades, you'll have the ability to swap thread colors within the palette to create gray, white, brown, yellow or black threads.
Included threads in Fur Filaine Thread Collection:
864-3406 Light Ecru
864-3402 Light Beige
864-3120 Primrose
864-3979 Dark Amber
864-3431 Med Tawny Tan
864-3407 Beige
864-3617 Rich Brown
864-3976 Light Mist
864-3613 Dove Gray
864-3977 Dark Whisper Gray
864-3625 Charcoal Gray
864-3635 Piano Black
FILAINE STITCHING TIPS
Never use Filaine in the bobbin. The thread is much too heavy. Pair it with Sulky Bobbin thread for best results.
Turn off the auto thread cutting at the start of a new thread color. This creates knots on the fabric wrong side, making it difficult for the needle to penetrate through the fabric.
Slow the machine speed by half to ensure the friction produced by the design doesn't cause thread breakage.
A 100/16 Titanium Organ needle is a strong needle that produced nice stitches.
THREAD SWAPS FOR FUR CAT
To make different colored cats, simply swap thread colors within the Fur Filaine Thread Collection and create the pets you love! Here's Chilly Cat shown with more gray in his beard.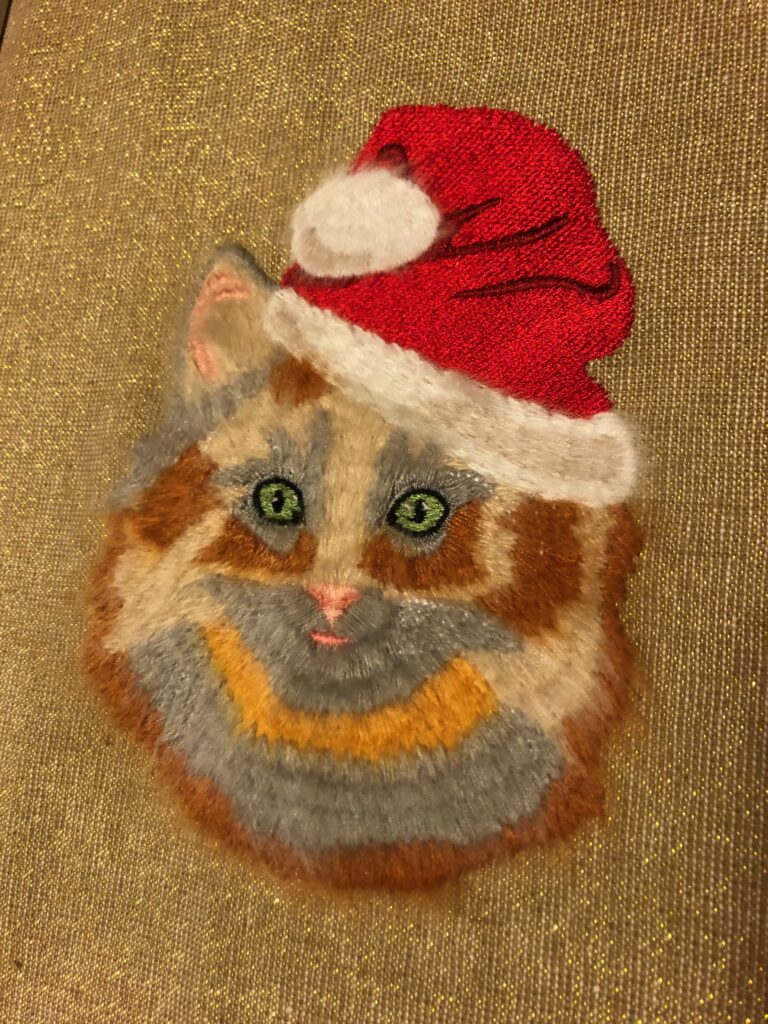 Feel free to also change the cat's eye color to suit your preference!
The more you brush the Filaine fibers, the furrier your cat will become. Pass the Filaine wire brush over and across the thread in different directions, being careful to not snag the thread loops. Also be mindful of the fabric you've chosen for embroidery. A heavier weight fabric, such as canvas or denim, will support the stitches very well. If using a napped fabric or textured fabric, like fleece or felt, don't touch the Filaine wire brush against the fabric or it will also be fluffed by the brush.
You also don't have to brush the finished design. The Filaine thread looks really neat and fuzzy, creating a vintage hand-done quality when not brushed.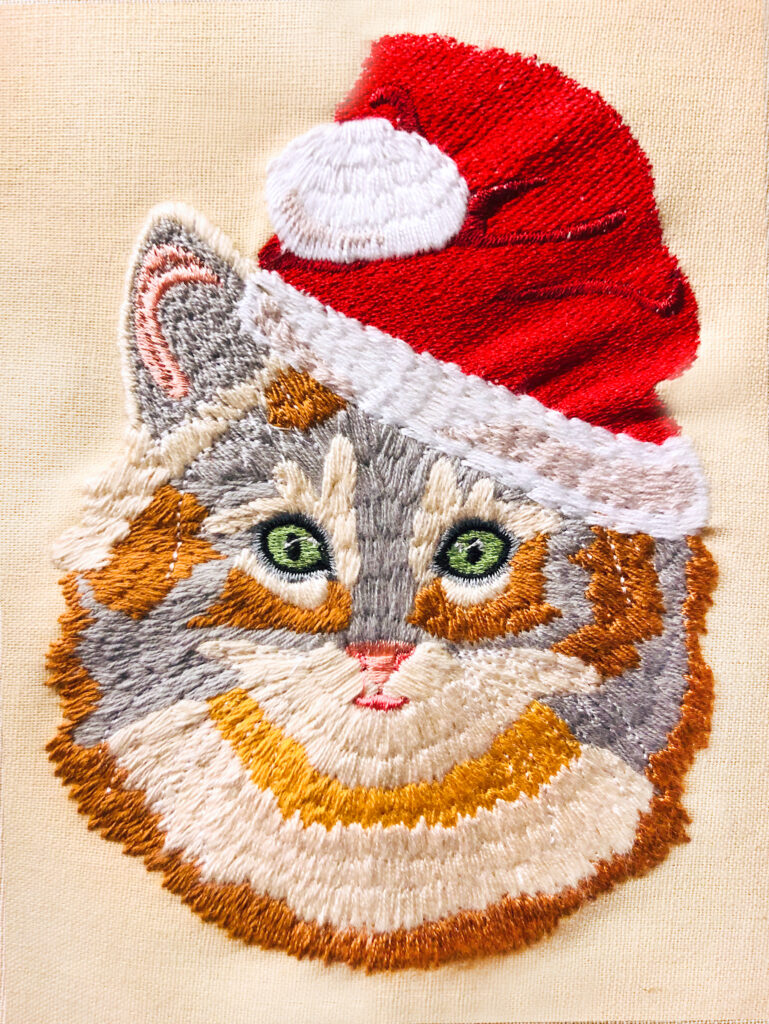 Make sure to follow the thread chart to stitch the Rayon thread in the proper areas (eyes, whiskers, etc). The design is digitized for 12 wt. thread in certain areas and 40 wt. thread in others. You don't want to switch the weights, whether accidentally or on purpose.
This Chilly Cat machine embroidery design is part of a larger collection of Peekaboo Pets, coming soon! This sneak peek is to whet your appetite and get you inspired for holiday stitching. Look for more Peekaboo Pets coming your way soon.