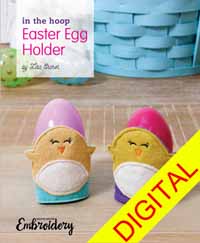 Easter Egg Holder Made In The Embroidery Hoop
Easter Egg Holder
Make an Easter Egg Holder completely in the hoop of your embroidery machine! This cute Easter Egg Holder design can be changed up by recipient by choosing different felt colors and further personalizing with a name or monogram, too.
Grab the design and minimal materials and get started quickly and easily. A plastic egg fits inside nicely, but a dyed Easter egg does too!
Add a name to the chick's belly and treat these as place cards for your Easter table. Simply add a name using your machine screen before advancing to the embroidery steps. Because there isn't much room for a large name, sub a monogram for those folks with super long names.
For the lettering, use Sulky PolyLite thread. This thread is 60 wt so it's great for small letters, creating a balanced stitchout while keeping things readable. Use a topper, such as Sulky Solvy, for the lettering to make sure the thread doesn't sink into the felt pile.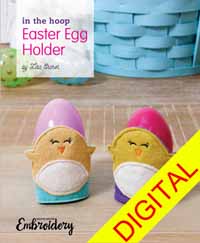 Use Sulky 40 wt. Rayon thread for the remaining design elements.
MORE IDEAS
If desired, and if you have software, isolate the little chick and appliqué it to some matching place mats or a table runner. Use the same felt for the place mat and leave raw edges – they won't fray! Follow all the steps for the egg holder, but don't embroider the band that wraps around the egg. Instead, continue the chick stitching and appliqué the pieces as recommended by the digitizer.
Or create only the chick as directed, and remove it from the stabilizer to use as a freestanding appliqué. Set the machine for a fun decorative stitch to appliqué it to the place mat right side where desired.
Your Easter Egg Holder will look so cute on a table full of Easter goodies!