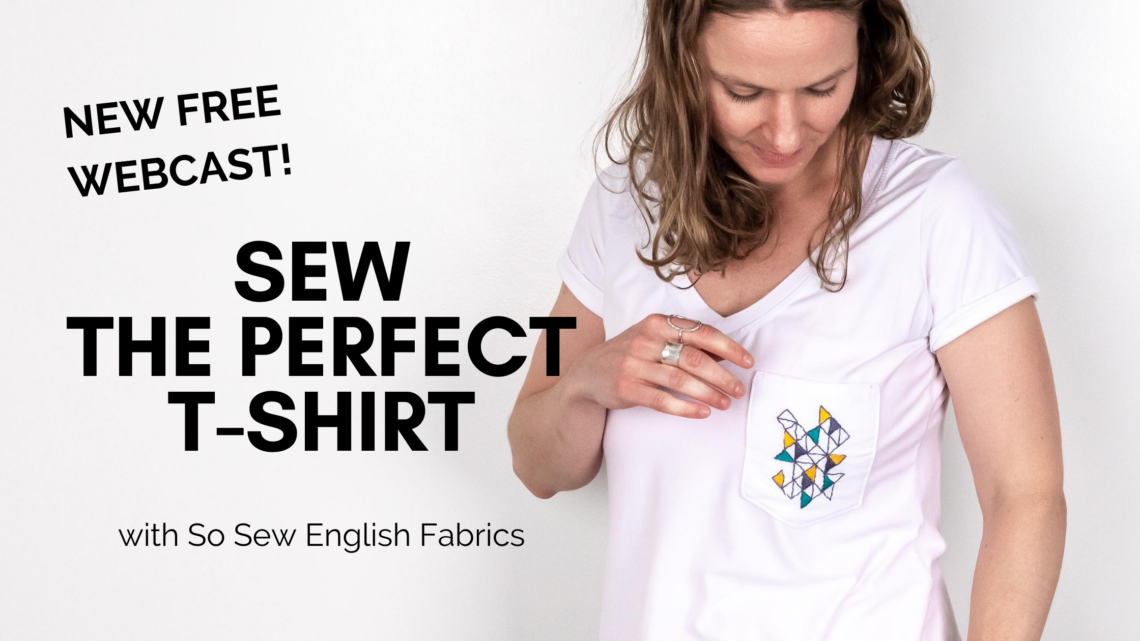 How to Sew a T-Shirt and Add Machine Embroidery
How to Sew a T-shirt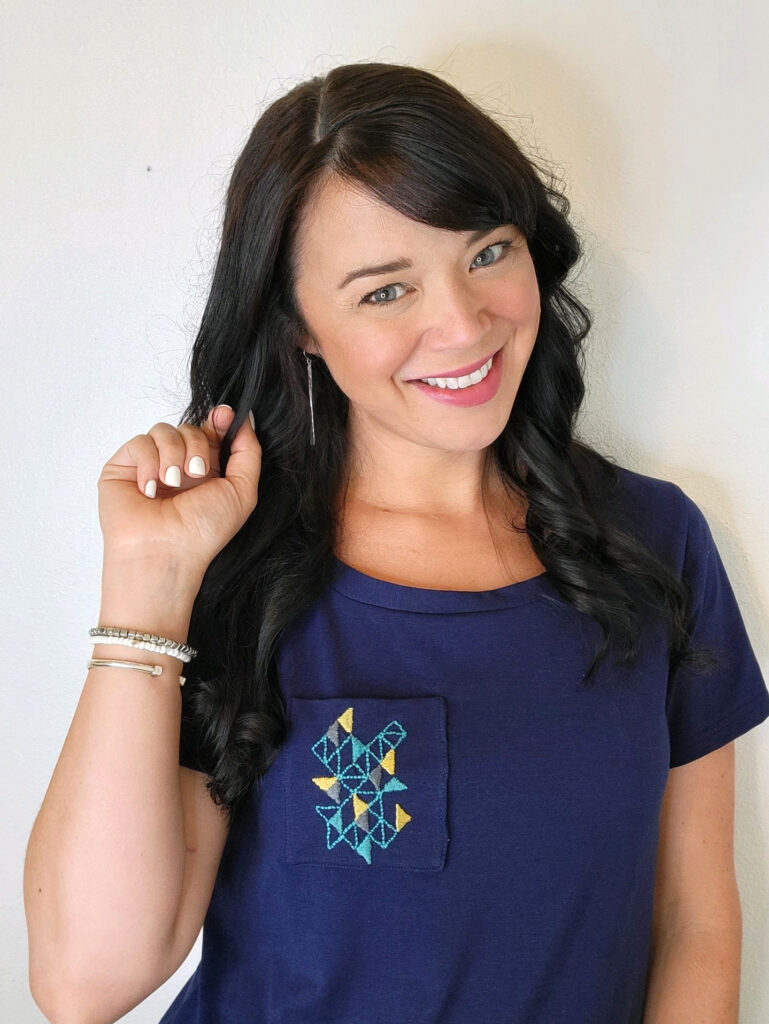 Register for our NEW FREE Webcast with So Sew English!
The Perfect Sulky Tee is a new t-shirt pattern, designed by So Sew English, with neckline, sleeve, hem and pocket variations so you can use it over and over again to create different looks.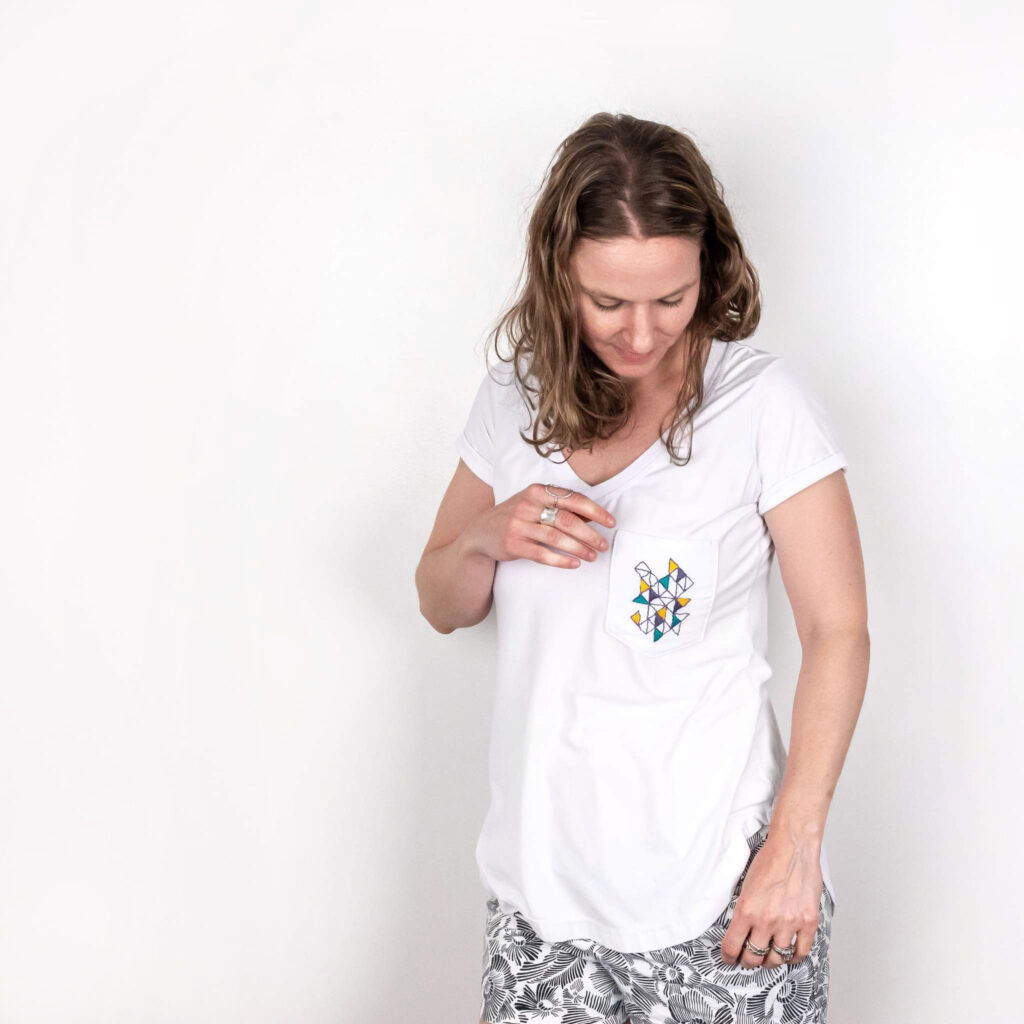 ABOUT THE INSTRUCTOR
So Sew English joins Sulky for this free virtual event. Amanda Carita, is the owner and founder of So Sew English Fabrics (SSE). Based in Oceanside California, SSE carries a wide variety of apparel knit fabrics and ships  worldwide. Amanda, a seamstress, educator, and single mother of two is the heart and soul behind SSE. She carefully selects each fabric that they carry. SSE is known for offering high quality fabrics at very affordable prices. Amanda created the Perfect Sulky Tee pattern just for this webcast, and it's a versatile design that fits and flatters all figures!
T-SHIRT WEBCAST DETAILS
The Perfect Sulky Tee Webcast: a free virtual event with 60 minutes of instruction from the pattern designer herself. You'll see a slide presentation and video of the instructor taking you through the techniques, tips and project. Throughout the event, we'll stop for Q&A sessions; ask your questions in the live chat and Amanda will address as many as possible. We'll also have two awesome door prizes for live attendees to WIN throughout the event.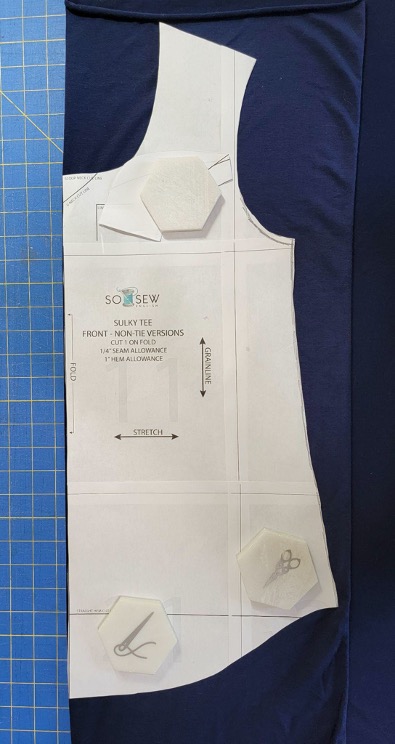 You'll learn how to construct this pattern using a serger or standard sewing machine, with tips for sewing and handling knit fabrics. Plus, you'll learn how to embellish the T-shirt pocket with either hand or machine embroidery to create a truly unique garment.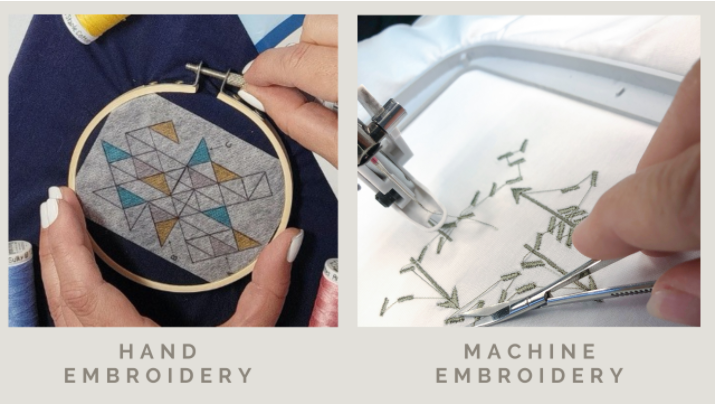 Newbies to garment sewing will enjoy this straightforward pattern designed by So Sew English. Veteran garments sewists will also appreciate the thoughtful construction and customization options. Everyone will love working with the high-quality fabrics from So Sew English, which feel fantastic and last through multiple washings and wearing stress.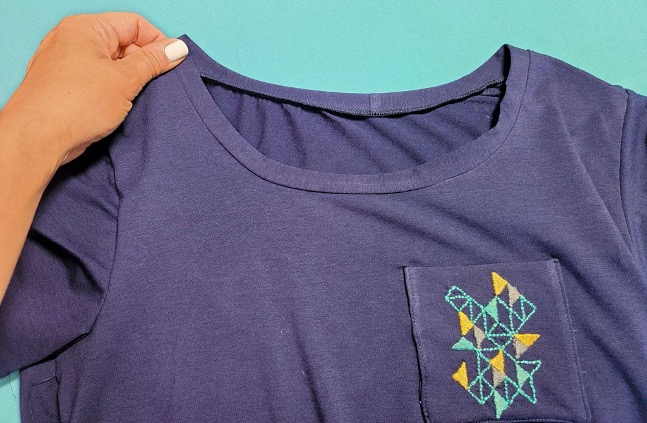 WHEN & WHERE
September 14, 2021 at 2pm ET (Note that if you're in a different time zone, you'll need to adjust your calendar accordingly. Or add this event to your calendar once you register through the Confirmation screen.)
This virtual event is presented on the Sulky Education Site: sewingonline.sulky.com. Register for FREE by entering your email address. This ensures you'll receive notifications about the event, including reminder emails so you don't miss a thing. Can't attend live? No worries! The event is available on-demand for viewing at any time after the live event ends. It's also stored in your Library for future reference.
T-SHIRT KIT
We're offering kits in two colorways for either hand or machine embroidery so you can choose the color and embellishment that fits your style. Choose from white MVC fabric (we'll tell you what that is, too!) or Navy MVC fabric – a luxurious knit that feels like butter next to your skin. Then choose from either hand or machine embroidery to ensure you get the right threads and stabilizer you need.
ALL KITS INCLUDE:
The Perfect Sulky Tee pattern by So Sew English ($8.99 value!)
Sulky Thread: 40 wt. Poly Deco for construction (color will match the chosen fabric colorway)
Organ Needles: Jersey Assortment #3000111
Sulky Stabilizer: Tender Touch
Fabric from So Sew English – choose from 2 colorways, navy or white high-quality micro viscose cotton spandex (MVC)
Hand Embroidery Version Includes:
Mod Geo Hand Embroidery Design Collection – includes 3 designs in 2 colorways
6 spools of Sulky Cotton Petites Thread (3 for each design colorway)
Sulky Stick 'n Stitch
Golden Eye Embroidery Needles
Machine Embroidery Version includes:
Mod Geo Machine Embroidery Design Collection – 3 designs in 2 colorways)
6 spools of Sulky Poly Deco Thread (3 for each design colorway)
Sulky Soft 'n Sheer Extra
Organ Embroidery Needles Assortment
EMBROIDERY DEBUT
We're also unveiling a new design collection with this webcast! Mod Geo is a collection that's inspired by mid-century modern motifs. Each attendee will receive the Mod Geo Triangle Play design for FREE just by signing up for the event. You'll get the files for machine embroidery as well as hand embroidery patterns to print onto Sulky Stick 'n Stitch (we'll show you how that works if you've never tried it).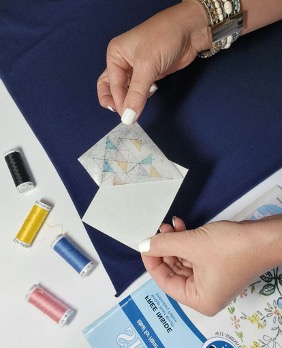 Grab the rest of the machine embroidery collection along with a thread pack by purchasing the Mod Geo Mini Thread Palette, or buy the individual designs at sulky.com. The hand embroidery designs and collection are also available on our site! There are three designs in all, delivered in two colorways each. Pair the teal/gold colorway with the navy short and the taupe/orange colorway with the white shirt. Or vice versa! The threads go with both tees and are nice neutral palettes to coordinate with your wardrobe.
JOIN US September 14, 2021 at 2pm ET for the Perfect Sulky Tee Webcast and sew a t-shirt you're sure to love!