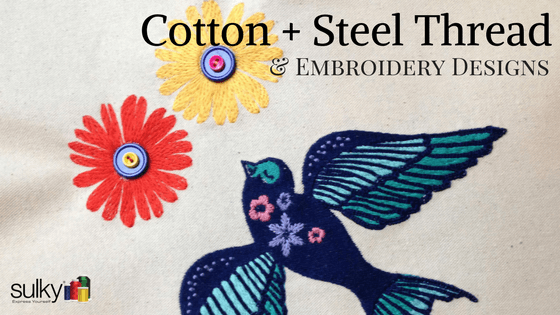 Machine Embroidery Series: Cotton+Steel Thread & Embroidery Designs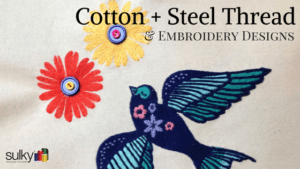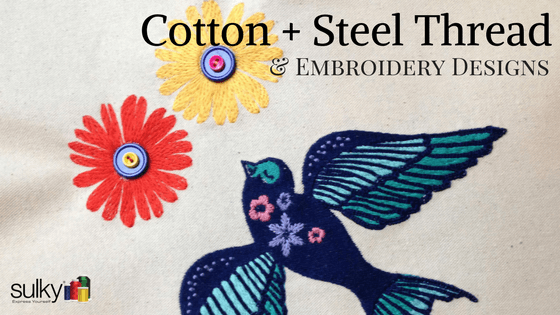 Machine Embroidery Series
Cotton+Steel Thread by Sulky
& New Cotton+Steel Scout Embroidery Collection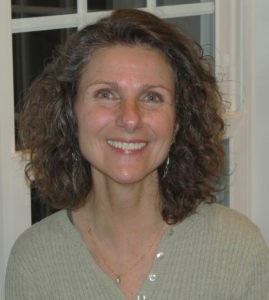 When was the last time you really got excited over thread?  If the answer is "Not for quite a while.", the new answer is "Right Now!"
Proudly announcing the newest addition to the Sulky Thread Family…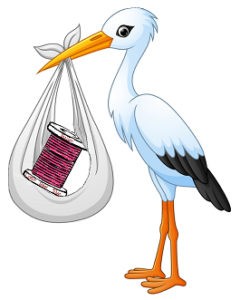 Name: Cotton+Steel Thread
Born: 2017
Weight: 50
Size: 660 yard spools
Proud Parents: Sulky and Cotton+Steel, a division of RJR Fabrics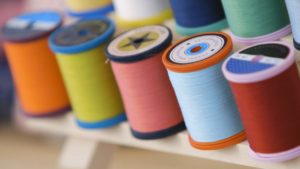 Sulky recently teamed up with a wonderful, funky group of designers, Cotton+Steel, to bring their unique awareness of fabric color into the world of Sulky Thread!
Cotton+Steel 50 wt. Thread is made from 100% Egyptian grown, Extra-Long Staple cotton.  It is spun in Egypt, twisted, dyed and finished in Italy, with the final winding in Germany.  This intense, quality-controlled manufacturing process produces a thread that flows effortlessly through the mechanics of the sewing machine.
Intended usage of this quality thread is for general sewing; piecing, quilting and garment making, especially since the thread collection is color coordinated with Cotton+Steel's fabric line of RJR Fabrics.
And then along came machine embroidery….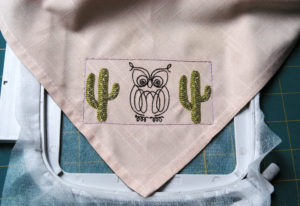 Normally, an "all-purpose thread" is not employed to stitch out beautiful machine embroidery designs. Why would we even want another thread?  Especially, when within our immediate Sulky collection, we can select from a variety of threads: diverse in fiber content, colors and weights.
Let's start with the available colors, which are young and unique, not to mention that they coordinate with an entire line of Cotton+Steel fabrics! Cotton+Steel Thread is available in an amazing variety of 100 lush colors of subtle shade differences. Plus, its 50 wt. filament is slightly thinner than a 40 wt. and slightly thicker than a 60 wt.  In other words, it provides new options in how an embroidery will look.
My first thought was, "How does it compare to "accepted/standard" machine embroidery threads?" I did a test sample and would suggest you do the same, because, although I did try to document subtle differences through photographs, there is nothing like true, visual results to appreciate all the nuances of all the threads.
I keep my stitch-out samples for future references documenting stabilizer, needle size, fabric content, and, of course, thread type – including color numbers.
Green Flower Bird by Sulky Embroidery Club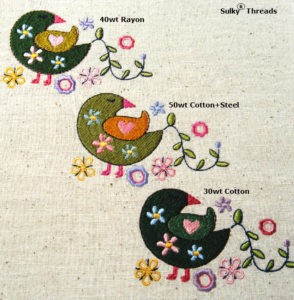 Design #657 – Green Flower Bird from Sulky's Embroidery Club was first stitched in Sulky 40 wt. Rayon on Osnaburg fabric, a coarsely-woven utility fabric. Most embroidery designs are digitized to accept this thread weight.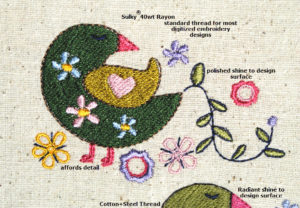 Trying to stay close to the same color scheme, the same design was stitched in Cotton+Steel 50 wt. Thread, under the exact same parameters (same fabric, stabilizer, machine speed and needle size).  It stitched out beautifully with not one mechanical issue.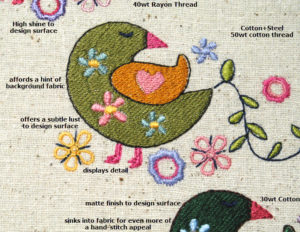 While still providing full coverage, the finer thread filament allowed the rows of stitches to lay next to each other with less overlap.  Also, the design was lighter in touch.  Cotton+Steel Thread offers a patina finish versus the satin-shine of Rayon, while still providing all design details.
The final stitch-comparison incorporated Sulky 30 wt. Cotton Thread.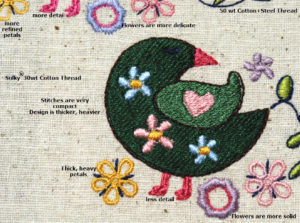 Some details, most notably in the feet, are lost when embroidering a design originally intended for a 40 wt. Rayon Thread in heavier weights. However, in exchange, a "hand-stitched" effect is gained by the appearance of the thread sinking into the fabric, a matted finish, and creating additional depth to many focal points.

After evaluating the sample stitch-outs, it was obvious that Cotton+Steel Thread is a perfect choice for machine embroidery on so many levels!
Cotton + Steel Scout Embroidery Collection
Cotton+Steel's first ever embroidery collection contains an assortment of 31 darling embroidery designs, reminiscent of old school scout patches.

Available at: Embroidery Online
Cotton + Steel Thread by Sulky Scout Slimline Collection
This Cotton+Steel Thread by Sulky Slimline contains all the colors needed to stitch every design in the Scout Embroidery Collection. This kit contains 26 660 yd. spools of the 50 wt. Cotton+Steel Thread by Sulky.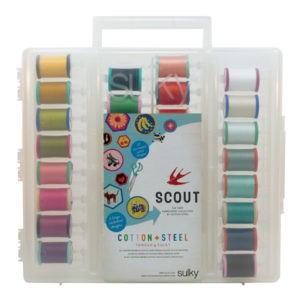 Available at: Embroidery Online
Medium Lovebird – Scout Embroidery Collection by Cotton + Steel
The Medium Lovebird design #80141-04 was combined with Happy Daisy design #80141-1.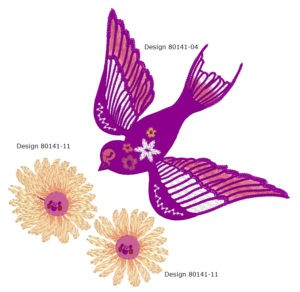 The digitized floral center, suggestive of a button, inspired skipping over these stitches and embellishing the embroidered petals with layered buttons.  The trendy thread colors cried out for an inspirational accent fabric!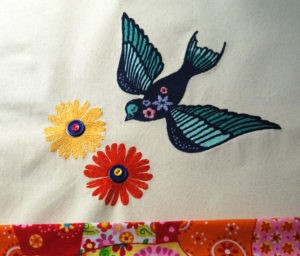 Fabric: Drill Cloth – a utility fabric much like canvas but of lighter weight
Stabilizer: Sulky Soft 'n Sheer™
Needle Size:  110/16 Topstitch
Cotton+Steel Thread colors:  Bird: 1046, 0640, 1119, 1296 and 0505
Flower: (center colors omitted) 1037 and 0567
Owl – Scout Embroidery Collection by Cotton + Steel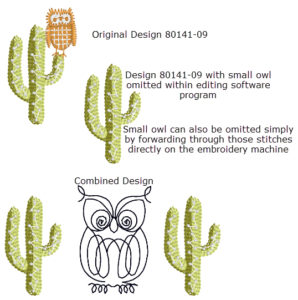 I loved the outlined Owl #80141-15, and pictured it on napkin corners.  Wanting a bit of color, design #80141-09 Cactus & Owl was chosen.  The cactus framed the owl perfectly. However, not wanting too many owls, the small owl perched on the cactus was omitted.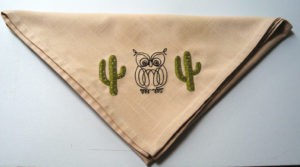 Fabric: Pre-made linen/polyester blend napkin
Stabilizer: Sulky Soft 'n Sheer
Needle Size:  70/10 Sharps for Fix Box
80/12 Topstitch for embroidery design
Cotton+Steel Thread colors:  1131 – Owl   1156,1815 and 1082 – Cactus
Medium Mustang – Scout Embroidery Collection by Cotton + Steel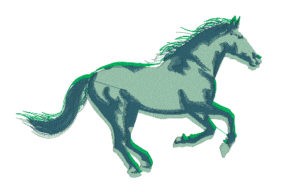 I knew my granddaughter would love this graphic, Mustang design #80141-02, embroidered on a sweatshirt for her riding classes. Since I had only embroidered on woven fabrics with Cotton+Steel Threads, I thought it would be good to try a knit!  Stitching went flawlessly!
Fabric: Pre-made 50 cotton/50 polyester medium-weight sweatshirt
Stabilizer: Sulky Sticky+ ™
Needle Size:  90/14 Ball Point Embroidery Needle
Cotton+Steel Thread colors:  1229,1295 and 1005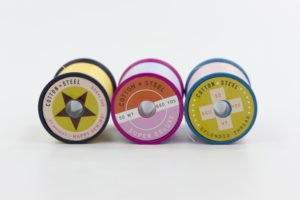 Sulky Cotton+Steel Thread truly inspires the use of color and, at times, may be the preferable choice for an application just as all the other members of the Sulky Thread family are.
One thing is certain: Sulky's Cotton+Steel Thread has already earned a well-deserved place in our necessarily diverse Embroidery Thread Collections.