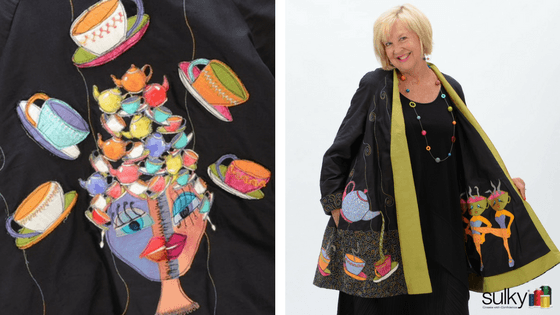 "Mad Tea Party" Jacket
By Diane Gloystein
This is the story of how my "Mad Tea Party" jacket nearly drove me mad.  As a National Educator representing Sulky of America, I often hear comments from people who assume that, as an educator, I must know it all, have all the answers, and easily whip out one project after the next.  Just for the record, I want everyone to know that I, too, have sewing projects that are disastrous and throw me close to the brink of insanity as I wonder how this hobby that can be so much fun can just as easily send me over the edge.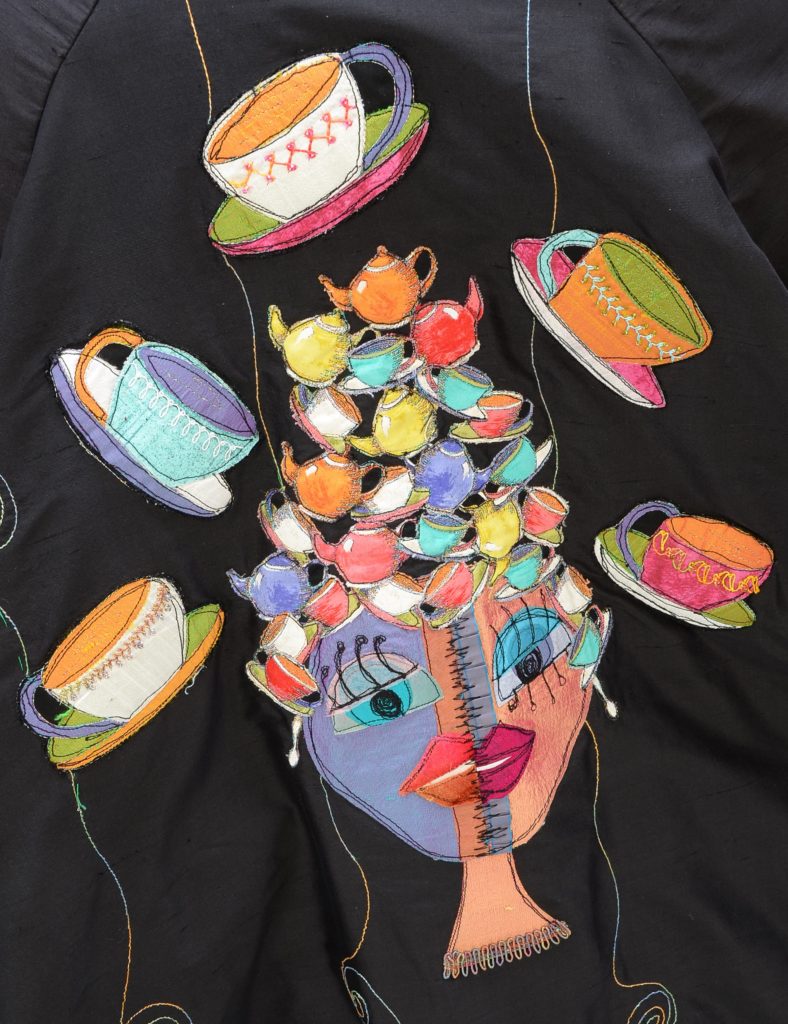 Where it all began…
Just as the Alice in Wonderland movie trailers were tempting us in theatres, I came up with the brilliant idea to create my own Wonderland, wearable art masterpiece.  I envisioned how amazing it would be to attend the movie in my one-of-a-kind glorious jacket, envied by my non-sewing friends as I smugly snarfed down buttered popcorn in my perfectly themed ensemble.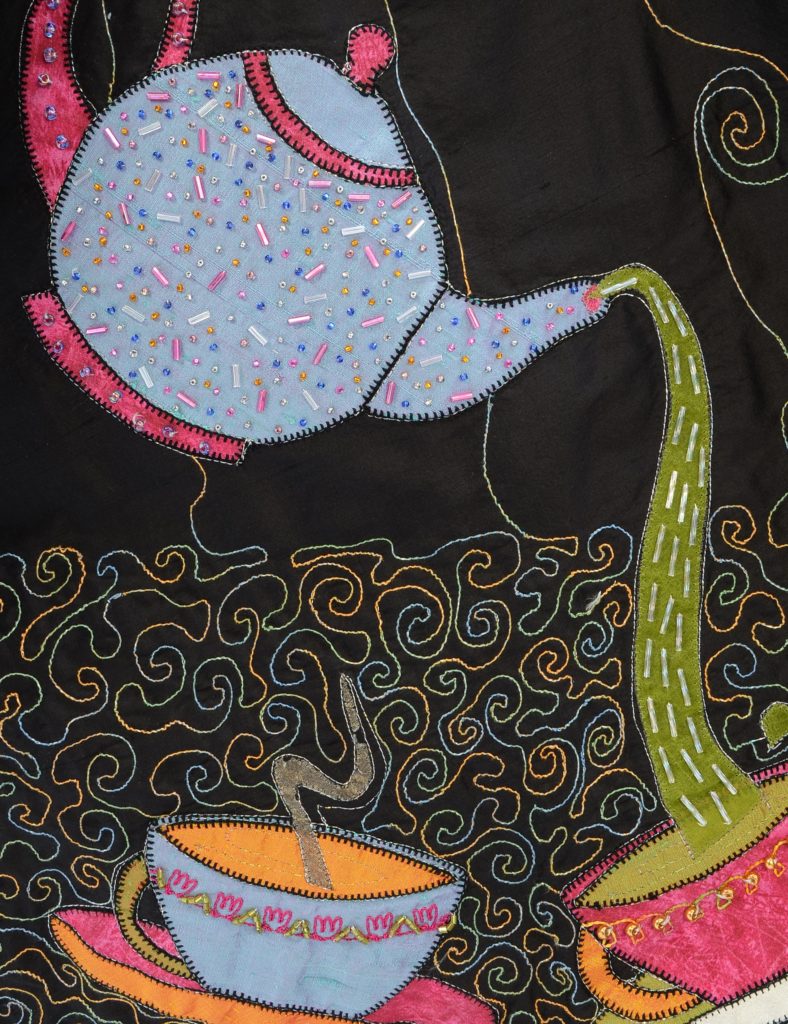 I had a Neue Mode pattern that I'd hoarded for an eternity.  The pattern company has been out of business for years but how hard could it be to construct a simple swing jacket?  I saw no reason to stitch up a muslin trial garment.  How could the fit of a roomy dolman-sleeved jacket with plenty of hip room possibly go wrong?  So out came my coveted black silk dupioni fabric and chop, chop…it was time to sew.  Now, as a creative person, I saw no reason to plan the jacket design.  I was confident it would evolve!  I started with the lining, and began creating a Cheshire cat who would grin devilishly from my inner jacket lining.  I sewed when it worked in my schedule and when I felt like it.  Weeks turned into months.  The Alice in Wonderland movie had left theatres long ago.  But one day, the glorious jacket lining was complete.  I began the jacket, which was appliqued with teacups and a pouring tea kettle, all heavily embellished with bobbin work and hand beading….hours and hours of hand beading!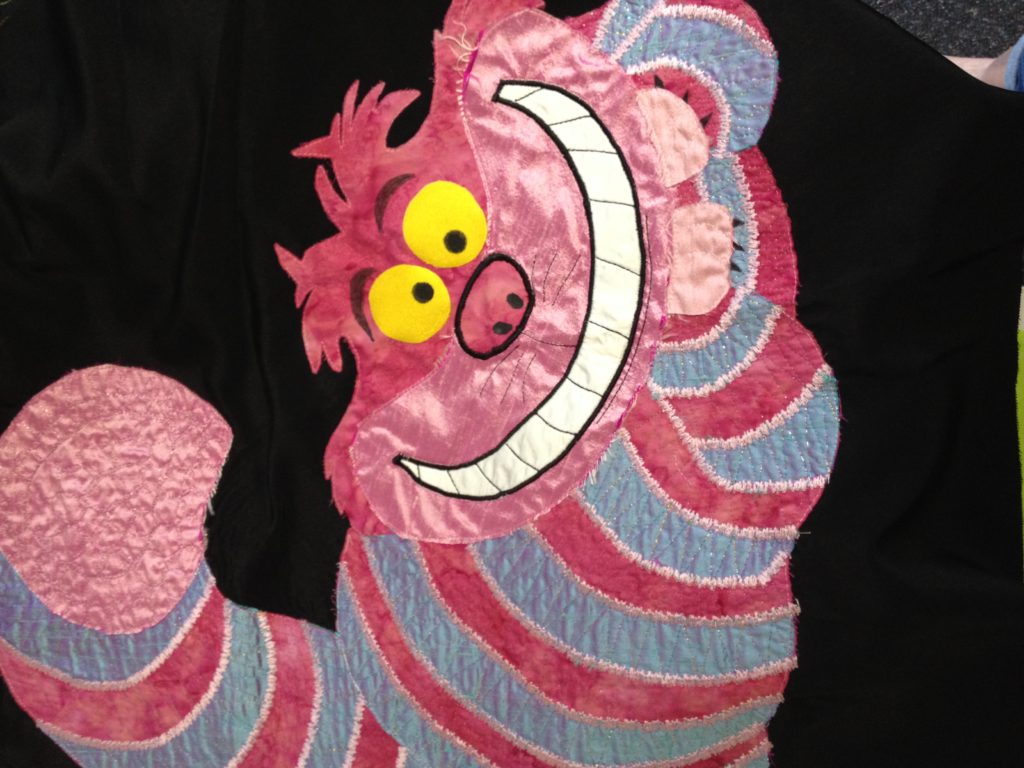 At this point, we are beginning to count years, not months, for the jacket's construction.  Finally, the jacket was beautifully embellished and it was time to begin constructing the pieces into the jacket.  I figured I'd be wearing it within a day or two.  Jacket seams went together easily and I assembled the lining…well, I started to assemble the lining.  But with the numerous times the lining was handled, carelessly thrown over a chair, hung and pulled, the lining fabric had severely raveled.  It became apparent that I needed to construct a new lining.  And it occurred to me that in the event this thing ever did reach completion, I was unsure of copyright laws and didn't know if Disney would come after me for copying their Cheshire cat.  I developed a new lining plan with a dancing chorus line of hot steaming teacups.  What could be more appropriate for a Mad Tea Party?!!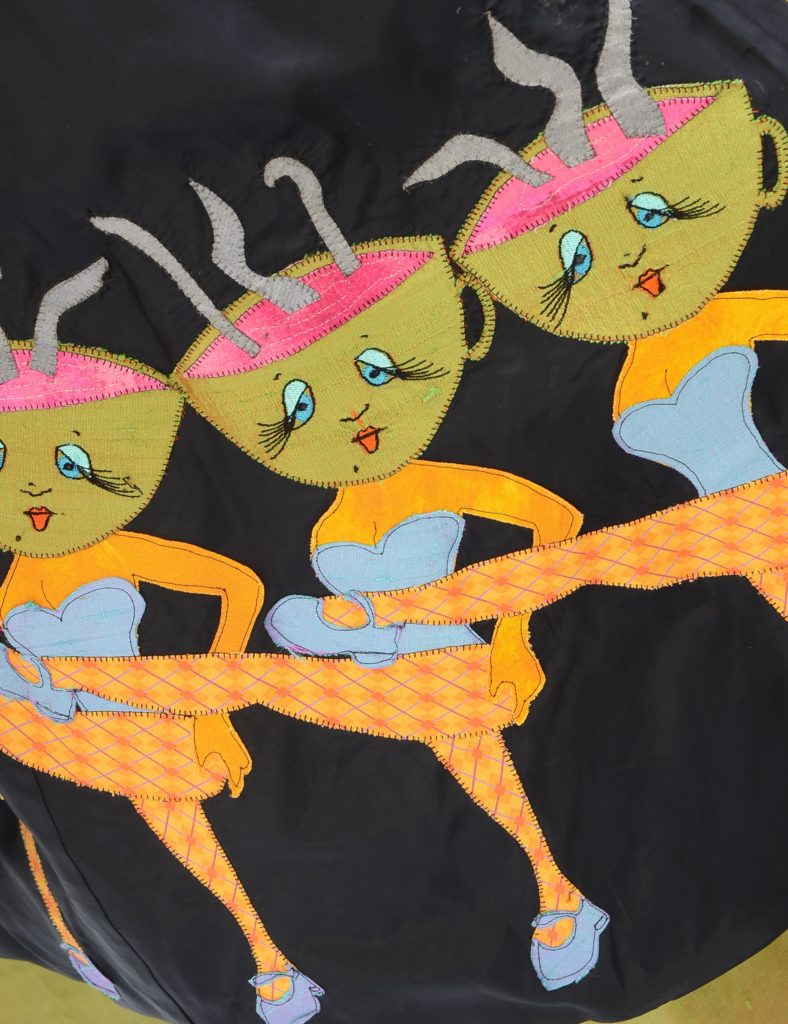 Another few months…or was it years?…the new lining was ready to go into the jacket.  But somehow, the lining didn't match the jacket body and the circular hem was wonky beyond belief.  I couldn't alter the jacket body.  If you think I was going to redo all of that hand beading, you're the one who's crazy!  When I tried to attach the lining hem to the jacket hem, there were unsightly waves and lumps that presented themselves.  Oh, and about the fit… As I said earlier, what could possibly go wrong with the fit of a simple swing jacket, right?  Remember the vintage Neue Mode pattern?  That jacket was big enough for two of me to fit into.  The jacket pattern was designed to accommodate the biggest, fattest 1980's shoulder pads ever made!  If that  wasn't enough, the back-collar pattern and shawl collar didn't fit to the jacket body.  No way.  No how.  I called upon my sewing community friends, knowing that sometimes it takes a village.  And the one thing we concurred on was that the back collar and shawl collar indeed didn't fit together.  My sewing whiz friend, Lori who attended FIT volunteered to assist me in redrafting the patterns.  But by now, my black dupioni stash was completely exhausted, so out of desperation, the shawl collar became a green one.  Newly drafted pattern pieces were re-cut into a new collar.  Countless tiny hand tailored stitches coaxed pieces to fit together.  Steaming, pulling, and prodding finally whipped the jacket into submission.  Reconstructed.  Reassembled.  Finished!!!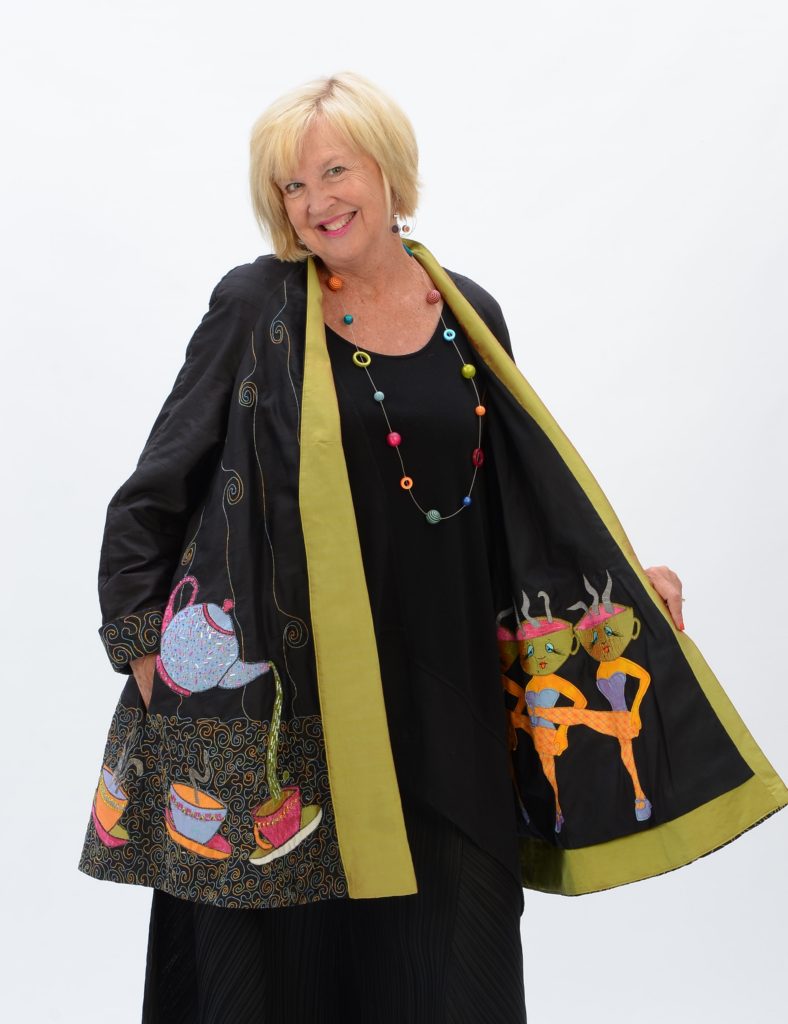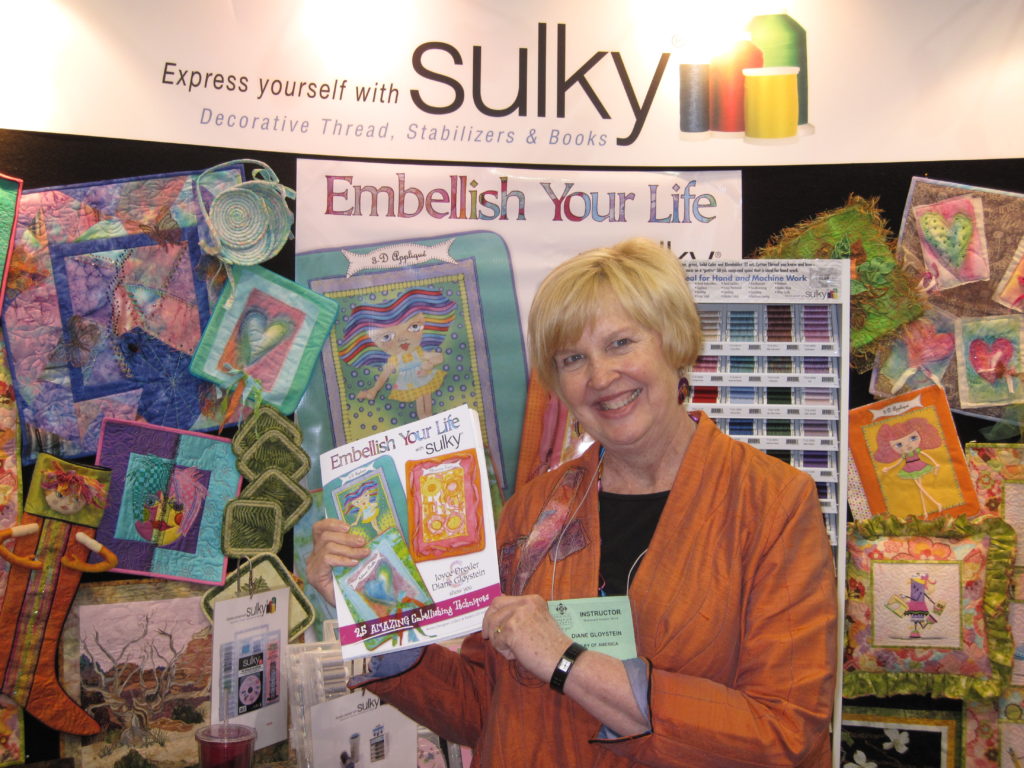 The jacket took seven years, start to finish. It's a miracle that I not only finished this marathon garment but actually like it in spite of the many times it brought me to my knees. I entered my jacket in the Wearable Art Competition at the Pacific International Quilt Festival at the Mancuso Quilt Show in Santa Clara, CA, where it was awarded "Most Innovative Design". Today it was announced that my jacket won "Best Use of Embellishments" at the Mid-Atlantic Quilt Festival in Hampton, Virginia.
About the Author:
Diane Gloystein teaches at sewing expos and stores throughout the country where her high energy presentations, incredible array of whimsically creative samples, and infectious enthusiasm are met with rave reviews. Her position as a National Educator representing Sulky of America is the fulfillment of a dream, which offers her the extraordinary opportunity to inspire students with a myriad of sewing techniques, surface design, and embellishment possibilities. Diane was a designer in the 2008 BERNINA Fashion show and currently serves as a BERNINA Ambassador. She co-authored the book Embellish Your Life with Sulky, along with Joyce Drexler.