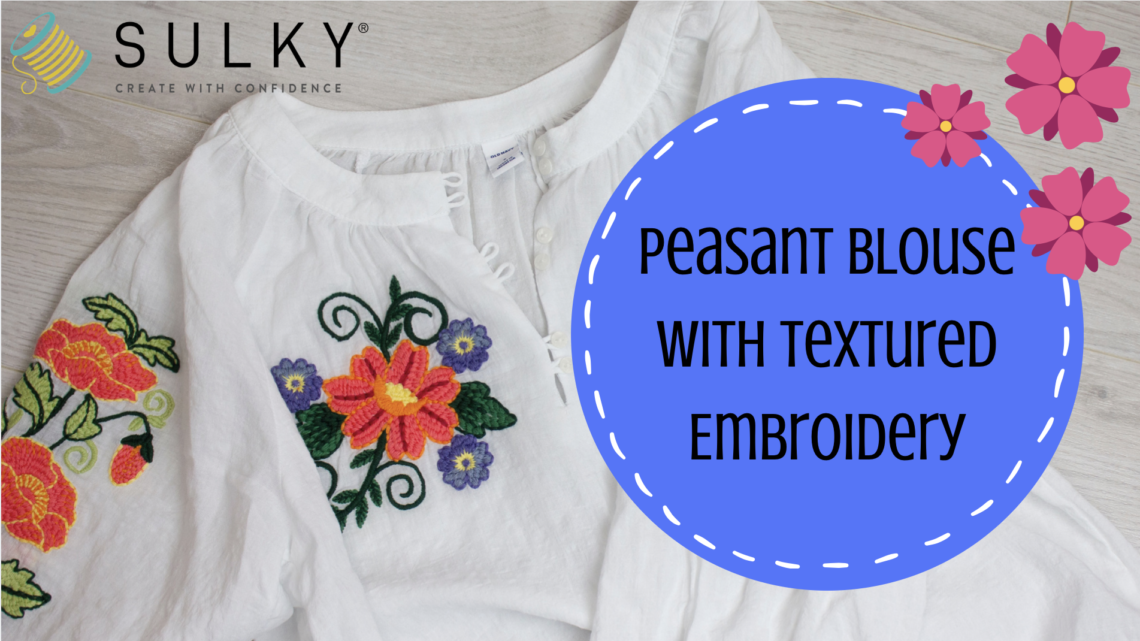 Peasant Blouse Embroidered with Heavyweight Thread
Embroidered Peasant Blouse
by Katrina Walker

Pair a soft cotton peasant blouse with beautifully textured Filaine thread machine embroidered to create a charming homespun look. Simple floral motifs are perfect for displaying the lofty nature of the Filaine and mimic the look of delicate hand crewel work.
SUPPLIES
Choosing a Design for Peasant Blouse
Sulky 12wt Filaine is a beautifully soft thread with wonderfully lofty texture. The thread thickness makes it perfect for creating machine embroidery that mimics crewel work and similar hand embroidery techniques. Choose light density designs with relatively long stitch lengths to best showcase this specialty thread. Embroidery designs that are specifically digitized to work with heavier threads are the most ideal. Running stitch designs also work well as long as the stitch length is compatible.  It is important that the Filane thread has enough stitch space to lie attractively on the surface of the fabric.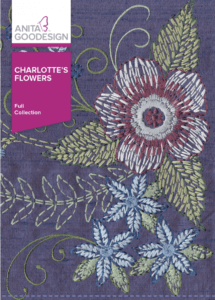 Choosing a Compatible Fabric
Lofty, heavyweight threads create wonderful embroidery effects, but care must be taken in choosing a compatible fabric. It is possible to embroider with Filaine on a wide range of fabrics from lightweight cotton (such as this peasant blouse) to heavier wool fabrics. The key is to choose fabrics whose weave structure is open enough to be able to accommodate the thick threads. Tightly woven fabrics do not have enough space in their structure and will want to pucker and distort.
Stitching with Heavyweight Thread
Whenever a heavy thread is used for embroidery, a large topstitching needle is the best choice. For this peasant blouse, a size 100/16 topstitching needle was used. Soft, thick threads need the deeper thread groove and larger eye that the 100/16 needle provides to protect them from abrasion as they pass through the fabric. This size of needle may seem overlarge for the lightweight fabric used for the blouse but with proper stabilization the fabric is well supported and can be stitched without damage.
Stabilizing for Embroidery
The stabilizing process for embroidering with Filaine varies depending on the weight of the fabric and the density of the embroidery design chosen. This peasant blouse's lightweight weave structure is relatively delicate, so it was pre-stabilized using a liquid stabilizer (PerfectSew) to stiffen the weave structure and prevent it from being distorted during stitching. This was done by soaking the entire blouse in the liquid stabilizer and allowing it to air dry.  After steam pressing out any wrinkles, the embroidery stitching and hooping area were further secured by using a layer of Sulky Sticky Fabri-Solvy to support and hold the fabric in place. When the blouse was hooped, a layer of Sulky Fabri-Solvy was added for additional support during stitching. The woven cotton blouse fabric is stable enough that no permanent stabilizers were needed to support the embroidery after stitching. Once stitching was complete, the stabilizers were simply hand washed out of the blouse and it was allowed to air dry.
Layout & Peasant Blouse Embroidery
The designs used for the blouse were created by Anita Goodesign, for their "Charlotte's Flowers" design set. These designs feature hand-look embroidery stitches that work well for lofty threads. For layout, design templates were created using Premiere+ 2 software in order to ensure perfectly symmetrical positioning of the sleeve and neck placket designs. When creating your stitch templates, be sure to print templates for each mirrored design and to carefully mark the garment for exact placement. Keep the templates in place until you have confirmed the precise positioning alignment with your embroidery machine. The exact alignment method used will vary depending on your particular embroidery machine.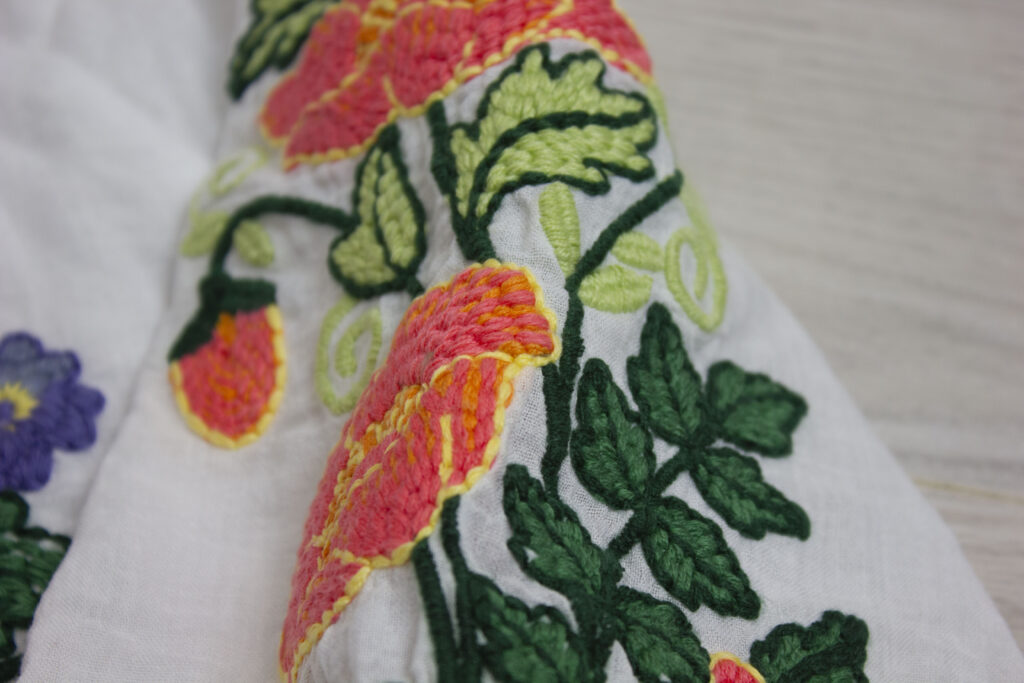 Sulky Filane is a very rewarding thread to use for machine embroidery. The soft texture of the thread creates wonderful stitch effects that add fantastic visual appeal to even the simplest projects. With the right designs, needles, and stabilizer, stitching with Filaine is as easy as it is beautiful.