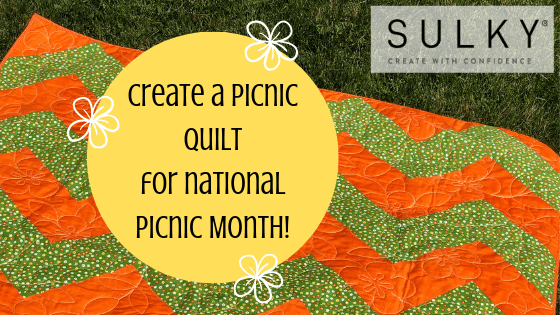 Create a Vintage Picnic Quilt for National Picnic Month
Pack yourself a picnic and tote a vintage-inspired picnic quilt to celebrate National Picnic Month!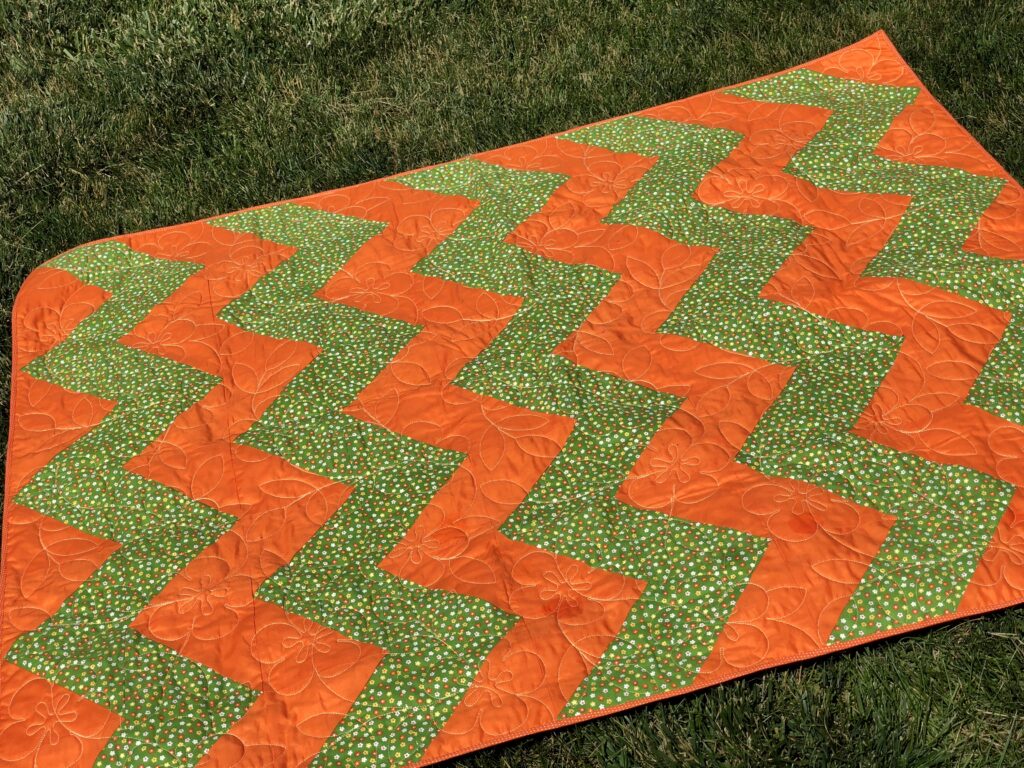 This quilt pattern is simple to construct, yet impressive at the finish. I started with a basic chevron quilt pattern (there are tons out there! Just Google "Chevron Quilt" and find one you love.) Then, I gave it a vintage vibe with my fabric and thread choice.
SUPPLIES
VINTAGE INSPIRED FABRIC CHOICE
Something about packing a picnic seems very "old school" to me, which is why I wanted to go with vintage-vibe fabrics. You could use a sheet that you happen to have in your closet–many of us have floral or other retro printed sheets that may have seen better days, which we can cut up and use for the chevron piecing. And/or use an entire sheet for the quilt backing. There are also tons of vintage-inspired fabrics to choose from at your local fabric store. Small print florals, geometrics in avocado hues, and even stripes are good choices.
QUILTING
The finished quilt measures roughly 46″ x 70″, which is perfect for keeping in the car so you're ready whenever the urge to eat outside presents itself. I decided to long-arm quilt this and try a heavyweight textured thread to give even more of a vintage quality to this quilt. 
The heavyweight thread, Sulky Filaine, adds texture to the quilting and the weight helps it pop off the quilt surface. A heavier thread also gives more of a hand-quilted appearance to the quilt without all the work. Elongate the stitches to give the quilt an even more handwork appearance. Use a larger needle for quilting (100/16 Organ needles work great) so the needle eye accommodates the thread thickness.
The long-arm design is a large-scale floral with plenty of open space between motifs. Large motifs are best for a vintage vibe.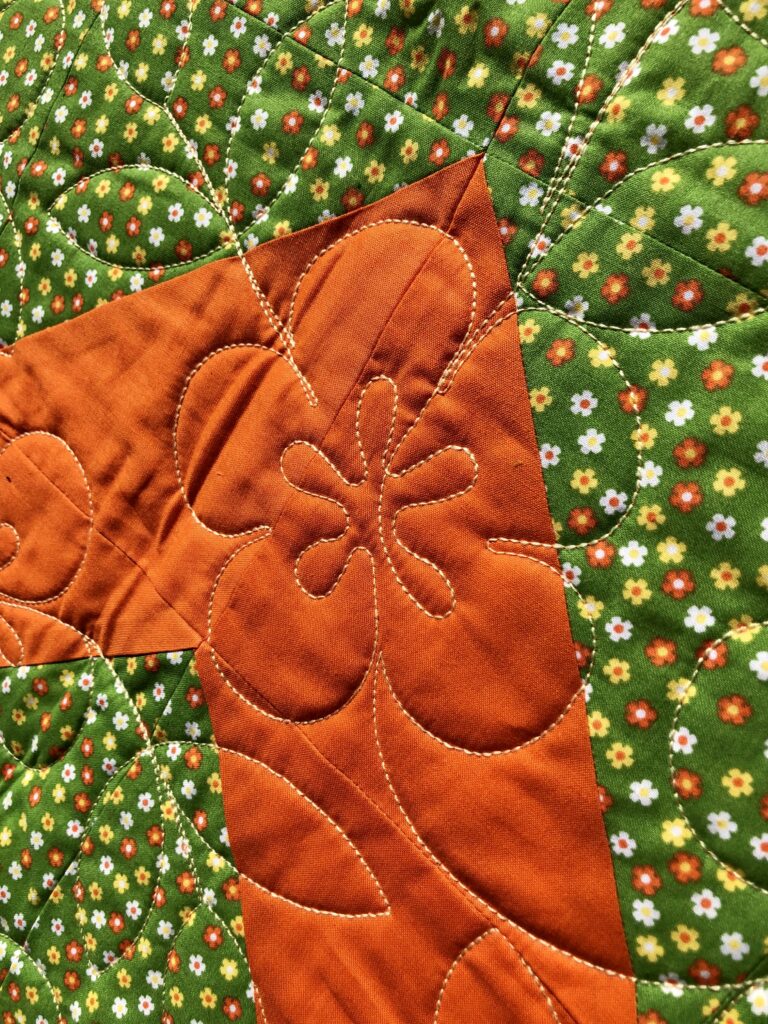 FINISHING
I chose a micro-dot print fabric for the binding because I loved the retro look it gave to the quilt. It was just the best finishing touch. I made the binding extra narrow (the finished width is 3/8″). Why, you ask? Truthfully, I was saving fabric because I didn't have enough to go any wider. But I actually love the narrow binding. It adds even more retro flair to this vintage-inspired picnic quilt!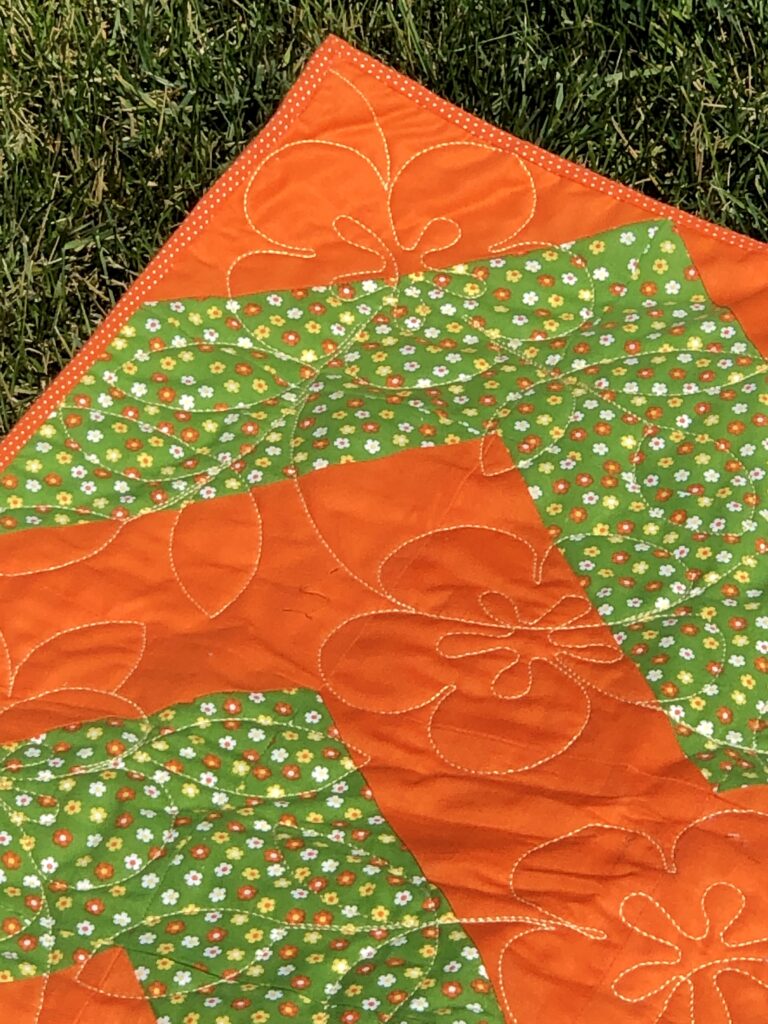 Even if you don't plan to have a picnic, this quilt makes a great gift. The size is perfect for a new baby or lap quilt, too. Change the fabrics and quilting to make one for yourself that's truly unique.