Quick Thanksgiving Project to Complete Before the Meal is Ready
Quick Thanksgiving Project: Framed Embroidery
A quick Thanksgiving project is order because we blinked and Thanksgiving is here! I'm sure you're busy preparing to eat your way through Thursday, but just in case you are itching to do one last project, here is a quick Thanksgiving project for you.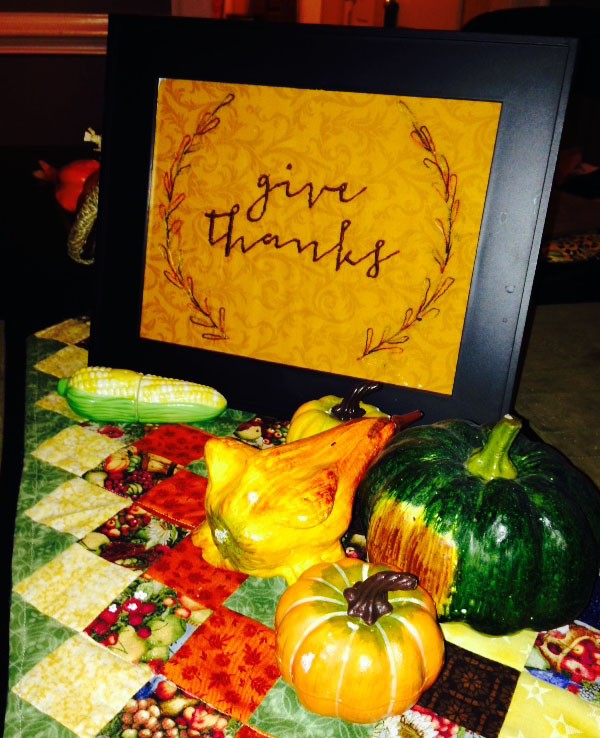 I made this last year just before Thanksgiving and it was a big hit on my table. This year, I decided to make a few more to give as gifts to the people who come for Thanksgiving dinner.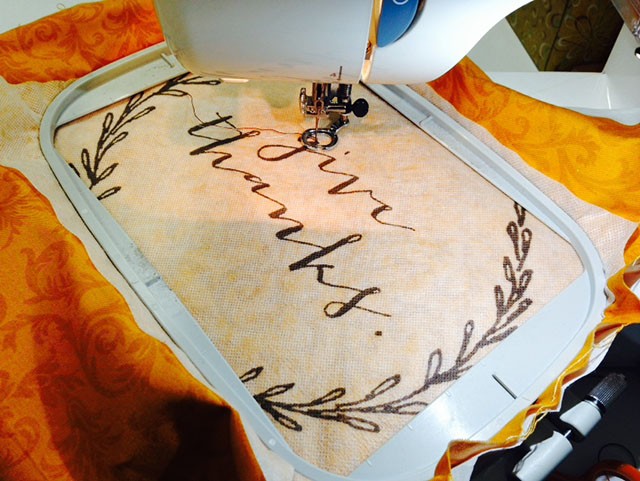 Go here for the free pattern download and complete tutorial for the quick Thanksgiving project.
Project Details
It's a free-motion embroidery project that is great for beginners who have yet to lower the feed dogs on their machine, I encourage you to try this technique, especially when you can print the design onto Sticky Fabri-Solvy and just follow the lines with your needle.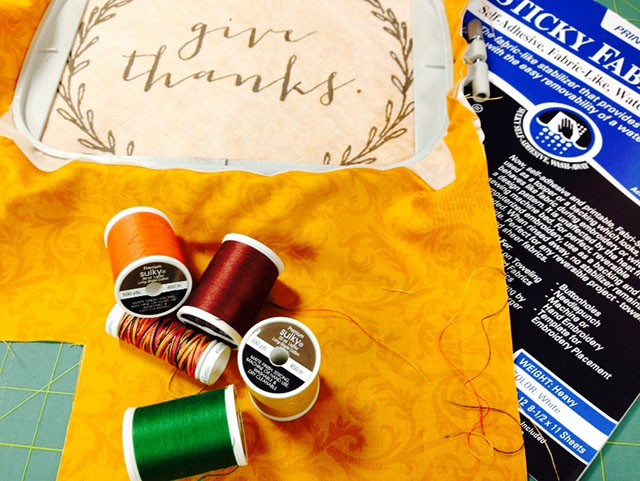 This is also a great project to showcase Sulky Blendables® thread, which come in both 12 wt and 30 wt spools. The colors are completely randomized across the thread length, and change every 2 1/2″ to 5″, so you never know what color you're going to get. It makes for a beautiful end result.  Choose from some of the great fall colors of Blendables available and pair it with a solid color for the wording, if desired.
Start looking for a nice frame you can repurpose to showcase your work on your table, buffet line, hutch or fireplace mantel.
This would also look great as a quilted piece to hang on your front door! Add a print-fabric border and use the same border fabric for the backing. Create a quilt sandwich using low-loft batting. Add more quilting, or simply stitch in the ditch of the border pieces to secure the layers. Add a hanging loop, and then bind the mini quilt in the manner of your choice.
Or do the same modifications, but make it into a pillow. The possibilities are truly endless!
Happy Thanksgiving and Happy Sewing!