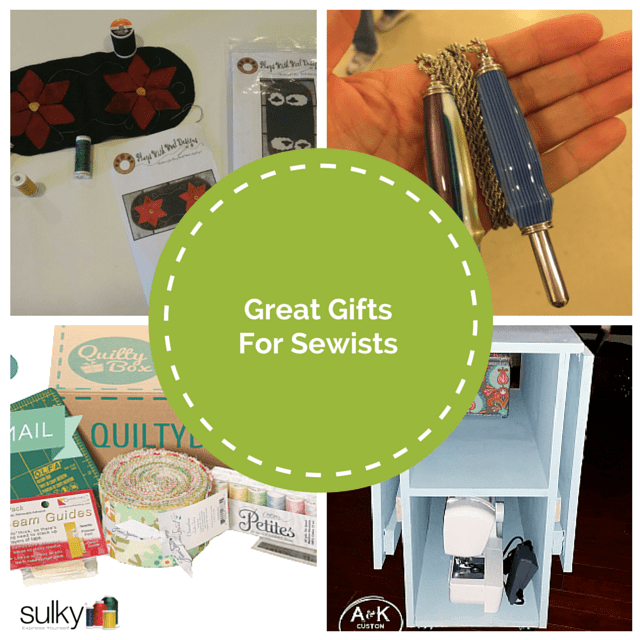 Great Gifts For Sewists for Any Occasion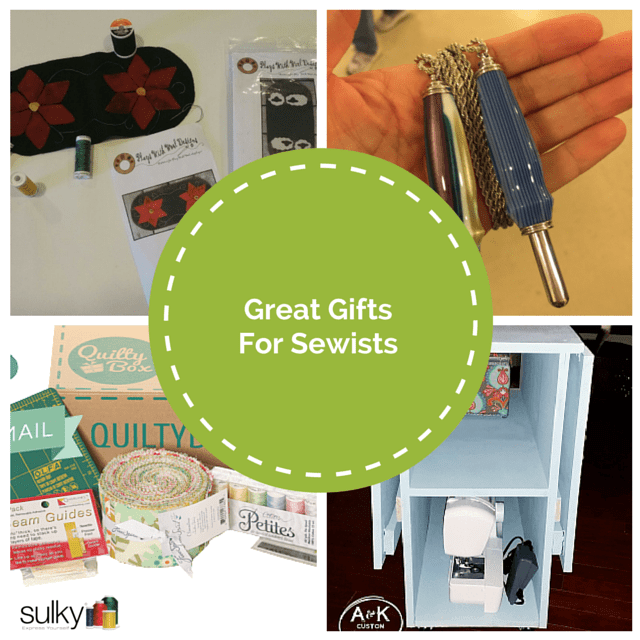 Finding the perfect gifts for sewists isn't the easiest task for an "outsider." Finding a gift for ourselves? no problem!  If you have any friends who need a good gift idea for YOU, send along this post.
Gifts For Sewists
– Like it or not, we all reverse sew, so why not have a beautiful seam ripper. I adore this one from Barney Pens. They are hand crafted and custom made, but at $35, they will not break the bank. My favorite is the one that hangs around your neck because it just looks like a great piece of jewelry! If you see my hubby, tell him I would like one made out of zebra wood.




– Whether you have an entire studio dedicated to your sewing or you only have a corner of the dining room, this table is a great addition. It folds up small, which is key, but it is sturdy and versatile. It is hand made here in the US, is great quality (no press board here) and they will custom make your table to your height specifications if you wish. A & K Custom Furnishings is a family owned company and they are great to work with. If you are ready for a custom sewing machine table that won't break the bank, call these guys, they will get you set up.



– Let's be honest, you can never have too much thread. As my Momma always says, how can we be expected to produce great art if we don't have the whole rainbow of colors to work with? If you want to splurge on the whole rainbow, then one of the Sulky Dream Collections is the way to go. We have dream collections for 30 wt. Cotton, Sulky Cotton Blendables, Rayon, Metallic, PolyDeco, you name it, that make great gifts for sewists.

Sulky 40 wt. Rayon Dream Collection

Sulky 30 Wt. Cotton Dream Collection

If you are like me, you do lots of different kinds of sewing: hand embroidery, machine embroidery, quilting, garment making, embellishments, and a different thread is required for each type.

For the hand embroiderer, I suggest one of the Crossroads by Amy Barickman collections. They are all 12 Wt. Cotton and the colors are fresh and vibrant.


If you are giving this to a sewist who is into more traditional or primative hand work, then I would go with one the Wing and a Prayer Collections. They are both yummy and are sure to make the traditional sewist's heart sing. While you are at it, pick them up a package of Sulky Sticky Fabri-Solvy. This wonderful stabilizer goes right through your printer just like paper so you can print your design, stick it to the front of the fabric you are going to embroider on and sew right through it. This keeps your fabric stable, so you don't need a hoop (Hallelujah!) and when you are finished, it just washes away clean.

Another great gift is inspiration in a box! I love Sue Hausman's Vintage Quilting Collection that comes complete with a cd of machine embroidery designs to make a 'modern vintage' quilt using Sulky 30 wt. Cotton! Yes, that's right. It has the look of hand embroidery without all the work. Heck, If you ordered this today, you could have the entire quilt done in time to give as a gift for Christmas!



Quilt Jewelry

– When I was at Quilt Market this year, I came across this wonderful quilt inspired jewelry, Siesta Silver Jewelry! It is made from sterling silver and all  the pieces are just stunning. I could hardly decide what I needed to get. I finally settled on the friendship star necklace and earrings.
This is my Christmas gift to me, from me, with love :).

Fool Proof Seam Guide – Another cool find from Quilt Market is this Ideal Seam Guide from Sew Very Smooth. This great little guide helps you keep an accurate seam allowance without any extra work! You just stick the little guide onto the sewing bed in the right place using the Ideal Seam Gauge and go. There is a strip of sticky rubber on the back of the guide to keep it in place and when you take it off, there is no sticky residue left on your machine, Bonus! I recommend the New Student Edition.

Hand Embroidery Kits

– Wool Applique is extremely popular right now and I can see why! It is fun and easy. You don't have to fuss with raw edges or needle turning. Just cut the pieces and sew them into place. Both Plays With Wool Designs and Wing and a Prayer have great little wool applique kits that are perfect gifts. Whether you want to pick the kit up and make the project to give it finished, like I did with this Sweet Poinsettia Pair from Plays With Wool Designs or pick up the kit & matching threads and give them as the gift, like The Sweet Sheep kit. Either option will put a smile on the gift recipient's face.


Fabric gifts for sewists

– Do I really need to explain why fabric makes great gifts for sewists? I didn't think so. But I will say that my current favorite is Amy Barickman's Vintage Made Modern Bundle. Several of the fabrics are sewing themed and the colors are delicious.

– Growing up, I always wanted Fruit of the Month club. The thought of getting new and delicious fruits at my doorstep every month just seemed amazing. As an adult, my desire has shifted. Now, I want to buy my fruit from the farmer's market, but I would love a box of sewing and quilting supplies to arrive at my door every month! Introducing Quilty Box! You can get just one month or prepay for 3, 6 or 12 month plans. Each box is curated by a quilting professional and is full of great new quilting things. I can't think of a better way to inspire a sewist to think outside the box (yes, the pun was intended) and learn something new.

Online Classes

– If helping someone stretch outside their sewing comfort zone sounds like a good idea to you, then gifting someone an online class is the perfect gift! Craft University has tons of Online Courses on a wide range of subjects, including all the Sulky Online Courses. Gifting a class is just a simple click away.

Gifts you Make

– Ultimately, my favorite part of the holiday season isn't Christmas presents, the decorations or the food. When it comes down to it, I simply want to be with my family celebrating the birth of Jesus. Whether that comes with big expensive gifts, or a simple handmade card, as long as I am with my family, I am one happy girl. The truth is, the gifts I have cherished most over the years are not the things that people have purchased for me. They are the ones that I knew someone took the time to craft or sew for me. As sewists, we make things for people all the time, but we often don't receive many handmade things ourselves. So this year, make something for your sewing friend or loved one. I promise, they will love that gift the most.
Need some more gifts for sewists? Check out all my Gift Idea Posts here.
Happy Holidays and Happy Sewing!