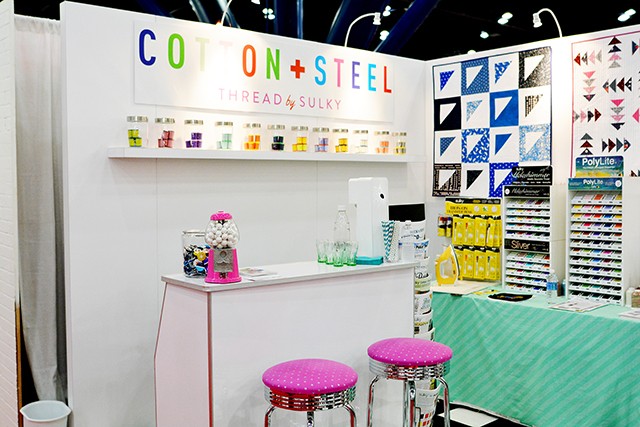 Quilt Market Recap from Cotton + Steel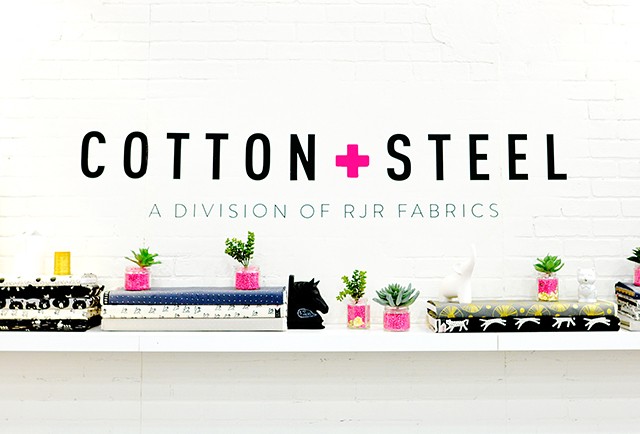 Hello! I'm Devon from Cotton+Steel, and I'm a guest on the Sulky blog today to tell you all about the Cotton+Steel Fall Quilt Market experience! Quilt Market is always a blast, but this one was extra crazy and fun because we have so many projects in the works. While we're recovering from the excitement, we wanted to share a little bit about our latest Houston experience, and especially tell you all about our new line of Sulky thread.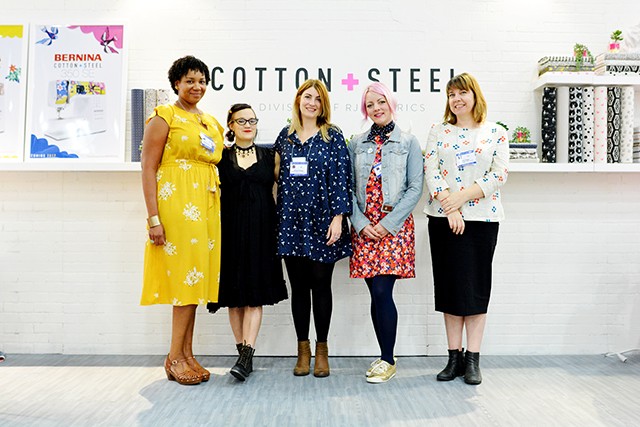 The first two days of our time at Quilt Market are always dominated by setup. We only have a limited time to transform all of our booth spaces from empty squares of floor to fully set-up booths. We have a rad team that helps us design and execute our Quilt Market booths called Readyset Atlanta, and we couldn't do it without them!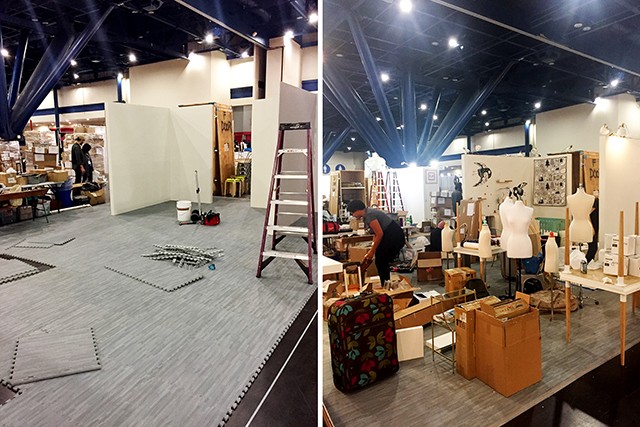 Our main booth had a spot for each of our newest collections. Our five designers released their sixth collections, and Rifle Paper Company released their second fabric collection as Guest Designer for Cotton+Steel. We also released two new collaborative collections and our first ever Block of the Month program in collaboration with Lynette Jensen of Thimbleberries. (For more photos of our Quiltmarket booths, follow us on Instagram!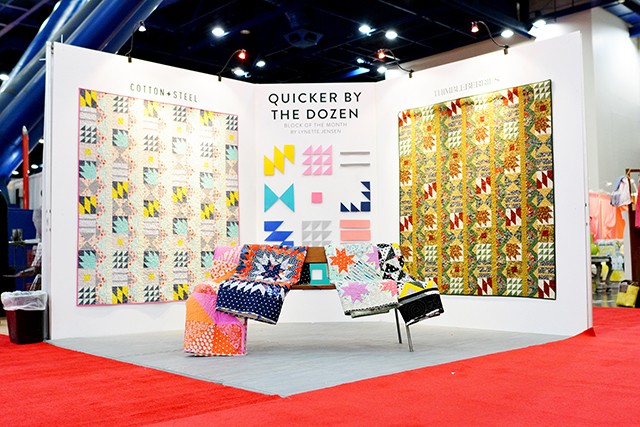 For this Market, Sulky Threads was our neighbor, which was convenient since we collaborated on a brand new line of thread! They had a super cute setup that looked like a vintage soda shop.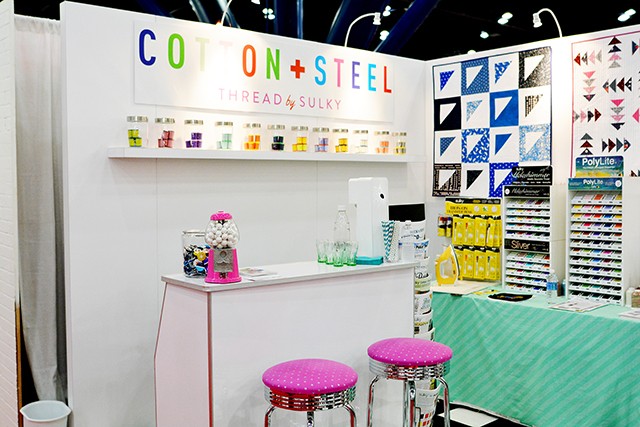 In the Cotton+Steel booth, we had a mini sewing room set up where people could actually try out our thread and sew a project. We are super excited to have designed both 2017 BERNINA 350 Special Edition sewing machines, and Market was the first time we saw them in real life. They are so cool, and the thread and machines both sewed like a dream.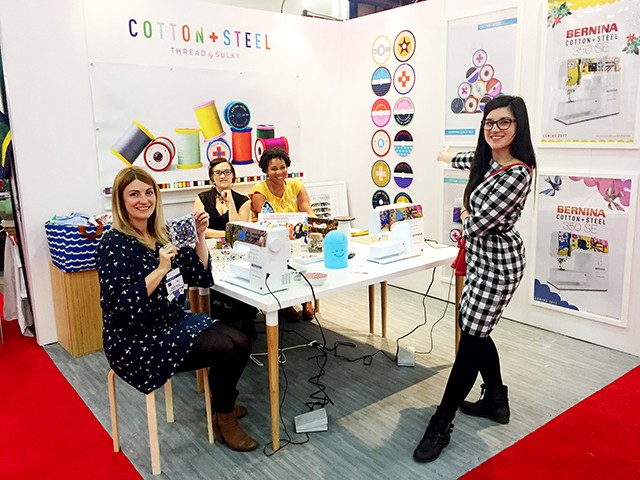 Cotton+Steel Thread by Sulky is a brand new line of 50 wt thread. It's made from 100% Egyptian grown cotton that is dyed in Italy and wound in Germany. There are 100 colors that were all carefully chosen to include essential sewing colors and a mix of fun, vibrant colors. There are lots of different spool colors and label designs, and when you see everything together it's really like eye candy. We really feel like everything in your sewing room should be thoughtfully designed, inspiring, and reflective of your creativity, even your thread!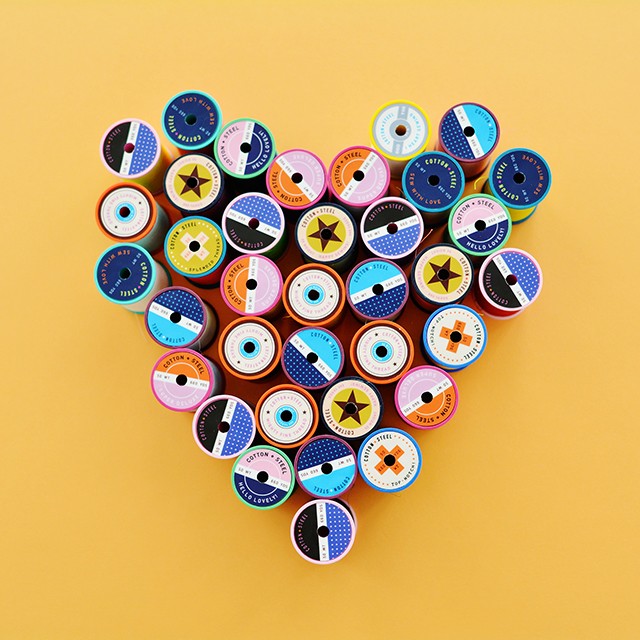 A few weeks ago, our Creative Director Melody Miller went to Europe with Jason Prater from Sulky Threads. Together they traced the manufacturing path of Cotton+Steel Thread, and we made a video about their experiences and the people they met along the way. It's so interesting to see all the steps involved in making thread. Check it out below:
Cotton+Steel Thread by Sulky from Cotton + Steel on Vimeo.
We try to make Quilt Market as fun as possible, because it is a ton of work and can sometimes feel a little overwhelming. One morning, everyone secretly wore pink wigs and dressed like Melody because we all love her so much. She was so surprised and happy that she might have cried just a little bit.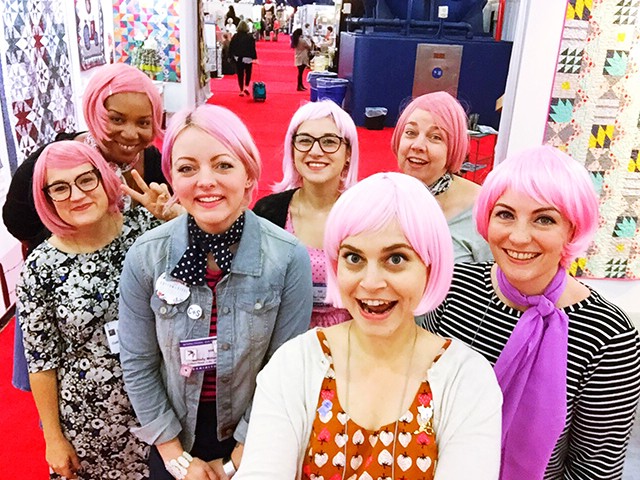 Fall Quilt Market was a blast, and now it's time to look forward to the next year. We can't wait for March 2017, when our thread starts appearing in shops. Until then we'll be dreaming about all the projects we'll be making with it!