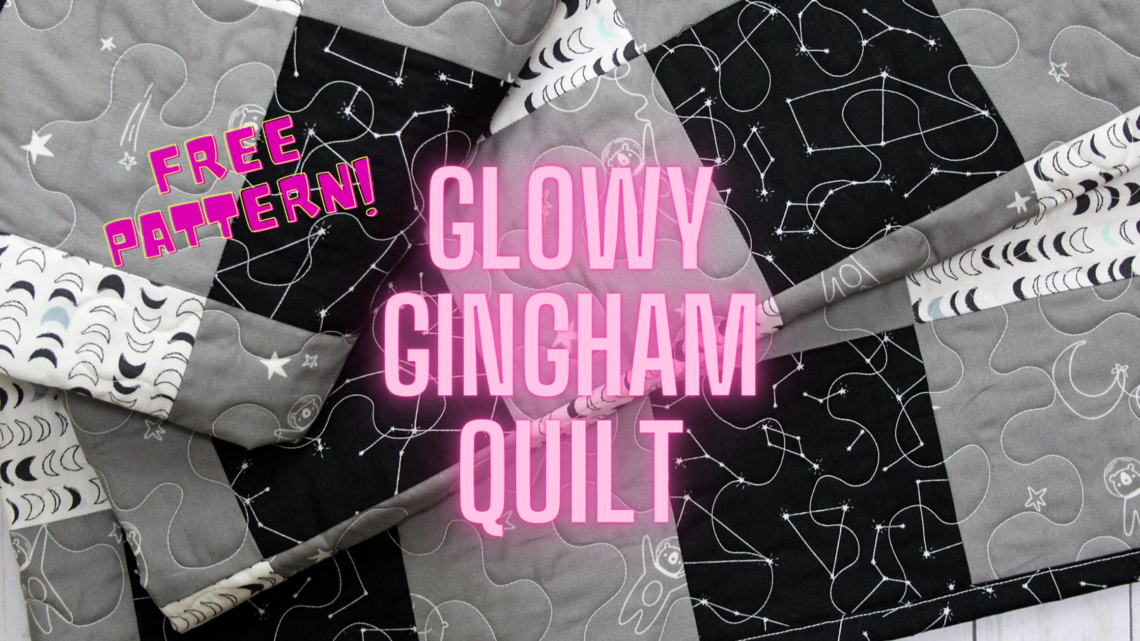 Quilting with Glowy Thread: a Gingham Quilt for Star Gazers

Quilting with Glowy Thread
This Glowy Gingham Quilt is calling all star gazers! That's right! You can use Sulky Glowy™ thread for quilting and have a glow-in-the-dark quilt for a night of star gazing, camping or to gift to those littles who are afraid of the dark.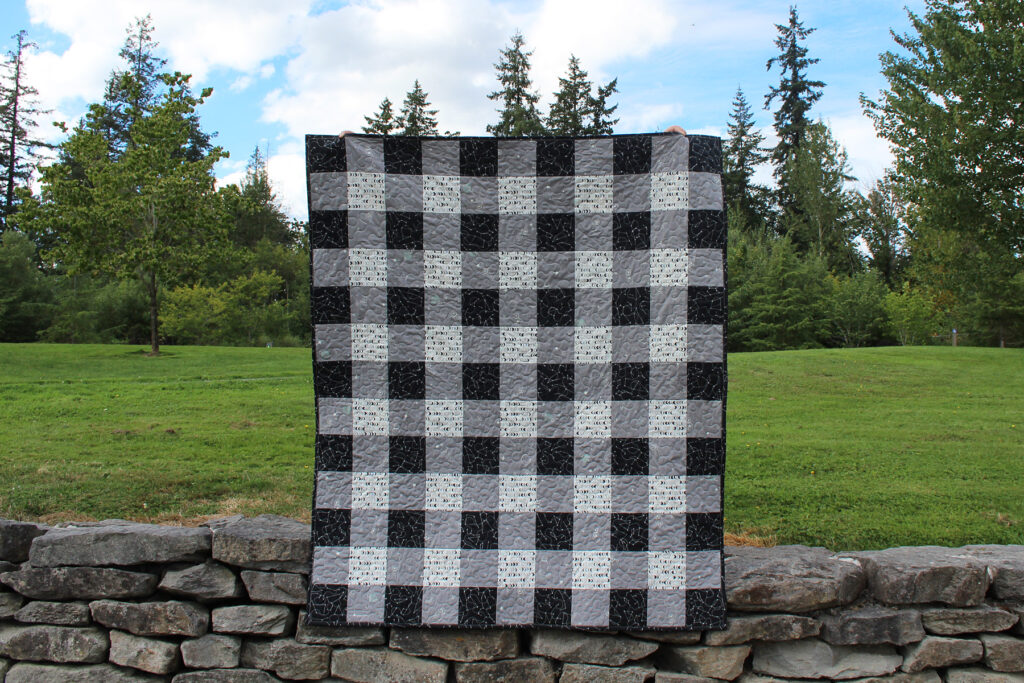 Finished size: 50″ x 59″
SUPPLIES
Pattern Basics
Follow the pattern to cut and piece all of the squares for the quilt top. Choose the fabric colors and play with the placement to create the gingham pattern you choose, or follow the pattern exactly if you wish!
Use one fabric for the back that complements the collection. The adorable Spatial Friends print really ties the whole quilt together and gives it a kid-friendly vibe.
Piece the blocks using 50 wt. Cotton+Steel Thread by Sulky. The lightweight thread allows for crisp seams that don't leave bumps or ridges showing on the quilt top.
Free-Motion Quilting with Glowy Thread
Lower the feed dogs and install a free-motion presser foot.
Use an Organ Topstitch needle 90/14. The larger needle eye allows the thicker 40 wt. thread to glide easily when machine quilting on fast speeds! I had ZERO thread breakage and I machine quilt at maximum speed.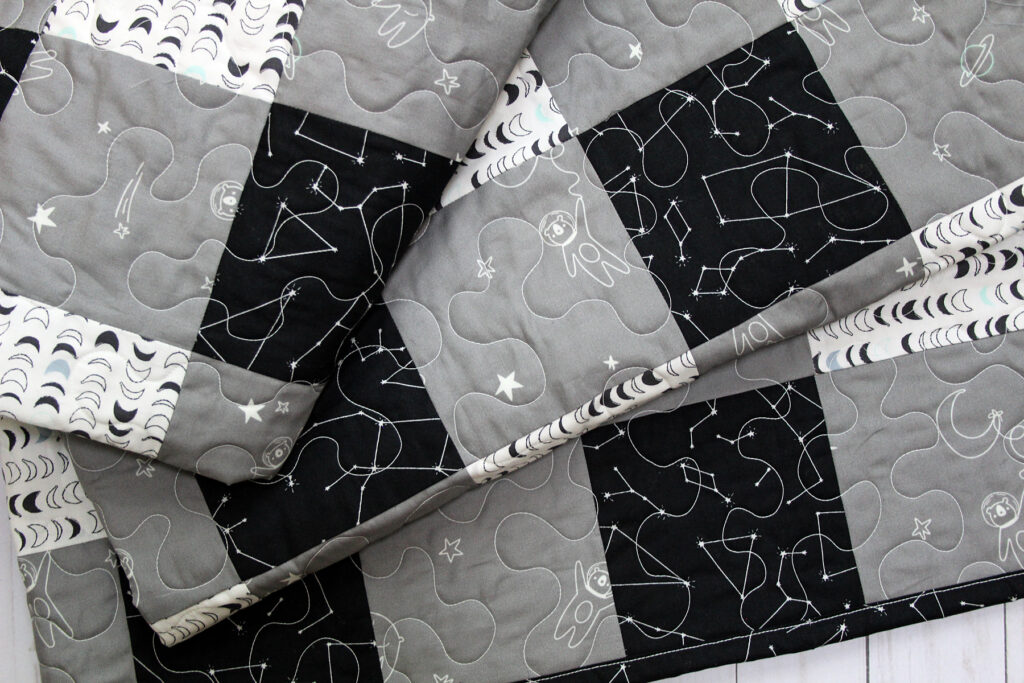 Use Sulky 60 wt. Bobbin Thread for the bobbin when quilting with Glowy Thread. My machine had no difficulty at all with 40 wt. Glowy top thread and 60 wt. Bobbin Thread. The tension was perfect. I didn't need to do any adjustments at all from my usual free-motion setting.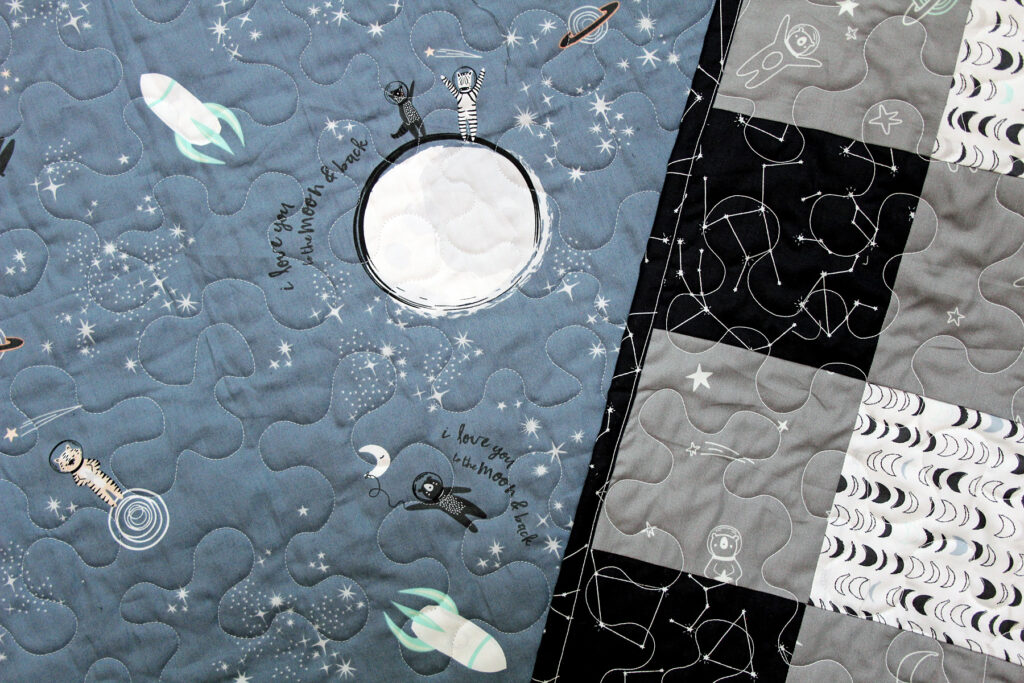 As you are stitching with only 1 thread, dense quilting showcases more "glow" factor. Be sure to purchase enough Glowy spools to create lots of stitches, as the snap-spools only hold 110 yards. (Glowy Pink is available in a 500-yard cone!)
Do not iron the Glowy thread – it will melt. But you can machine wash your quilt. Sulky tests have shown NO loss of luminosity after 50 washings.
Choose the color of Glowy Thread that you want to show on your quilt top, as all seven colors will glow the same greenish glow. Example: I used white Glowy thread and the glow is green.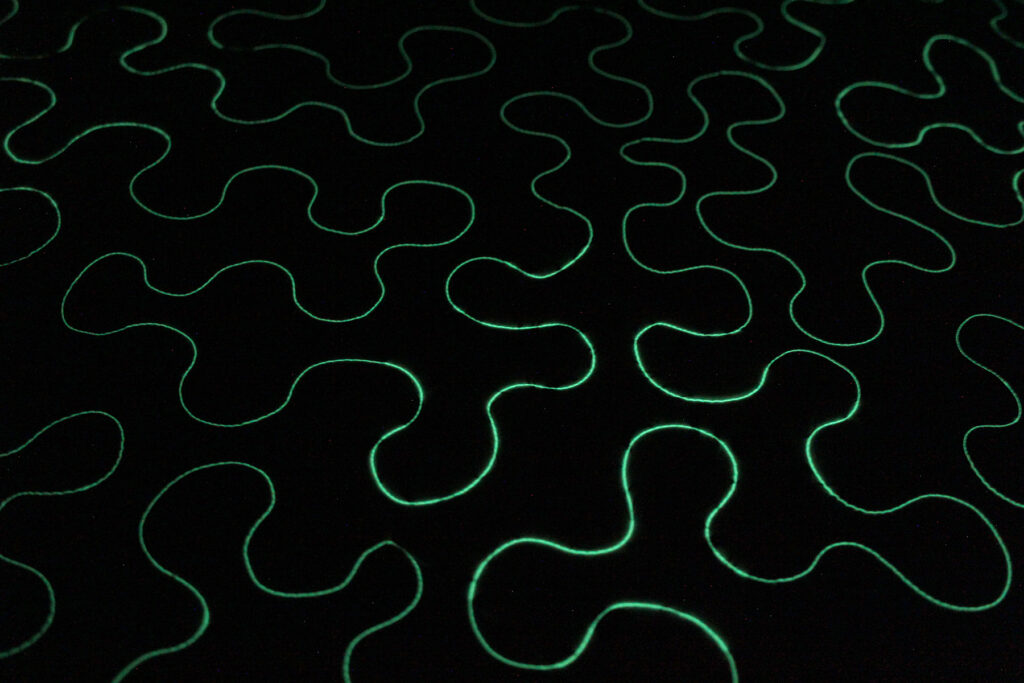 MORE QUILT INSPIRATION
Like this quilt pattern? Make a Thanksgiving version!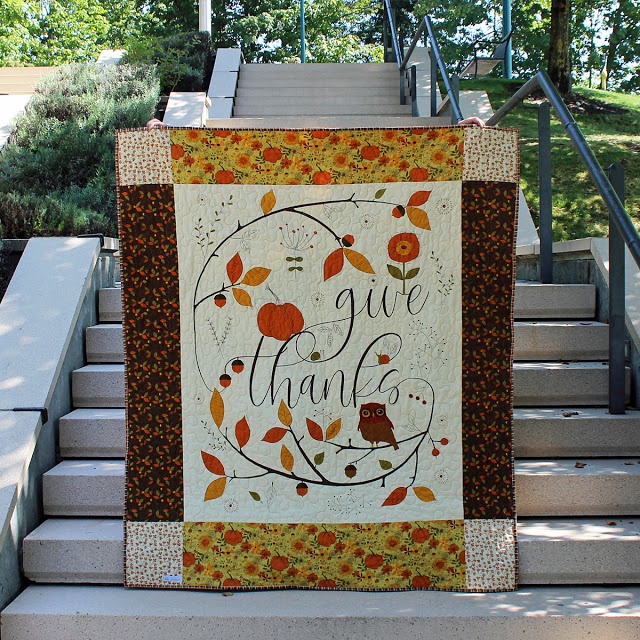 The Give Thanks fabric collection by Riley Blake is full of great prints in fall colors, including the Give Thanks panel that becomes the focal point of this quilt. Add borders with some of the prints used for the quilt back to frame the center panel, making a larger quilt.
Using Sulky Blendables® 30 wt. thread for the quilting is a great way to add more color and interest. If you'e never tried quilting with Blendables, you won't be disappointed. The colors are randomly dyed every 2 1/2″ to 5″, so no row of quilting mimics the other. It's a great way to get more color into your quilt without having to rethread the machine.