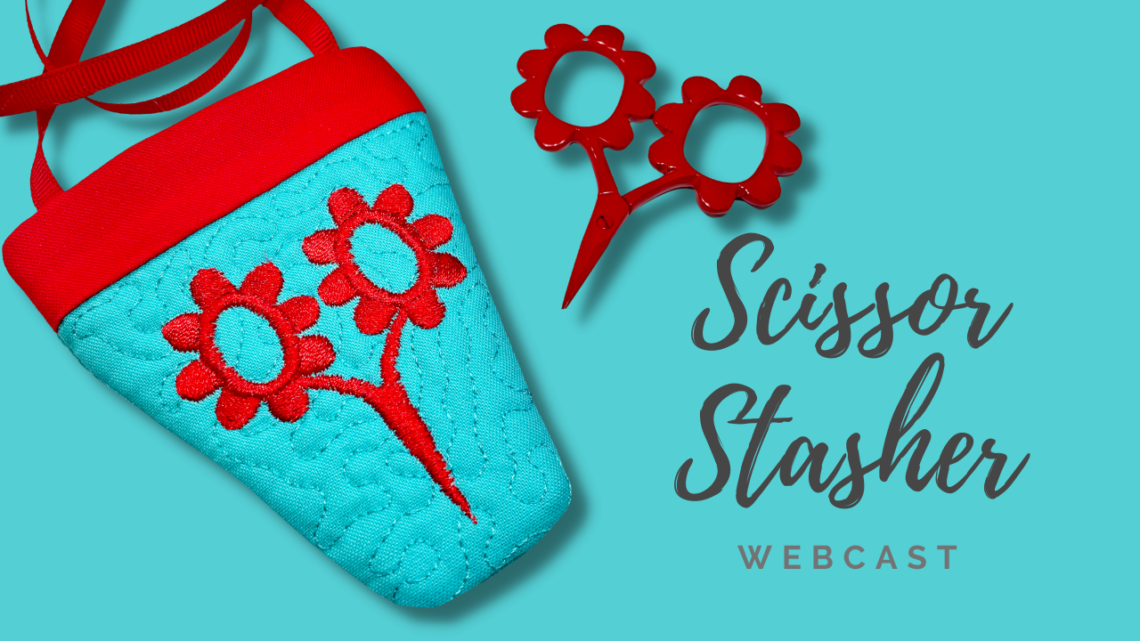 Scissor Stasher in-the-hoop Project
Scissor Stasher Webcast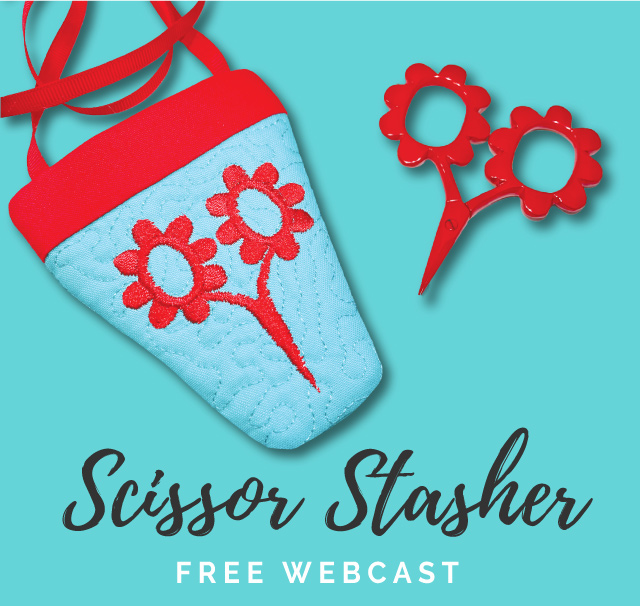 Join us and learn how to create a scissor stasher, designed and digitized by Lisa Archer of Pickle Pie Designs, in the hoop of your embroidery machine. We'll go live on May 17, 2022 at 2pm Eastern Time. REGISTER NOW>
Learn how to make an in-the-hoop scissor stasher to keep small scissors and/or snips at the ready while sewing. This scissor stasher holds a small pair of scissors, up to 4 1/4″ long. These scissor types are typically used for handwork projects, cross-stitch or needlepoint. But small thread snips will fit inside as well. Hang the scissor case around your neck like a lanyard to keep your tools close at hand while sewing, quilting or creating.
Learn how to create the Flower Power ITH Scissor Case from start to finish.
Learn how to customize the scissor stasher to feature different designs.
Get our Sewing Mends the Soul Patch Machine Embroidery Design FREE just by registering!
LIVE streaming IN REAL TIME
LIVE Q&A with the Sewing Instructor throughout the event
60 MINUTES of content
ACCESS TO THE WEBCAST ON DEMAND & all presentation materials in your personal Library
2 DOOR PRIZES to WIN – announced throughout the event
Join us for this unique, interactive experience and create a fun ITH project!
Finished Project Size: 3.4″ x 4.9″You'll find everything you need to create a scissor stasher inside this convenient kit!
5×7 hoop is needed.
SCISSOR STASHER KIT INCLUDES
KITS ON SALE WHILE SUPPLIES LAST – LIMITED QUANTITIES AVAILABLE – BUY NOW>
Grab a pair of cute scissors to stash in your scissor stasher>
Register today and reserve your spot! Once you register, you'll have access to the Event Page, where you'll view the event in real time on May 17, 2022 at 2pm ET. This is also where your FREE DESIGN lives! Access it, and the event, at any time after the live date. If you can't attend live, you can watch, rewatch, rewind, etc. any time you wish. Join us!