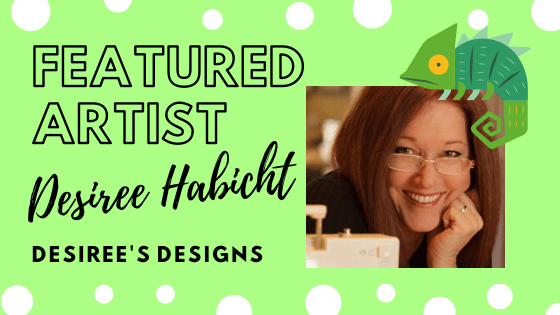 Chameleon Quilt with Desiree Habicht of Desiree's Designs
Chameleon Quilt Webinar Guest, Desiree Habicht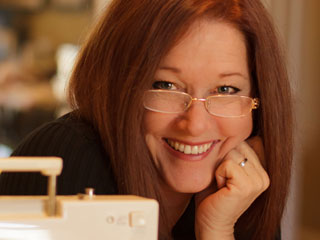 Desiree Habicht, of Desiree's Designs, created a fun chameleon quilt for our free Sulky webinar on April 7, 2020 at 2pm EDT. Read on to get to know Desiree and sign up for the Color Me Chameleon Quilt webinar to reserve your spot today! After the live date, the webinar is available on-demand to watch at your leisure (still completely free).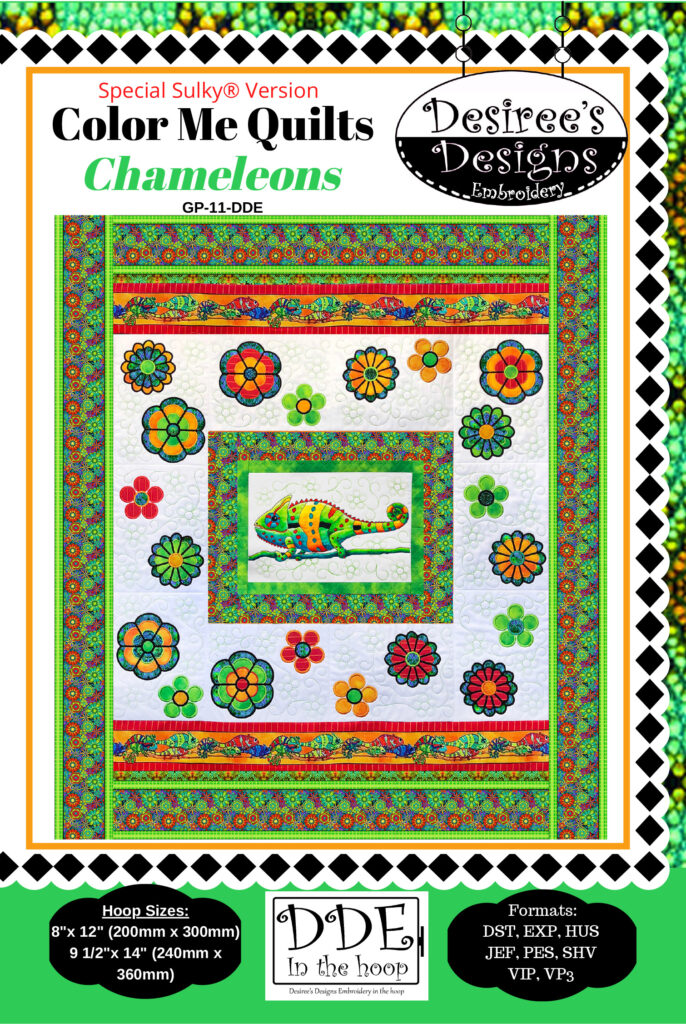 ABOUT DESIREE
Q: What type of sewist/crafter/quilter are you? What's your specialty?
A: I call myself an artistic quilter or fiber artist. I love to incorporate my artistic twist into all of my designs, patterns and embroidery. It helps make our designs unique.
Q: How did you get started with your specialty?
A: I've been an artist most of my life. I sold my fine art and flew all over, painting custom murals and faux finishes, until Jennifer was hurt.* It was a very difficult time for all of us and my artwork had to change since I could not travel anymore. I started designing quilts based on many of the kids murals I had painted and this new business bloomed. It was such a blessing as I was feeling alone and it brought a new group of amazing women into my life. This wonderful family of quilters, both traditional and art quilters – and now modern quilters, are my new friends and community.
*Desiree's daughter Jennifer was critically injured by a drunk driver in 2000.
INFLUENCES
Q: Who has been influential to you in your craft?
A: Coming from the art world to the quilting world was a huge jump back in my day. It was a time when art quilts were still not accepted, and so I appreciated all the art quilt teachers who helped pave the way for acceptance to new things in a traditional setting.  The teachers who taught me the basics, to the teachers that planted a seed. I loved Phil Beaver who turned the art quilting community on its ear with his nontraditional methods, many I still use today.
With our designs, I found myself free to create art quilts and also move into a more commercial application where I could design more traditional quilts and fabric for the industry. I still love to motivate and challenge women to step outside their comfort boxes and try new things. I have found that most women love this opportunity to be a bit creative and explore new things in their quilts.
PROJECTS
Q: What's the most memorable thing you've ever made?
A: One of the most memorable quilts I ever created was my Transformation Quilt. My art quilts always tell a story; about me, about my circumstances, about our community, etc. I was going through a lot of transitions and I was watching Jennifer dealing with her long recovery. She was always given a very grave prognosis, but she would always break through the limit that everyone kept putting on her. I love that! I love that she was not going to let anyone limit her or dictate how this was going to be for her. She was willing to push through all that and soar. In the quilt where I depict Birds of Paradise, some are content to remain flowers and bloom where they are planted but others push the limits and become true birds that can fly. Unwilling to be limited by anything someone else might say. She truly listened to her own voice, pushing past the fear and breaking free! This tells her story and many other's stories about breaking free from the limiting thoughts of others.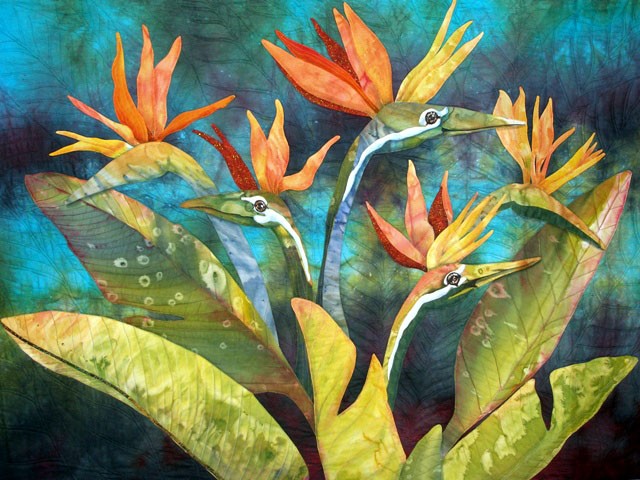 Q: What's the most challenging thing you ever made?
A: I have a few of these in my career. In my fiber art I think it was Glass Beach which brought together a lot of different techniques on fabric. Any one of these could have caused this quilt to fail, but instead it turned out great. I love this quilt, which has a very strong story, too. Another one of our most recent challenges has been leaping into the machine embroidery field. We wanted to give our designs a longer life and with many of our clients moving to embroidery we felt it was worth the leap. It was scary and hard and a huge learning curve. We are so thankful to all of our teachers who were willing to share their expertise. Sulky was a huge help and friend to us as we were learning the ropes. Again, being willing to break out into the unknown has been a good thing!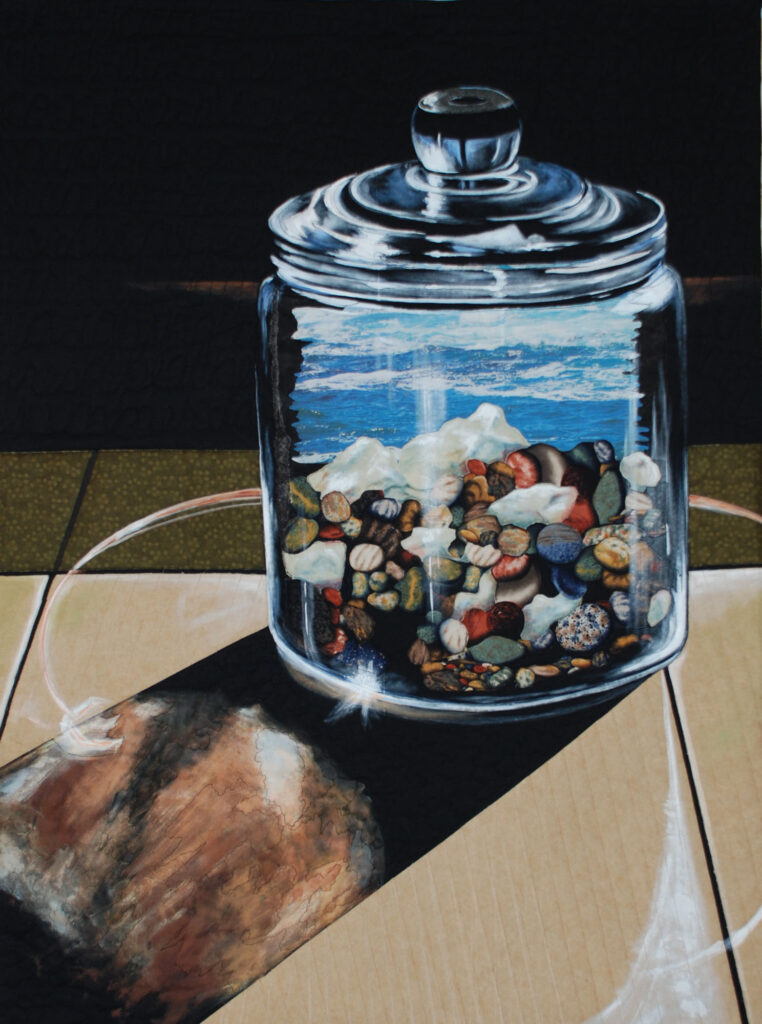 Q: What's your biggest quilting disaster and how did you recover from it?
A: Years ago I started a Fiber Art Connection website for art quilt teachers to teach online. I was trying to bring the fiber art world and the quilter together, working jointly with artists to be able to teach online and reach more students. It was hard to convince the artists who weren't comfortable with doing videos, etc. It turned out costing me money, friends, and a lot of time. I learned a lot and stepped away to lick my wounds.
Q: What are some of your favorite Sulky products?
A: I love Sulky threads! I have been using them for years. I love using rayon in my art quilts, and now in my machine embroidery designs and files. I love the cotton for piecing and all the wonderful stabilizers. Now with our appliqué embroidery I find I have to have a can of KK 2000™ close by for all my appliqué needs.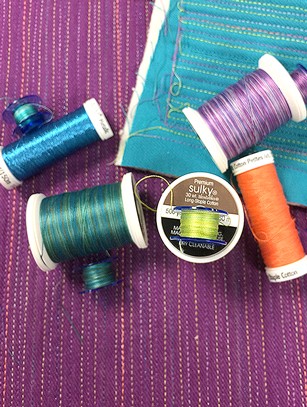 COLOR ME QUILTS
Q: What are your favorite techniques?
A: I love bringing my art into my quilts. Now we are doing that with machine embroidery. Although our business has jumped into machine embroidery I still love handwork. I was taught hand embroidery in elementary school when I was in Girl Scouts. I always loved working with my hands. That's the artist in me. I love to always have my hands creating something, whether it is painting, drawing, quilting, sewing or embroidery. That is why I love the Color Me Quilts designs. These are my sketches taken right from my sketchbook and digitized for coloring. I always have a sketchbook and still teach online art classes. I love being able to add some art to quilts, to share something I'm passionate about with others. It's just part of who I am: creative. We all have that creative spirit, finding it in our own way.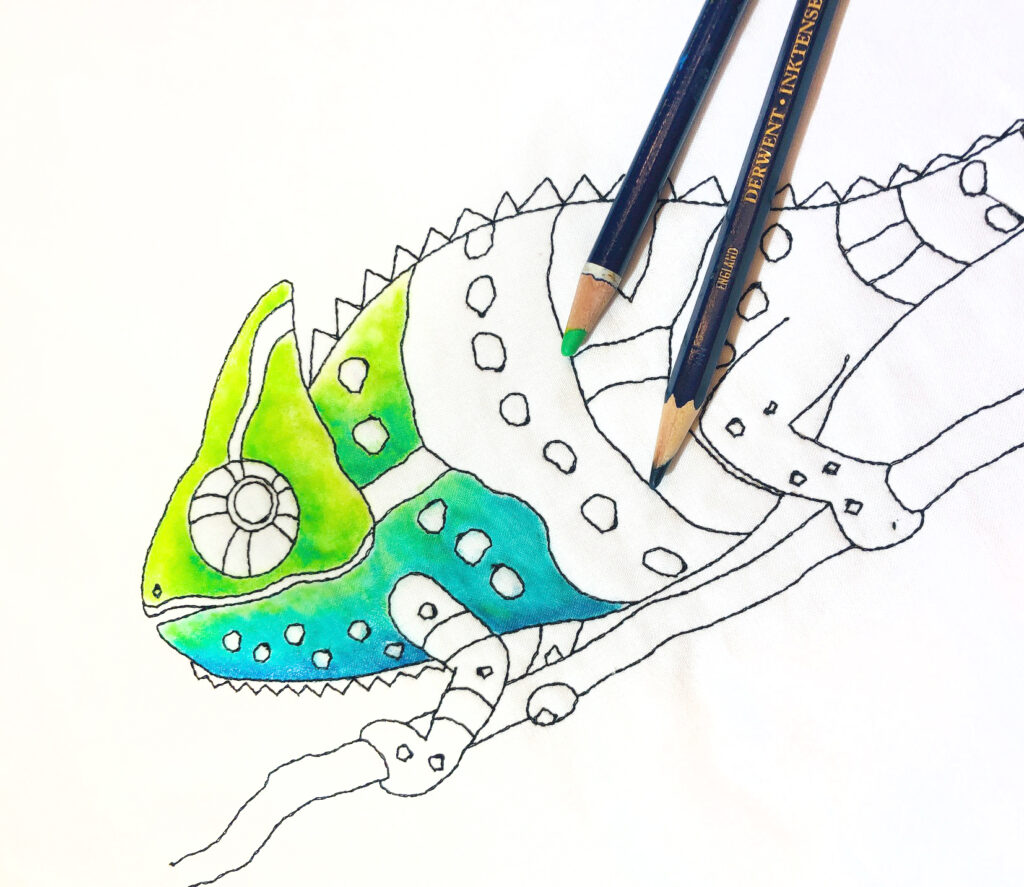 Q: What types of creating have you always wanted to try, but haven't yet?
A: I'd love to do some really intricate paper-piecing quilts but I don't see myself having time for that anytime soon. I am collecting books on it now for later!
CHAMELEON QUILT WEBINAR
Q: What are you most excited about for your Sulky Color Me Chameleon Quilt webinar?
A: I love building our community as we share our passion of creating with customers and students. These Color Me Quilts projects are a perfect way to add some art to your quilt that is unique and you don't have to have any experience, just a willingness to try. Most of my students are not artists, but they want to be more creative. I love opening that door for them and watching them succeed. It's a blessing and an honor to share my gift with others.
Register today and join us on April 7 at 2pm EDT as we explore Desiree's Color Me Quilt techniques and watch the Color Me Chameleon quilt come together. Plus, take advantage of great flash sales. Live viewers are also eligible to win door prizes!