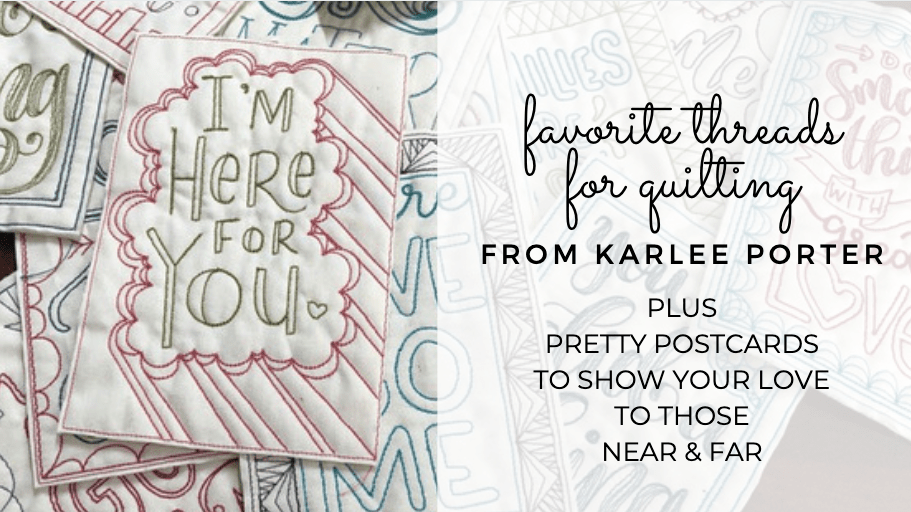 Karlee Porter's Favorite Threads for Quilting
Favorite Threads for Quilting
Award-winning quilter Karlee Porter shares her favorite threads for quilting. Learn more about Karlee in our free on-demand webinar, Hand Lettered Quilting. And look for our Hand Lettered Quilting kit to make memorable postcards to send to loved ones.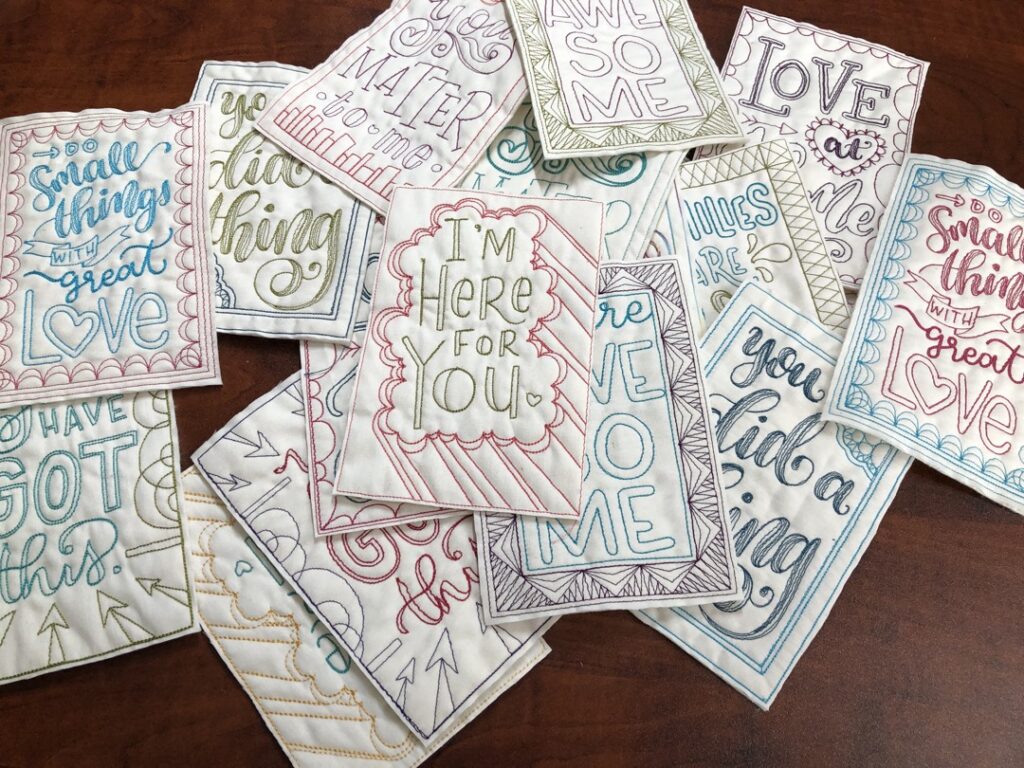 from Karlee:
When I first started quilting, the first thread that I had on hand were these very old cones that were from Walmart. When it comes to thread, especially for quilting, you get what you pay for. Not only did I find that this thread didn't hold up very well, but I often had tension problems while trying to quilt with it. On top of that, it came in very limited colors, and just wasn't all that "pizazzy." It just didn't make my eyes grow big with excitement to quilt purely because I "just had to try this thread out." That being said, it was a gateway into practicing quilting, so that when I did get to more expensive types of thread, I wasn't completely wasting it all.
The next type of thread that I used in my quilting was a 60 wt. very fine thread. This was very early on in my quilting days, where I learned pretty quickly that I am the type of person who likes to "quilt it to death." I found that I tend to do a lot of overstitching, and I mean A LOT. If you are at all familiar with my style of quilting, Graffiti Quilting. It uses a ton of overstitching. I found that while using a 60 wt. thread, I was just spending a lot more time overstitching than I liked.
On Karlee's Blog, she takes you through her path to finding her favorite threads for quilting. Here are the highlights.
Rayon Thread for Quilting
Sulky 40 wt. Rayon is REALLY the thread that I have been wanting to talk about. It has ALL the great qualities of the previous threads, and none of the issues. When I first tried out Sulky Rayon, I was hooked instantly! Rayon threads are my favorite threads for quilting. I love the weight, 40, and it also has a BEAUTIFUL shine to it. I looooove Graffiti Quilting with it, because overstitching my designs just adds this amazing POP of shine that I can't get over.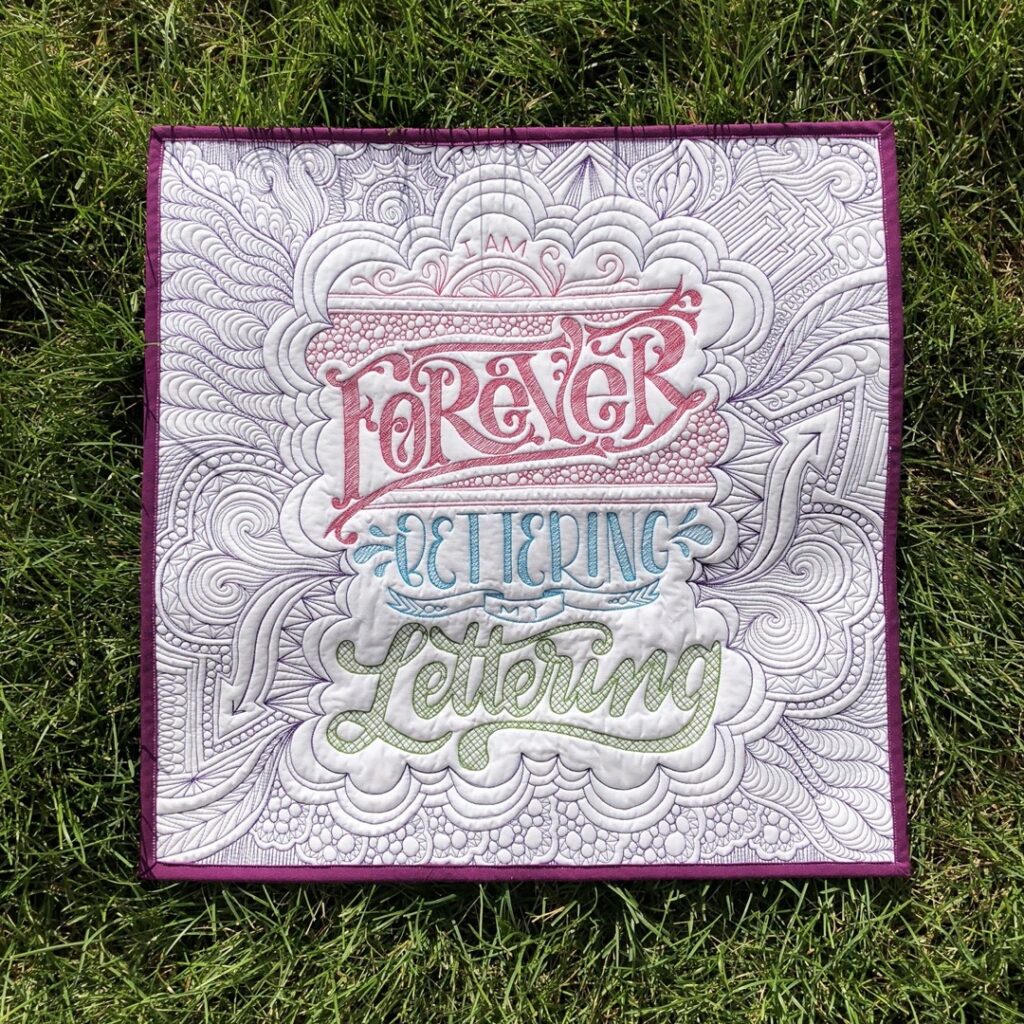 You can buy each color in 4 different sizes- Snap Spools (250 yds) King Spools (850 yds) Maxi Spools (1,500 yds) and Jumbo Cones (5,500 yds). This versatility is really nice because there are some colors that I love more than others, and some projects that are larger than others. So I can really tailor my budget to which threads I want more or less of, and I don't have to commit to spending a crazy amount of money to get all the colors that I need.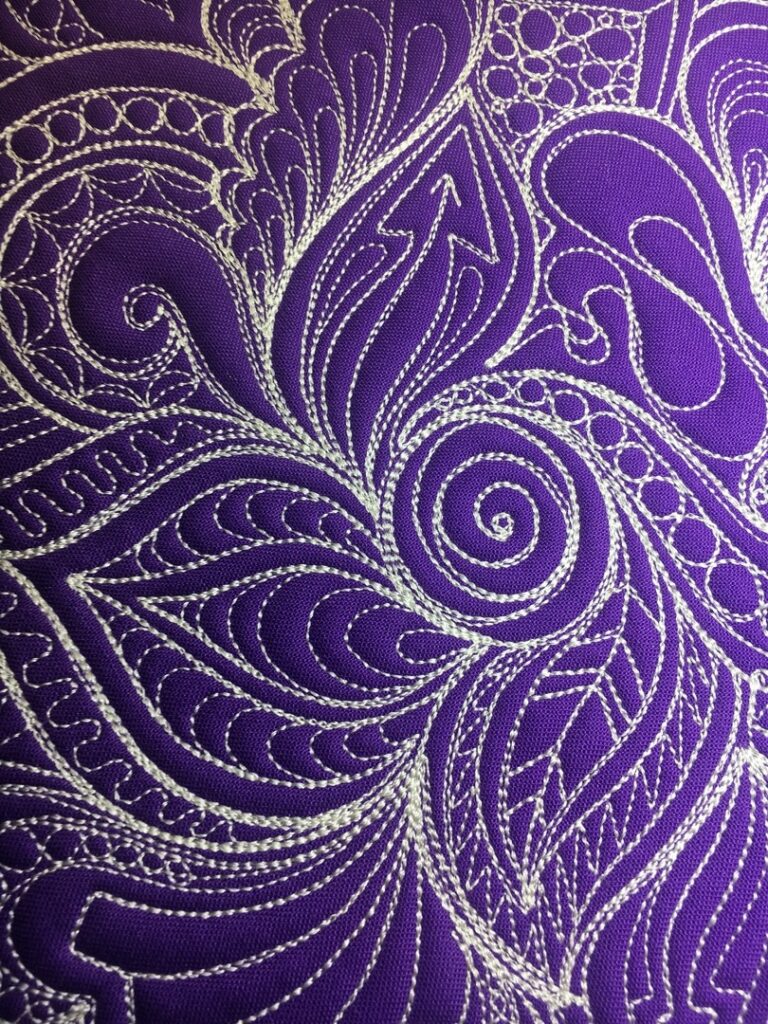 Since discovering Sulky threads as my favorite threads for quilting, I have started using them almost exclusively wherever possible. I do have thread in my stash of other brands, that I of course will use until it's gone. But I am phasing out my stash and refilling with Sulky 40 wt. Rayon. IT IS JUST THAT GOOD!
It is also the thread that I use anytime I create a show quilt. In fact, in 2018, I won 3rd place at Houston International Quilt Festival with my quilt The Royal Huntress. It was really a joy to work with, especially on a project that was such high stress to make sure it was PERFECT.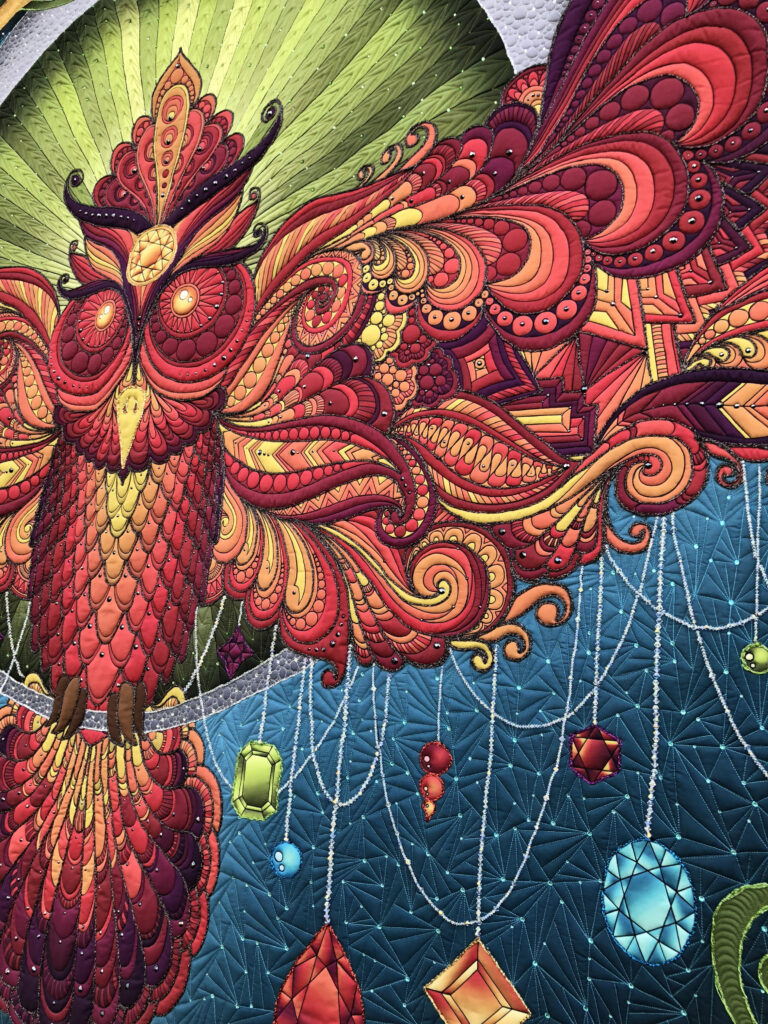 Invisible Thread for Quilting
Now, I would also be remiss if I didn't mention my other absolutely favorite thread from Sulky – their Polyester Invisible Thread! I use it a TON for a couple different techniques. There are a lot of times where I am commissioned to do quilting for hire, and they want me to do Graffiti Quilting or interpretive quilting on their quilt tops. A lot of times, these quilt tops are super brights and multi-colorful. This is invisible thread's time to shine! I really love it so much that I bought jumbo cones of both the clear color as well as the smoke color. Each jumbo cone is 24,000 yds. and I know for sure that I will use it all. Check out the texture on these quilts that I created using Sulky Invisible thread.
So, with all that being said, this pretty much answers the question, "Karlee, what are your favorite threads for quilting?" There are so many good threads, a few great ones, some crappy ones, and then our favorites. Sulky 40 wt. thread is my favorite. I hope you'll consider trying some out, and let me know your thoughts.
Be great to each other,
-Karlee