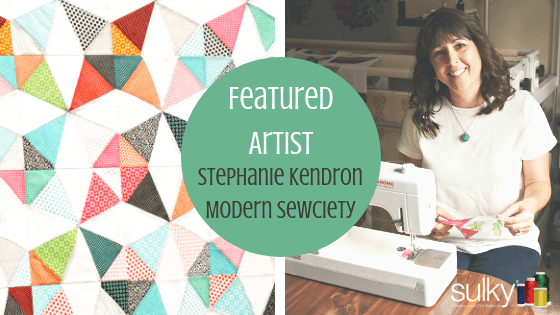 Featured Artist: Stephanie Kendron of Modern Sewciety
Featured Artist: Stephanie Kendron of Modern Sewciety Podcast
Learn about Stephanie Kendron and how she uses Sulky products to make her projects shine.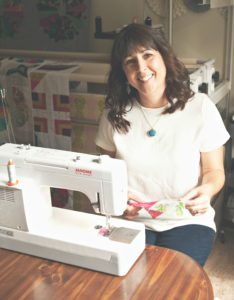 We're thrilled to introduce our newest Featured Artist, Stephanie Kendron. Stephanie is a fantastic sewist and the host of the Modern Sewciety podcast. If you haven't given her podcast a listen, you REALLY should! She chats with creatives in the sewing industry, getting all the latest trends, tips, and information to inspire sewists from beginners to experts.
Stephanie has been featured in magazines such as Love Patchwork & Quilting, Sew News, Modern Quilts, and Sewing World, to name a few.
We had HER sit in the guest seat for a change and here's what we learned:
How did you start, firstly, quilting – and then the Modern Sewciety podcast?
I got into sewing after my oldest daughter was born. I have watched my grandma and mom sew my whole life and knew the basics, but really dove in after I had my daughter. Blogs were beginning to become popular so I found a lot of tutorials and friends online who sewed and I was hooked.

The Modern Sewciety podcast is born out of wanting to know more about the people I met online, the fabric designers whose fabrics I sewed with, and the companies. I just wanted to know more about everyone. I am a Southern girl who loves the spoken word of storytelling. Podcasting was the perfect way to get the stories of the creatives in the sewing industry.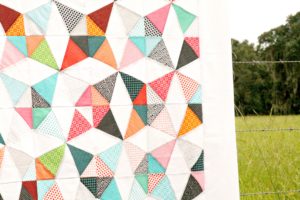 How would you describe your quilts?
Eclectic with a lot of colors. I like all styles of quilts. I love traditional blocks made with modern fabrics, raw edge applique, big blocks for easy quilts, and occasionally I will do a paper piecing project or something that takes more time.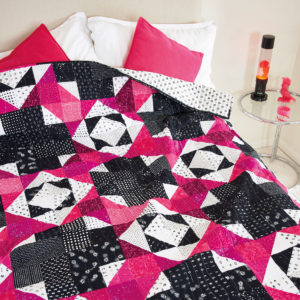 Who or what inspires you? Who do you admire and why?
The community inspires me so much. The cool thing about the podcast is chatting with all of the different creatives and learning from their techniques in sewing. I admire so many of the creatives in the industry because they each have something to contribute to this community in their own unique way.
What do you find are your biggest challenges?
Focusing is without a doubt hard for me. I also have a hard time with technical directions, which is why I have someone help me with that part. I don't enjoy it so I try not to eat my time up with things that really frustrate me.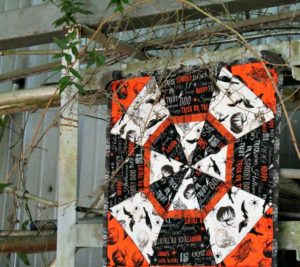 What's the most unusual place you have sewn?
In a huge cabin in Heber Valley, Utah at a QuiltBliss retreat. It was amazing.
What's the best advice you have been given?
To put your own spin on things and stop worrying so much about being an impostor. I am so bad about talking myself out of things because of fear, but this really helped me to realize I have a unique voice. This is something I tell my kids constantly but it is often hard for me to apply it to myself.
What does the Modern Sewciety podcast offer to the creating community?
I want the Modern Sewciety podcast to inspire and uplift listeners. There is nothing better than getting an email about someone finding someone new to follow, buying a product after hearing a guest talk about it, and/or doing something after being inspired by the podcast. I think listening to someone speak about their passion connects you in a different way to the guests. You hear their joy, struggles, ideas, and suggestions. I always leave chats with guests so inspired and motivated about my sewing life.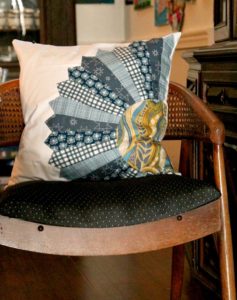 What are your favorite Sulky products?
Okay my all time favorite is Cotton + Steel 50 wt. Thread. I also love Sulky's Soft 'n Sheer Stabilizer – and the 30 wt. Cotton Blendables Thread is amazing. And I of course am about to dip my toes into machine embroidery and am excited to learn the different things I'll need for that.
Quilt Retreat at Sea with Stephanie Kendron
Want to meet Stephanie in person and also go on an exciting trip?! Learn about her upcoming 7-night Alaskan cruise: