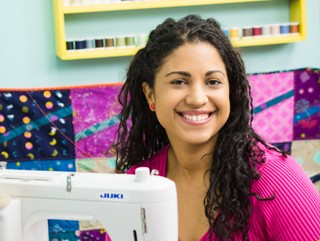 The Crafty Gemini – Sulky's Featured Artist
The Crafty Gemini, Vanessa Wilson
The Crafty Gemini is this month's featured artist. Vanessa Wilson frequently uses her creativity and passion to create beautiful art with Sulky products.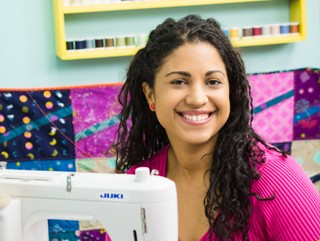 Our current featured artist is our good friend Vanessa Wilson.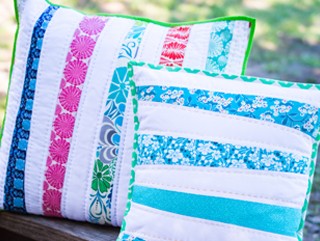 Learn how Vanessa got started as the Crafty Gemini, what she likes to do and learn about her Sulky thread collection!
Vanessa lives on a five-acre homestead near Gainesville, Florida with her husband and two kiddos. Raised in Miami, FL, via NYC, her ancesteral roots are in the Domincan Republic. She holds a B.A. in Anthropology and a Juris Doctor degree but she finds her center in teaching everything from sewing to soapmaking. Check out her Featured Artist page here.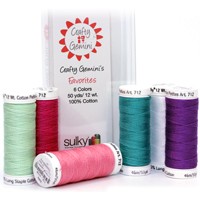 CRAFTY GEMINI THREAD COLLECTION
"This collection of Sulky 12 wt. Cotton Petites is made up of my favorite colors. I love things bright and cheerful and these colors make me smile. This is the perfect thread for all your big stitch quilting projects and are great for machine quilting too."  ∼Vanessa Vargas Wilson
WEBINARS WITH VANESSA
Join Vanessa as she teaches how to use her popular Slicer rulers in our free webinar: Pinnacle Table Runner with the Crafty Gemini. We reimagined the same table runner with premium Art Gallery fabrics in our Winter Pinnacle Table Runner kit, too. It was so popular that we also made a Patriotic Pinnacle Table Runner kit! Add embroidery and you've got yourself a winner, regardless of season.
AS always, our webinars are available on-demand to watch at any time. So if you missed the live event, head on over and stream the content at any time that's convenient for you!