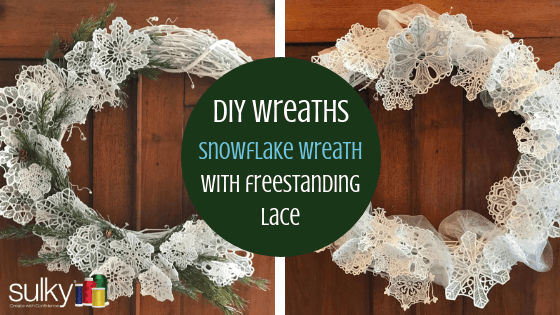 Snowflake Wreath with Freestanding Lace Designs
Snowflake Wreath
by Pamela Cox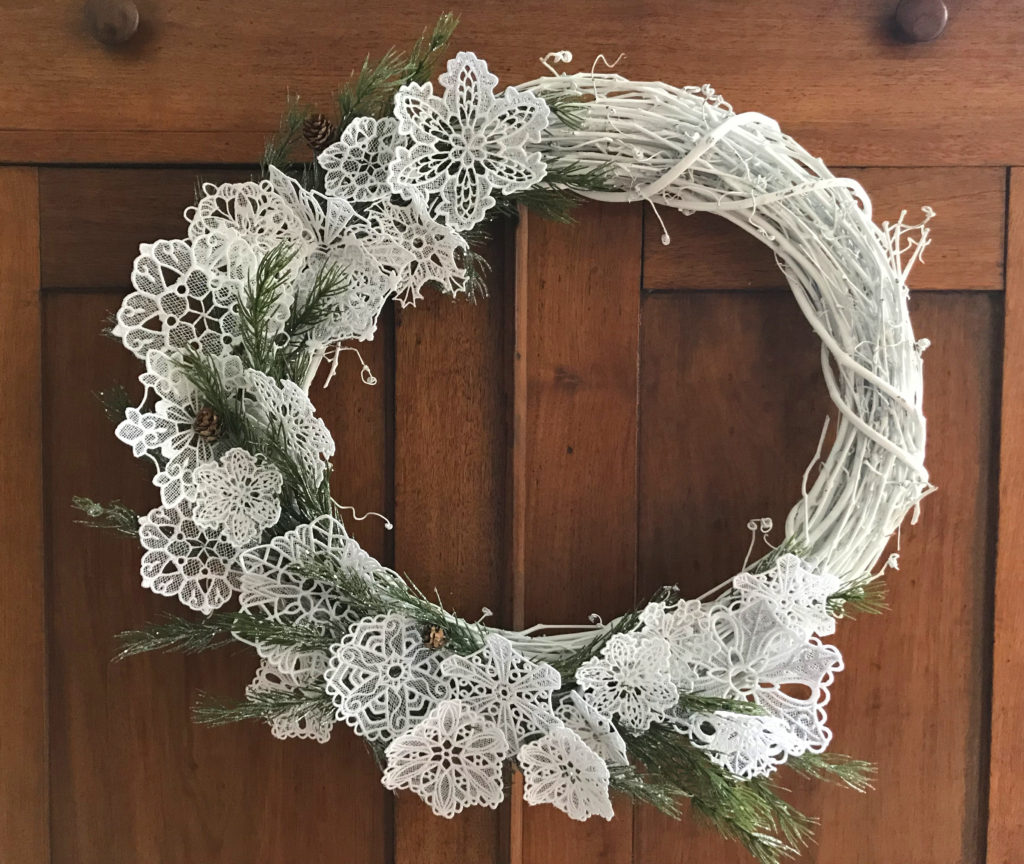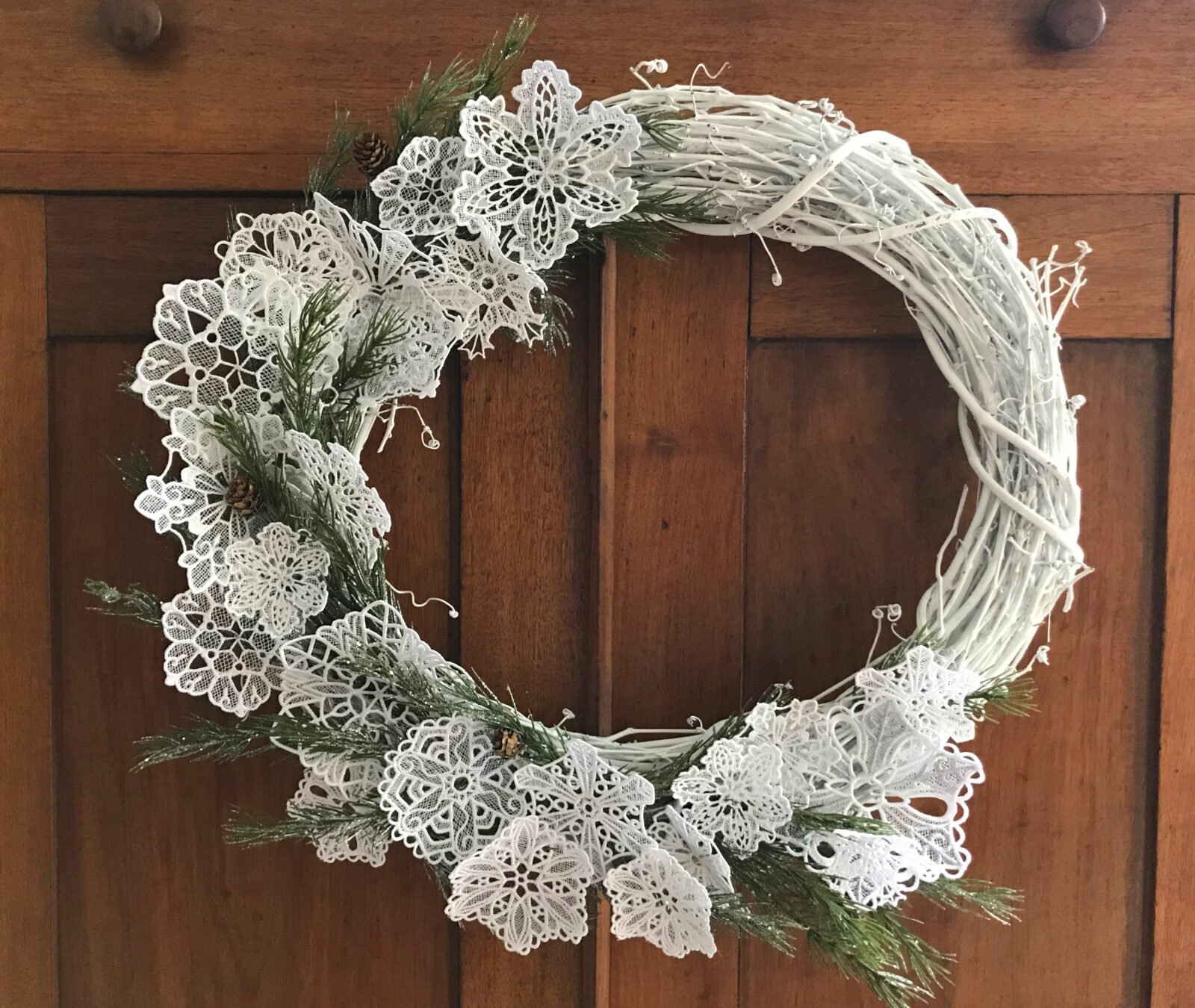 Create a wintry snowflake wreath using freestanding lace designs and winter white thread.
A snowflake wreath fits my home-decor bill quite nicely. I live in New England and the next few months promise to bring continual snowy-weather.  It seems only fitting that snowflakes take center stage on my Sulky-challenge wreath.
My real inspiration for the snowflake wreath began after searching several of my favorite embroidery websites looking for possible designs.  The perfect set for the snowflake wreath, "Light and Lacy Snowflakes" was found on Embroidery Library.
There were two collections of the FSL snowflake designs, each available in three sizes.  Since they say that no two snowflakes are alike, I knew the collections would provide a wonderful variety to choose from.
A snowflake wreath base had to be considered. Any project that incorporates different textures always appeals to me, so I decided that the ridged, solid structure of a grapevine wreath would contrast nicely to delicate, embroidered snowflakes; plus, our winter scenes are full of bare twigs!
With this idea in mind, the first step began with simply stitching snowflakes…. a lot of snowflakes!  I wanted to be able to "pick and choose" from a large group. I stopped at 28 but was prepared to stitch more if the "arrangement-in-progress" dictated!
I wasn't afraid of stitching too many because the snowflakes are all so beautiful that I was already picturing using any snowflake wreath "leftovers" as embellishments on next year's Christmas presents.
To save time, I pre-wound several bobbins with Sulky® PolyLite™ 60 wt thread. PolyLite is more lustrous than normal bobbin thread.  Knowing that the back side of free-standing elements is often seen, I just knew that this was the best choice.
To save repeatedly preparing the smaller hoops, I combined several individual snowflake designs in one large hoop.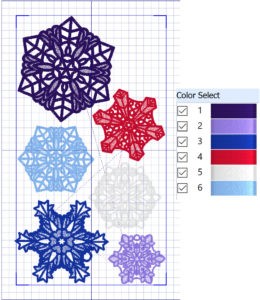 A list was kept of each design number in the combined groupings to ensure that every snowflake, in its offered size, was stitched at least once.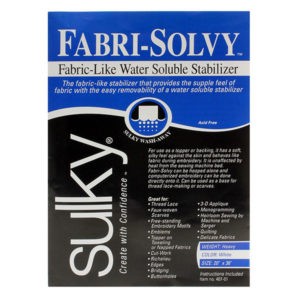 For the wreath, snowflakes were stitched in Sulky 40wt Rayon thread on a single layer of Fabri-Solvy™ stabilizer.
Fabri-Solvy looks and feels like a fabric stabilizer, allowing it to be securely hooped and tugged "tight as a drum".  However, it easily washes-away offering the options of completely dissolving -leaving the design soft and subtle-or partially dissolving, leaving just a hint of stabilizer to provide a slightly "starched" feel to the embroidered element.
Excess stabilizer was cut around each stitched design.  Remaining stabilizer was then rinsed away.  Snowflakes were laid on a terry towel, covered with a pressing cloth and topped with a heavy book to dry flat.
By now, the creative juices were flowing!  My first thought was to drape the wreath in glittered tulle, (leftover from a Halloween costume I made for my granddaughter) arranging the snowflakes in between the fabric folds….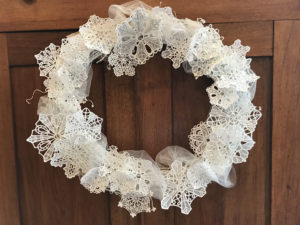 I actually liked the overall look, but the embellishments ended up covering my entire grapevine wreath!  I hardly saw any of the intertwined twigs!  I might as well have used a white foam base…. and I might for next year!
However, my original thoughts kept nagging at me.  I just had to create a snowflake wreath showcasing different textures.  Another idea began to take shape.
It included adding a few artificial, glittered pine branches, also prevalent in our winter scenes (minus the glitter, plus the snow).   The evergreens would accent only a portion of the grapevine snowflake wreath with the beautiful snowflakes tucked into and around the branches.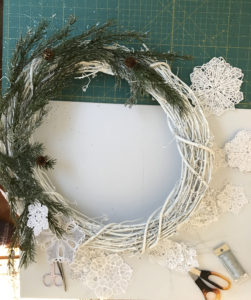 Many of the green branches were secured to the wreath simply by pushing ends in between vines.  There was an occasional need for hot glue as well as a very fine flora wire anchoring any stray ends.
Snowflakes were secured to the wreath with this same fine flora wire.  Often the fine wire blended into the embroidered threads. A small crystal bead was threaded on the wire if the wire would be evident.
Considering the overall goal of making an "after holiday wreath" – combined with my personal preferences of including "different textures" –  I was happy with my second snowflake wreath. The bare twigs of the grapevine wreath visibly show, in stark contrast, to the wispy greens and delicate, embroidered snowflakes.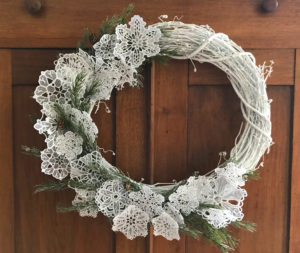 I think it works!  Don't you?