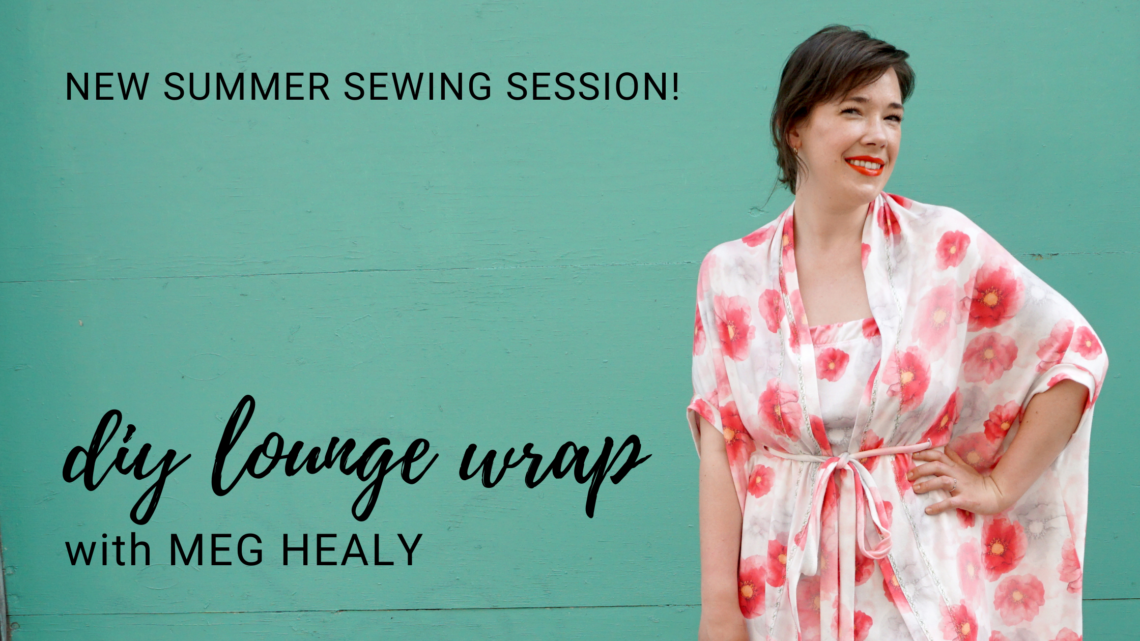 Garment Sewing for Beginners & Beyond
Garment Sewing – Yes, you can!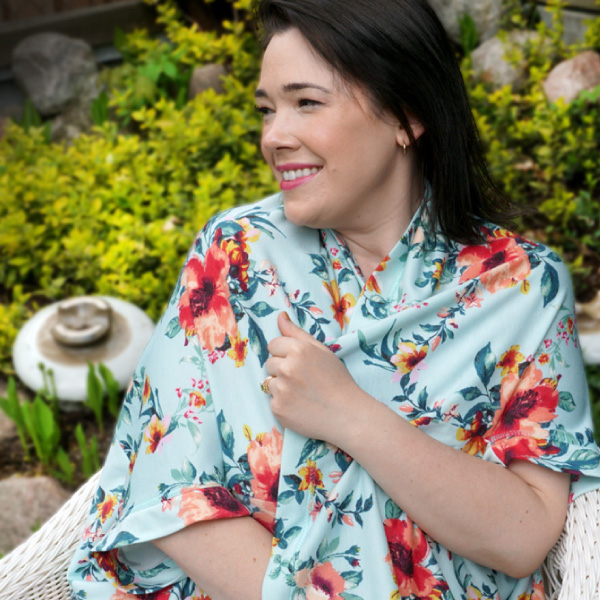 If it's been a while since you did any garment sewing, or you've never tried sewing a garment, now's the time to give it a try! In the second Summer Sewing Session of 2021, beginning August 2, sewing star Meg Healy will teach you how to draft, sew and embellish the all-new DIY Lounge Wrap pattern. The Session is $14.99 for a limited time (you must register before Aug 2 to get this discount!), and then it goes up to $19.99 (still a great value!).
Pattern Particulars
This garment sewing pattern is a loose-fitting wrap, easily dressed up or down depending on the fabric you choose. Lengthen it to create a long robe for post-shower primping. Shorten it to create a cropped silk coverup. Use a knit fabric for the ultimate in comfort or a woven fabric for a more structured version that supports lots of embellishments.
With your registration, you'll receive the DIY Lounge Wrap pattern FREE, a $9.99 value! This pattern contains all the instructions for drafting the garment to fit your measurements; how to plot pattern lines; and how to construct the Lounge Wrap from start to finish.
We're also including a machine embroidery design from our NEW Floral Foraging Machine Embroidery Collection: Floral Foraging Wreath. This design is FREE with your registration, too! Tip: Further personalize the design by adding a monogram, shown here.
Five more NEW embroidery designs are highlighted in the Session from the same Floral Foraging collection. You'll love the Succulent Saplings featured on the linen woven wrap!
Machine embroidery is completely optional for your wrap, but you're sure to want to make at least ONE version with embroidery, amirite?
If you're wary of fitting a garment pattern to your figure, this simple style will instill confidence and encourage you to sew lots of versions using different fabrics and embellishments. For working at home to weekend brunching to date night, you'll want to make several variations of this pattern.
DETAILS
Over the course of 5 Lessons, you'll learn different aspects of the Lounge Wrap pattern, expanding your garment sewing technique knowledge along the way. From working with stretch or woven fabrics to thread and needle usage to optional machine embroidery, finishing tips and more, you'll learn it all!
GRAB A KIT
The Lounge Wrap Kit contains everything you'll need but the fabric. You'll get six spools of high-quality 50 wt. Sulky Cotton Thread, eco-packs of size 70/10 Organ Needles (Jersey for knits & Microtex for wovens), a heat-removable marking pen, and a 1-yard pack of Sulky Sticky Fabri-Solvy used to stabilize seams for sewing without stress.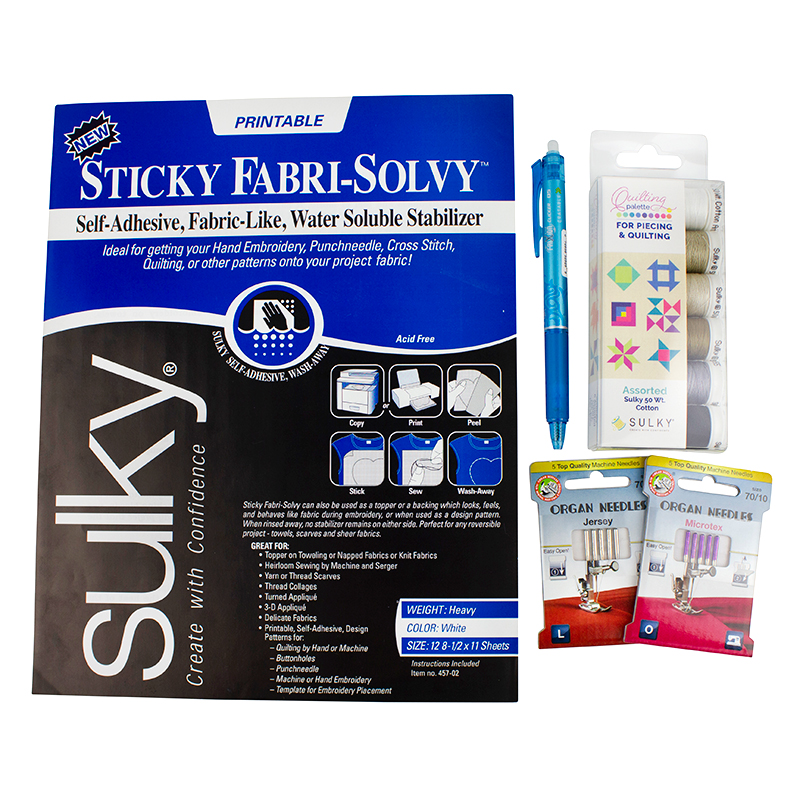 The kit is available at a great price for a limited time. You'll get everything mentioned above for only $24.99 (retail price is $34.99!)
Once you register, you'll get a coupon code from So Sew English Fabrics to save 20% off a one-time fabric purchase at sosewenglish.com!
WHAT TO EXPECT
Learn at your own pace, with one Lesson per day or all at once. Sew a little each day and schedule your lessons to fit your schedule, or sew a lot when you have a chunk of time. It's up to you! With all access to each Lesson, you'll be able to watch and rewatch at any time.
Customize your perfect-fit Lounge Wrap by choosing fabric colors, prints and types that suit your taste. Add decorative topstitching, serger stitches, appliqué or keep things simple. Create an optional belt and belt loops for a figure-flattering version.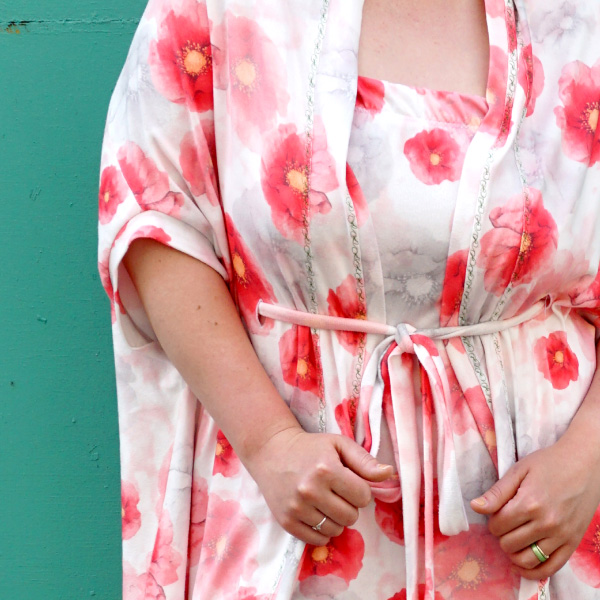 GARMENT SEWING & MORE!
5 video Lessons to watch as many times as you like, whenever you like
The NEW digital DIY Lounge Wrap pattern by Meg Healy
Expert instruction from the pattern designer herself: learn basic patternmaking methods, tips for knit AND woven fabric sewing, techniques for seaming & hemming, machine embroidery and more!
A special one-time coupon code to save big on fabric from So Sew English
Once you begin the Session on August 2, 2021, each Lesson will be available to you to watch at your own pace.
Comment & interact with others taking the session in our DIY Lounge Wrap Community space & ask questions at any time.
Join us for the second Summer Sewing Session of 2021 and up your garment sewing game!