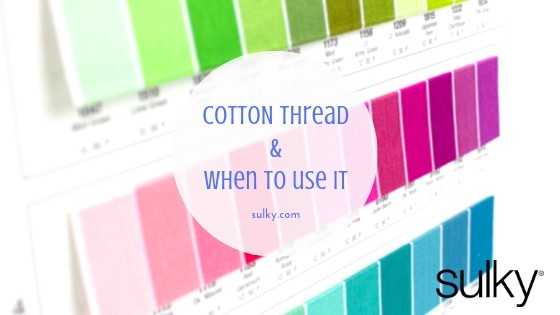 Cotton Thread & When to Use It
When to Use Cotton Thread & Why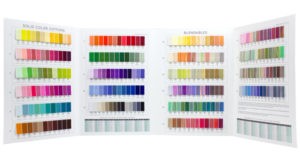 Choosing the right thread for your project is an important factor that determines the final look, feel, and oftentimes longevity, of the project. With so many choices, how do we decide?
Sheen
I think about thread sheen the same way I would if I were choosing paint for a room. Do you want the thread to shine, glisten, reflect light, look slick, matte or textured? These decisions will determine how to choose the right thread for your project, specifically whether you choose between rayon and cotton.
Strength
When choosing the right thread, decide if you need the thread to hold up to heavyweight fabric, seams that will undergo stress, lots of washing and wearing. These factors will determine the properties of the thread you need. A polyester fiber is very strong and lasts over time, but cotton thread might be a better choice – especially if you're working with cotton fabric.
The thread weight also comes into play when considering strength. The lower the weight, the thicker the thread.
In general, choose a polyester thread if you're working with a man-made or synthetic fabric. If working with a cotton fabric, choose cotton thread. But, if you're choosing thread for machine embroidery that theory goes out the window.
Machine Embroidery
Virtually any thread is suitable for machine embroidery, as long as it's a high-quality thread that will withstand the high stitching speed. There is some debate as to whether cotton thread is suitable for machine embroidery, and it really depends on personal preference. Rayon is almost always chosen by the digitizer when creating designs, so it's important to consider what was intended before deviating. Always perform a test stitchout and you might be surprised by the look of cotton in your design.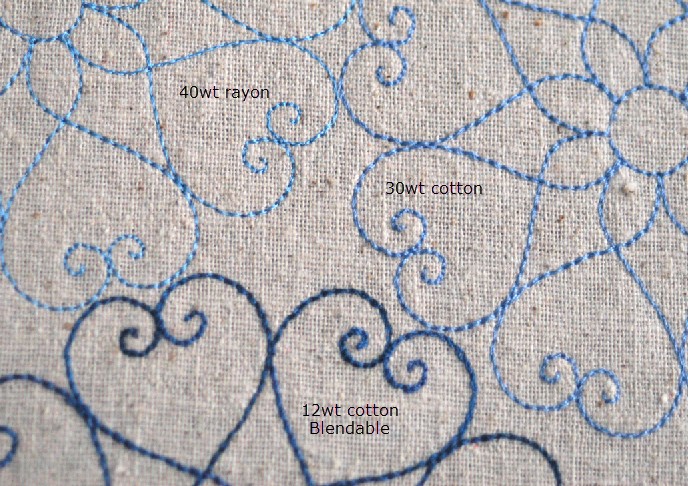 This above image shows the different looks that are achievable with rayon, 30-wt cotton and 12-wt cotton. The thread weight plays a part in how pronounced the stitches are, and the sheen is also evident.
Quilting
If you want your quilting to really pop and/or if you're a hand quilter, Sulky 12 wt. Cotton thread is for you. The thread is easy to use and effortlessly glides through the fabric layers without fuzz or tangles. Big stitch quilting is particularly stunning with this thread. Sulky Cotton Blendables are a great thread choice for long-arm quilters, as the thread transitions between colors throughout the design. It comes in 12- and 30-wt varieties (choose the latter and test, test, test to determine the correct tension for the long-arm machine).
Cotton + Steel thread by Sulky is the perfect weight for piecing and quilting. The thread undergoes the utmost quality standards, as does all of Sulky thread, and is strong and beautiful. The long-staple thread produces little to no lint when quilting and has been tested by some of the most revered quilters in the industry. This ensures the thread performs consistently to produce beautiful works of art.
I've used this thread to create quilts as well as bags, accessories and a garment. It doesn't disappoint!
Buying Thread Online
Choosing the right thread online isn't as tricky as buying fabric online, but the vast array of colors might prove daunting. If you want the thread to match the fabric you've chosen perfectly, I suggest using a Sulky Thread Chart to always refer to the color name and number you need when ordering online. The thread charts also make great decor for your sewing room! Now available is the Sulky Cotton Thread Chart, which is useful for all weights of Sulky cotton thread used for quilting, sewing and machine embroidery.
Isn't it pretty?
Use this color card for choosing the right thread for your projects to take the guesswork out of your thread choice and streamline your online shopping.
What thread types and weights do you prefer to use in your projects? Let us know in the comments below!