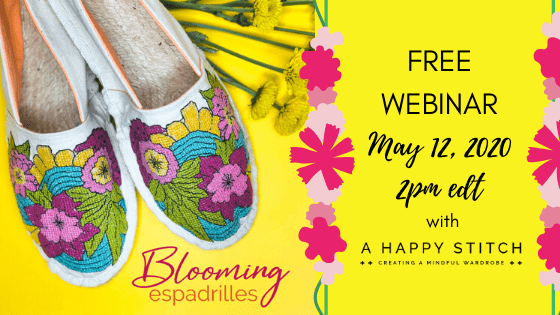 Embroidery on Shoes: Embellishments by Hand & Machine
Embroidery on Shoes? Yes, you can!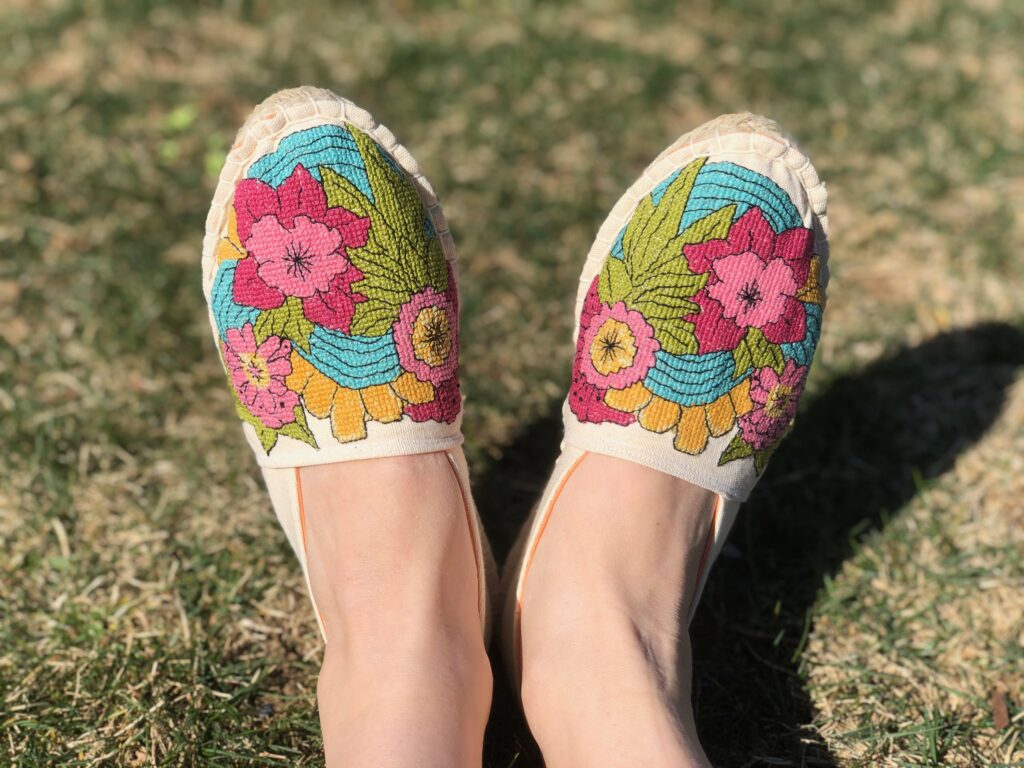 Have you ever wondered how to add embroidery on shoes? Here's your answer: Make them yourself! Yes, it's possible to embroider shoes that are readymade. But it's not easy to access the inside of the shoe to stitch and virtually impossible to hoop a shoe for machine embroidery. The answer is DIY SHOES and we've got your tutorial, expert tips and KIT so you can do it easier and have so much fun.
EMBROIDERY ON SHOES – THE WEBINAR
Our FREE Blooming Espadrilles webinar is May 12 at 2pm EDT. Melissa Quaal of A Happy Stitch will join us to tell us how these beauties come together. Ellen March, Sulky Director of Content, will add her embroidery techniques, so you can add handwork or machine embroidery to personalize your pair.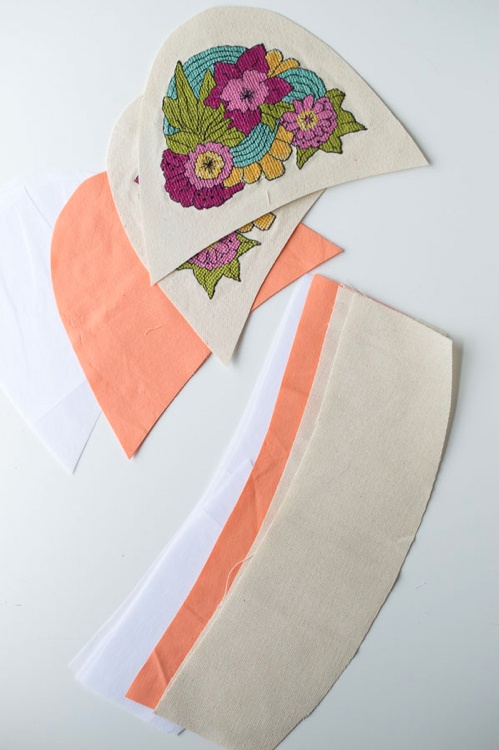 The featured shoes are embellished with a large-scale cross-stitch design, which you can do by hand or machine. So be sure to select the correct kit when ordering. Not only do you need to measure your foot for proper sizing (don't trust your normal shoe size!), but you also need to make sure you've selected the TYPE of kit you want. Measure from the tip of your longest toe to your heel, and just know that the shoes will fit very snugly at first and then relax over time to mold to your foot. They will be your go-to shoes for summer and beyond!
Due to the nature of this webinar project, we're pre-selling the Blooming Espadrille shoe kits.  And yes, you'll get the SPECIAL WEBINAR PRICE in advance of the webinar, too! The reality is that sizes are limited and we need to make sure we have enough of each size to fulfill orders in a timely manner.  So be sure to grab your kit in advance and have it on hand when we go live on May 12.  The full instructions WILL NOT BE WITH YOUR KIT, but will come with the free webinar.  If you can't attend the webinar LIVE, don't fret!  Remember, the webinar is available on-demand that same day (about an hour after the live event ends), so you'll get your instructions and all the tips and tricks at that time.
WEBINAR DETAILS
The important thing is to register to take advantage of all of the special deals, kit pricing, freebies and other goodies. Did you know each attendee of our webinars gets all access to every question and live answer asked during the live event? That's right! The more you know, folks.
We also give away awesome Door Prizes on the day of the event. You must be present to win those, so be sure and stick with us! Again, if you can't attend live, you'll still be able to add embroidery on shoes and grab all the freebies and specials simply by registering in advance.
See you May 12 at 2pm EDT! Your "sole" will thank you!