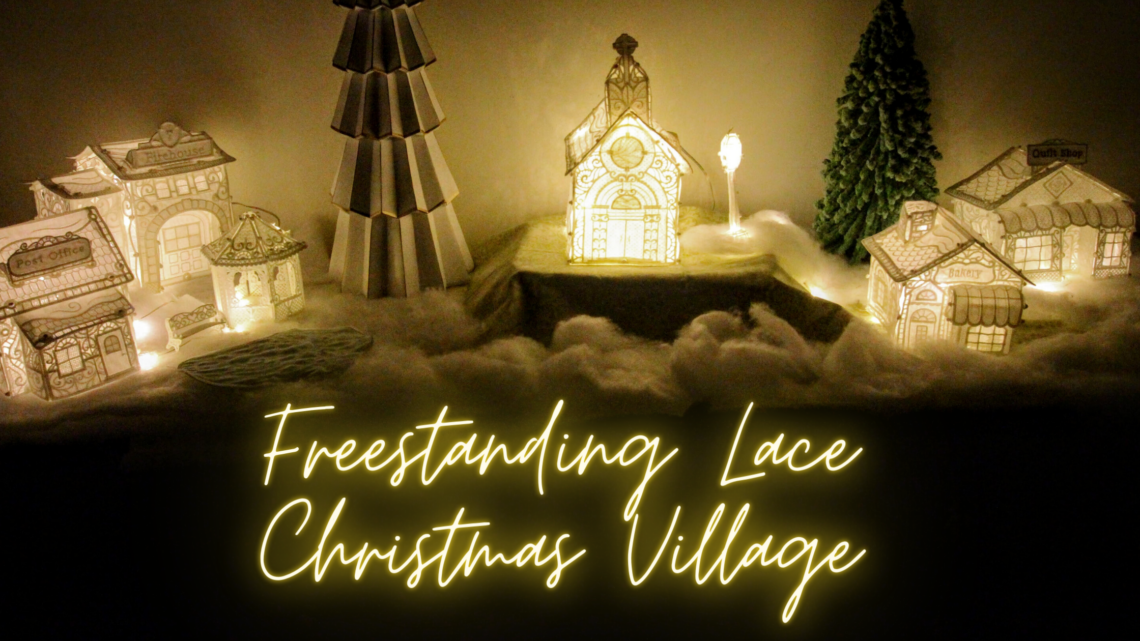 Freestanding Lace Christmas Village with Sulky Fabri-Solvy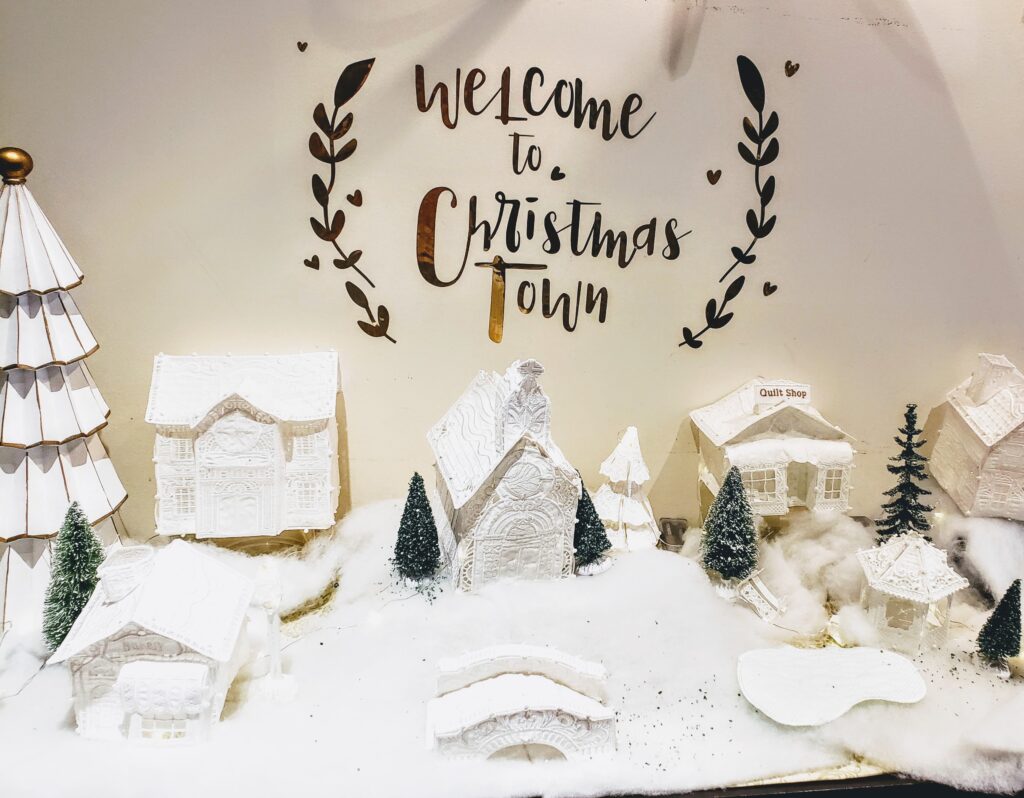 Create a Freestanding Lace Christmas!
This freestanding lace Christmas Village is a labor of love. It takes quite a bit of time to stitch out each element and assemble together, but the results are worth it. Stitched in all white Sulky 40 wt. Rayon thread, this village is a great way to decorate for the holidays.
Christmas Village Details
Start now and vow to complete a new element twice a month leading to Christmas. The work is manageable in chunks as you have time at the machine. This is what "Christmas in July" is all about – starting now on projects to complete by the big day!
Jennifer Tryon created this spectacular set using OESD's Complete Christmas Village 2019 design collection, Sulky 40 wt. Rayon thread and a bolt of Fabri-Solvy™. Yes, you will need the entire bolt for these stitch-outs! And do yourself a favor and grab a few 1500-yard spools, or a Jumbo Cone of thread to make sure you have enough.
You'll also need a small amount of fabric (white in this case) for the appliqué portions (mostly signs). Sulky KK 2000™ Temporary Spray Adhesive helps secure these pieces to the hooped Fabri-Solvy, making sure there's no shifting during stitching.
Freestanding Lace How-Tos
Watch this video to see how Jennifer hoops the Sulky Fabri-Solvy and builds the units.
The featured design collection is also available in individual units rather than the entire collection. Be sure to grab the Quilt Shop to add to your village!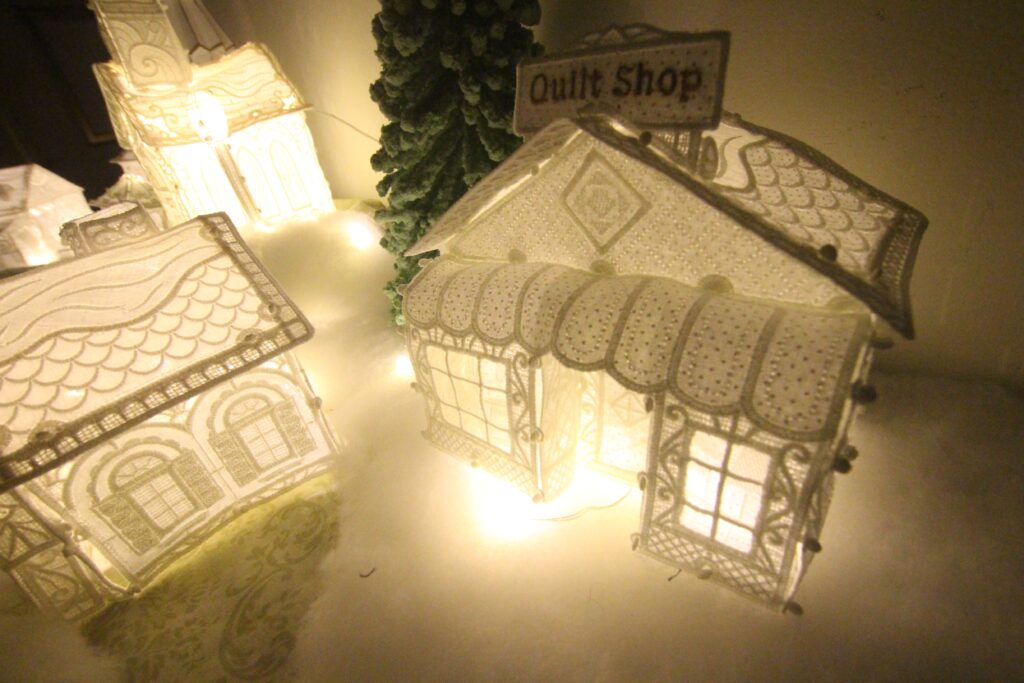 Placing Christmas lights in your freestanding lace Christmas village adds to the charm and joy of this set. If desired, stitch the elements in lots of thread colors rather than all white. Either way, you'll love the end result.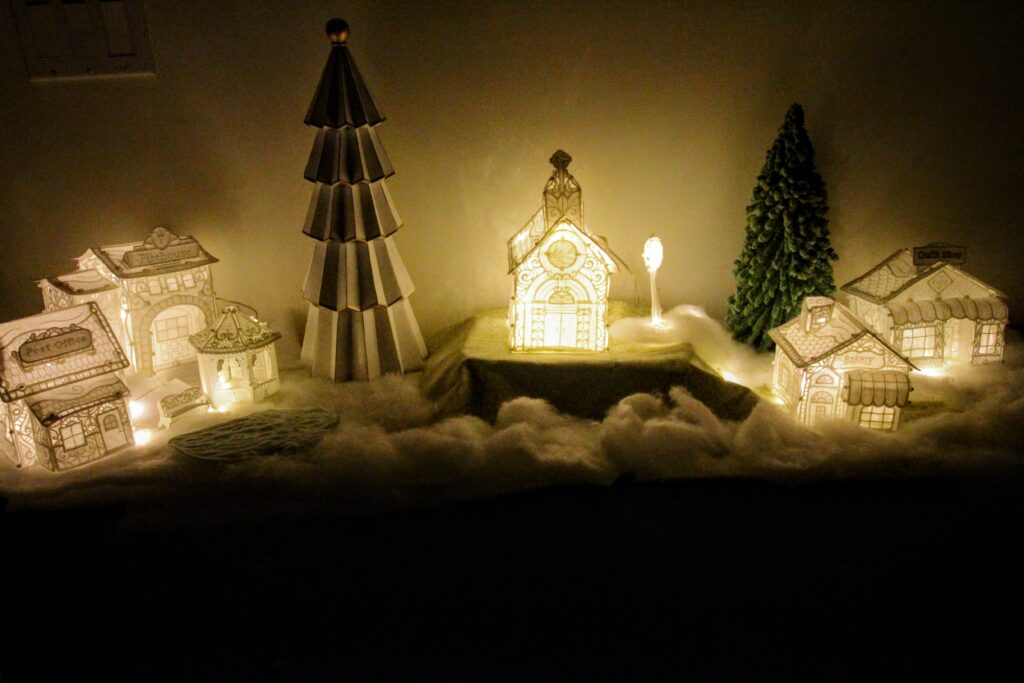 What will YOUR Christmas Village look like? Let us know in the comments below!