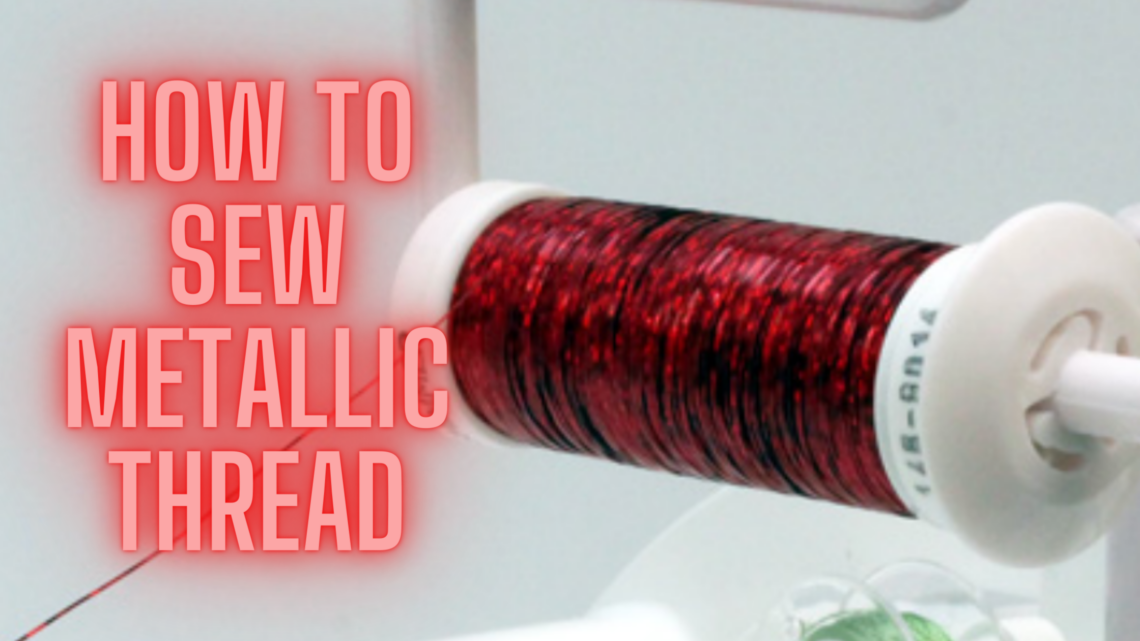 Sew Metallic Thread with Ease – FAQs with Patti Lee

How to Sew Metallic Thread
by Patti Lee
If you've wondered how to sew metallic thread, this post is for you! Metallics are specialty threads and not construction threads. They require a few minor adjustments to sew with ease, and then they become magical! You'll love the special effects you can achieve when you learn how to sew metallic threads.
Q: What's the difference between Sulky Original, Sliver™, & Holoshimmer™ Metallic Thread?
A: Sulky Original Metallic is a round, twisted thread that is created by twisting and bonding a fine metallic foil around a strong core to create an exceptionally smooth, strong, and pliable thread. Add an elegant sparkle to your creativity with our 36 available colors – 21 solids, 9 multi-colors, and 6 prisms. Sulky Original Metallic thread is probably the easiest thread for a beginner metallic thread user to sew.
The Tricks:
Lower the top tension one or two numbers, if applicable to your machine brand.
Use a 90/14 needle. Some machines may prefer a 90/14 Top Stitch needle.
Sulky Sliver (8000 series) and Sulky Holoshimmer (6000 series) Metallic Threads are both thin, flat, ribbon-like polyester films that are metalized with aluminum to make them brilliantly reflective. Add the ultimate sparkle to decorative projects with our 24 available colors in either Sliver or Holoshimmer. Because Sulky Sliver is flat, it reflects more light than the round Sulky Original Metallic. Sulky Holoshimmer is very similar but has a layer of holographic film to create even more sparkle and dimension.
The Tricks:
With Sliver and Holoshimmer, lower the top tension more than with Sulky Original Metallics – perhaps 2 or 3 numbers from normal.
Use a vertical spool pin with a felt pad underneath. Because these are flat threads, the twisting action caused by horizontal spool pins will cause breakage. Or position the thread on your machine however you need to, so that it stays flat and rolls off flat into the tension area.
A Thread Director™ is a great tool if you have issues that these tips don't solve. It's a wonderful thread-delivery-system for many types of threads. The thread rolls off toward the needle, flat and easy without any twisting or resistance.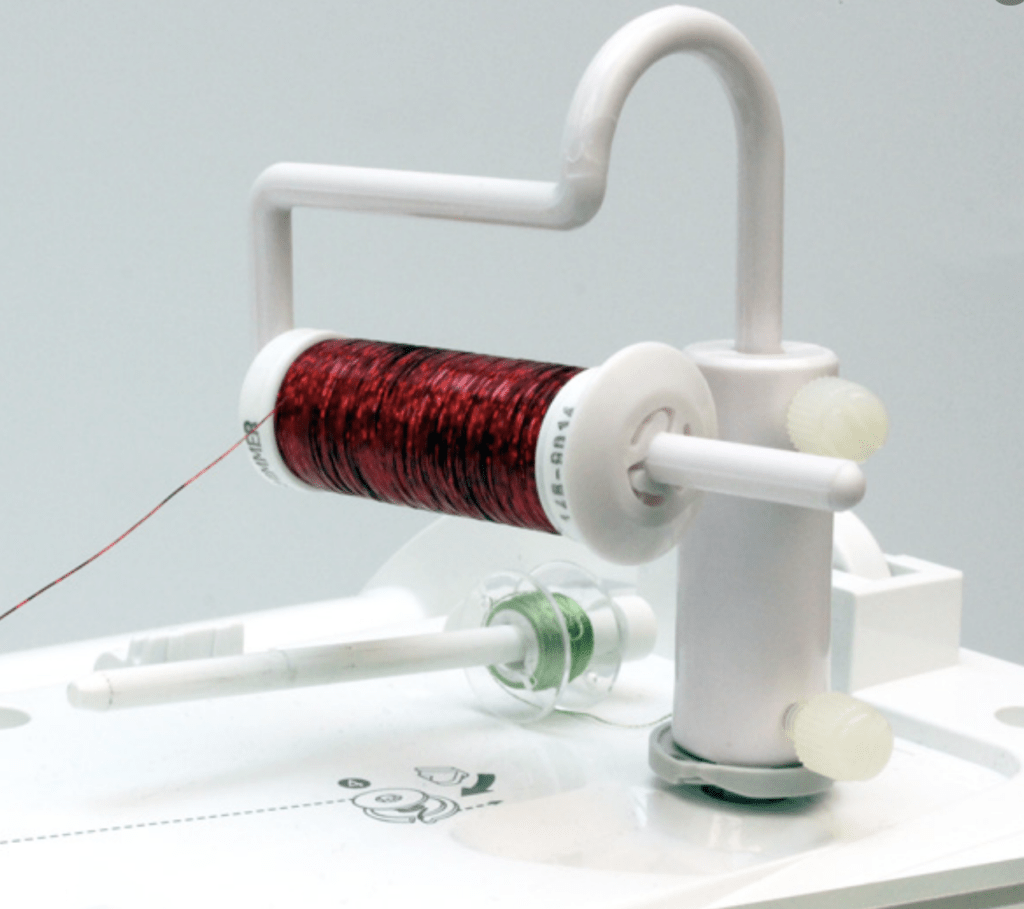 Use a 90/14 needle. Any 90/14 needle will perform better than an 80/12 "metallic-type" needle. Some machines prefer a 90/14 Top Stitch (which is the same needle as a 90/14 Metallic needle – both have the longer eye, reducing stress on the thread), but any 90/14 will work better for most people than an 80/12 metallic-type needle.
When all else fails, a thread lubricant, such as Sewers Aid™ will many times work miracles. I don't know if it just eases the path or if it cleans out some minute obstruction that's irritating the machine. But it almost always works small miracles if everything else is as it should be (Check with your machine dealer to be sure that you can use this type of product on your machine). You can run a bead of the lubricant down the spool occasionally, and also put a little on your finger and rub it on the front and back of the needle when needed.
Slow down the machine speed.
Stabilize properly. Metallics hate abrasion, so avoid stiff, coarse stabilizers.
Avoid short, tiny stitches because all metallics simply don't bend well into small stitches. Elongate the stitches when possible.
Note: All Sulky Metallics work well for both hand and machine applications and they're both machine washable and dry cleanable.
Q: When do I use a "Metallic" Needle? 
A: There are both 90/14 and 100/16 Organ Metal Needles available. A size 80/12 metallic needle, though it has the lovely longer eye of the Top Stitch needle, just doesn't always provide enough room for the thread to pass through. Some shredding and breakage could result when you sew metallic thread. The larger sizes are preferred, and suitable for most fabrics, especially heavier weight ones.
Q: How do I sew metallic thread with computerized embroidery designs?
A: There are a few designs out there actually digitized for metallic threads. Metallic threads are generally considered heavier than 40 wt. rayon and 40 wt. polyester, which is what is used for most computerized embroidery. Metallics are considered to be around a 30 wt., which is 1/3 heavier than 40 wt. embroidery threads. So, you're asking your machine to stuff 1/3 more thickness into the same stitch area designed for a 40 wt. thread. That's a lot.
·       Compensate for this some by enlarging the design slightly (without changing the stitch count).
·       SLOW DOWN the speed to give your machine a helping hand.
·       Use a thread lubricant if needed, such as Sewer's Aid.
·     Consider what you're asking your machine to stitch through. If it's fusible web (some are better than others), that's challenging for any thread, and twice as challenging for a metallic. If you're going through heavy layers, you're adding stress to the thread.
·     Choose a soft, lightweight Sulky stabilizer.
Most designs that have been well digitized and, if they're not too dense, will adapt to metallic thread fairly well. But you may need to enlarge the design slightly to accommodate the metallic thread. A poorly digitized design; however, may not ever do well with metallic threads.  Very dense designs, even if well digitized, may not be able to accommodate the thicker metallic threads. Again, SLOW the machine down when using metallics.
Q: Can I use Sulky Metallic Thread in the bobbin?
A: Many of today's machines handle Sulky Original Metallic Thread in the bobbin beautifully. If yours does not, use Sulky Polyester Invisible Thread in either smoke or clear to coordinate with the metallic thread. It's very forgiving, and doesn't show should any pull-up occur.
Wind the bobbin VERY slowly so you don't stretch the monofilament thread and/or stress your bobbin. Wind the bobbin only about ½ full (that's still a ton of thread). It's soft to the skin, strong, has a higher heat tolerance, and doesn't easily melt like nylon invisible thread. It's very soft and gentle to the metallic thread, and it's invisible! Metallics like to be handled gently. Using the invisible does tend to negate the need for metallic in the bobbin, but that's still an option for many machines.
Of course, you can also use Sulky quality bobbin thread which is a 60 wt. polyester thread, or our prewound bobbins (also 60 wt.).
If you use other brands of prewound bobbins and experience breakage or bad tension, switch to a regular self-wound bobbin to determine if that is causing the problem. Some machines do very well with prewound bobbins, others do not.
Q: What about using metallics for the myriad decorative stitches on my machine?
A: If using metallics for decorative stitches, this same "room issue" exists. So, you need to choose stitches that are not overly dense and avoid satin-stitch type stitches when using metallic threads. Or you can resize and/or elongate the stitch to allow more room.
Here are the key tips:
Make sure the proper needle is installed.

Use the proper spool position: Vertical for the 6000 and 8000 series of flat Sulky Metallics (with a felt pad under the spool) or however you need to position it so that the thread comes off flat and stays as flat as possible going into the tension area.

Lower your embroidery top tension: If your normal embroidery tension is say, 3.0, then lower it to about 2.0. If you start to get too much metallic thread on the wrong side of your design or some "bird-nesting" then the tension is too low.
Standard sewing tension: If doing regular sewing or free-motion stitching, lower the top tension 1 to 2 numbers for Original Metallic Thread; lower more for the flat metallics, Sliver or Holoshimmer.
Use Sewer's Aid (if needed).
Slow down the machine.
Some machines often have a tighter normal top tension than other machines, so you just have to play with it to see what your particular machine needs.
Q: What is the fiber content of Sulky Metallic Threads?
A: Here's the technical stuff:
142/143 – Original Metallics
NYLON 59%
POLYESTER 40%
METALLIC 1%
145 – Sliver™ and Holoshimmer™
POLYESTER 59%
POLYETHYLENE 40%
METALLIC 1%
On the standard metallics, the core is actually the nylon component, the polyester is the metallic foil or wrap so to speak. That wrap is only 1% actual metal of some type. On the Sliver and Holoshimmer, the polyester and metallic components again refer to the metallized film looking component, the polyethylene refers to the core.
Q: How do you determine the "weight" of metallic thread? 
For our original metallic we do use a regular weight designation and it is 30 wt. For the two flat metallics (Sliver and Holoshimmer) we do not have a weight designation.
Q: Do I really need the Thread Director when sewing metallic thread?
A: The Thread Director is a wonderful thread-delivery system that eliminates twisting and other thread-stressing issues for all types of threads. Should you need it to sew metallic thread, you'll want it in your gadget collection for immediate easy access. It is a small miracle for those machines that don't tolerate metallic thread, despite all the aforementioned tips.
There is also a Thread Director II that accommodates 2 spools for the ultimate embellishing!